Nick Thompson: Two time World Champ in Weymouth
With 10 knots of breeze that steadily died during the day, tide that was taking the boats over the line and a mist that often made it hard to see the next mark, it was challenging opening day of racing for the Lasers and Laser Radials at the Sailing World Cup Weymouth and Portland regatta.
And Thursday's racing followed an opening day when all but the 49ers, FXes and RS:Xes were kept ashore due to a lack of breeze. Defying the forecast, this morning conditions looked much more promising with the wind into the teens, but also with a stubborn fog. The wind held until about the time the boats began to launch ready for their 1100 start, when it began to drop off slowly.
Man of the moment in the Lasers is Britain's own Nick Thompson. Following a strong legacy in the singlehander - following Ben Ainslie's silver and gold in 1996 and 2000 and then Paul Goodison's gold in China in 2008 - Thompson heads into Rio 2016 coming off the back of two World Championship wins. This may not be Giles Scott's, or the Aussie 470 Men's or Billy Besson's four back-to-back wins, but it is nonetheless a solid, welcome track record.
"I think I have always been quite close, which it is easy to forget," says Thompson for whom Rio will be his third Olympic cycle but his first with the golden ticket coming, after the departure of Paul Goodison to 'bigger' things. "It is a long process, but I think that has allowed me to learn a lot. I have certainly learned a lot from the previous Olympians. And I have medalled at six Worlds - it is just that I have always missed out on that final bit. And my confidence has built. I think that the focus is a little bit more on myself and that allows the full support of the team and confidence in myself to grow, which I am sure has helped. And I have matured as a sailor. I am certainly in a better place now than I was four years ago."
Coming from the British Sailing Team and a background of Ainslie and Goodson, surely there must be some legacy within the team for their Laser star of the moment? But in fact, since Thompson was previously Paul Goodison's long term sparring partner, little has changed now that he is top dog.
"It is always nice to have two brilliant sailors training against each other constantly, so when Paul moved on, it made selection easier, but you miss out on a few opportunities to train against someone who is fantastic at Laser sailing. Having said that, we now have a lot of younger guys coming through who have improved massively and that is great to see. We have still got a good training group and we still work very hard."
Unlike some of the other Olympic sailing disciplines, the Laser sailors seem happy to train en masse. As Thompson puts it: "We hit the water and it could be one hundred boats all doing one rabbit start before an event - that is just the nature of Laser sailing. There isn't much to work on with kit, so you are always trying to take every opportunity to sail with the best boats you can."
Nonetheless when Thompson isn't at events, he is training in the UK with the GBR squad.
Once again the team's long term Laser coach, Chris Gowers, the man behind Goodison's gold in China and the three world championship victories notched up between Goodison and Thompson, is continuing to keep a firm hand on the British Laser squad rudder.
While it is tempting to assume that no progress is ever made in a boat so simple as the Laser, as anyone who has sailed one will attest, it is a hard boat to sail well and there are always techniques that can be improved upon. As Thompson puts it: "Because there is only focus on how you sail the boat and how you race, there are always going to be developments. Slingsby had an edge in strong winds and was very quick upwind and the fleet has learned that a bit more now. At the end of the day, it is fantastic racing. I don't think may other classes can match it in terms of that."
In terms of what has evolved specifically in this cycle, Thompson says that generally it is downwind sailing. "The whole level of the fleet has got a lot closer. You used to see huge position changes downwind and a lot of passing opportunities, but now everyone has got better. The whole level of the fleet downwind has got a lot closer - that is the biggest development, just techniques and little tweaks in technique and catching more waves, surfing more often, etc."
Going into Rio, Thompson says that conditions there will be variable, probably won't be as strong as Rio and will hopefully be stronger and more predictable than China. "I hope it will provide a huge variety of conditions - that is what we are going to see. The only issue we'll have is the short daylight hours because it will be winter there, so there'll be a narrow window for racing."
As to the Laser racing there, Thompson says the class has considerable depth at present. While he might be considered favourite, there is also the likes of Olympic legend, Brazilian Robert Scheidt, who will hold home team advantage. Then there are the likes to Germany's Philipp Buhl, Jesper Stalheim from Sweden, Sam Meech and Australian Tom Burton, today's winner in Weymouth.
Meanwhile The Sailing World Cup Weymouth and Portland is the British Olympic sailors' last hurrah before Rio 2016, Thompson says it is good that this regatta should be taking place on home waters. "Weymouth is a venue I love. Saying that - I am looking to win here, but, if I am honest, all the focus is now on Rio."
Today conditions on Weymouth Bay were tricky for both competitors and race officials alike. The Laser Radials for example only got away on race one on their fourth attempt in and the build-up to race two was worse for both classes. With tide pushing boats over the line, it was difficult to set the start line and often there were general recalls or rehoisting of the AP.
Thompson personally wasn't happy with his starting today but managed to post a 4-11-5 with the middle score being his discard. He finished the day fifth with Tom Burton leading and with team mate Elliot Hansen holding second after winning the opening race.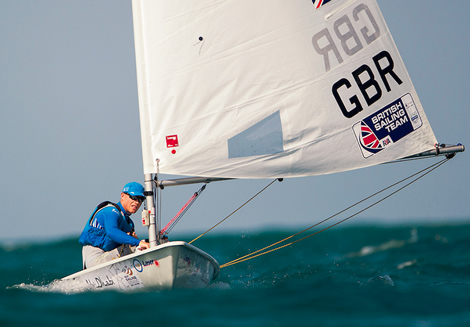 "I am pleased with how I progressed through the races. I had some good comebacks and kept it together," said Thompson afterwards. "I was generally happy with how things went. There's weren't a huge amount of passing opportunities. You couldn't bang a corner. It was just good pace downwind and some nice little sniggles on the shifts upwind."
While earlier Thompson confessed that at present Rio is now the focus, he admitted that this didn't seem to be true on the water today. "It's probably the same for everyone - as soon as that start gun goes, you are 'in the zone; and you want to win. Probably the things you'd do differently are the preparation before the event. Once you are out there on the water, everyone is fighting and trying to win."
Today in the light conditions, Thompson said doing well was down to starting well and then making the most of the first shift. Throughout the day the wind was clocking right but then it would swing back, with more pressure. But there was also a mist that occasionally would get denser, making it hard to see the next mark. "With that and the way the wind was shifting, it was pretty hard to read, quite hard to see what was going to happen next. You had to keep your head out of the boat all the time."
Racing continues tomorrow with the race committee still attempting to make up for day one's lost races.
Back to top
Back to top