Seven for the Little America's Cup
The Little America's Cup, or the International C-Class Championship to give it its official title, sets sail tomorrow out of the Societe Nautique de Geneve. The SNG, readers will remember, was the official challenging and defending club behind Alinghi's America's Cup campaigns so it is causing some raised eyebrows in select circles that they are hosting this event, following the acrimony and litigation that took place between Oracle and Alinghi that culminated in the 33rd America's Cup Deed of Gift match.
Multihull ol' timers will also have been similarly amused by the 'big' America's Cup taking on many of the attributes of the 'Little' event. The 'little' event was first held an impressive 54 years ago in Long Island Sound and according to our eminent colleague Bob Fisher (who was around at the time), the event was described by early participant John Fisk as being 'like a Little America's Cup' - a title that stuck until the 'Big AC''s legal department got involved.
The boats used in the Little America's Cup are catamarans designed to the ancient IYRU C-Class rule (of which the A-Class singlehander is more popular than it has ever been, the 20ft B-Class effectively became the one time Olympic Tornado catamaran, while the rarest of the four is the 32ft long by 16ft wide D-Class. C-Class catamarans must simply be 25ft (7.6m) long with a beam of <14ft (4.3m) and a total sail area of <300ft² (28m²).
Because the rule was written at a time when it was felt acceptible to have the same sail area upwind and downwind, or perhaps that fitting spinnakers to catamarans was unimaginable...the C-Class catamarans are of course relatively under powered downwind. So to rectify this, rather than simply add a spinnaker (like the Tornado eventually did), the big brains involved in the C-Class instead during the 1960s went from conventional rigs to unarigs, to rotating wings with ever decreasing size of softsail component before ending up with a full wing (the first full wing C-Class was the Australian Miss Nylex, winner in 1974). So while the rest of the sailing world was gasping at the wings on the AC72s in San Francisco three years ago, this was more than 40 year old technology for the C-Class, where the efficiency of the wings and the complexity of their controls was taken to a level that has never been seen in the big America's Cup.
However where technology has clearly gone in the opposite direction is in the ability of the C-Class catamarans to foil. The last Little America's Cup immediately followed the 34th America's Cup proper in San Francisco and was held in Falmouth, UK . There four of the 11 C-Class catamarans competing were foil-born and of these it was Franck Cammas' Groupama C that proved the class act, or, more accurately, was the most accomplished at foiling and was the most conservatively sails at times in the occasional fog and gusty conditions off Falmouth.
International C-Class Catamaran Championship 2015

So two years on the latest ICCCC is being held on Lake Geneva, with eight teams competing (down from 11 in 2013). Rather disappointingly the hosts, the Hydros campaign, which fielded two brand new boats in 2013 aren't challenging this year and have rented out their boats to other teams, including three time Nacra 17 World Champion Billy Besson (who sailed with them in 2013). Of the eight only one boat, the Canadian university entry is new, although one imagines that considerable development work has been put into the other seven.
Boat
ex-?
Helm
Crew
Nat
Notes
Axonproject.ch
(ex Cogito - LAC winner 1996/2004)
Benoit Marie
Benoit Morelle
SUI
Marie was winner of the last Mini Transat, Morelle a three time Bol d'Or winner
Cogito 2015
ex-Aethon

Steve Clark
Michael Costello
USA
Steve Clark, Mr Little Amerca's Cup

winner of the event in 1997 and defender in 2004.

Groupama Sailing Team
Groupama C
Franck Cammas
Louis Viat
FRA
Winner in 2013 and defending champion. Cammas is VOR and Route du Rhum winner and six time ORMA champion
Norgador
ex Hydros (2013)
Jean-Pierre Ziegert
Arnaud Psarofaghis
SUI
Ziegert competed in Atlanta in the 470, while Psarfaghis competed in the Extreme Sailing Series, Red Bull Youth America's Cup and Iis

a double Moth european Champ
Rafale - ETS
NEW
Marc Farmer
Trevor Tej Parekh
CAN
Crew are both 49er sailors
Sentient Blue
Alpha (2007 winner)
Thomas Paasch
Filip Walczak
GER
Team Gstaad YC
ex-Hydros (2013)
Billy Beeson

Mathieu Vandame
SUI
Beeson is 3x Nacra 17 World Champion, F18 World Champ (2013) and LAC 2013 runner-up, Vandame was F18 World Champ in 2012)
As to a winner, you would be unwise to bet against Franck Cammas who returns to defend with the same boat, Groupama C and same crew, Louis Viat, as he sailed on and with in 2013. The Little America's Cup obviously forms an integral part of Cammas' training as a skipper/helm as well as testing out his design team for his 'big' America's Cup campaign, Team France Groupama.
Cammas plays down the work he has done on Groupama C: "Since our victory and our entry into the America's Cup, Groupama C has served as our boat laboratory. It is a great opportunity for our design team to have such a tool. Everything we develop on this boat will be transposed on the vessel on which we will challenge for the Cup."
The French team has been practicising on Lake Geneva since last week. Cammas continues: "With Louis Viat, we progress every day using our boat, getting to grips with the systems that we developed last winter to better allow us to control the flight of the boat and which will be directly transferable to the America's Cup boat."
The C-Class also provides a small scale test platform on which to trial foils, as Cammas explains: "It is faster and less expensive to develop a pair of foils for a catamaran that is 7m long than for an AC45, which is twice as long. In Lorient, our base, we were able to test several sets which has been very informative."
With her wing Groupama C is capable of sailing at three times wind speed. "It's an exceptional boat we have a lot of fun on. It is very sensitive. In addition to the appendages, we have refined the control system for the wing settings that are usbale on each side and can be adjusted while out on the trapeze."
On Lake Geneva, racing starts tomorrow (Monday) with four days of fleet races before the final two are determined going through to the finals which will be sailed on Friday and Saturday (19 September).
As to the line-up Groupama C crewman Louis Viat commented: "There are fewer competitors than in 2013, but the level appears to be higher. We will have to be wary of boats that do not have foils such as Axon Racing, the boat sailed by Marie Benoit and Benoit Morelle. And when there is more wind, we will have to watch for the Swiss boat Norgador which is being sailed by Groupama Team France tactician, Arnaud Psarofaghis and finally Gstaad Yacht Club sailed by Besson and Vandame."
Theunknown is Canadian team on Rafale, only brand new boat - a foiling catamaran designed by the Ecole de Technologie Supérieure (ETS) in Montreal and sailed Canadian 49er champions.
On Lake Geneva conditions will be vital and typically the lake winds will be too light to go foiling fully. However in training last week this did not prove to be the case: "It is still too early to know what the weather will be," continues Viat. "What is amazing is that even on the lake there is still a little wind high up. This week we had superb conditions during training."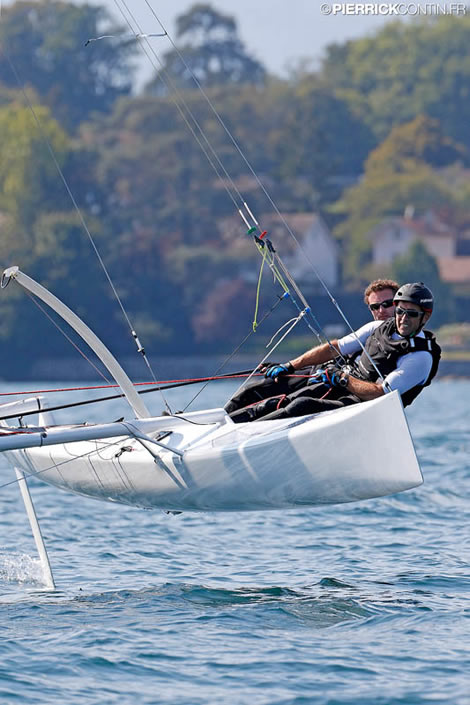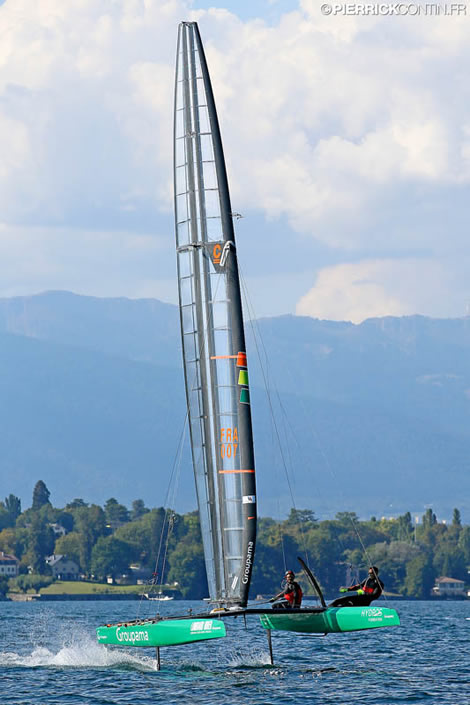 Back to top
Back to top