Team GBR - stronger than ever
With the Olympic sailing arriving in Europe with the ISAF Sailing World Cup Hyeres next week, Team GBR is looking the strongest it ever has with serious medal potential in literally every class/event, both Olympic and Paralympic.
Since the last Olympic cycle many of the heavy guns such as Ainslie, Percy and Goodison have moved on to the America's Cup full time. RYA Olympic Manager Stephen Park obviously bemoans their loss, but views the positive nonetheless. "The link between Olympic sailing and America's Cup sailing has never been stronger: The level of sailing ability, fitness, program management and self-discipline that is required to become a successful America's Cup sailor is only coming from those younger guys that have had Olympic programs." Now Ainslie and Percy are running Cups team, while Chris Draper helmed the Luna Rossa AC72 in San Francisco two years ago. "And it does provide something for our guys aspire to," Park concedes.
Across Team GBR, the stand-out performer remains Giles Scott, who continues the legacy of Iain Percy and Ben Ainslie in the Finn. In fact Scott's track record over the last couple of years even outshines the great Ainslie. In the 13 major Finn regattas he has competed in since June 2011, Scott has won all but one and he is, of course, the reigning World Champion.
Recently the all-conquering British Finn squad has thinned out with Mark Andrews and Andrew Mills moving to pastures new, although both remain involved in training while tenacious Ed Wright continues on what will be his umpteenth attempt to get to the Games. Meanwhile a new wave of Finn sailors is coming through, the strongest of whom is currently Ben Cornish who graduated up from the Laser for last season. Matt Howard continues as coach.
In the Laser, Nick Thompson has effectively taken over the reins from Paul Goodison, who is now ensconced at Artemis Racing and seems unlikely to give up 'living the dream' in San Francisco to return to the Olympic singlehander.
As RYA Olympic Manager Stephen Park puts it: "Goodie knows as well as anybody else that with Olympic sailing, to win a gold medal - which bear in mind he has already won - there is no point in just turning up. To win a gold medal he needs to put all his efforts into it and so to carry on trying to do that with all of the other things that he's doing and to maintain the lifestyle would a challenge. Although I would like him to come back!"
Nick Thompson meanwhile has upped his game and over the last couple of years has been typically finishing in the middle of the top 10 in the Laser and goes into Hyeres strongly, having picked up the bronze at last year's Worlds behind Heiner son Nicholas and the inevitable Australian – on this occasion Tom Burton (like Goodison, Tom Slingsby seems unlikely to return to Olympic sailing due to his AC commitments with Oracle Team USA). Thompson went one better at the ISAF SWC event in Miami picking up silver.
At present Thompson doesn't have much competition for the Laser spot within Team GBR, but according to Stephen Park there is some brooding talent currently residing in their 'Podium Potential' squad, such Elliot Hanson, Alex Mills-Barton and in particular Lorenzo Chiavarini, who won the Under 21 Men's Worlds in Douarnenez last year and was even 11th in the senior fleet at the ISAF Worlds in Santander. "They now seem to be making the break into the top group, but right now there is still a gap between Nick and them. They are coming on well and they are good prospects for the future."
Prospects are looking equally good in the 470 Men where Luke Patience is gunning to do 'one better' than the silver he won at London 2012. With Stuart Bithell moving to the 49er, he is now sailing with Elliot Willis, himself a two time 470 World Champion. Patience and Willis scored a coup in Miami when they were the first team to break the stranglehold talented Aussies Mat Belcher and Will Ryan have on the class, continuing Belcher's incredible winning streak, including London 2012 gold, with previous man on the wire Malcolm Page.
"The Australians are still the class act and Luke and Elliot are one of the very few who look like they could take them on and on their day, beat them," observes Park. "They went into the medal race in Miami with 16 points on them - that was pretty impressive."
Steve Lovegrove continues as coach for the 470 Men. However, unlike previous Olympic cycles there is not much in the middle ground between the top dogs and the Podium Potential sailors such as Mike Wood. "There are a number of different people," says Park, "but we have got some work to do there frankly in terms of 2020 and 2024."
The 470 Women are in a slightly more stable position with two teams regularly getting to the podium. Hannah Mills and Saskia Clark are back on song following their silver medal at London 2012. They finished second at the Test Event in Rio last August, and were second again most recently at the North Americans and the SWC Miami and came third at last year's Worlds in Santander.
In 470 Women at present London 2012 gold medallists, Kiwis Jo Aleh and Olivia Powrie, remain the class act, having won most recently at the ISAF SWC in Miami, although thye finished second at last year's Worlds to Austrians Lara Vadlau and Jolanta Ogar.
British teammate Sophie Weguelin and Eilidh McIntyre (daughter of Mike…) were putting in equally strong results in the 470 Women in 2014, including victory at the ISAF SWC in Miami and then second in Hyeres until Weguelin suffered a deep vein thrombosis on her way back from the Test Event in Rio in August.
"We've been trying to make sure she was fit to get back in relatively quickly from that," explains Park, "but that still meant three months rather than six, which was a break in continuity for them. And they missed the Worlds plus a huge block of training. They are now trying to get back up to pace."
The two 470 Women's crews have their own individual coaches – Joe Glanfield working with Mills/Clark and Romain Bonnaud with Weguelin/MacIntyre, but train together en masse, both coaches working together.
In the Laser Radial Allie Young remains the stand-out performer. After a disappointing Worlds last year when she finished ninth, she has been on the road in a major way this winter and before Christmas won both Sail Sydney and the ISAF SWC in Melbourne.
"She is now pretty much a top five performer in every regatta, fighting out for the top spots," says Park. "She had a long period with very few regattas through 2014 - it was just a case of trying to manage fatigue levels primarily and being careful and conscious about what she has been doing. But she had a big reintroduction at the end of last year to make sure she was in the top 30 in the World Rankings.
"Her performance has tended to be more successful in moderate to strong wind rather than lighter wind, but she has improved her light wind performance now and I don't think the conditions make a great deal of difference to her now." Young has also been getting challenged from Chloe Martin, who prefers lighter winds and came home third both at Princess Sofia and at the Radial Europeans last year.
As with the Finns, so there has been culling in the 49ers where for the last couple of Olympic cycles has featured a relatively large squad in the British team - all capable of finishing in the top 10, but none seemingly regularly able to reach the podium. "We did have a big group of sailors, but we dropped a whole pile immediately after the Worlds," admits Park. "There is a lot to be said by having a good competitive fleet so the question is whether, by trying to focus your resources a bit more, we might be able to make a jump. It is worth us trying to find out if that is the case. So there has been a change of strategy there rather than carrying on doing the same old thing."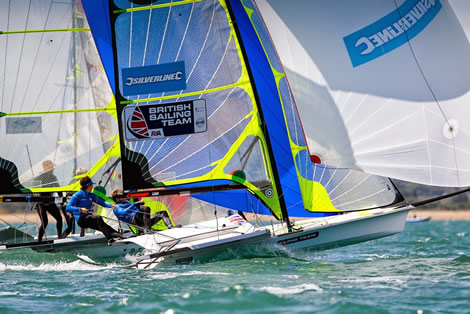 The Team GBR 49er crews in the Podium Squad now number two – Dylan Fletcher/Alain Sign and John Pink/Stuart Bithell – with a coaching set-up similar to the 470 Women with former Olympic 49er crew Ben Rhodes working his magic with Fletcher/Sign and Ian Martin with Pink/Bithell, but again working as a squad.
According to Park this way of operating with the squads and coaches isn't a departure: "We are not starting off with that as a principle - it depends on the group, the squad and the class. We are looking for a bit more coach-led programs and coaches to be more responsible for the outcome. With the 49ers, the reason we have two coaches is just because the coaches have come to us with a proposal saying 'I think this is how we should run it to get this outcome'. So we have tried to empower the coaches to be part of the solution rather than just dictating 'it is going to be like this, or it is going to be like that'. Hopefully we'll see some progress by doing that."
In the 49er FX Scottish former Laser Radial sailor Charlotte Dobson and former 470 crew Sophie Ainsworth. While they got a disappointing result in Miami, finishing 10th, they were lying second on the penultimate day of the regatta and in the latter half of 2014 they were regularly inside the top 10 coming home second at the South American Championship and fourth at the Intergalatic Championship (better than the Worlds surely???)
"They are there or thereabouts - they are capable of winning races and do win races," says Park. "I think that they are just one race off managing to get a whole regatta together. So quite a lot of work is going on there." Leading British Moth sailor Chris Rashley is their coach.
The 49er FX, the cut-down rig version of the Men's boat seems to be working as a concept and is popular with the sailors, but they are still on the learning curve and for example only eight managed to finish the medal race when the breeze was up at the SWC Miami. "But," observes Park, "there is no doubt that they are learning to sail the FX considerably faster than the men learned to sail the 49er. But that is the benefit of experience and input and everything else. If it is less than 20 knots then generally it is all pretty good. When it gets more than that, and particularly lumpy, the fleet as a whole finds it challenging."
The other new boat for Rio 2016 is the mixed Nacra 17 catamaran. Here the Team GBR crew have been playing musical chairs going into this season, and, with the exception of former Olympic match racer Lucy McGregor and ex-Tornado sailor Andrew Walsh, all have changed. Former 470 sailor Ben Saxton is now with Nicola Groves, originally on the 49er FX with Frances Peters, while Hannah Diamond, who was sailing with Saxton, is now sailing with ex-Star sailor John Gimson because Pippa Wilson has quit.
Interestingly there still seems to be no resolution over whether it is better to have a male or female helm/crew. At Princess Sofia in 2014 the top five boats had female helms while subsequently in Hyeres the top five boats all had male helms. And it doesn't seem to be conditions-dependent. "I think originally we would have expected that if it was windy then a male crew would do better because physically they'd be able to work the boat harder, but I don't think that has proven to be the case," says Park.
An issue with the Nacra 17 and the 49er FX is the significant amount of injury the crews are sustaining. "For example in Miami at the last World Cup regatta there were eight people in hospital at the end of day one, primarily from those two classes with broken collar bones, broken ankles, etc. Both boats also go pretty quick. You are going downwind at 20-25 knots and you go from that to a stop in two boatlengths… They typically hit something or they land on the boat or they land on each other."
The Nacra 17 is also suffering less gear failure now says Park, although that is partly because most of it has been replaced, particularly daggerboards, rudders and masts. "It is more unusual whereas before it was standard practice. Before you'd do well to get two regattas out of a set of foils without them breaking. There's been big development in how they manufacture the boats and the problem is that it means the boats are continually evolved so you have to stay on top of the technology aspect – while it is supposed to be a manufacturer's one design..."
The new Olympic catamaran is however a photographer's dream with the boat's curved foils causing it to occasionally foil, particularly when it accelerates quickly. One wonders if for the 2020 games the Nacra 17 shouldn't become a fully foiling catamaran (just as the Nacra 20 is). "My understanding is that making the Nacra 17 a foiling boat is relatively simple proposition," says Park.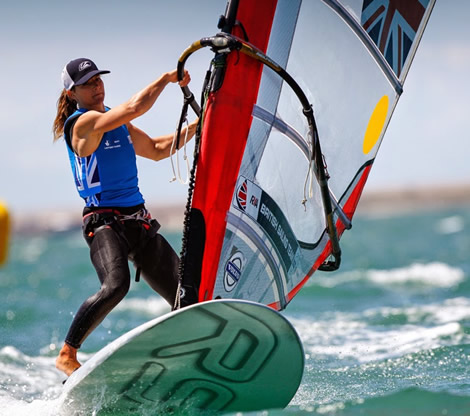 Meanwhile the same ol' campaigners are returning in the boards with Bryony Shaw in particular fully on song having won the ISAF Sailing World Cup Final in Abu Dhabi in November and most recently the SWC in Miami.
So what's brought this on? "I think she is just a bit more comfortable with where she is at and a bit more confident in her ability," says Park. "She has had some really good stability with her training."
And Nick Dempsey remains in the hunt too having finished third and fourth in Abu Dhabi and Miami in the RS:X Men.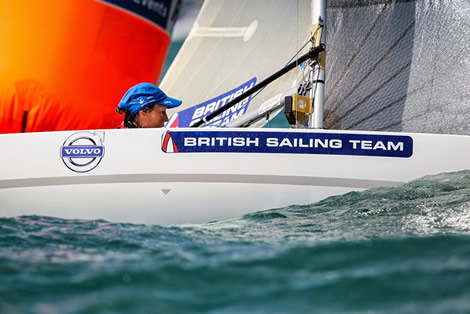 The Paralympic squad is also looking strong within Team GBR, despite the terrible news that sailing is to be dropped from the Paralympics at Tokyo 2020, a decision which the RYA is doing all in its power to get reversed.
John Robertson, Hannah Stodel and Steve Thomas continue to remain regularly in the top five having won in Hyeres last year, while Alexandra Rickham and Niki Birrell have not finished off the podium at a major event in the last four years and most recently came home second to Aussies Daniel Fitzgibbon and Liesl Tesch in Miami. Similarly in the 2.4 mR, both Megan Pascoe and Helena Lucas are both regularly top five finishers with Pascoe winning Delta Lloyd last year and coming home second in Miami was third at the World last year and was sixth in Miami.
Park concludes: "There aren't any holes across the classes both Olympic and Paralympic. There is no class you look at and can say 'that is not going well'. We have medal contenders in all of those classes so therefore it is about which ones are going to come good on the day." A sweet position in which to be.

Back to top
Back to top