Strong start for 7
The defending champion Gotta Love It 7 team of Seve Jarvin, Sam Newton and Scott Babbage gave a brilliant performance to come from behind and score a brilliant win in race 1 of the 2015 JJ Giltinan 18ft Skiff Championship on Sydney Harbour today.
After trailing the early leaders for almost the entire first leg of the course the champion team grabbed a 5 second lead from Coopers 62-Rag & Famish Hotel (Jack Macartney) shortly before the windward mark.

Once in front Gotta Love It 7 extended her lead and was in a class of her own as she powered around the course a clear leader.


When Coopers 62-Rag & Famish Hotel suffered gear failure midway through the race, 7's lead became even greater and the skiff completed the course 2 minutes and 14 seconds ahead of her nearest rival.

While Gotta Love It 7's win was clear cut, the race for minor placings was brilliant as several teams exchanged positions throughout the race. In the end, Mojo Wine (Lee Knapton, Mike McKensey, Ricky Bridge) took second place, just 7 seconds ahead of New Zealand's Knight Frank (Riley Dean, Matthew Coutts, John Little).

The first windward leg of the race produced some close battles with Coopers 62-Rag & Famish Hotel holding a narrow lead over Smeg (David Witt), Thurlow Fisher Lawyers (Michael Coxon), The Kitchen Maker (John Sweeny) and Knight Frank.

At that point it looked as though Gotta Love It 7 was going to have to work hard to make up time after being a little buried at the start, but within a few minutes the defending champion team was up there and ultimately won the race to the windward mark.

Coopers 62-Rag & Famish Hotel clung on to the charging 7 on the downwind leg to the wing mark off Shark Island and was still in contention at the bottom mark near Clarke Island.

Team Seven opened up a break of around one minute at the following windward mark and The Rag looked just as comfortable in second place as spinnakers were set for the run down the middle of the course.

Gear failure saw The Rag's spinnaker drop from the mast and when the crew tried to rectify the problem the tip of the mast was split, leaving the crew with a repair job to be done before tomorrow's race 2 of the championship.
Full results here
Images from Christophe Favreau / www.christophefavreau.com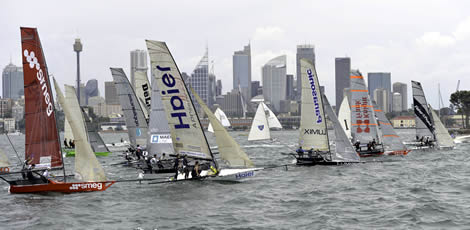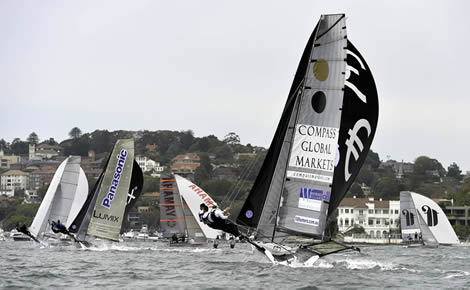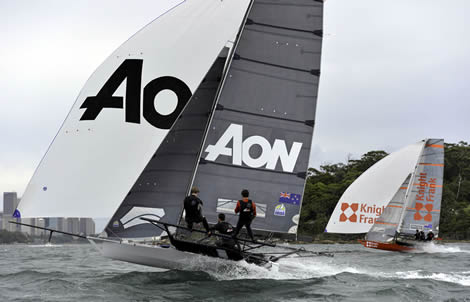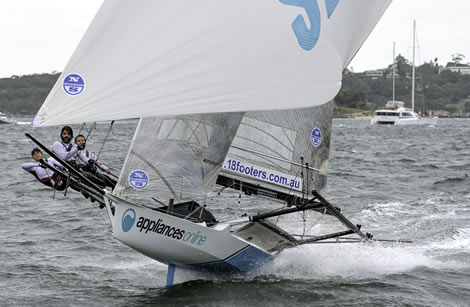 Back to top
Back to top