Title for Burling and Tuke
The defending European Champions held on to their crowns in both the men's and women's fleets at the Seiko 49er and 49erFX European Championship, which reached a thrilling conclusion today in Helsinki.

Ida Marie Nielsen and Marie Olsen went into today's three Grand Final races just a point behind the New Zealanders Alex Maloney and Molly Meech. The Danes looked relaxed but determined and sailed a very solid three races, waiting for the others to make mistakes. With the Theatre Style racing format, Principal Race Officer David Campbell-James set a short course for the top ten 49erFX crews of just 750m from top to bottom, and just 450m wide, each edge of the course limited by boundary lane ropes similar to those seen at a swimming gala.

With the fleet forced into multiple tacks and gybes on the two-lap course, and the wind blowing a shifty, gusty 14 to 18 knots, crisp boathandling and fast decision-making were critical. The Kiwi team reached the top mark of the first race in good shape, in 2nd place behind Jena Mai Hansen and Katia Iversen of Denmark. However Maloney and Meech were unable to bear away, and continued further upwind. "There was a big gust as we arrived at the top mark," explained Maloney, "and we didn't feel we could turn the boat away, so we held on a few moments." It was a critical few seconds that allowed other boats to overtake, and it set the tone for the reigning World Champions who just couldn't quite make things go their way today.

Meanwhile Nielsen and Olsen recovered from a shaky moment to finish sixth in the first race, and then put the hammer down to win the final two races, securing Championship victory. The Brazilian team Martine Grael and Kahena Kunze also finished strongly with two 3rd places, putting them on equal points with the Kiwis. The Brazilians' better finish in the final race gave them the silver medal on countback, relegating the World Champions to the bronze medal position. The top three – Denmark, Brazil, New Zealand – are an exact replica of the medal winners at the 2013 European Championships a year earlier in Aarhus, Denmark.

Asked which European title they had most enjoyed winning, Olsen commented: "It was great winning on home waters last year in Denmark, but the battle was much closer this year, so we're very happy to have defended our title."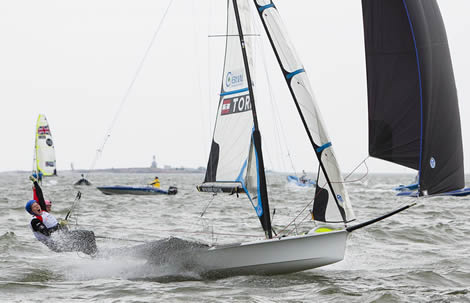 Attention then turned to the 49er men, with the reigning World Champions from New Zealand going into the final three races with an 11-point margin over the 2012 Olympic Champions from Australia. Pete Burling and Blair Tuke were fast out of the blocks, taking the lead in the first race. Meanwhile, behind them carnage ensued for Nathan Outteridge and Iain 'Goobs' Jensen. "We had a port-starboard incident with John Pink up the first leg," said Outteridge. "Then down the run Goobs's trapeze wire snapped, we reckon from Pinky's boom nicking the rope earlier." With Jensen in the drink, Outteridge tried to drop the gennaker singlehanded. "My plan was to drop the kite, sail round the leeward gate and pick Goobs up on the way back up the next leg. But I capsized, and all I managed to do was give Goobs 200 metres more of swimming to do." By the time Jensen was back on board with the boat upright, the fleet was long gone. Last place for the Aussies.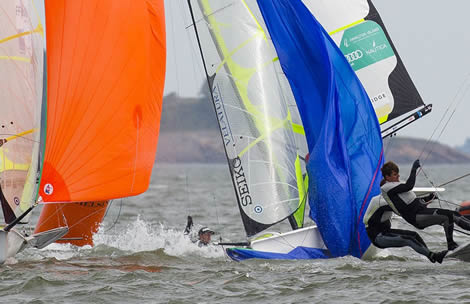 The capsize put the Australians into a tight battle for the silver or bronze with the Germans, Erik Heil and Thomas Ploessel, and Dylan Fletcher and Alain Sign from Great Britain. Then it went bad for Outteridge again, this time at the windward mark of race 2 as he went round in traffic and with wind shadow from another boat, found himself waterskiing off the back of the boat as Jensen tried to hoist the gennaker. The Australian boat narrowly avoided a capsize but once again was at the back of the fleet. Incredibly the Aussies salvaged a 7th from the race, but a 3rd place for the Kiwis proved sufficient to give them overall victory with a race in hand.

With the gold medal already decided, spectators turned their attention to the three-way fight between Great Britain, Germany and Australia. Once again the Kiwis led the way, winning the race by a big margin. Outteridge sailed a solid race for 2nd place, but the Germans had been too consistent with 3,2,3 – taking the silver medal by just over 2 points from the British, who sneaked the bronze by just 0.6 points from the Australians. The Olympic Champions would leave Helsinki empty-handed. "Oh well, you can't have things go your way all time," said Jensen. "I guess we'll have to do some practice." And practice is what they will need if they're to reclaim the mantle of invincibility from the New Zealanders who have gone unbeaten since taking the Olympic silver medal two years ago at London 2012.
"We're stoked to win," said Tuke. "We loved the racing here, especially the theatre-style racing we did today. It was just awesome sailing." Next stop for the Kiwis and many of the other top teams in the 49er and 49erFX is Rio de Janeiro for the Olympic test regatta next month.
Back to top
Back to top