Diaz and Baltins take the lead
The fourth day at the 2014 International Star Class World Championship will be remembered as the longest so far. Two races were scheduled due to the yesterday's cancellation of the race number three in order to catch up with the program.
The first flight initially planned at 08.00 was delayed for two hours waiting for Garda's famous northerly Peler wind to abate.
Around 10:00 race 3 had a great and clear start in good breeze with five italians team among the top ten.
GRE 8434 Emilios Papathanasiou/Antonis Tsotras led the fleet with an apparently safe advantage with ITA 8491 Diego Negri/Sergio Lambertenghi 48 seconds behind, GER 8442 Johannes Polgar and Markus Koy after 52 second and BRA 8474 Lars Grael with Samuel Goncalves 55 second back, when the rest of the fleet rounding more than one minute behind the leader.
At the first downwind mark the two lead positions remained unchanged, but BRA 8210 Torben Grael was overlapped with GER 8442 Polgar/Koy and moved into third.

The thermal wind kicked in with a 180deg wind shift from northerly to southerly. This ended with the Brazilian Lars Grael & Sam Goncalves scoring their second win just 20 minutes outside of the time limit.

After a quick lunch break, the race 4 start was really aggressive taking four goes to get away, following recalls, postponements and black flags. In this BRA 8474 Lars Grael was one of the 17 boats that was penalised putting him potentially out of the challenge for the podium.

The final race of the day was held in a stable Ora wind that lasted until the end, but which saw several lead changes. Husband and wife team of SUI 8364 Flavio and Anouk Marazzi led for most of the race: a really great performance, considering the pressure from GER 8340 Stanjek/Kleen, and USA 8320 Szabo/Natucci.
Howevr just over one leg prior to the finish, American George Szabo with the italian crew Natucci took the lead which they maintained until the finish.

Two more races are to be sailed at these Star Worlds with USA 8465 Augie Diaz and Arni Baltins now leading, three points clear of ITA 849 Negri/Lambertenghi, followed by NOR 8317 Melleby/Prada, GER 8442 Polgar/Koy and BRA 8398 Fuchs/Seifert.

George Szabo, winner of Race 4 commented: "It was a long day. We woke up at 0600 in the morning and there was too much wind when we got to the yacht club after breakfast. A long postponement on land and then one very long race, the first race, it went close to the time limit so yeah, it's a good feeling to have a win in the second race."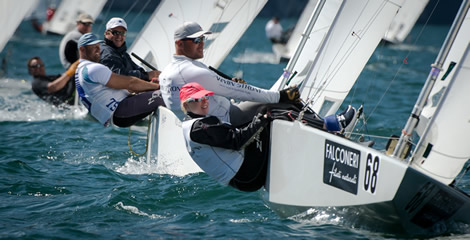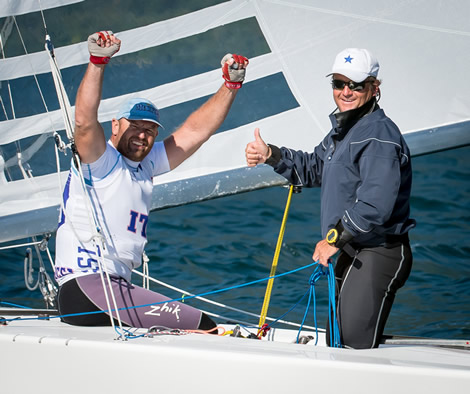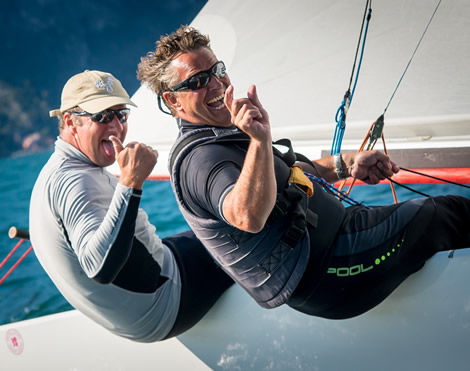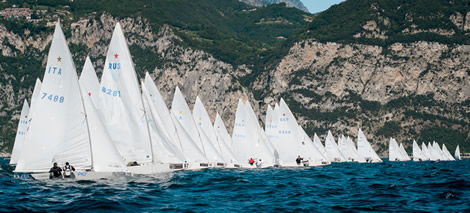 Back to top
Back to top