GBR 1-2-3
Two more race wins for Giles Scott (GBR) at the Finn Europeans in La Rochelle extends his lead to 18 points, and allows him to discard a second place from the first race of the day to leave him with four race wins out of five sailed. Andrew Mills (GBR) has moved up to second while Ed Wright (GBR) has discarded his BFD from race 1 to climb into third.
Though the day dawned wet, chilly and foreboding, the wind was in place from the start. Rising from 10 knots to around 15-16 in the second and third races, La Rochelle produced some great conditions, which when the sun came out for the second race today was almost akin to fizzy, golden, alcoholic beverage sailing. But let's not get carried away yet.
After two race wins on Tuesday Giles Scott (GBR) was looking fast, strong and relaxed. On Wednesday, he never really got himself into any trouble, always in the leading few round the top mark and always gaining throughout the race without too much fuss. The British sailors were very strong all day and were always in the running. Also sailing well today were the two Swedes, Max Salminen (SWE) and Bjorn Allansson (SWE), while several other sailors added some useful scores to their results sheet.
The third race of the championship got away cleanly after one general recall under black flag. It was dominated by Piotr Kula (POL) who started by the pin and played the shifts well on the first upwind to round just ahead of a large pack of GBR boats and Max Salminen (SWE). Scott trailed Kula round the left hand gate and tried to make inroads up the next beat. However the Pole maintained the lead upwind and then extended on the final downwind to cross in first ahead of Scott and Andrew Mills (GBR).
Kula explained his race, "I had a good start at the pin. There was quite a lot of pressure there but the geometry was also good. So shortly after I tacked and went back to the middle, but I saw more pressure on the left, so I went back and gained quite a lot there. It was quite a demanding race because I had four Brits behind me. They are good guys so I had to be really focussed. They were fast, but I was controlling the race. It was not easy."
Race 4 started fairly promptly with Oscar flag now raised for free pumping. Ed Wright (GBR) was fastest to the top mark, rounding just ahead of Pieter-Jan Postma (NED). However Scott was not far back and had taken the lead by the downwind gate, to extend away to win. Wright maintained second place with Josh Junior (NZL) coming through strong on the final lap to cross in third.
The wind had by now increased to 14-16 knots and after a slight delay, hampered by two general recalls, Postma led round the top mark from Wright and Scott. Postma seemed to have it under control and looked comfortable but Scott had other ideas and not only passed Postma on the last downwind, but also extended for a huge win of nearly a minute. Likewise Junior, who had rounded the top mark in around 15th, took 12 boats on the first downwind and then also overtook Postma on the final leg to place second. Postma crossed in third, wondering where it had gone wrong.
On the last race Junior said, "I managed to pass a lot of boats on the downwind, and then managed to get past PJ on the last downwind. Giles was just in the grove and going fast. I'd run out of energy by then, but I think PJ went the wrong side."
"I am having some good races and I had a bad one this morning as well, so it's a bit up and down. But it's really hard with 100 boats, and I am finding the start line quite hard. The line is so long and with so many boats it's hard to find a clear lane and keep going. But once you're in the top five it's really easy to stay there, almost sailing by yourself, but when you're in 30th there are just boats everywhere."
On the conditions "I'm loving the downwind here, but would be nice if it was 10 degrees warmer. Other than than it's pretty good sailing."
Salminen commented, "I know it's wrong to suggest bad luck but I had a tough start to this regatta. I started with a BFD and then I capsized in the second race and in the first race today I rounded the top mark, pulled on the vang and it popped off, so I sailed the whole race with no vang. I was in fourth and tying it off up the second beat. Eventually it was really good. I had a solid day, the points were good, but still a few strange inconveniences."
On the rivalry with Allansson, "Well, it's good that we are both up there. I think we have both raised our game. We help each other a bit and it provides some encouragement to do better."
Scott said, "Another good day. Very similar to what yesterday afternoon ended up being. The first race wasn't unlimited pumping, which made things quite precarious, as it was on the cusp. It was certainly very tempting to pump more. There were a few times that you needed more than one pump."
"I just had nice conservative starts and good speed. In the last race I came off towards the pin and had nice clear lane for a long port tack all the way to the top, and rounded in second or third. PJ went the wrong way on the last downwind and I had good free open space on the right and had good pressure all the way down. Right was better downwind, so I made the most of that and found a nice groove."
On the starting, "In the last race the tide was starting to push us over the line, but everyone is now learning that the black flag means you get disqualified so the fleet is being a bit better behaved."
"There are three more races tomorrow, and a still lot of sailing to be done. I'm pretty happy, relaxed, and we'll see what tomorrow brings."
Postma contemplate his missed chance. "They were quite tough races today, and Giles is sailing very, very well. He is very smooth, saves his energy and pushes when he needs to, but we still have five races to go. So tomorrow we'll be pushing hard in another three races and I'm looking forward to it."
On the final race, "I won the pin and the wind went left and I got pressure and crossed most of the fleet. I kept it simple and led round until the last downwind. On the last run I was just making too many mistakes. First you have to look at the waves and wind and connect them together, and I didn't get it right. My technique wasn't right either, and when I got tired, I lost the feeling. I was tired after three races and should keep it smooth, but I didn't."
In the Junior Championship, Jake Lilley (AUS) has taken the lead in 18th place overall from Peter McCoy (GBR) in 23rd and Anders Pedersen (NOR) in 25th. McCoy picked up a useful 13th in race 4, while Lilley had three results in the top quarter of the fleet. Meanwhile Jorge Zarif (BRA), the World and Junior World Champion is fighting back and is just 20 points behind Lilley after getting a fourth in race 4.
Racing continues on Thursday at 11.00, with three more races planned, which would bring the championship back on schedule.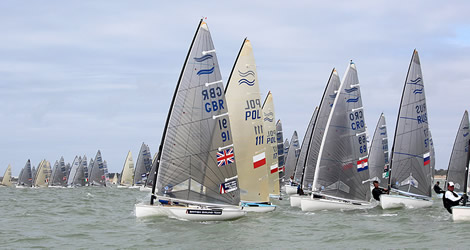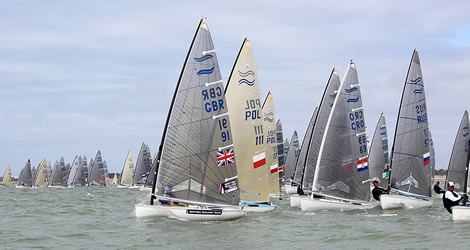 Back to top
Top 50 results
| | | | | | | | | |
| --- | --- | --- | --- | --- | --- | --- | --- | --- |
| Pos | Sail | R1 | R2 | R3 | R4 | R5 | Tot | Net |
| 1 | SCOTT Giles (GBRGS20) | 1 | 1 | 2 | 1 | 1 | 6 | 4 |
| 2 | MILLS Andrew (GBRAM55) | 6 | 8 | 3 | 17 | 5 | 39 | 22 |
| 3 | WRIGHT Edward (GBREW3) | BFD | 5 | 10 | 2 | 6 | 125 | 23 |
| 4 | ZBOGAR Vasilij (SLOVZ) | 3 | 2 | 13 | 15 | 7 | 40 | 25 |
| 5 | KULA Piotr (POLPK6) | BFD | 3 | 1 | 7 | 19 | 132 | 30 |
| 6 | POSTMA Pieter Jan (NEDPP1) | 5 | 17 | 48 | 6 | 3 | 79 | 31 |
| 7 | LOBERT Jonathan (FRAJL23) | 4 | 19 | 8 | 8 | 11 | 50 | 31 |
| 8 | LE BRETON Thomas (FRATL1) | BFD | 6 | 6 | 5 | 14 | 133 | 31 |
| 9 | ANDREWS Mark (GBRMA18) | BFD | 12 | 4 | 9 | 10 | 137 | 35 |
| 10 | JUNIOR Josh (NZLJJ1) | BFD | 7 | 28 | 3 | 2 | 142 | 40 |
| 11 | KLJAKOVIC GASPIC Ivan (CROIK3) | BFD | 4 | 9 | 11 | 18 | 144 | 42 |
| 12 | MURDOCH Andrew (NZLAM4) | 7 | 21 | 12 | 22 | 4 | 66 | 44 |
| 13 | SALMINEN Max (SWEMS11) | BFD | 20 | 5 | 14 | 8 | 149 | 47 |
| 14 | BERECZ Zsombor (HUNZB1) | BFD | 14 | 7 | 16 | 15 | 154 | 52 |
| 15 | ALLANSSON Bjorn (SWEBA4) | 18 | 11 | 11 | 19 | 13 | 72 | 53 |
| 16 | NIRKKO Tapio (FINTN1) | 2 | 10 | 24 | 21 | 29 | 86 | 57 |
| 17 | KARPAK Deniss (ESTDK1) | 17 | 9 | 23 | 10 | BFD | 161 | 59 |
| 18 | LILLEY Jake (AUSJL12) | BFD | 13 | 20 | 18 | 26 | 179 | 77 |
| 19 | VUJASINOVIC Milan (CROMV2) | BFD | 16 | 14 | 30 | 17 | 179 | 77 |
| 20 | MUSCAT Alejandro (ESPAM21) | 26 | 26 | 17 | 55 | 9 | 133 | 78 |
| 21 | MITAKIS Ioannis (GREIM3) | BFD | 24 | 26 | 26 | 12 | 190 | 88 |
| 22 | POGGI Giorgio (ITAGP5) | 13 | 18 | 42 | 23 | 35 | 131 | 89 |
| 23 | MC COY Peter (GBRPM40) | 23 | 22 | 32 | 13 | 50 | 140 | 90 |
| 24 | CORNISH Ben (GBRBC35) | 9 | 67 | 30 | 28 | 24 | 158 | 91 |
| 25 | PEDERSEN Anders (NORAP2) | 19 | 43 | 25 | 25 | 23 | 135 | 92 |
| 26 | PAOLETTI Michele (ITAMP5) | 8 | 29 | 41 | 27 | 30 | 135 | 94 |
| 27 | BENDIX Mads (DENMB4) | 29 | 34 | 22 | 12 | 31 | 128 | 94 |
| 28 | ZARIF Jorge (BRAJZ4) | BFD | 30 | 16 | 4 | 47 | 199 | 97 |
| 29 | VOLOLINI Enrico (ITAEV14) | BFD | 23 | 18 | 34 | 27 | 204 | 102 |
| 30 | VINCEC Gasper (SLOGV1) | 11 | 39 | 37 | 54 | 20 | 161 | 107 |
| 31 | FOGLIA Alejandro (URUAF1) | 27 | 44 | 15 | 24 | BFD | 212 | 110 |
| 32 | KASUSKE Philip (GERPK18) | 12 | 40 | 33 | 35 | 32 | 152 | 112 |
| 33 | MELO Frederico (PORFP1) | BFD | 15 | 35 | 51 | 16 | 219 | 117 |
| 34 | TWEDDELL Oliver (AUSOT1) | BFD | 25 | 21 | 29 | 44 | 221 | 119 |
| 35 | OLUJIC Josip (CROJO01) | 10 | 41 | 51 | 42 | 28 | 172 | 121 |
| 36 | SKORNYAKOV Eduard (RUSES2) | 16 | 36 | 31 | 43 | 40 | 166 | 123 |
| 37 | SELIANOV Alexey (RUSAS8) | 15 | 38 | 78 | 31 | 42 | 204 | 126 |
| 38 | BALDASSARI Filippo (ITAFB31) | BFD | 28 | 19 | 47 | 33 | 229 | 127 |
| 39 | MARCINIAK Jakub (POLJM5) | 24 | 42 | 27 | 36 | 41 | 170 | 128 |
| 40 | KAYNAR Alican (TURAK2) | BFD | 49 | 40 | 20 | 25 | 236 | 134 |
| 41 | VIKA Tomas (CZETV1) | 28 | 35 | 61 | 41 | 34 | 199 | 138 |
| 42 | VAINSALU Lauri (ESTLV11) | 36 | 53 | 77 | 40 | 21 | 227 | 150 |
| 43 | FERNANDES VASCO Miguel (ESPMF11) | 25 | 59 | 36 | 32 | 65 | 217 | 152 |
| 44 | BRODTKORB Lars (NORLB8) | 14 | 80 | 46 | 56 | 37 | 233 | 153 |
| 45 | TERPIGOREV Egor (RUSET1) | BFD | 27 | 53 | 57 | 22 | 261 | 159 |
| 46 | BEVILACQUA Riccardo (ITARB31) | BFD | 32 | 69 | 38 | 39 | 280 | 178 |
| 47 | BUGARIN Nenad (CRONB3) | 20 | 46 | 60 | BFD | 54 | 282 | 180 |
| 48 | PRADA Bruno (BRABP1) | 32 | 45 | 50 | 53 | 62 | 242 | 180 |
| 49 | GUITIAN SARRIA Pablo (ESPRA2) | BFD | 60 | 52 | 33 | 36 | 283 | 181 |
| 50 | MARTENS Eike (GEREM6) | 39 | 31 | 58 | 68 | 55 | 251 | 183 |
Back to top