Breeze up at the A-Cat Worlds
Day Two of the A Class World Championship in Takapuna, New Zealand, started in more wind than predicted, and certainly more than expected; today the breeze averaged 13 knots with puffs up to 17.
Emirates Team New Zealand crew had a perfect start to the day with race one delivering a clean sweep from first to fourth: Glen Ashby (1), Peter Burling (2), Blair Tuke (3) and Ray Davies (4).
The challenging conditions led to many withdrawals and retirements, with several breakages, some spectacular crashes, and for some contestants the conditions were just too rough.
Most notable was Glenn Ashby who won the first race, but then went on to break the bolts securing his starboard rudder at the top mark, forcing him to withdraw from the second race of the day. As one might expect the Emirates TNZ team was planning to change all the bolts securing both rudders for the race tomorrow.
Nathan Outteridge has a long night ahead of him after breaking several vital components throughout the course of the day. He had a difficult start in the first race with problems sheeting home the outhaul, when the cleat failed to jam. In the second race the bungee broke on the trapeze wire and he deliberately stacked the boat to retrieve the wire which put him back into seventeenth place. A valiant effort saw him finish in sixth place only to break his dagger board case as he crossed the line for the final time.
"I broke everything," was the succinct quote from Outteridge after the finish.
The first boat over the line in the second race was Mischa Heemskerk, former World Champion from the Netherlands, followed by Andrew Landenberger (AUS) and Adam Beattie (AUS) in third place.
Peter Burling (ETNZ/NZL) currently sits at the top of the table after a second and a fifth placing today leaving him with 21 points. Second is Andrew Landenberger (AUS) with 23 points and the Great Grand Master Scott Anderson (AUS) lies in third place with 28 points.
Blair Tuke (NZL) and Ray Davies (NZL) are chasing hard with 31 and 32 points. Nathan Outerridge remains in the top ten, currently in sixth place on 36 points.
The competitors are able to drop their worst race, which will be a relief for several of the top players, particularly Glenn Ashby who, had he not scored a DNF, would have been at the top of the table on 4 points.
Past NZ Champion Steve Ashby commented on his own performance saying: "We went the right way and the good guys in the fleet went the other way, but it all turned to custard from there."
Matthew Hart managed to complete both races but commented: "Piece of advice, don't try to sail the Worlds with a broken wrist."
No doubt several contestants will be hoping to see conditions lighten for tomorrow.
Full results here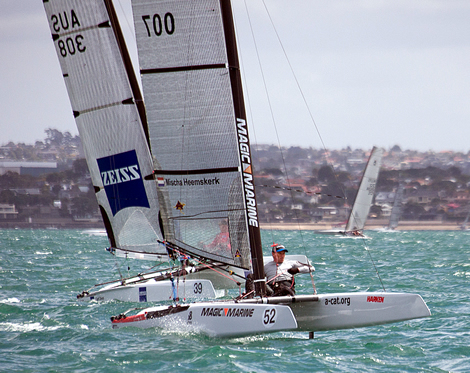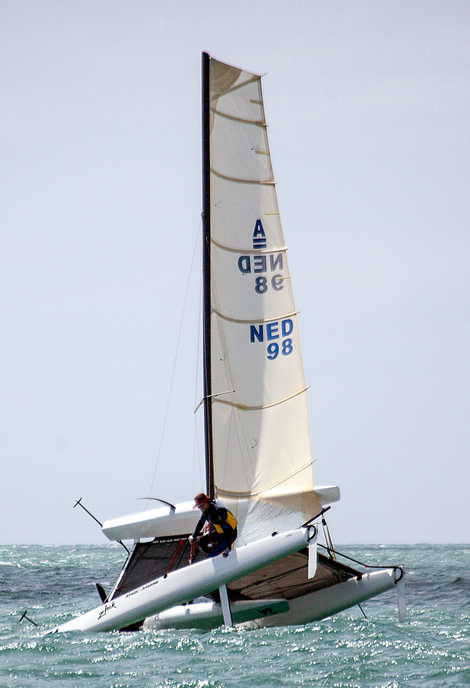 Back to top
Back to top