Scheidt on fire
Robert Scheidt sounded a warning to his Rio 2016 rivals today with an emphatic win at the Laser Standard World Championship in Oman, which moved him five places up the leaderboard into second place.
Day 2 of the championship brought a change at the top after light winds at Mussanah Sports City caused postponements and frustration among competitors, resulting in ten disqualifications from four false starts in the only race of the day.
These included overnight leader Britain's Nick of Britain who dropped down to 34th place as well as former Laser World Champion Gustavo Lima from Portugal.
Croatian Tonci Stipanovic won his race in the Yellow fleet to take over the leader's yellow jersey while Pavlos Kontides from Cyprus maintained his consistent form to retain third overall. All three leaders are equal on 10 points each but Stipanovic's two outright wins in three races places him top.
Racing was postponed for three hours due to the breeze which was less than 5 knots when the first race was due to begin. But when the fleet finally got out onto the race course, the sea breeze had kicked in, remaining stable throughout a hot and sunny afternoon and building to around 13 knots.
Scheidt, eight times Laser World Champion, was delighted with his performance having led off the line and staying in front throughout. It confirmed that despite his nine year break from the Laser class and despite being 40 years old, he has a strong chance of qualifying for the Olympic Games on his home waters in Rio.
"To win a race at the Laser World Championships in this sort of breeze, you have to be fast and you have to be fit so I think I have my game back and I know it will be extremely hard but this makes me think I have a chance," he said. "I had a good start, was clean off the line and managed to play the shifts well on the first upwind so was already in the lead at the first mark which made my life a lot easier.
"I managed to use my speed downwind and the second beat was more of a controlling race with the Croatian guy and the guy from Cyprus so I'm pretty happy. It is nice to win a race but the regatta has only just started."
The high number of disqualifications so early in the regatta was a result of frustration and the tricky conditions, Scheidt confirmed.
"It was a combination of people being aggressive and a little bit of current pushing them across the line – they didn't realize how close to the line they were which was why so many people got disqualified.
"It was tough to get a disqualification at the beginning of a regatta like that but I should think they will be a lot more careful from now on."
Thompson agreed he had taken a gamble that failed to pay off and was realistic about its implications. "It was a close call but you couldn't call it bad luck or misfortune," admitted Thompson who has set his sights on winning the 2013 Laser World title, having missed out three times despite finishing on the podium.
"Of course I am disappointed because the black flag disqualification makes my life a lot harder from now."
Germany's Phillip Buhl staged a strong recovery after his disappointment of finishing 17th in race two on Sunday with a third (yellow) in Race 3 but was frustrated when race officers cancelled the second race due the lack of time available.
"I am very happy with this result but I would have loved to have raced again because these are my favourite conditions and suit me well," he said.
He was lying second for most the race but fell to third just before the finish when Brazil's Bruno Fontes edged ahead with a surge of speed downwind.
"Hopefully in the long run it won't matter but the main thing was to be among the leaders because it was important for me to come back from finishing 17th on Sunday."
The qualifying races continue on Tuesday with two scheduled for each day until Wednesday. The finals series starts on Thursday with the last two showdowns set for Saturday.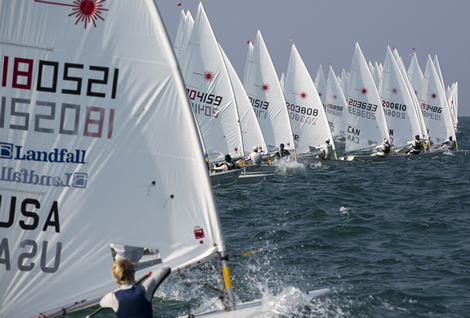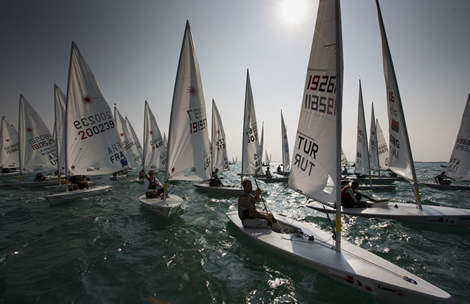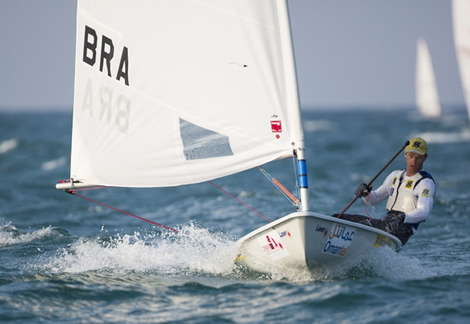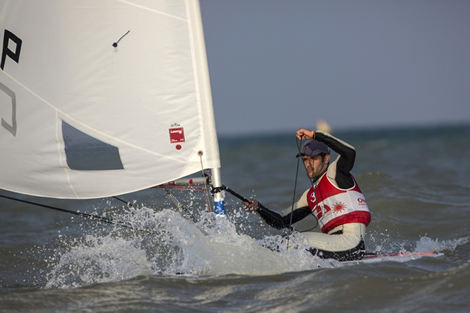 Results top 50

| | | | | | | |
| --- | --- | --- | --- | --- | --- | --- |
| Pos | Sailor | Nat | Q1 | Q2 | Q3 | Tot |
| 1 | Tonci Stipanovic | CRO | 1 | 8 | 1 | 10 |
| 2 | Robert Scheidt | BRA | 4 | 5 | 1 | 10 |
| 3 | Pavlos Kontides | CYP | 2 | 5 | 3 | 10 |
| 4 | Jesper Stalhein | SWE | 3 | 2 | 6 | 11 |
| 5 | Tom Burton | AUS | 8 | 1 | 4 | 13 |
| 6 | Bruno Fontes | BRA | 5 | 6 | 2 | 13 |
| 7 | Jean-baptiste Bernaz | FRA | 6 | 3 | 9 | 18 |
| 8 | Philipp Buhl | GER | 1 | 17 | 3 | 21 |
| 9 | Daniel Mihelic | CRO | 11 | 9 | 2 | 22 |
| 10 | Andrew Maloney | NZL | 7 | 7 | 8 | 22 |
| 11 | Rutger Schaardenburg | NED | 19 | 3 | 4 | 26 |
| 12 | Thomas Saunders | NZL | 15 | 4 | 11 | 30 |
| 13 | Martin Evans | GBR | 12 | 9 | 12 | 33 |
| 14 | Lee Parkhill | CAN | 9 | 8 | 17 | 34 |
| 15 | Wannes Van Laer | BEL | 12 | 18 | 5 | 35 |
| 16 | Luke Elliott | AUS | 3 | 13 | 21 | 37 |
| 17 | Marco Gallo | ITA | 7 | 19 | 13 | 39 |
| 18 | Matthew Wearn | AUS | 18 | 14 | 7 | 39 |
| 19 | Filip Jurisic | CRO | 17 | 12 | 14 | 43 |
| 20 | Douwe Broekens | NED | 5 | 22 | 17 | 44 |
| 21 | Thorbjoern Schierup | DEN | 17 | 12 | 16 | 45 |
| 22 | Emil Cedergardh | SWE | 23 | 4 | 19 | 46 |
| 23 | Alessio Spadoni | ITA | 33 | 10 | 6 | 49 |
| 24 | Sam Meech | NZL | 16 | 26 | 7 | 49 |
| 25 | Elliot Hanson | GBR | 8 | 21 | 21 | 50 |
| 26 | Kaarle Tapper | FIN | 24 | 7 | 22 | 53 |
| 27 | Juan Maegli | GUA | 27 | 13 | 13 | 53 |
| 28 | Jeemin Ha | KOR | 20 | 11 | 23 | 54 |
| 29 | Ryan Palk | AUS | 13 | 20 | 23 | 56 |
| 30 | Robert Davis | CAN | 25 | 25 | 9 | 59 |
| 31 | Matias Del Solar | CHI | 26 | 19 | 15 | 60 |
| 32 | Nicholas Heiner | NED | 13 | 26 | 22 | 61 |
| 33 | James Espey | IRL | 10 | 24 | 31 | 65 |
| 34 | Nick Thompson | GBR | 2 | 1 | 65.0 BFD | 68 |
| 35 | Karl-martin Rammo | EST | 14 | 27 | 27 | 68 |
| 36 | Milivoj Dukic | MNE | 44 | 11 | 14 | 69 |
| 37 | Ben Cornish | GBR | 14 | 37 | 18 | 69 |
| 38 | Matheus Dellagnelo | BRA | 22 | 38 | 11 | 71 |
| 39 | Tobias Schadewaldt | GER | 9 | 16 | 47 | 72 |
| 40 | Jonasz Stelmaszyk | POL | 27 | 29 | 16 | 72 |
| 41 | Alex Mills-barton | GBR | 29 | 23 | 20 | 72 |
| 42 | Sergey Komissarov | RUS | 6 | 15 | 52 | 73 |
| 43 | Kacper Zieminski | POL | 65.0 BFD | 6 | 5 | 76 |
| 44 | Aleksander Arian | POL | 29 | 32 | 15 | 76 |
| 45 | Evert Mclaughlin | CAN | 18 | 34 | 24 | 76 |
| 46 | Viktor Teply | CZE | 25 | 31 | 20 | 76 |
| 47 | Francesco Marrai | ITA | 10 | 2 | 65.0 BFD | 77 |
| 48 | Frederick Vranizan | USA | 11 | 29 | 37 | 77 |
| 49 | Eliot Merceron | FRA | 33 | 37 | 8 | 78 |
| 50 | Giovanni Coccoluto | ITA | 24 | 21 | 34 | 79 |
Back to top
Back to top