Besson and Riou claim first Nacra 17 title
Only at 15:30 today was it finally clear that Billy Besson and Marie Riou from France were the first ever Nacra 17 World Champions.
After another long day of waiting, a thunderstorm left The Hague without any breeze and the Race Committee had no choice but cancelling the Medal Race. The British pair of Ben Saxton and Hannah Diamond claimed silver followed by Matías Bühler and Nathalie Brugger from Switzerland.
This morning, the weather looked promising with a nice breeze, but the radar showed a different picture. A thunderstorm with strong winds was approaching The Hague, so all sailors had to stay ashore. After the rain and squalls, it cleared up a bit, but the breeze died completely.
The latest starting time according to the Sailing Instructions was 1600 and boats needed at least thirty minutes to get out to the race course, so the practical cut limit was 15:30. That was when Billy Besson knew he had won his second World title within one month. Now he is not only world's best F18 helm, but also in the new Olympic mixed multihull class.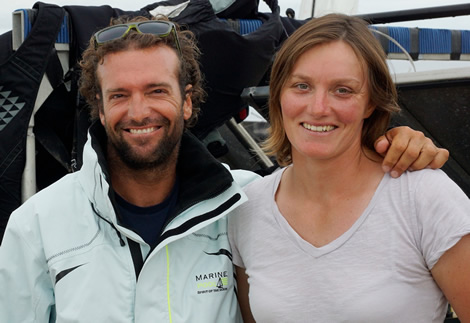 "Wow, that feels good", Besson said. "This week was very complicated with light winds and a strong current. It was difficult for everybody."
The French duo lost some points yesterday, which closed the gap between them and the Britons to just three points. However, Besson and Riou were ready for the golden battle. Besson: "We worked out a strategy." They both start laughing: "Marie was a world champion match racing before, so our plan was simple. We were very focused and confident."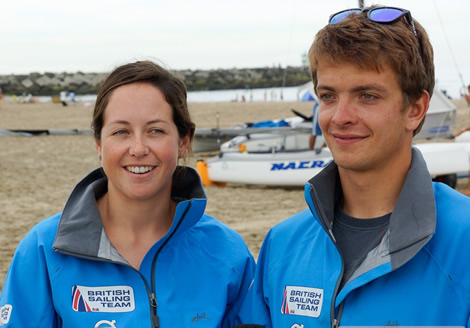 Ben Saxton and Hannah Diamond from Team GBR already secured a silver medal and had needed to beat Besson/Riou with two boats between them to take gold. But they did not get the chance. Saxton admitting to 'chomping at the bit' to go racing on Saturday, to try and overcome the narrow three-point margin that the French had. "I'm massively pleased at winning a medal. The sport's all about winning medals in a few years' time in Rio, so to prove we can get a medal here is pretty cool," said the 23-year-old helmsman.
Hannah Diamond added: "We've had conditions that we weren't really expecting - a lot of tide, and lighter winds than maybe we were all expecting but it's really helpful for it to be something similar to Rio. We know we've got a lot of work to do, but this is definitely a good step on the way. The fleet's improving so fast so just keeping moving forwards is going to be the most important thing."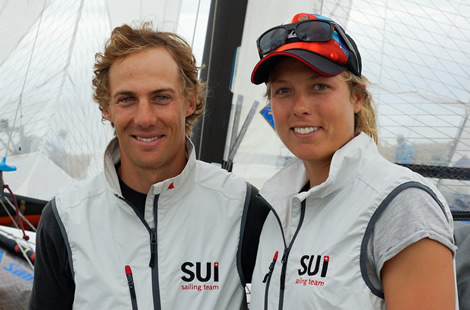 Swiss duo of Matias Buhler and Nathalie Brugger have an Olympic class sailing background in the 470 and Laser Radial classes respectively, teamed up on the Nacra 17 at the beginning of this year and will take home the bronze medal from this World Championship. Buhler: "This feels very nice. It has been a long time since I had such a good result in sailing. I cannot even remember. We have a long way to go from here to Rio, but we are looking forward to keep working and improving.
"We were not lucky with the weather, but we cannot control that. We are all sailors and like to race, but we have been waiting a lot this week. It was for sure tough on the mind, but we are happy with the result."
The cancellation of the Medal Race was especially disappointing for Renee Groeneveld and Carel Begemann from the Netherlands, who where within spitting distance of the podium. However they remain fourth overall, one point behind the Swiss team.
Groeneveld: "That is annoying. We haven't shown our best sailing this week. It was fighting and waiting. Especially in the beginning we missed some points, due to small mistakes. Fortunately we were still close to the top. In the end the wind was so shifty that the entire gold fleet scored fluctuating results. You just had to keep going and never give up. Eventually, we could not catch the front runners, but we did not have very bad scorings either. When we came off the water yesterday, we saw that we were still fifth overall and after the protest hearings fourth with a good chance of winning bronze. So, we would have really liked to race today."
Gold fleet results here
Back to top
Back to top