First TPT catamaran
The first Team Hydros C-Class catamaran took to the water at La Grande Motte for its maiden voyage. This is the first time a vessel using TPT carbon fiber technology, the latest development in composite materials, takes to the water!
"It is a momentous occasion for our team and all the people and companies involved in developing this unique yacht," said Jérémie Lagarrigue, head of the Hydros project and skipper of one of the two yachts.
With support from Lombard Odier & Cie, this revolutionary yacht, designed by Team Hydros working alongside HDS, VPLP and EPFL and built at the Décision SA shipyard in Ecublens, is the outcome of several years of cutting-edge technological research. Clearly this maiden voyage is a huge achievement.
"It was a really great first experience," Bastiaan Tentij, a team member on one of the two catamarans, told us. "We were able to get a really good feel for the boat and realized just how powerful the rigid wing is! Mischa Heemskerk, at the helm, was genuinely thrilled by the sensation. After the initial outings we will make the final adjustments and launch the second boat, which will allow us to sail together and compare different configurations. We reached a speed of 17 knots with 6 knots wind, it was amazing!"
In the past few months the final preparation and assembly of the two Hydros catamarans has taken place at La Grande Motte, in a 150 square meter tent with strictly limited access! The technical team, made up of Gaël Ledoux, Anthony Rezzoug and François Cazala, assembled all the parts that arrived from Switzerland and ran the static tests.
The sailing team, made up of Jérémie Lagarrigue and Billy Besson, and the Dutch pair Mischa Heemskerk and Bastiaan Tentij, trained intensively on two Nacra F20 catamarans, sailing simultaneously in numerous international competitions with top results.
Now both teams can finally move to a higher level and train with their sights set on the Little Cup. Their next goal is clear: to evaluate the two C-Class vessels and optimize them for the Little America's Cup, the International C-Class Catamaran Championship, to be held in Falmouth, UK this September.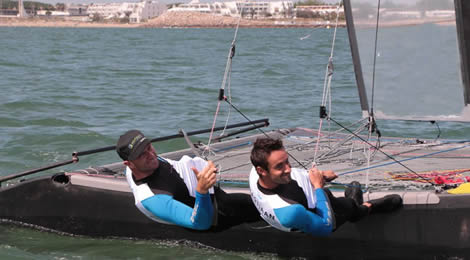 Back to top
Back to top