French teams on a charge
Some nailbiting action from the day's two races across the fleets and all change at the top of the leaderboard. France takes over the yellow leader bibs in both the 470 Men and 470 Women events, with dominant performances from Sofian Bouvet/Jérémie Mion and Camille Lecointre/Mathilde Geron. A critical position for these teams as they lead their fleets into tomorrow's penultimate day of racing.
Another clear and sparkling day in Formia, Italy at the 470 European Championships, racing under a clear blue sky and with the forecast 12-14 knot breeze filling right in on time for racing. Day after day, the Bay of Gaeta has proved itself as an outstanding venue, delivering perfect conditions.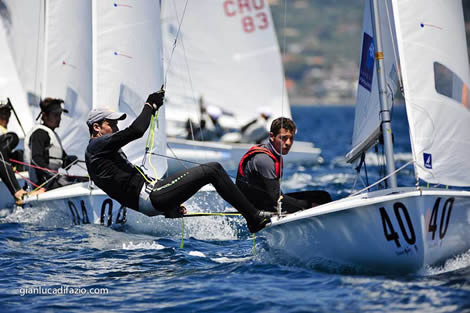 470 Men

An incredibly close day on the leaderboard, which saw the top three teams all on 18 points apiece after the first race, with Sofian Bouvet/Jérémie Mion, Mat Belcher/Will Ryan and Panagotis Mantis/Pavlos Kagialis neck and neck. But it was the French pair who asserted their position at the top of the pile with a 5th place finish in the final race of the day, and helped by the discard kicking in to knock out their 26th place finish from yesterday, were rewarded with a narrow 2 point margin over Belcher/Ryan.
Bouvet/Mion have already won several of the most prestigious 470 Championships, dominating to win gold medals at back to back Junior 470 World and Junior 470 European Championships in 2011 and 2010, but they were particularly happy to have beaten Olympic Gold Medallist Mat Belcher around the track today. "It is a good feeling," smiled Mion. "We have never beaten him in the past regattas and it is time to stop him and start to be as good as him and hopefully better. Today we had really good speed and we had a good feeling together. We were first at the first mark after a good start and then we chose the left hand side upwind."
An epic performance of a 2nd and a race win from Argentina's 2012 Olympic bronze medal team of Lucas Calabrese/Juan de la Fuente sees them shift up to 3rd from a seventh place position going into the day.
"We tried to fix some problems we had yesterday regarding strategy and tactics," explained Calabrese. "It was really good that we had some changes on that and we were fast today which helped. It is good to have these two results and we are back in the game. Hopefully we can have a good day tomorrow and be in with a chance of winning."
However, consistency pays, and whilst Mat Belcher/Will Ryan may not have featured at the very front of the pack so far in the final stage races, they are carrying an all top 10 scoreline, to which they added a 3,8 today. Conversely, Bouvet/Mion cannot afford to put a foot wrong as they are already discarding a 26th place from race 7 and have no room to manoeuver if they deliver another high score.
Belcher is happy with the team's performance, "The conditions here are pretty difficult and most teams are struggling in a few races to just try and get the consistency," he said. "It certainly pays strategically to be a bit more of a risk taker on this course. We are struggling a little bit up the first beat and are probably a bit too conservative, but that is our style, so we are happy with how we are going and the results we have had are really consistent. It is early days and the last day really defines everything coming in to the medal race."
Stu McNay/Dave Hughes (USA) raced a blinder to finish 2nd in the final race of the day and put themselves in a strong position to attack the top 8 places tomorrow. A similarly good day for Great Britain's Nick Rogers/Elliot Willis, who finished in third behind the Americans and move up to 12th on the leaderboard – for both teams their best results so far.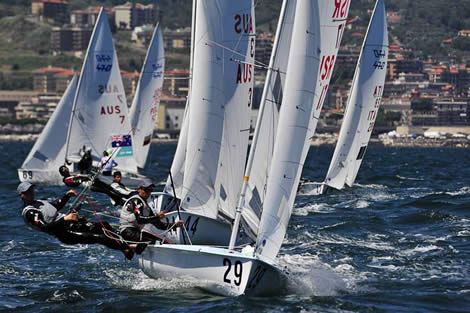 Whilst the frontrunners played their game, further back in the fleet there were promising results from some of the partnerships fresh to the senior 470 circuit this year, including Gal Cohen/Dan Froyliche from Israel who posted a 4,7 and move four places up the leaderboard. Silver medallists in the 420 at the 2012 ISAF Youth Worlds and 2012 420 Worlds as well as 2012 420 Junior European Champions, Guillaume Pirouelle/Valentin Sipan (FRA) qualified through to the gold fleet in their first 470 European Championship and finished halfway up the fleet today – another team with massive potential.
The leaderboard points remain finely poised, with points margins that can be lost and won in moments in this highly competitive fleet. There is all to play for as the teams go into the concluding day of the final series to determine the top 8 teams who will advance through to Saturday's single race Medal Stage.
In the 470 Men Silver fleet, Italy's Francesco Falcetelli/Enrico Clementi are leading.
470 Men top ten overall
1. Sofian Bouvet/Jérémie Mion (FRA) – 13 pts
2. Mat Belcher/Will Ryan (AUS) – 15 pts
3. Lucas Calabrese/Juan De La Fuente (ARG) – 18 pts
4. Luke Patience/Jonathan Glanfield (GBR) – 23 pts
5. Panagiotis Mantis/Pavlos Kagialis (GRE) – 24 pts
6. Sime Fantela/Igor Marenic (CRO) – 26 pts
7. Yannick Brauchli/Romuald Hausser (SUI) – 37 pts
8. David Bargehr/Lukas Mähr (AUT) – 40 pts
9. Paul Snow-Hansen/Daniel Willcox (NZL) – 41 pts
10. Stu Mcnay/Dave Hughes (USA) – 42 pts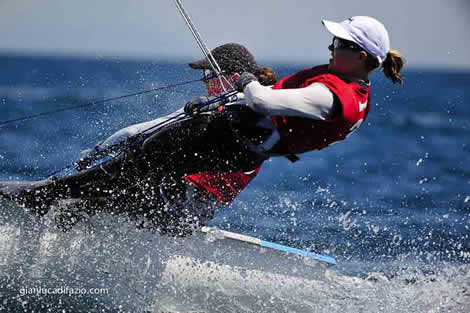 470 Women

The day's first race win went to Cassandre Blandin/Charlotte Mery de Bellegarde, who rather surprisingly followed up with a 28th in race 8 – expect the unexpected.
The new series leaders going into the penultimate day of racing, Camille Lecointre/Mathilde Geron (FRA) have their hearts set on sealing the 470 European Championship after their 3,9 scores today places them on course to secure a podium place. Despite finding the weather conditions unpredictable, the pair has shown great versatility. "The wind is very interesting as it looks the same every day," commented Lecointre, "but every day the tactics are different so it is always a big surprise at the top mark."
Reflecting on their 9th place in the day's second race, Lecointre continued, "We did a mistake in the first upwind by going to the middle, but the left won by a lot, so we had a bad position in the top mark and had to work very hard to gain again. We have an OCS and all the points count. We are happy but we really want to win the Europeans. It would be our first Championship."
Also seeking their first 470 Championship title are Austria's Lara Vadlau/Jola Ogar, who are on equal points with the French. Whether these young teams can maintain their pace is yet to be seen, but similar to their team mates in the 470 Men event, the French pair are already discarding an OCS so one more slip up and they are destined to tumble down the leaderboard.
In the second race of the day, race 8, Austria's Lara Vadlau/Jolanta Ogar carried the advantage to the windward mark and from there strode into the lead. It wasn't easy though, as the only contenders able to stay in touch with Vadlau/Ogar were Olympic Gold Medallists Jo Aleh/Polly Powrie. The two teams battled each other to the finish, with the Austrians crossing 2 metres ahead, as Vadlau explained, "Over the previous three races we were close to winning, but we always lost because we didn't want to risk losing anything and wanted to be sure to get second or third. But today we had enough of this approach and finally we won the last race. We were first to the windward mark and were really close to the Kiwis and hiking like hell on the reach and then downwind they went right and we went left. They were faster than us upwind, as the wind got stronger and we were a little overpowered, but we didn't lose too much and on the downwind we got them."
Vadlau/Ogar have steadily improved throughout the regatta, and it was only at the end of 2011 that Vadlau made the step up to the 470, but not before claiming gold in the 420 event at the 2011 ISAF Youth Sailing World Championship. At last year's 470 World Championships she secured her place at the 2012 Olympics, and is now firmly on a mission to Rio 2016 with new crew Jola Ogar. Vadlau's progress has been quite exceptional, "I am always in a bit of a hurry and I don't want progress to be slow so I try to make everything as fast as possible. We are in the plan now and with my perfect crew I have no choice but to win a race," she laughed.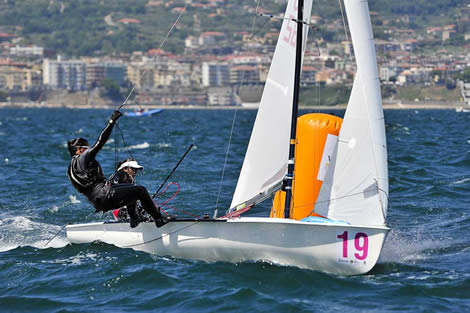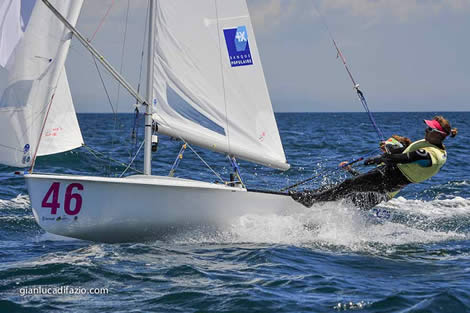 So relief for the 2012 Olympic Champions Jo Aleh/Polly Powrie (NZL) to be back at the front of the fleet in race 8 after putting in a few below par results, and they seem confident they are back on form. In true "higher faster stronger" Olympic style, they converted a second row start in the day's opening race which placed them in 30th at the first mark, to an 8th by the finish. "It wasn't the greatest start and then we got bounced around the first beat, as we never really committed to anything and ended up really back in the pack," said Aleh. "Then Polly got fired up and really started working. She just pumped, it was awesome and we worked our way back through a lot of the fleet."
Processing the day's race, Powrie said, "It is not really tricky racing. Once you are in front it is straightforward, but when you are behind it is tricky. It is easy to stuff it up. The past few days we have also gone the wrong way which has not helped, so today we have got the speed sorted and we are going the right way, which makes life easier. We are still hanging in there."
Acknowledging the challenge that the younger teams have set them, Aleh said, "It is good to see some more people up there and making us fight," adding with a grin, "We have been fighting, but we have given them a bit too much space!"
There is some interesting action going on further back in the fleet, not least from the new combination of 2008 Olympic gold medallist Elise Rechichi and crew Sarah Cook. Cook is a two-time Olympian in rowing, competing in the rowing pairs in 2008 and eights in 2012, and has now transferred to the 470 and committed to a Rio 2016 Olympic campaign. Whilst Cook has all the required attributes of an elite athlete, until late last year she didn't know how to sail, although you would never guess it the way they performed today to end race day 4 in 13th overall.
"Each race is a learning experience," explained Rechichi. "We are still learning and problem solving and there are issues which are costing us a lot of points. Yesterday we made some gains as we had been having a lot of problems at the beginning of reaches and we were really losing a lot of places very quickly, which was affecting our results a lot. So yesterday after racing we did some training and established a process to resolve that. Sarah was getting stuck going out and we were missing that opportunity to get the jump on the reach and everyone was coming over the top. Today, not only did we not get it wrong, but we actually gained a couple of slots. We have all the elements to put out top 5 results and now we just need to bring it all together to be in and amongst it."
The 470 Women's fleet is fielding two Asian teams, from Malaysia and Myanmar, and today was a real show of potential for Myanmar's Suu Myat Soe/Nan Khan Say who claimed a 21st in race 8, easily their best score of the series.
Racing for the 470 Women is scheduled to start at 1320 hours with two races planned.
470 Women top 10 overall
1. Camille Lecointre/Mathilde Geron (FRA) – 24 pts
2. Lara Vadlau/Jolanta Ogar (AUT) - 24 pts
3. Jo Aleh/Polly Powrie (NZL) - 26 pts
4. Sophie Weguelin/Eilidh Mcintyre (GBR) - 39 pts
5. Annina Wagner/Elisabeth Panuschka (GER) - 49pts
6. Agnieszka Skrzypulec/Natalia Wojcik (POL) - 54 pts
7. Cassandre Blandin/Charlotte Mery De Bellegarde (FRA) – 60 pts
8. Anne Haeger/Briana Provancha (USA) – 68 pts
9. Alisa Kirilyuk/Liudmila Dmitrieva (RUS) – 78 pts
10. Michelle Broekhuizen/Marieke Jongens (NED) – 82 pts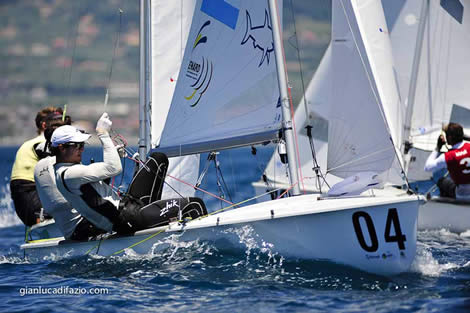 Tomorrow the teams in with a chance of advancing to the 8 boat Medal Stage will be focused on achieving that goal. The European Championship titles in both 470 Men and 470 Women fleets are there for the taking, and whilst ahead of the 470 Europeans it seemed there were some clear favourites, figuring the final top three at this stage is as hard as guessing the top eight who will qualify to the Medal Stage.
Two races are scheduled for all fleets on Thursday 13 June, with racing for the 470 Men Gold fleet at 1300 hours, 470 Men Silver at 1310 hours and 470 Women at 1320 hours, with two races planned for all.
The 470 European Championships is open to all nations, but only teams from Europe are eligible to be awarded the European Championship title and medals. Open European Championship prizes will also be awarded.
Back to top
Back to top