Flying Irish
After two days of tricky breeze at the Weymouth and Portland National Sailing Academy, a fresh 15-20 knot southwesterly breeze greeted the sailors as racing ramped up on day three of the Sail for Gold Regatta.

All classes to took to the water as scheduled with poor visibility early on and gusts of up to 25 knots across some of the outer race courses. Making the most of the blustery conditions were the regatta's international competitors in the 49er fleet with Ireland's Ryan Seaton and Matthew McGovern moving into pole position whilst Australia's Will Phillips and Rhys Mara posted a consistent set scores moving them into the podium positions despite falling on the wrong side of a protest decision.

Ryan Seaton and Matthew McGovern (IRL) notched four top three finishes catapulting them from sixth to first, overtaking John Pink and Simon Wheeler (GBR) who now sit second after a 11-7-12-7, six points behind the Irish duo with four fleet races and three double pointer medal races to go.

"The first race today was all about the boat handling and getting around the course nice and tidy, with the next three races all about getting the good starts and going fast which seemed to work out well for us," said Seaton.

Competing for the first time since representing Ireland at the London 2012 Olympic Games last summer, McGovern admits that they were disappointed with yesterday's results but that everything seems to be falling back into place just in time for the business end of the regatta.

"We were disappointed with our results yesterday as we've taken time off since the Games so were a little rusty getting back into the boat, but today our boat handling was good and were happy with our results today. It's great to be back in Weymouth, we have been competing here for the last ten years since we were juniors so it's just nice to be back."

"We have come here to use this as a training regatta for the Europeans and Worlds, so to be in the position we are now is great. If we can stay at the top and mix it up with the Aussies and Brits who are some of the best 49er sailors in the world then we will be happy come the end of the week," concluded Seaton.

Australia's Phillips and Mara, a new partnership in the high performance skiff class, are competing for the first time as a 49er pairing with Phillips pleased with their progress on day three of the regatta.

"Today started out really windy, quite cold and rainy with some pretty big waves. As the day went on the wind soon swung to the right and it just became a much nicer day to sail. We started out with a fourth and as the racing progressed we just seemed to get better and picked up some consistent scores which was really good."

"The Irish provided a good battle today along with a couple of the British boats who are strong in the breeze so it was a good mix at the top of the fleet - it was good fun today sailing!"

With the Aussie duo picking up some of their best results of the regatta to date, Phillips insists, that although they love to sail in the breeze that they are actually comfortable in all conditions with the aim of a podium finish in sight.

"The results form today show that we must prefer the breeze and the conditions we had to today," laughed Phillips. "We just like nice breeze, all the breezes are good for us and today just weeded out a couple of the weaker guys as it was a bit windier. We came into the regatta not knowing how we would do as it's our first event together but it's just good to get some really consistent results. We just need carry on with how we are going now to be up there on that fifth day of the regatta."

Taking firm control in the female 49erFX class is British Sailing Team's Charlotte Dobson and Nicola Groves. The pair had a great day out on the water with a fourth and three race wins. Macgregor and Ainsworth sit second following a consistent 1-4-4-2 while France Peters and Mary Rook round off the British dominance in third.

"Today was a change of pace to what it was yesterday and we were a little nervous at the start of the day as we haven't sailed together when it's been windy," explained Dobson.

"We had a few problems in the first race, had a couple of rig set up issues and although we went round the windward mark in second we capsized in the bear away, but we were happy to pull back some places in that race. After that, we reset the boat and just found some pace for the next three races, managed to keep the mast in the sky and tried not to make any silly mistakes."

The former Laser Radial sailor continued: "We had some good battles with Olivia Price (AUS) in a few of today's races which was good fun, a little risky as it should have been about the boat handling but good fun anyway. We are quite a light pair so are happy with our performance today and will just head into the last two days of the regatta with no expectations and just go out and do the next best thing. Tomorrow is meant to be booming which should be very exciting!"

Relishing the conditions in the RS:X windsurfing 9.5 class was Nick Dempsey who added three race wins and a second to his scorecard today.
The two-time World Champion is second behind Carney (GBR) overall and admits that today's conditions were a lot more favourable than yesterday.

"Certainly yesterday was difficult," expressed Dempsey. "We're racing very short courses so you make the slightest mistake and then you're kind of in trouble. Today was much easier for me – I'm pretty fast so you just hook in and go. But yesterday was hard.
"Elliot seems to be sailing OK – he sailed well yesterday but today was pretty easy [for me] really – we'll see what the rest of the week is like. Hopefully it will be a little bit harder tomorrow – if it's windy, it's easy but if it's light then it's hard."

Since last summer's Games, Dempsey has begun training with a new group of sailors from the British Sailing Team Podium Potential Squad, with Dempsey giving praise to the younger generation of sailors.

"I've done a lot with Tom Squires and the past couple of weeks has been the first time we've trained with some of the younger boys and they're really, really good! It's great to see. I haven't seen that for 10 years, the depth in sailors is great. We'll try and take them on board in our training group and do as much as we can with them, try and make them better and bring them up to speed. The better they are, the better it is for me and for British Sailing."

In the RS:X 8.5 class runaway leader Bryony Shaw added a further two race wins to her impressive score line while Robert York put a stop to Shaw's dominance with two race wins himself. Izzy Hamilton remains third after another consistent day out on the water.

Shaw said: "It was going to be interesting to see how Robert got on in the windy stuff and he definitely performed really well. I am disappointed [to have lost my clean sweep] but it's really nice to see Robert stepping up and giving me a good bit of competition today, so good on him."

Meanwhile in the heavyweight Finn class, Andrew Mills put yesterday's OCS behind him, scoring two bullets and driving straight to the top of the scoreboard. Overnight leader, Mark Andrews, managed two seconds dropping into second place while Peter McCoy sits third.

Sam Meech (NZL) had another steady day in the Laser fleet extending his lead over Nicholas Heiner (NED) to 12 points with a 3-4-6-1, while Great Britain's Nick Thompson moves up from fifth to third from the four races completed on day three.

Continuing their fine form and holding the Nacra 17 advantage over there British counterparts is Ben Saxton and Hannah Diamond who mirrored yesterday's impressive performance with two bullets and a second, creating a three point cushion over Lucy Macgregor and Tom Phipps. 2008 Beijing Olympic gold medallist Pippa Wilson and her crew John Gimson occupy third.

Despite black flags disqualifications in today's second Laser Radial race, China's Lijia Xu and Dongshuang Zhang remain first and second respectively, with the Xu picking up two race wins to give her a ten point lead at the top. Chloe Martin (GBR) is third.

The battle of the Brits continues in the 2.4mR Paralympic class with Helena Lucas and Megan Pascoe neck and neck as the regatta reaches the half way stage, with Lucas scoring 4-4-3 and Pascoe posting 3-3-4. Barend Kol (NED) had the better of days, clinching two firsts and a second to sit him nine points off the two front runners who hold 19 points apiece.

John Robertson, Hannah Stodel and Stephen Thomas continue their superb run of form in the Paralympic Sonar class, with three more race wins to extend their lead to five points at the top of the leaderboard.

Thomas said: "Today was great – we had three bullets which makes a fantastic day. Niki [Birrell] is doing really well in the Sonar and pushing us really hard and its good practice really. He [Niki] hates losing, he really does, so we've got to put the smack down on him every now and again!" laughed Thomas.

Racing is scheduled to start at 11am tomorrow (Wednesday 12 June) with an expected forecast of rain and 18 -20 knots, with gusts of up to 25 knots.
Full results here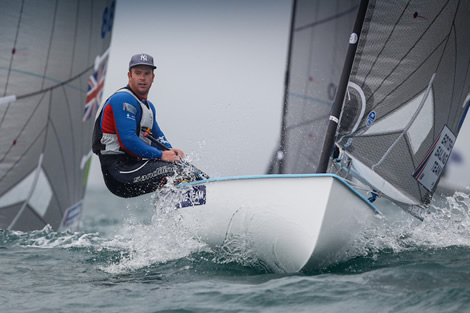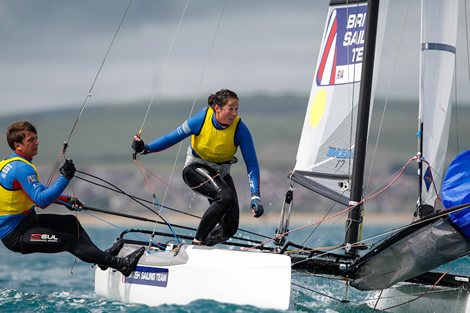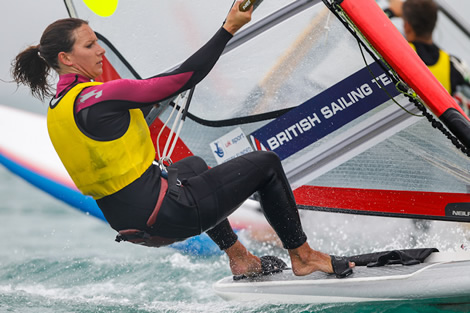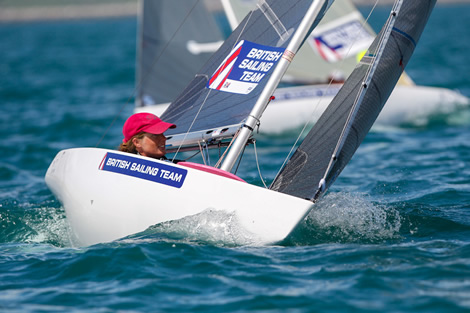 Back to top
Back to top