Perfect start
A stunning opening day of racing at the 2013 470 European Championships in Formia, Italy with blue sky, sparkling sea and a perfect breeze across the race course. Racing got underway in a stable breeze of 15 knots, building to around 18 knots.
110 teams from 35 nations are competing at the 470 Europeans in Formia, Italy for what marks the first 470 Championship of the new Olympiad and the most significant gathering of 470 sailing talent since the 2012 Olympic Games and last year's 470 World Championships. The 470 fleet continues to grow, with many new faces who have made the transition from junior to senior fleets looking forward to pitting their skills against the more experienced teams.
470 Men

France's Sofian Bouvet/Jeremie Mion packed a punch today, claiming two races wins in the blue fleet, one score short of the hat trick claimed by Mat Belcher/Will Ryan in the yellow fleet.
Belcher/Ryan, who are undefeated since they partnered and continue Belcher's winning form with former crew Malcolm Page, relished the conditions and have set the running early on. "It is a nice way to start the regatta," said Belcher. "Obviously with the qualifying series at the end of the day it will just come down to one score. We are racing the world's best here and enjoying the way we are sailing."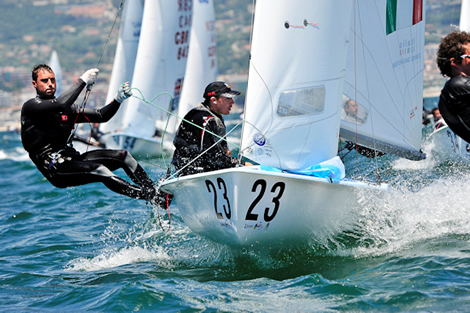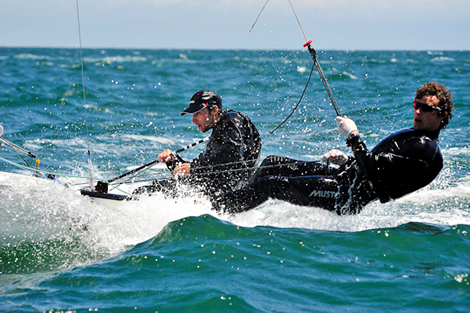 Belcher however remains modest about his 15 consecutive regatta wins since December 2011, admitting even he is surprised by the achievement. "The run of consecutive wins has been something so unexpected. To win 15 events in a row, I still sometimes can't believe this is something I have achieved, with two amazing athletes. What was extremely special was to win three 470 Worlds in a row and now to have won the past seven events with Will. Obviously with special moments like the Olympic gold along the way, but these wins are something different."
Bouvet/Mion followed up their wins with a tenth in the day's final race 3. Explaining their day, Mion said, "It was not easy. The first race we were very fast and had good speed – we did a good job. In the second race we were third to the first mark and managed to overtake. The third race was more difficult as we went to the left in the first leg, and the wind didn't shift left so it was not good for us. But this is just qualification, so we have the opportunity to have a bad one."
The pair dominated the Junior 470 Championships but went their separate ways for a couple of years as Mion crewed for Nicolas Charbonnier. Their successful partnership has been rewarded with 470 Junior World Championship titles in 2009 and 2010, and Mion is clearly excited about the years ahead, saying, "We are really happy to be sailing together again, since September last year. We have done some good regattas and we will now stick together for Rio."
2012 Olympians Yannick Brauchli/Romuald Hausser of Switzerland posted a consistent 5, 3, 2 in the blue fleet and finished the day in third overall.
Defending 470 European Champions, Sime Fantela/Igor Marenic from Croatia posted a 3, 5, 2 to place themselves on equal points with the Swiss in fourth overall. The pair only returned to the circuit in April this year after a post-Olympic break from top level racing. Fantela/Marenic also won the 470 European Championships in 2011, so be assured they will be hunting down a third victory.
Great Britian's double Olympic silver medallist in 2004 and 2008 Nick Rogers, has partnered up with two-time 470 World Champion Elliot Willis. They will be seeking to challenge 2012 Olympic Silver Medallist Luke Patience and his new crew Joe Glanfield. Interesting, as it was Glanfield who partnered Rogers to Olympic success. Advantage to Patience/Glanfield on day 1 as they claimed the only other race win from today's racing.
One of the rookie teams in the fleet, albeit with significant championship experience in the 420 Class, are France's Guillaume Pirouelle/Valentin Sipan who have made the step up to the 470 this year. Last year's racing campaign was a stunner for them in the 420 fleet, with silver medals secured at the 2012 ISAF Youth Worlds, 420 Worlds and 420 Junior Europeans. Today's opening three races gave them a 10, 8, 15 scoreline, and positions them in 20th on the leaderboard, just one place ahead of the 2012 470 Junior World and 470 Junior European Champions Simon Sivitz Kostua/Jas Farneti of Italy.
470 Men – Top 10 Overall
1. Mat Belcher/Will Ryan (AUS) – 0 pts
2. Sofian Bouvet/Jérémie Mion (FRA) – 10 pts
3. Yannick Brauchli/Romuald Hausser (SUI) – 10 pts
4. Sime Fantela/Igor Marenic (CRO) – 10 pts
5. Panagiotis Mantis/Pavlos Kagialis (GRE) – 10 pts
6. Luke Patience/Jonathan Glanfield (GBR) – 11 pts
7. Julian Autenrieth/Philipp Autenrieth (GER) – 11 pts
8. Nick Rogers/Elliot Willis (GBR) – 15 pts
9. Lucas Calabrese/Juan De La Fuente (ARG) – 17 pts
10. Paul Snow-Hansen/Daniel Willcox (NZL) – 19 pts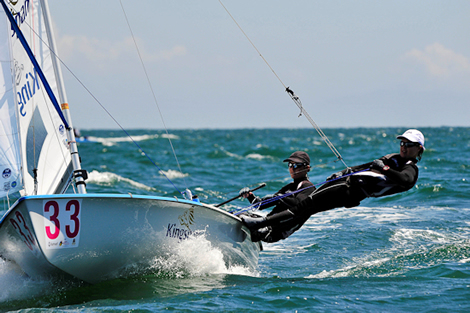 470 Women

Headlining the 470 Women are 2012 Olympic Gold Medallists Jo Aleh/Polly Powrie from New Zealand. Their post-Olympic break gave the pair some respite after four years of intense training and preparation, and so far has only served to fire them up, and they didn't disappoint today with two straight race wins.
Aleh was looking particularly happy today, and not just because of her race wins. "Loving coming off the water and being warm," she laughed, referring to the freezing conditions they faced in Holland a couple of weeks ago.
Aleh/Powrie are being supported at the Europeans by their coach Leslie Egnot, the 1992 Olympic Silver medallist. The pair won the first race from start to finish, to cross the line well over a minute ahead of the pack, but had a bit more of a battle in the second race. Aleh explained, "It was good to get back into racing. The first one we had stretched it out a bit, but the second race we had to fight for a bit more. Awesome racing though. We had pretty good speed and didn't make too many mistakes with the tactics."
Powrie added, "It was beautiful out there. Perfect breeze, warm water and sun – pretty perfect."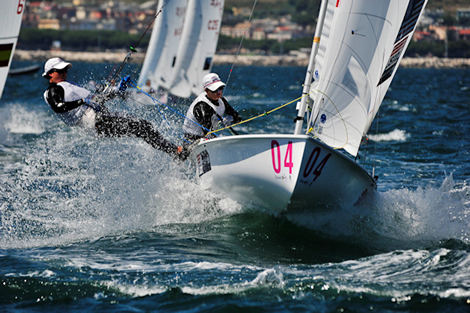 Defending 470 European Champion, Great Britain's Sophie Weguelin teamed up with 19-year-old Eilidh McIntyre at the beginning of 2013, and so far the new partnership has shown great potential with podium finishes at two ISAF Sailing World Cup events. Today the pair posted a 2,5 score, which was more than enough for Weguelin. "Everyone wants to win, but as a new team we are here to gain experience going into the rest of the year. For us the 470 Worlds will be the biggest event and we have only sailed together since January, so there is still lots of learning and the more time in the boat the better."
On their new partnership, Weguelin continued, "It is really good and we are really enthusiastic. We have a steep learning curve, but it is really exciting."
Mcintyre, who is the daughter of 1988 Star class Olympic Champion Mike McIntyre, added, "It was a good solid day for our first day and there were glamorous conditions out there. Breeze was up, which was a bit different to anything we have had in our pre-Championship training, which was a bit of a shock. It was really good fun and really good racing. It was close which made it more exciting."
Post-Olympics there is an influx of younger teams stepping up from the junior ranks to now make their mark on the senior fleet. Among many of the younger athletes to watch is Chile's Nadja Horwitz, who at 17 years old is already a veteran of the ISAF Youth Sailing World Championships, securing a 4th overall last year. Horwitz will be making her third appearance at the ISAF Youth Worlds this year in Cyprus, when she steps back into the 420. Horwitz claimed the silver medal at the 2012 420 Ladies World Championship, and then made her debut 470 appearance at the 2012 470 Junior European Championships in Italy, with the 2013 470 Europeans marking her first senior 470 Championship - so watch this space.
Satisfied with racing today, Horwitz said, "Today was just perfect, a really nice day. We were learning about the boat and not looking for results. We are just trying to get the boat speed that we need."
470 Women – Top 10 Overall
1. Jo Aleh/Polly Powrie (NZL) - 0 pts
2. Camille Lecointre/Mathilde Geron (FRA) - 6pts
3. Sophie Weguelin/Eilidh Mcintyre (GBR) - 7 pts
4. Annina Wagner/Elisabeth Panuschka (GER) - 9 pts
5. Tina Mrak/Veronika Macarol (SLO) - 9 pts
6. Agnieszka Skrzypulec/Natalia Wojcik (POL) - 12 pts
7. Afrodite Kyranakou/Anneloes Van Veen (NED) - 13 pts
8. Lara Vadlau/Jolanta Ogar (AUT) - 15 pts
9. Cassandre Blandin/Charlotte Mery De Bellegarde (FRA) - 21 pts
10. Anna Burnet/Flora Stewart (GBR) - 26 pts
Format

A trial format is being tested at the Europeans, which sees the 470 Men split into two fleets and racing a qualifying series of 5 races over two days, with one discard. After the qualifying series, the 470 Men teams will be split into gold and silver fleets, based on their position on the leaderboard, and carry forward (C/F) their leaderboard position into the final series of 6 races over three race days. A second discard will be allowed during the final series, but not the C/F score. The 470 Women will race the Championship as a single fleet, with 2 races per day scheduled over 5 days and one discard. Scoring is 0 points for 1st, 2 points for 2nd and so on. The top 8 in each fleet will then proceed to the Medal Stage on Saturday 15 June for a single Medal Race with a double points score.
Back to top
Back to top