Chinese dominating Radials
Weymouth and Portland National Sailing Academy welcomed a second day of light fickle breeze at the Sail for Gold Regatta as China's 2012 Olympic Champion Lijia Xu stole the show on day two of this five day regatta.

The London 2012 sailing venue served up similar conditions to that of day one with a building breeze across Portland Harbour and Weymouth Bay. All fleets took to the water in an average 4-6 knots which slowly increased to 8-10 knots giving the majority of fleets a full day of racing.

Returning back to WPNSA for the first time since claiming Olympic gold and becoming China's first ever Olympic sailing gold medallist is Lijia Xu (CHN). The ISAF Rolex World Sailor of the Year claimed an impressive four races win ahead of fellow teammate Dongshuang Zhang (CHN) who posted four seconds to stamp China's authority at the top of the Laser Radial fleet. Alison Young is third after 4-4-3-3.

"Today and yesterday the wind is quite light so it's not that much about physique, mainly it's about the technique, the knowledge and observation which is why sailing interests me the most, it's so smart and so intelligent. I just wish I could enjoy the physical part of sailing as well," explained Xu.

On her return to the 2012 venue, Xu said: "This venue is very special to me. I think it's just like home away from home so every time I come back to Weymouth I just feel very close to the venue and the town itself. The weather this year is especially nice with the sun shining every day."

With four race wins today and a second on the opening day of the regatta, the Olympic champion admits that the fleet at this week's Sail for Gold Regatta is still a very competitive one.

"This year most of the sailors are from the UK and Ireland so there aren't many international sailors this time but it's still a very competitive fleet because we are sailing together with the boys. At the moment physique is what I lack the most so my aims for this event are to try to improve my physique and do more hiking and hopefully by the time of the Worlds in October I can be fitter and sail faster in strong winds."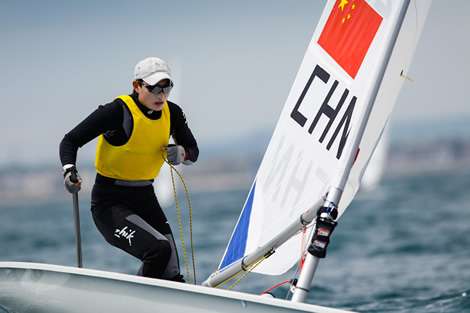 Xu concluded: "Tomorrow will be a good chance to practice my strong winds because there are so many good strong winds sailors from the UK and Ireland and also so many boys, so I think it will be a good chance to practice my strong wind technique and physique."

In the Laser fleet New Zealand's Sam Meech clung onto his overnight lead with a 1-2-5-2 from the four races completed on Course Area E, while Nicholas Heiner (NED) is hot on his heels with a first, two seconds and a discardable eighth in second. Argentina's Julio Alsogaray is 12 points behind in third.

"A really good day for me today. We had some pretty light winds out on the race course so hopefully we will get some more breeze tomorrow," said the Palma Sailing World Cup gold medallist from New Zealand.

"It was a better day than yesterday as we managed to get four races in compared to yesterday's one. I had a few easy races as I managed to get out in front and it's always a lot easier when you're out in front but I'm definitely looking forward to the battle with Nick (Heiner, NED) throughout the week."

In the Nacra 17 class, the new multihull class for the Rio 2016 Olympic Games, British Sailing Team's Ben Saxton and Hannah Diamond revelled in today's conditions, outdoing yesterday's leaders Lucy Macgregor and Tom Phipps (GBR) with two firsts and a second, taking the overall lead on count back.

"We hadn't realised we'd taken the lead, but that's nice to know," enthused Diamond. "The first race went right down to the finish line so it was really nice to win that race. It was still pretty light winds which is still something we've not done that much racing in so it was really good practice for the Worlds. It's been pretty up and down and all over the place so it's good to have a solid day."
One of four Nacra 17 pairings in the British Sailing Team, Saxton and Diamond entered the second day of the regatta in fourth place, five points off the top spot and are now sitting top, level on nine points with 2012 Olympian Macgregor and two-time ISAF Youth Worlds champion Phipps.
"There's really tough racing against the other British competitors. There are a couple of other nations who've got really strong teams – the French and the Dutch have got a number of boats which are really good, but as a British squad we're really strong and everyone in the squad brings something completely different, so we've got a huge range of knowledge from cat-specific stuff to completely different boats. We've got a lot of guys who've done campaigns before so between us we've definitely got a lot of strength in depth which is great and gives us a lot of confidence within our training that we will be able to produce someone who can win a medal," explained Diamond.
"We've had quite a lot to learn, both being a new boat and a new partnership so we've been literally been working on everything, from communication to boat-handling, to racing and boat speed, manoeuvres and things like that. We're really pleased with how it's going and are looking forward to getting more time on the water and seeing how things improve."
The heavy weight Finn fleet is this week completely made up of home nation sailors with Mark Andrews currently occupying top spot ahead of GBR team mate Andrew Mills in second. Andrews, who won gold at the Dutch leg of the EUROSAF Champions Sailing Cup, took a third and first while Mills took two firsts but was OCS in the second race of the day.
"It was shifty and pretty light – it's not my speciality the light winds, but I'm trying to work on that at the moment, so it's good to be out there training in it, but it was pretty tough," said Andrews.
"The Worlds and Europeans are the most important events and they're coming up at the end of July and August. This is the start of the final build up for that so it's good to get some time on the water in the build up to that. You always want to win every event that you get into, so I'll hope to win this, and hope to carry that on into the Worlds and Europeans."
Andrew Mills (GBR) added: "There is a good group of us down here with the six Brits, including myself and Mark Andrews, who've been around for a little bit longer now and the four younger lads who are very enthusiastic and it's good to have that energy out on the water.
"We're two days in and Mark [Andrews] and I are very tight on points, so I'm sure it will continue to be that way, especially with a bit more breeze forecast tomorrow."

The high performance skiff fleets both completed four races out in Weymouth Bay with John Pink and Simon Wheeler (GBR) extending their lead at the top of the 49er leaderboard by nine points with 4-1-1-11. Japan's Yukio Makino and Kenji Takahashi sit second, adding a race win to their scorecard in the final race of the day while Dylan Fletcher and Alain Sign (GBR) move up into third with a 9-2-2-6.
Elliot Carney and Bryony Shaw remain at the forefront of the RS:X 9.5 and 8.5 fleets as the British sailors both picked up four race wins apiece. Nick Dempsey, RS:X World Champion, sits second with a 2-4-3-2 for today's efforts while Joe Bennett is third in the 9.5 rig. Robert York sits second behind Shaw in the 8.5 rig while British Sailing Team Podium Squad sailor Izzy Hamilton currently sits third after seven races.

In the Paralympic Sonar event 2012 Olympians John Robertson, Hannah Stodel and Stephen Thomas confirmed their calibre with three bullets while the battle in the 2.4mR class continues between British Sailing Team's Helena Lucas and Megan Pascoe, with 2012 Paralympic champion Lucas leading by a single point.

Racing is scheduled to start at 11am tomorrow (Tuesday 11 June) with rain and a 14-18 knots forecast in store.
Full results here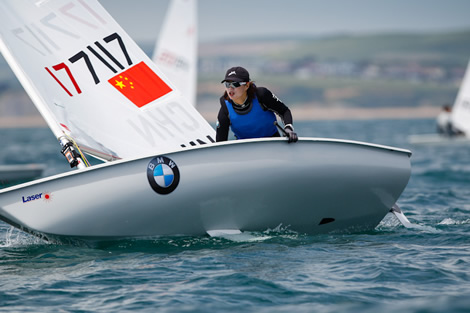 Back to top
Back to top