Big players return to the race course
The light wind opening day of racing at ISAF Sailing World Cup Hyères marked the return to action for familiar faces on the World Cup series as with the Star currently out of the Olympic line-up for Rio 2016 Robert Scheidt (BRA) stepped back into the Laser as Lijia Xu (CHN) and Marit Bouwmeester (NED) returned to the Radial.
Xu and Bouwmeester last competed at the London 2012 Olympic Sailing Competition where the Chinese sailor sealed gold in the Medal Race by taking the race win ahead of Bouwmeester who settled for silver. Following an extended break the pair are back in action in Hyères and from the off proved they still know their way around a Radial.
As racing got underway early in the afternoon following a morning delay due to light winds the conditions across the six race courses were tricky for the 800 sailors competing.
Xu and Bouwmeester read the scenario differently and held back from their familiar aggressive racing styles and opted for different sides of the course. At the first mark the pair were in the lead as Bouwmeester described: "She banged the right corner and I banged the left corner and we were first and second at the top which was quite funny."
Croatia's Tina Mihelic chased down the Chinese and Dutch sailors throughout the race to take the opening bullet. As the winds dropped in the second race Bouwmeester produced a 13th and Xu came down in 30th as Marie Bolou (FRA) took the win to hold a joint lead with the Mihelic. Nonetheless Xu was pleased to be back on the water: "My movement is a bit rusty but I enjoyed the light to medium winds because it wasn't that physical and allowed my brain to work out the mystery on the water. I tried to have really good starts, call the shifts and make the right tack."
Britain's Chloe Martin and Alison Young both saw steady starts with Martin posting 4,6, and Young 6,11.
In the Laser, Robert Scheidt (BRA) joined the fleet for his first 200-point regatta following a victory at the Laser Europa Cup on Lake Garda, Italy in March. The Atlanta 1996, Sydney 2000 and Athens 2004 Olympic Laser medallist started positively and ended the day tied in second overall. "It was a very tough day because the breeze was very flukey and we had big wind shifts all day," exclaimed Scheidt. "I got a six, one and ten so I'm happy with my day because it's the first big regatta back in the Laser. It wasn't a great day, but not a bad one either so I'm pretty happy with that."
With Scheidt proving he still has what it takes to mix things up, he will have his work cut out to catch light wind specialist Tonci Stipanovic (CRO) who took two race wins and the opening day Laser lead. "I knew I had to sail good because I am light and we have stronger winds in the next few days so I did what I could do best," said Stipanovic. "The first race I didn't catch the shifts so good but everything was almost perfect after that so for today I'm really happy."
The Croatian has a perfect scoreline having discarded his eighth in the opening race whilst Bruno Fontes (BRA), Giovanni Coccoluto (ITA), James Espey (IRL) and Scheidt all follow on six points tied for second.
World #1 in the Women's 470 Fernanda Oliveira and Ana Barbachan (BRA) and World #2 Lara Vadlau and Jolanta Ogar (AUT) have taken in World Cup regattas in Miami and Palma with consistent results in both events. The Brazilians have won both and the Austrians have missed out on the podium twice, finishing fourth in the USA and Spain.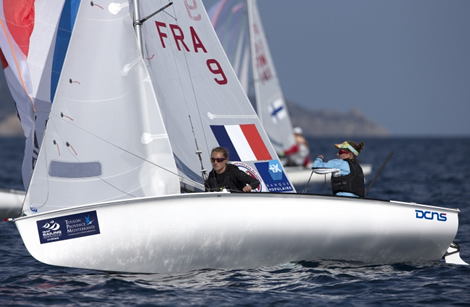 After the opening day in France Oliveira and Barbachan lead the Austrians by two points and Ogar is happy with the way things have been going despite missed opportunities, "It's not nice to finish fourth all the time but we leave the medal positions for the Worlds and Europeans," she said with a smile. "We always say we'll get the bad luck now and the medals in the future."
With light winds on the plate today and more of the same predicted on day two Ogar is happy with the way it's going, "Today was a pretty tricky day with light and shifty winds but we like these conditions and the first two races were really good with a first and second but in the third place we were black flagged but still really good and we're still improving."
Tied in third overall in the Women's 470 on six points are Anne Haeger and Briana Provancha (USA) and Camille Lecointre and Mathilde Geron (FRA). Britain's Sophie Weguelin and Eilidh McIntyre, the early leaders in Palma, hold 11th.
In the Men's 470 New Zealand's Paul Snow-Hansen and Daniel Wilcox recorded two race wins and a fifth to take an early advantage in 63-boat fleet. In split fleets of 32 and 31 the Kiwis enjoyed a successful light wind day in their fleet that included World #1 pair Mat Belcher and Will Ryan (AUS) who ended the day down in eight. Britain's Luke Patience and Joe Glanfield hold sixth, Nick Rogers and new crew Elliot Willis in 12th.
Home nation Men's RS:X favourite Julien Bontemps (FRA) enjoyed the tricky breeze on the opening day to take an early advantage in the 51-boat fleet. A second behind Race 1 winner Piotr Myszka (POL) set him up nicely to for victory in the day's second race. Myszka was unable to replicate his performance in Race 2 and finished down in 17th but with the discard kicking in he holds the joint lead with Bontemps.
Bryony Shaw (GBR), runner up at ISAF Sailing World Cup Palma, started Hyères off positively with a race win in the sole Women's RS:X race of the day after a dying afternoon breeze brought their second race to a close. French sailors Eugenie Ricard and Charline Picon trail the Brit.
First off the water on the opening day in Hyères was the 68 strong Finn fleet. Australia's Oliver Tweddell and Great Britain's Ed Wright hold the joint lead after a race win apiece but less than impressive results in their other races could see them dislodged from the top with Josh Junior posting the most consistent results of 2-7.
Team GBR's top placers are currently Dylan Fletcher and Alain Sign who picked up two bullets and a second from three 49er races to take an early advantage. They lead compatriots David Evans and Ed Powys and Spain's Federico Alonso and Arturo Alonso who are tied on two points.
"We had a really good morning – we won both races and it was quite nice to take a couple of races off the Germans, who'd been winning them all in Palma!" Fletcher explained. "Then we got a second in the last race so we're pretty happy with that. Everything seemed to slot together quite nicely, we worked ourselves a few shifts, Lady Luck was there and it was all good!"
Sign, 27, admitted that the Palma World Cup event earlier this month, where they finished tenth, didn't quite go as they'd planned. "I think we were pretty confident in the breeze and the waves. We've worked on a few things since Palma so I think we've just got to go out there, have some fun, swing it round and see what we can do."

Britain's John Pink-Simon Wheeler and Nic Asher-Fynn Sterritt also inside the top ten after the opening day of this six day regatta.
Germany's Victoria Jurczok and Anika Lorenz lead the 49erFX fleet following a consistent display of light wind racing. A race win, second and a third gives them a three point gap over Great Britain's Charlotte Dobson and Mary Rook in second and five point advantage over Frances Peters and Nicola Groves (GBR).
Two races in the Nacra 17 were completed on the opening day as Maxim Semenov and Alena Pankratova (RUS) and Renee Groeneveld and Karel Begemann (NED) took the race wins to share the lead. Two third places for Britain's Lucy Macgregor and Tom Phipps sees them in fifth overall after two races in the Nacra 17 mixed multihull event,
In the 2.4mR Megan Pascoe (GBR) and Lasse Klötzing (GER) share the lead and London 2012 Paralympic Games Sonar gold medallists Udo Hessels, Mischa Rossen and Marcel Van de Veen (NED) lead the fleet.
Racing resumes tomorrow at 11:00 as the Qualification Series comes to a close ahead of the Final Series on 24 April.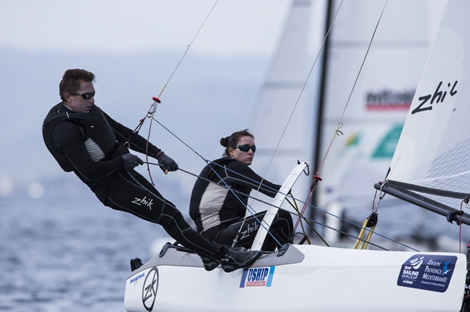 Back to top
Back to top