Paul Goodison - contemplating his Olympic future
Word on the street is that Paul Goodison is retiring from Laser sailing, however when we saw him last weekend the Beijing 2008 Gold medallist refuted this.
"I sailed two weeks ago in Oman in my Laser and really enjoyed it, but the motivation is not really there for me at the moment," admits Goodison, who went out to compete at Mussanah Race Week, finishing third behind Antipodean hotshots Tom Burton and Andy Maloney. "So I think it is a good time to step away from it at the moment and try some other stuff and learn more. You have to enjoy it, otherwise you won't put in 110%."
Over the Easter Bank Holiday Goodison was calling tactics and attempting not to get riding turns on the runners aboard Sir Keith Mills' TP52 5°West competing at the RORC Easter Challenge. And this is not the first time we have caught him sailing on a something larger than a Laser – his first foray into keelboats was with Joe Woods' Red team on the Melges circuit, who were trying out a Farr 400 at Key West Race Week last year.
"Yes, I think I'm getting a bit older and a bit wiser!" admits Rotherham's finest. "So, yes, the Olympic stuff is a little bit on hold for now. For me, Rio is a long, long way away and if I want to be there and be on top form, then starting now is not for me. Plus I have a lot of other interesting projects going on from the RC44 to Melges 32s and Melges 20s - a nice variety of sailing. So it is not out of the question. As the Games get closer and as they establish what the trials are going to be, it is definitely something I'd look at – going there and trying to win."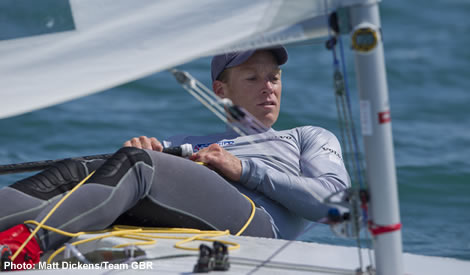 Luckily for Team GBR Laser no2 Nick Thompson there is a fresh posse of young talent joining their ranks in the Olympic singlehander for him to train against sans Goodison. "They are all putting in quite a lot of time in at the moment, so they should be there or thereabouts," says Goodison. "And they have put a lot of effort into their fitness – they are fit and strong lads at the moment. And highly motivated..!"
If Goodison does decide to rekindle his Olympic program then it is not certain it will be in the Laser. For a while now he has had his eye on the Star and if that makes a re-appearance for Rio, as is rumoured, then he could be tempted. "I'd love to go Star sailing," he admits. "But it is hard - to step back into the Laser and have 50 boats on the start line is pretty special."
And then there's the prospect of racing Robert Scheidt (who presumably is also waiting to hear if the Olympic keelboat is going to be reinstated). "I have thought about that - that would be good. The Star would be another challenge. With all my sailing at the moment, my learning curve is quite steep and it is so motivating and exciting whereas when I go back to the Laser it feels like you spend most of your time trying to get as good as you were. And you are at the ceiling when you get to that level – there is not much more to come..."
Also on the negative side in terms of the Laser is that come Rio 2016, Goodison will be 38, still younger that Scheidt who will be 43, but given his age a keelboat might a better proposition. But then again... "the way I look at it is that Rio will be a very similar Games to what China was and they are definitely strengths of mine - light winds, the tidal and tactical stuff. I think that is what I am good at and it is hard to resist the chance of doing it again."
And bombing at London 2012 when he suffered an injury on the first day also inspires him. "That is certainly another one of the other things that always hits home. I always am frustrated that I didn't get a chance to do what I thought I was capable of because of other stuff. Another chance again would be nice."
In the meantime as he decides Goodison has become a full time keelboat sailor, with one busy schedule. Competing aboard 5°West has come late and Goodison admits he won't be able to do some of the program with Sir Keith Mills because of date clashes with other big boat racing he has already signed up for. This includes sailing on David Murphy's Ironbound on the RC44 circuit. Then there is Leenabarca, the Melges 32 belonging to American Alex Jackson (the original owner of the maxi, Speedboat/Rambler 100). Aboard the 32 they have already this year finished second at Key West Race Week and in the BVI.
There is also racing with Alessandro Rombelli on the Italian's Melges 20. Conveniently Rombelli is also the owner of the Mini Maxi Stig. This year he plans to campaign his Judel-Vrolijk 72 - at present is less than a year old - unless she sells. Goodison believes he will get to sail this too, taking over from Melges 24 and 32 World Championship winning tactician, Lorenzo Bressani.
So – quite busy then. "It is great for me. Getting to sail with loads of different people on different boats and move that forwards," admits Goodison.
When back home in Weymouth he even finds time to go sailing for fun... And for this he turns to his Mach 2 Moth. "I takes me back to when I was a teenager, grabbing at Dad's heels to try and take me to the sailing club on Wednesday nights as soon as he got home from work – it almost like that. Simon Hiscocks has got one down there. There is plenty of fun to be had with that."
Moth sailing is something he shares with 5°West skipper Rob Greenhalgh.
So would he take part in any serious Moth racing? Goodison says he would definitely like to, the problem is the endless clashes with other things going on in his life. The Worlds, inconveniently out in Hawaii this year, conflict with his brother's wedding. "And the Europeans are at the same time as the RC44s are in Sicily so they are only about 20km away! So I will get to go and watch and have a little bit of a look." But that's it.
Goodison also acquired an A-Class catamaran last year but hasn't been sailing her that much. "The thing is, only three of us have got them in Weymouth and they are all different designs and different speeds, so it is not much fun racing against each other whereas in the Moth there are seven or eight of us going to same speed and we're all a similar level or not far off. So that is more fun."
So Goodison back in the Olympics? By no means certain, but a decision seems some way off.

Back to top
Back to top