The battle for Laser supremacy
One sailor per nation per class – at the Olympic Games this rule ensures the limited spaces available in sailing are spread between as many nations as possible. But as has been pointed out many times before, the price is that the Olympics becomes not a competition between the best sailors in the world, just a selection of them. Without this limitation for example Giles Scott and several other British Finn sailors would have taken part in the Games in addition to Sir Ben. Another who certainly would have made the cut is British Laser sailor Nick Thompson.
Over the course of the last Olympic cycle Thompson appeared to be overhauling Paul Goodison in the quest to become Britain's Laser representative at London 2012. Coming in hot from claiming Gold medal in Beijing, Goodison was World Champion in 2009 (when Thompson was also on the podium in third). But in 2010, when the Laser Worlds were in Hayling Island, Thompson came home second to Goodison's ninth and the result was similar at Perth 2011 when the younger sailor was second overall and Goodison fifth. Given Goodison's unfortunate injury at London 2012, one wonders if the selectors sent the right man?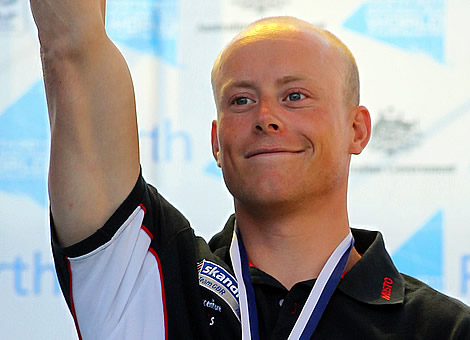 Setting out on the next Olympic cycle the landscape among the Britain's Laser elite appears unchanged with both Goodison and Thompson campaigning again. Both are older and wiser, Thompon 27 while Goodison is now 35, and will be approaching 40 by the time Rio comes around.
"It is very tough to devote yourself to the Laser for another four years," admits Thompson. "It is a very physical boat and there is no doubt that Goody is getting older and finding it harder. So there is that doubt in his mind and then finding the motivation to do it again - it is a tough road, a four year Olympic cycle."
This all presumably works in Thompson's favour, but when we address this he switches on the party line: "The end goal is an Olympic gold medal and whether it is me or him [Goodison], it is important to us personally of course, but it is about getting both of us into a position where we know we can beat all the foreigners. That is something we tried very hard to do at the last Olympics, to get closer to Tom [Slingsby], who was obviously the guy to beat, and it is going to be the same for this Olympics. But there are also many other guys coming through and they are the ones we should be watching more than each other."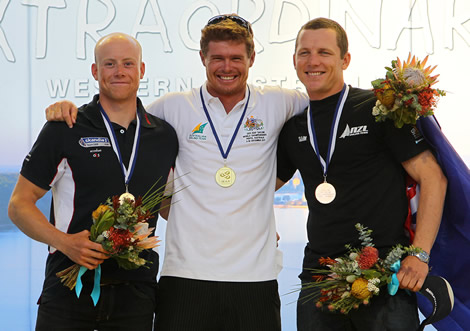 For both Brits another vital factor on the road to Rio 2016 will be the Aussie situation – whether London 2012 gold medallist Tom Slingsby will be making his return. At present Slingsby is undecided, maintains Thompson. "I speak to him quite often and at the moment he is not sure. He is keen for a new challenge and might try the Finn, but at the moment he is so flat out with Oracle he doesn't have time to try anything or think about anything..."
However even if Slingsby chooses to stick with the big bucks and not go to Rio, then the Aussie team has depth beneath him with a very capable no2 in Tom Burton (who won Sail Melbourne in December and was second at Skandia Sail for Gold last year) and Thompson reckons there are also several up-and-coming Kiwi sailors to watch out for in addition to Andrew Murdoch. "There are probably three or four who are already at the level it takes to medal," he says referring in particular to Sam Meech and Andy Moloney.
And with the Star currently off the roster for Rio 2016 there is also the strong chance of Brazilian Laser legend Robert Scheidt making his come-back in the singlehander. "He has already done a few events," confirms Thompson. "The funny thing about Robert is that he'll tell you he has done no sailing in the Laser but I know for a fact that he has! I remember being out in Garda on holiday and he was there still sailing his Laser three hours a day, six days a week, just like he always has. If the Star comes back it will be interesting to see whether he decides to do that or the Laser."
Come Rio 2016 Scheidt will be 43.
If Slingsby was the benchmark in the Laser over the last Olympic cycle, then presumably the Brits have been taking a long hard look at why he was so dominant.
"There is no denying that Tom was quick in the breeze and that certainly helped him with the Olympics," says Thompson. But why? "He is smart." And his technique? "Maybe a little bit. At the end of the day if you watch him sailing upwind in breeze he just hikes so much harder than everyone else. Yes, he has techniques that he does differently, but for me to learn his technique is never going to work because we are so different in terms of our size and weight. I think it is more about trying to find the way to make the boat go fast for me and not about what Tom does."
Obviously Rio is expected to be a light weather venue and this is likely to favour sailors at the lighter end of the weight scale. Thompson reckons that Laser sailors will have to get down to around 75kg, whereas last time around he was 80kg and Slingsby around 83-84. So the light wind venue might not favour Slingsby.
In terms of coaching for this Brits, this remains a little up in the air at present with contracts not due to be signing until later this month. Having worked with Chris Gowers forever, after being selected for London 2012 Goodison decided to change coach and have a stint with Tom Slingsby's former coach, Arthur Brett. "Paul decided that he would like to try and up his game in the strong winds and try working with Arthur, because obviously Tom goes so well in the breeze," explains Thompson. "So he worked with Arthur up to the Games and made some changes that were good and some that weren't."
Thompson says that he hopes they continue working with Chris Gowers again this cycle. "He is a fantastic coach, and he has done good things with both me and Goody. He has been around the circuit for long enough. There are not many things he doesn't know."
Goodison and Thompson are set to train together again in this Olympic cycle, just as they did in the build-up to London and Beijing. As Thompson says: "There are things Paul can learn off me and that I can learn off him, so it would be silly not to maximise that for the benefit of the team."
An additional factor this time is that the British Laser squad is regaining some of the depth it lacked in the build-up to London 2012. "There are maybe four or five coming through together and who are pushing each other. They are young and keen and, importantly, they are the right size."
So does Thompson not get bored of sailing the Laser? He says not. "You are always learning new things, in terms of the tactics and what you do in the boat at any one moment relating to those conditions – it's never the same in any two situations. So I wouldn't say I get bored of it, but it is nice to step outside like I did this winter and do some other sailing on some bigger boats. Also when you have done that, when you get back in the Laser, you appreciate how good the Laser is, how close the racing is."
Thompson has followed Goodison into the Melges 32 class, sailing with former World Champion, American Pieter Taselaar on Blixsem. Last year's program culminated in the Worlds where they finished 5th, while Goodison won calling tactics on John Kilroy's Samba Pa Ti. "I think occasionally we were a bit nicer to each other than we should have been. But it is good fun and it is nice that we can both go and do other sailing and then apply it to our own campaigns."
He also sails with Taselaar in the Viper 6.40 sportsboat, winning the North American Nationals and competing last week at Bacardi Miami Sailing Week where they finished fifth. "It is similar to the SB20, but with a different dynamic. It is good fun and I've really enjoyed it." And at Key West this year he sailed a J/70. "That is a good fun boat. They had 45 entries in the boat's first year which is pretty impressive for such a short space of time."
Through Blixsem, Thompson also got to compete on Bob Hughes' Heartbreaker at the Farr 40 Worlds.
So getting paid to go sailing, a slippery slope? "It is nice, a win-win situation! It is good fun and it gives me an opportunity to specifically focus on the tactics and not worry about boat handling which allows me, when I get back in the Laser, to look around a bit more than I usually do. There is no doubt it has helped."
Thompson hopes to do some more big boat sailing as his Laser campaign allows and expects to be sailing on Blixsem again this summer in Europe. If nothing else it will help prevent him getting stale. "And you look at other options. There are so many things that other sailors do and know that we oversee and don't think are important, but then you try it and maybe you move on in an area you previously thought you were fine on and you actually weren't. A classic for me is something as simple as rounding windward marks and getting your head out of the boat to plan early. You need to make decisions for the runs in an asymmetric boat – are you gybing out or are you holding? In the Laser it is pretty similar - you are sailing a little bit deeper, but if it is wavy you are sailing pretty high angles."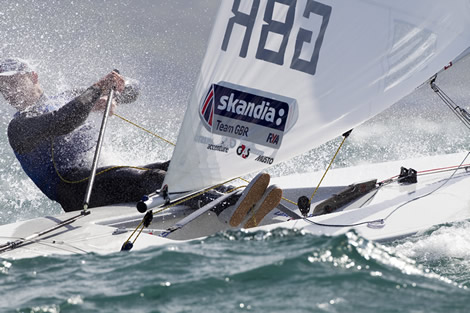 From here
Along with the rest of the Team GBR sailing team, Thompson has been training out of the team' new spring base in Murcia in the south of Spain. "It was perfect – we had good winds and good weather," he says. "The majority of it was light winds and flat choppy water, but given that that is something we need to start focussing on, it was a good venue. And as a team set-up it was perfect. We had all the Olympic classes there in one place. Generally the team does that quite well with Development sailors, but the Performance sailors, we tend to go off and do our own programs. So at the beginning of the cycle to pull everyone together was great. We had a lot of good meetings and discussions so I think in terms of the team moving forwards, we are in a good position."
Vital too is that the cycling is good in the area. "Everyone is keen on it," Thompson acknowledges. "I love cycling. It is certainly a huge hobby of mine. I tend to do some mountain biking when I'm allowed to and I don't go and injure myself, or it is road biking the rest of the time."
So who's the best in the GBR squad? "Actually the other day I just set a new team record for the best power to weight ratio. But everyone is pretty good at cycling."
From Murcia the team is decamping to Palma imminently ready for the Princess Sofia Trophy over the first week of April. This will be followed by the complete circuit including the Europeans in Dun Laoghaire in September and culminating in the Worlds in Oman at the end of the year.
A change to the circuit this year is that the only ISAF Sailing World Cup regattas in Europe are Palma and Hyeres (the next one after this is Qingdao in October – we wonder how well attended that will be...) So to give credence to all the other major Olympic class regattas in Europe, these have now been formed into the EUROSAF Champions Sailing Cup and in 2013 will comprise five events - Garda Trentino Olympic Week in early May, followed by the Delta Lloyd Regatta, Sail for Gold and Kieler Woche, and culminating in the Semaine Olympique Française, now separated from Hyeres and being held for the first time in La Rochelle in October.
Thompson says he thinks the EUROSAF circuit is a good idea because it includes some established events, that are no less good for not being part of the ISAF Sailing World Cup. In reality though neither circuit is that relevant. For Thompson as with other Olympic sailors, or indeed Olympians in other countries and in other sports, the top priorities are always the Olympic Games and the European and World Championships, the latter two of course being crucial in determining each athlete's funding.
And when does he first head for Rio? "I haven't been out there yet, but we're off there in August. I am going to do a couple of weeks training out there and there will be another training camp in December and possible another early next year. I'd be interested to see what it is really like. You hear a lot of rumours. I'm sure the Olympics will be strong winds and big waves!"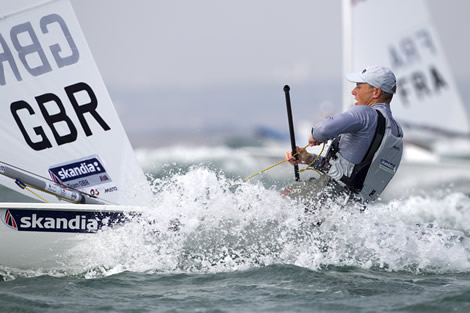 Back to top
Back to top