Gunning for 49er gold
In the post-London 2012 game of Olympic sailing musical chairs, Stuart Bithell, Rochdale's finest and one of the most talented sailors of his generation, is changing class. On the wire for Luke Patience when the cocky duo brought home a silver medal for Team GBR in Weymouth, Bithell has now teamed up with the lanky Chris Grube (aka Twiggy) to campaign a 49er for Rio 2016. Their aim is to become Britain's first ever gold medallists in the Olympic skiff.
"The last four years sailing a 470 with Luke has been a great stepping stone to my career as a sailor and the last year was great being selected and then putting a program together to try and win a gold medal. We came up with a silver medal which we are fairly happy with even though it isn't the shiniest medal," commented Bithell.
The possibility of the Patience and Bithell duo teaming up again for Rio 2016 was always unlikely. Simply, they are too heavy for what is expected to be a light wind venue, possibly as light as Qingdao believes Bithell. "We were always on the heavier side of the crew weight on the international scene which was fine [for Weymouth]. We had a mixed regatta [in terms of conditions] and that was fine, but we feel that the fleet will get lighter for Rio and we won't be able to match them because we were on a diet already..."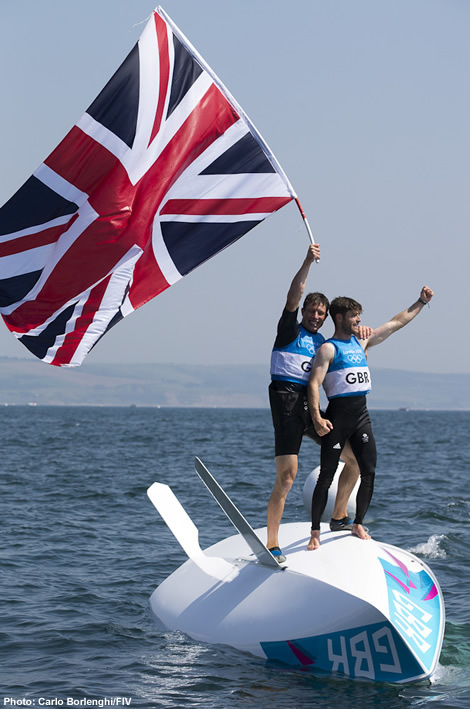 So the silver medal winning duo have gone their separate ways, the jockey-sized Patience remaining in the 470 helm spot where God intended him and currently on the hunt for a new crew.
"He is going to struggle to replace me!" quips Bithell, showing some of the smart mounted banter he and Patience became renowned for during the Games. "His heart is in Olympic sailing still. He is perfect for the 470 helm. He is a hugely talented sailor and he has now got a huge amount of experience so I am sure he will be a wanted helm. There are crew there that are plenty good enough, although obviously they won't be able to replace me!"
Obviously the move from the 470 to the 49er is akin to going from a Ford Mondeo to a Ferrari and neither Bithell nor Grube have really sailed anything comparable.
"I've done a little bit of asymmetric sailing before, but not actually planing, planing boats," admits Bithell. "It is a new challenge – there's no hiding from that!"
In the last Olympic cycle Grube ended up second in the British Men's 470 pecking order on the wire for former silver medallist, Nick Rogers. Ironically prior to that he sailed with Luke Patience. He adds: "I think for us it is just getting used to the differences in power. With the 470 you are always looking for power, whereas the 49er is a beast! You are powered up most of the time and it is a case of trying to get used to that. The boat has so much more power than the 470 and it suits a bigger more athletic crew, so I have spent a lot of time in the gym over the last couple of months. We have swum a bit! The important thing is to make sure we don't injure ourselves too much so that we can carry on our program."
Bithell agrees: "It is different. It is a wild animal and you really have to get it under control. The 470 is fairly underpowered whereas this has a lot of power and dealing with that extra power will take quite a bit of getting used to, particularly in a racing environment. But we are on form, we are on track and we have got a plan in place and we are moving forwards."
While both Bithell and Grube were 470 crews in the last Olympic cycle, however Bithell has also got considerable experience as a helmsman in his own right and for example helming has twice been Merlin Rocket National champion and in his formative years helmed a 420 until he got too big. He has also helmed RS200s and GP14s - as he puts it "all the 'northern' classes mainly. I am massively excited about the opportunity. I do a lot of helming and I do a lot of crewing, but it is nice to get on the stick again."
So far they have been sailing the hotrod Olympic skiff for three or four months, principally down at Team GBR's new training camp on the Mar Menor in the south of Spain. They are heading back down there this week. "It is about building up to Palma," says Grube of the Princess Sofia Trophy at the beginning of April. "At the moment we are just trying to get comfortable around the boat so that we are able to get the boat around the race course at the first couple of events."
Both Bithell and Grube are tall and lanky, Grube in particular, and this is supposed to be the ideal shape for the 49er. In fact they will certainly be the tallest of the British crews. "We are tall, but we are tall and skinny so we are actually one of the lighter teams, but with a similar amount of leverage or more," continues Bithell. "And our physics suit the boat – tall slim guys and our strengths as sailors complement each other. Putting the right program in place and hard work and motivation we have a realistic chance of dominating the 49er world scene."
This is more fighting talk, particularly as already in the British squad are some of the class' top sailors. "There is a huge amount of talent in the 49er in Britain," agrees Bithell. "But there is not one team that stands out better than the rest and myself and Twiggy will put the best program in place to make sure that is us. In the last cycle the Kiwis [Peter Burling and Blair Tuke] were 470 sailors before and their learning curve was very steep and they came away from London with a silver medal. So it is a hard challenge, we're going to have to work hard, but it is possible and our strengths compliment the boat and we'll be giving it our best shot."
Currently in the British 49er squad are Dave Evans/Ed Powys and Dylan Fletcher/Alain Sign while London 2012 hopes, Stevie Morrison and Ben Rhodes, who finished a disappointing fifth at the Games, are due back into the class imminently. Potent duo John Pink and Rick Peacock have gone their separate ways with Pink now sailing with Simon Wheeler. Meanwhile another 470 sailor making the transition is former World Champion Nic Asher, sailing with 24 year old Scot Fynn Sterritt, a past member of the GBR 420 squad, who has been 49er for the last couple of years.
So once again there is a large 49er squad and one wonders if in this cycle they will get out of the rut they got into last time when typically the entire squad would finish in the top ten, but none consistently finishing on the podium, with the least inconsistent (particularly in the regattas where it mattered) being Morrison and Rhodes.
Down the road there is the issue of funding. With potentially six teams campaigning, the Team GBR coffers are unlikely to be able back all of them. Bithell acknowledges this: "We kind of all know that that is going to be an issue along the line at some point, but as a squad we have been thinking very positively and everyone is open and happy to work together for now. We feel that everyone has deserved a spot on the squad so far."
Former 49er sailor Paul Brotherton, who coached the Yngling girls to gold in Beijing and has since become head coach for the 49er squad remains in charge. "That is fantastic for us," says Bithell. "He is a great coach and he knows a lot, as you'd expect, and he has a huge amount of experience and a lot of 49er skills as well."
So can the 49er squad get out of its rut? "I think having come from the 470 squad where there were only ever three boats we had to work with, to the 49er where there are four or five, it changes the dynamic slightly and it gives opportunities for splits in the squad and things like that," says Bithell of what may have been weakness last time around. "But they do a great job with the tools they're given and I think there are some lessons to be learned from the last cycle. There is absolutely no doubt that we have assessed those [lessons] as a squad led by Paul and Sparky [RYA Olympic Manager, Stephen Park]. We are working on how we can improve this cycle: So lessons learned and moving forwards."
But the team is going to have to pull some special out of the hat if they are to challenge the dominant Aussies Nathan Outteridge and Iain Jensen, who won gold at London 2012 before even going into the medal race, as well as the Aussie team's training partners Kiwis Burling and Tuke, who took silver.
Back to top
Back to top