Asko Appliances wins in the light
The Asko Appliances team of Marcus Ashley-Jones, Ash Rooklyn and Geronimo Harrison handled the light ENE breeze to perfection to score an easy all-the-way win in Race 6 of the 18ft skiffs' AEG 3-Buoys Challenge on Sydney Harbour today.

Always near the lead from the start, Asko Appliances established a big lead at the first windward mark and totally dominated throughout the four-lap course to win by 3m8s. In an extremely tight finish for second place, James Dorron's Mojo Wine defeated Simon Nearn's De'Longhi-Rabbitohs by just 9s. Series leader Pure Blonde (Tom Clout) was fourth, followed by Fisher & Paykel (Andrew Chapman) and Yandoo (John Winning).

With just two races left in the Challenge series, and most boats already carrying a maximum points discard, Pure Blonde heads the points table on 23 points. Mojo Wine's consistency has the team in second place overall on 25 with Thurlow Fisher Lawyers (Michael Coxon) and Fisher & Paykel equal third on 27. Today's winner, Asko Appliances is fifth on 31 and backmarker Gotta Love It 7 (Seve Jarvin) sixth on 35.

After the strong winds which battered the fleet last Sunday, today's race was sailed in a breeze which was constantly light from the ENE.

With Asko Appliances dominating the race, most interest centred on the battle behind with positions changing from the three buoys handicapping.

Former Australian champion James Dorron continues to improve each week in Mojo Wine and was always in the bunch chasing the leader.

The Kitchen Maker (James Francis), De'Longhi-Rabbitohs, Pure Blonde, Rabbitohs-Kenwood (Brett Van Munster), Coopers-Rag & Famish Hotel (Jack Macartney) and Thurlow Fisher Lawyers were also prominent at various stages.

It was also encouraging for the rookie 'Skiff Chicks' team on Lomax Financial Group, which finished 13th after carrying their smaller #2 rig in the light conditions. Alexandra South, Saskia Tidey and Lizzi Rountree had the distinction of beating the Gotta Love It 7 team home.

Race 7 of the AEG 3-Buoys Challenge will be sailed next Sunday.
Full results here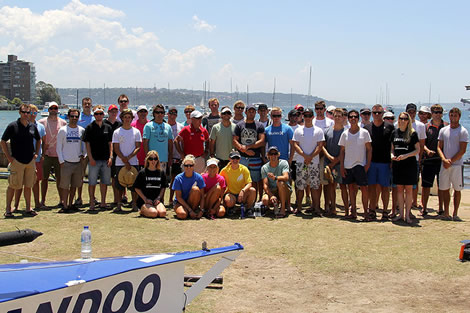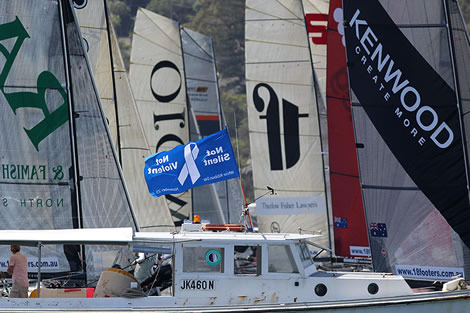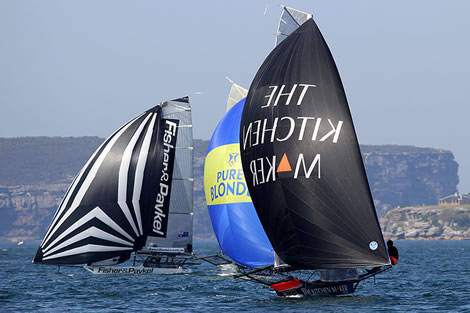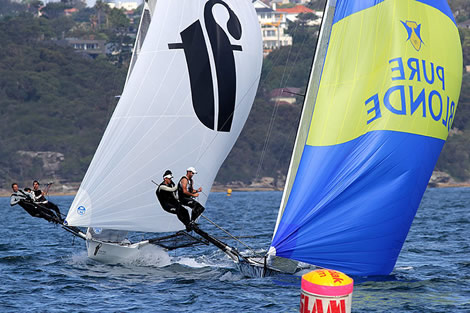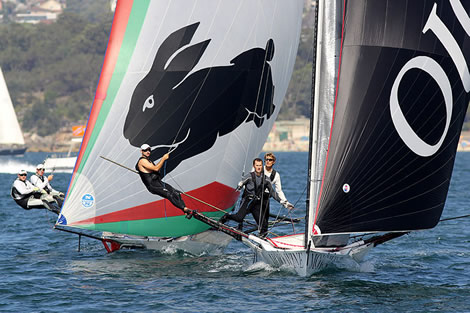 Back to top
Back to top