Record breaking Zhik Moth World Championship
While ground-breaking technological advances may have ground to a slight halt in the foiling Moth class since a year or two ago when solid wings represented the latest cutting edge, there seems to be no lack of desire to take to the water in the hi-tech airborne singlehander with a record-sized fleet of 117 competing this week at the Zhik World Championship on Lake Garda.
Among the line-up are many of the usual suspects, from past World Champions such as Bora Gulari (USA), John Harris (AUS, but now based in the USA) and Simon Payne (GBR), who has a new car from his sponsor Abarth in which he sped down to Garda.
Following the last World Championship, which seems like eons ago, held in Belmont, Australia in January 2011, so there is a large Aussie contingent that have made the trip over, alas without reigning World Champion Nathan Outteridge, the newly crowned Olympic 49er gold medallist, who has a clash this week with his duties at the helm of the Team Korea AC45 in San Francisco (likewise fellow London 2012 gold medallist and Moth sailor Tom Slingsby is competing at Audi Hamilton Island Race Week).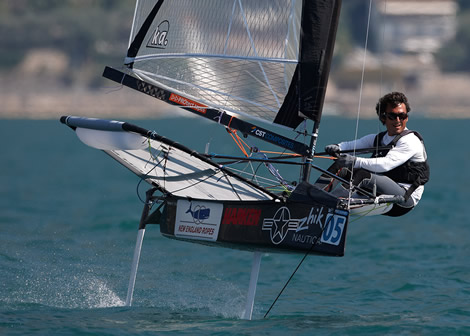 Among the Aussie frontrunners are Joe Turner, who finished second last year in Belmont, one place ahead of 18ft skiff sailor Scott Babbage, also making his return this week. And no Moth Worlds would be complete with the guru, Andrew McDougall, designer of the prolific Mach 2 and Bladerider foiling Moths who is also among the Australian contingent.
While Outteridge and his 49er crew Iain Jensen aren't taking part, the London 2012 49er silver medallist from New Zealand Peter Burling is. Other past Olympians on the water in Garda are American Laser sailor Brad Funk (Mr Anna Tunnicliffe) and double Olympic 49er medallist Simon Hiscocks.
Freshly returned from the Volvo Ocean Race with Abu Dhabi Ocean Racing, ex-18ft skiff and International 14 World Champion Rob Greenhalgh is a new recruit to the Moth circuit, while his teammate Simon Fisher is taking part under a Spanish flag (he is now based in Barcelona).
The Aussies may have turned out in force with an impressive 21 boats and drivers having made it to Garda from down under, but the Brits have the largest entry at 29. In addition to those mentioned is Chris Rashley, the 2012 UK National Champion and 2011 European Champion, past UK National Champion Jason Belben and Moth stalwarts Ricky Tagg and Hyde Sails boss Mike Lennon.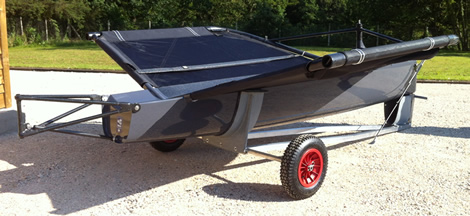 The latest Moth
While there may be little by way of technological revolution going on in the class, with legislation having been implemented to limit potential design advantages from having a wing sail, so there is one new production boat taking part.
Mike Cooke, has been on the map for some while building his Kevin Ellway-designed Ninjas, but in Lymington Chris Maguire has recently gone into small scale production with the very latest foiling Moth design from Kevin Ellway. This boat was used by Chris Rashley to win the UK Nationals in July (finishing two points ahead of Simon Payne on his Mach 2 – these two with a big lead over the chasing pack). In Garda Maguire Moths are also being sailed by Jason Belben, Rob Greenhalgh and Gareth Davies.
Chris Maguire has been tinkering with foiling Moths for a while and having built his first boat, has since been working with Ellway in developing his latest weapon. "We have done a lot of foil development over the winter. We launched the first boat at the end of January and have since been quietly getting it tested and up to speed," he says.
The new boat has a lot of rocker and is very rounded with the double aims of attempting to reduce hull drag at lift-off speed while also trying to minimise windage, through cleaning up the cockpit layout and running wand cables and control lines internally. The new boat has more reserve buoyancy forwards through being a little wider on deck and having more volume in the bow.
According to Maguire, the foils are an evolution of the latest Ninja foils and compared to those on the Mach 2 are even more skinny and high aspect – the same span as the Ninja foils but with less chord. This particularly helps in manoeuvres, keeping the boat airborne during gybes as well as tacks.
With the Ninja Mike Cooke is erring more towards having a fixed rudder, with the Maguire boat they have retained the twist grip control to adjust the pitch of the rudder foil. "They are not using it that much, but they are using it," he says.
Maguire adds that despite the higher aspect foils they are still getting good top end speeds. "We tried to go down the route of controllability and being able to take off a bit earlier, where there are big gains to be made. We have done work on making the control systems very accurate which helps with the performance of the foil itself." The length of the wand can be adjusted and there is also a ride-height adjuster.
Following the launch of a prototype, the Maguire Moth has now been finalised. To date five have been built and Maguire has orders for five more.
While the platform is all-new, the rig is off-the-shelf with a C-Tech mast and boom and KA sail recommended.
The Maguire Moth is built in carbon fibre from aluminium CNCed tooling. The price of the new boat complete but without the rig or sail is £9,800 plus VAT.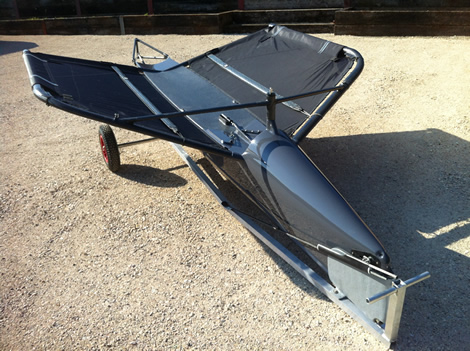 Back to top
Back to top