Five medal disappointment
Tuesday August 14th 2012, Author:
James Boyd
, Location: none selected
Overall at London 2012, Australia came out decidedly as the top sailing nation with their three gold medals – Tom Slingsby in the Laser, Nathan Outteridge/Iain Jensen in the 49er and Mat Belcher/Malcolm Page in the 470 Men – plus silver for Olivia Price's young crew in the Women's Match Racing.
So for the first time in the last four Olympic Games, Team GBR wasn't the top nation. In fact with Olympic scoring counting the number of golds a nation scores first, then Team GBR wasn't even second, falling in behind Spain, which won two gold s(Marina Alabau in the RS:X Women and Tamara Echegoyen's team in the Women's Match Racing) to compared to Britain's one (Ben Ainslie in the Finn). However Britain did win the most medals with five and if you do the tally so that a Gold counts for 3, silver 2 and bronze 1 then, Britain came out level pegging with Australia:
| | | | | | | | | | | |
| --- | --- | --- | --- | --- | --- | --- | --- | --- | --- | --- |
| Pos | Nat | G | S | B | Tot | G | S | B | Tot | |
| | | Sailing | | | | All | | | | |
| 1 | AUS | 3 | 1 | | 11 | 7 | 16 | 12 | 65 | 16.92% |
| 2 | GBR | 1 | 4 | | 11 | 29 | 17 | 19 | 140 | 7.86% |
| 3 | ESP | 2 | | | 6 | 3 | 10 | 4 | 33 | 18.18% |
| 4 | NED | 1 | 1 | 1 | 6 | 6 | 6 | 8 | 38 | 15.79% |
| 5 | SWE | 1 | | 1 | 4 | 1 | 4 | 3 | 14 | 28.57% |
| 6 | CHN | 1 | | | 3 | 38 | 27 | 23 | 191 | 1.57% |
| 7 | NZL | 1 | | | 3 | 6 | 2 | 5 | 27 | 11.11% |
| 8 | DEN | | 1 | 1 | 3 | 2 | 4 | 3 | 17 | 17.65% |
| 9 | FIN | | 1 | 1 | 3 | 1 | 1 | 2 | 7 | 42.86% |
| 10 | CYP | | 1 | | 2 | 0 | 1 | 0 | 2 | 100.00% |
| 11 | POL | | | 2 | 2 | 2 | 2 | 6 | 16 | 12.50% |
| 12 | FRA | | | 1 | 1 | 11 | 11 | 12 | 67 | 1.49% |
| 13 | BRA | | | 1 | 1 | 3 | 2 | 1 | 14 | 7.14% |
| 14 | BEL | | | 1 | 1 | 0 | 1 | 2 | 4 | 25.00% |
| 15 | ARG | | | 1 | 1 | 1 | 1 | 2 | 7 | 14.29% |
It is also interesting to note the contribution sailing made to several nations' overall medal tally at London 2012 (see the percentages in the column furthest right above). Pavlos Kontides' silver in the Laser was not only the sole medal Cyprus won at London 2012, it was the only medal Cyprus has ever won (excluding the Paralypmics) since it gained independence in 1960. The silver (Tuuli Petäjä in the RS:X Women) and bronze (Silja Lehtinen's team in the Women's Match Racing) contributed to almost half Finland's medal tally, while two of Spain's three gold medals, were won in sailing and – make of this what you will - both by women.
However of concern to ISAF will be that the number of nations winning medals is on the decline – from 19 in Athens, to 18 in Beijing, compared to 15 this time.
There are also significant trends in terms of which nations are on the ascent or the decline in terms of winning sailing medals. Australia is of course the prime mover in the former category followed by the Netherlands while London 2012 saw Belgium's first medal since 1996 (with Evi van Acker's bronze in the Radial). Conversely others are on the decline – the USA, in particular, was fourth in the sailing medal league table for the last two Olympic Games and this year failed to medal at all. Also failing to medal this year, compared to 2008 were Greece and Israel, while Norway and Canada haven't medalled since 2004.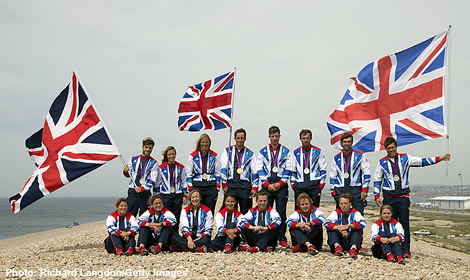 The British perspective
Team GBR's medal tally was disappointing compared to Beijing (just one gold compared to four) and they ended up third in the medal league table after Spain edging ahead when they won the Women's Match Racing on Saturday.
Although as a team the Brits met their medal targets for London 2012, there were some missed opportunities. Iain Percy and Andrew Simpson proved themselves to be the dominant Star crew during Games, but missed out on gold in the last 10m of their medal race, thanks to the vagaries of the Nothe course. For Paul Goodison, who was on for a medal in the Laser having won gold in Beijing, his chances evaporated on day one when he developed a back condition. And on a positive note, across all Olympic sailing disciplines there were no final results worse than 7th (Paul Goodison, Bryony Shaw and the match racing girls), which has to be one of the most consistent set of results ever posted by a sailing team at the Olympic Games.
RYA Olympic Manager Stephen Park was satisfied with Team GBR's sailing results. "I think you have got to be happy with winning medals on half of your opportunities. If we had won medals on half of our opportunities in every sport then we would be doing incredibly well, wouldn't we? We have exceeded our target of four and hopefully that will help secure funding for the next four year cycle which is important both for the Olympic programme and also our junior youth programmes."
Park believes that Team GBR put together a better program for London 2012 than they did for the two previous Games in terms of the effort of the sailors, coaches and support staff. But this time they came away with less medals and significantly less gold coloured ones. "I said at the time [after Beijing] that I would be surprised if anybody could reach that target again. Clearly nobody else has come close at this event. But I think that is just the nature of the changing mood of the sport and as it continues to get more and more competitive, then that target becomes harder and harder to achieve. But that is sport and that is what makes you competitive and what drives people on every day and why it is so special to win."
Certainly Britain's results could have been better. In addition to Percy/Simpson, there was also an opportunity to win gold in both 470 classes and Park also reckons the Macgregors and Annie Lush "were a bit unfortunate in the Women's Match Racing. We believe that the result in the second match of the quarter finals should have gone the other way, but that didn't go in our favour. If Lucy, Annie and Kate had got to the semis then they would have been in with a very good shot of the title there as well."
While Park's forecast of Team GBR sailor winning four medals going into London 2012 seemed conservative at the time, he points out that statistically one athlete normally gets injured and someone won't sail well or that a judgement would go against them. All of this came to pass. "All of those sorts of things are just the nature of sport. I think the only difference between this time and four years or eight years ago, is that the level of competition among the top teams is getting tougher and tougher."
Park cites the US and French teams, which in particular fell foul of this over the last two weeks. "I don't think it is that their campaigns have been particularly poor. I think the US campaign, for example, has probably been better than it has been for a number of years, but the margins are small and if you make one or two errors and are not able to come back strongly, then it just strips away incredibly quickly."
In terms of a home team advantage Park reckons that there wasn't one. While holding the Games in the UK certainly made the logistics easier, compared to Athens or Beijing, it was also easier for overseas teams with most of the teams for example already speaking English. This was an aspect for the British team's effort that worked to their advantage over the previous two Olympiads, says Park. "One of the things that we did particularly well was being able to become almost local heroes due to the efforts we made to get involved in the culture and set up an infrastructure and spend a lot of time and effort there, understanding the people, understanding the water. That made us comfortable there and gave us a good advantage. So those advantages that were there for previous host nations weren't there for us this time."
Looking forwards, within both the dominant Australian and GBR teams, several of the 'legends' are moving on. Unless the Brazilians can get the Star reinstated for Rio, it is likely that this will be the last Games for Paul Goodison, Iain Percy, Andrew Simpson and Ben Ainslie, while Australian 470 legend and double gold medallist Malcolm Page has already announced his retirement and whether Tom Slingsby comes back for a repeat performance in the Laser is 50-50.
Park also observes that the sport is now demanding that the average age of sailing Olympians be lower: "As we see Games upon Games in pretty much every sport, the levels of fitness and athleticism that are required, continue to increase, which therefore suggest that as you get older it becomes harder and harder to be competitive. So there is a likelihood that the average age of the team will be going down rather than increasing. But I wouldn't write anybody off at this stage."
Park points out that there were also some exceptional performances in the British team this time around from first time Olympians such as Ali Young in the Radial, Luke Patience and Stuart Bithell in the 470 Men and Hannah Mills in the 470 Women. In classes where there are likely to see some of the ol' timers are moving on, fortunately there is enough depth – with for example Giles Scott and Nick Thompson in the Finn and Laser classes respectively - that these bases will remain covered.
It is too early to tell at this stage how things will pan out in the three new classes – the 49er FX, the Nacra 17 mixed multihull and the kiteboards. However Park is optimistic: "We have also just come off the back of a very strong ISAFYouth World Championships where we were the top nation. So our youth and junior programmes continue to pump talent into the bottom end of our development squads. We have got to keep working to bring that through. I think we have got a good pipeline, a good process for doing that and I am very sure that in 12 months we will be battling out at the top end of those new three events as well as maintaining our position in the others."
For the British Olympic sailing team there will now be a period where they appraise what went right and what went wrong for London 2012 and what can be improved for Rio in four years' time. Into this comes the degree of funding the team will be awarded for the next Olympic cycle from UK Sport and also any new sponsorship agreements the team can negotiate. "Hopefully on the basis we have exceeded our targets and we have medalled in half of our events and we have been gold medal competitive in all of those events, then both from a UK Sport perspective and a commercial partner perspective, they will feel that we have delivered against our targets and we will hope that we will get reasonable support moving forwards," says Park.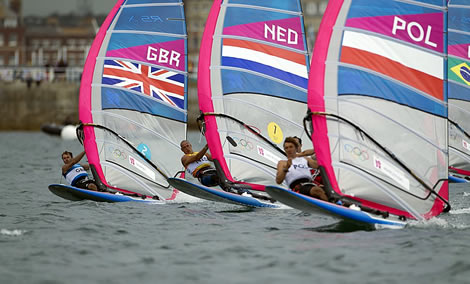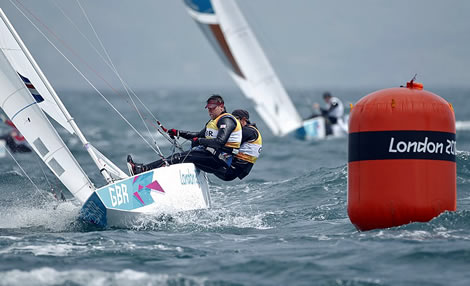 Of the top performances at London 2012 Park particularly recognises RS:X silver medallist Nick Dempsey and the British Star crew: "The wind surfing is such an incredibly physical event. The training required is incredibly hard - your body is always on the edge of breaking. I don't think the people recognise how physically difficult that event is and the specificity of the training required to be competitive for that. So I think Nick had to make a huge number of sacrifices and did well there.
"I think Iain and Andrew's Star performance was excellent. In my view they sailed the best regatta probably of their lives, albeit that the result doesn't reflect that. To be going into a medal race in that size of fleet with an eight point lead, against the quality of sailors that they were racing against, was incredibly impressive, and therefore one of the highs, but also one of the lows because it was particularly disappointing that they weren't able to finish it off on that medal race. I think if they had raced any other course, any other day, it would have happened. But that was the course and that was the day and we knew that was the story before they went in."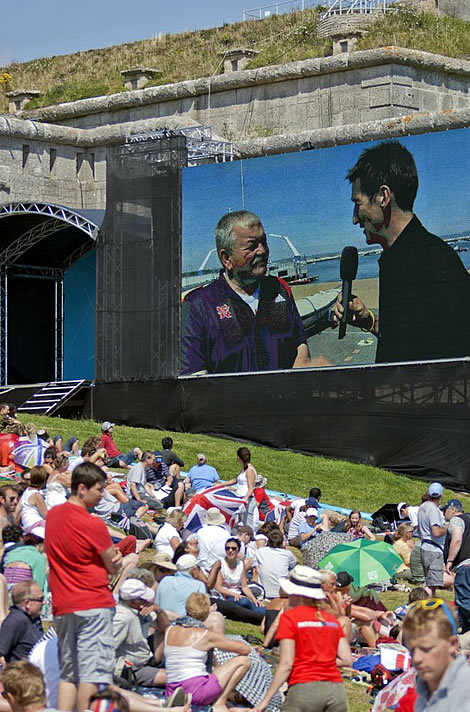 Nothe course
Park, like all of us, has mixed feelings about the medal race course off the Nothe. Its close proximity to land was necessary for the spectator element and for tickets to be sold to watch the Olympic sailing for the first time, but at the same time on occasions it created conditions that were too much of a lottery on the race course.
"I think it depends on what you want the sport to be," says Park. "I think the spectator experience on the Nothe has been delivered very well. I think people that ran that should be congratulated. It was a great day out for anybody who was up there.
"But in my view, in the main, the course area itself brought too much luck into the results. Olympic gold medals should be about who is the most talented and the most skilful on the day, rather than who is the luckiest. I think the amount of sacrifice that is made by athletes and support staff, it deserves more than that. If that is what it is going to be, then people are going to reconsider what they will do. People will just look to rock up last minute and chance their arm. They are decisions that the sport has to make in terms of how much compromise it wants to make to bring spectators into the fold."
Park points out that this is unlikely to improve in four years' time for Rio where the medal race is to be held off the beach with spectators watching from tiered seating. The prospect is for a medal race area with current and even more difficult conditions with winds typically light along with Sugar Loaf Mountain creating a wind shadow in the prevailing wind direction.
But the ticketed spectator aspect of the sailing event at London 2012 is certain to be viewed by the International Olympic Committee has having been a roaring success, contributing a healthy £2.5 million or so to the Olympic money making machine.
As to Park's own future with Team GBR, having now completed three Games as Olympic Manager, there have been rumours aplenty about his moving on. At present he refutes this.
"I have got no current plans to move on. I am not stood here thinking I desperately don't want to carry on. It is something I am passionate about and I do put a lot of effort into and I don't often have time to put my head up and have a look around at those things for myself. Frankly people have been talking about lots of things, but we will just have to wait and see how that goes. In the meantime I am going to focus on trying to make sure we can deliver three medals for the Paralympics and work to make sure that the programme is in a good place for the next four years and through that, I dare say, we will have a discussion about whether I am going to sit in that or not."

Back to top
Back to top