London 2012 49er medal race: The Nothe smiles on the Danes
There weren't any surprises when it came to claimants of the Gold and Silver medals in today's 49er medal race as Australia's Nathan Outteridge and Iain Jensen won this two days ago, with their training partners Kiwis Peter Burling and Blair Tuke taking silver.
However the fight was on for bronze between six teams all technically capable of winning: Danes Allan Norregaard and Peter Lang held the bronze slot going into the medal race with Finland's Lauri Lehtinen (brother of Silja) and Kalle Bask one point behind; Britain's Stephen Morrison and Ben Rhodes six points adrift; France's Manu Dyen and Stéphane Christidis one point behind the Brits followed by Austria's Nico Delle Karth and Nikolaus Resch eight points behind the Danes and then Portugal's Bernardo Freitas and Francisco Rebello De Andrade.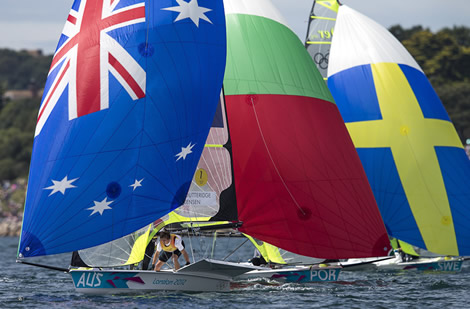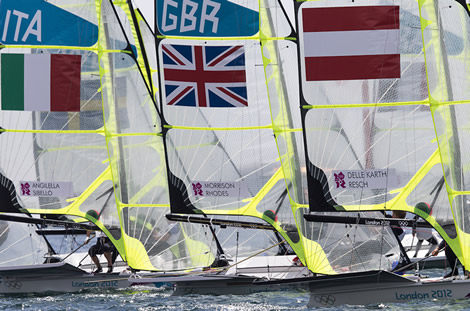 In the lightest winds we have seen on the Nothe course, the Austrians got off to the best start heading for the right followed by Morrison and Rhodes, with the Kiwis squeezing in ahead of the Brits at the top mark with the Danes and Finns reassuringly bringing up the rear. At this point the Austrians were winning the bronze. By the leeward gate the Brits had regained second place with the Danes pulling up to sixth place after they banged the left hand side of the run. On the second beat the Kiwis again regained second with the Australians also on a charge falling in behind the Brits around the top mark.
But the key move of the race came on the third beat when the Danes rounded the leeward gate in seventh, hit the left side of the course, as the leaders had gone right, and this caused them to surge up the fleet, rounding the top mark fourth on the Brits' transom, putting them into the bronze position.
At the finish line the Austrians comfortably won the medal race followed by the Kiwis, with the Danes having pulled up to third ahead of the Aussies and Brits. As a result, the Danes, Allan Norregaard and Peter Lang, managed to secure the bronze, continuing Danish success in the Olympic skiff following Jonas Warrer and Martin Kirketerp Ibsen's controversial 49er gold (sailing the medal race in a borrowed boat) in Beijing.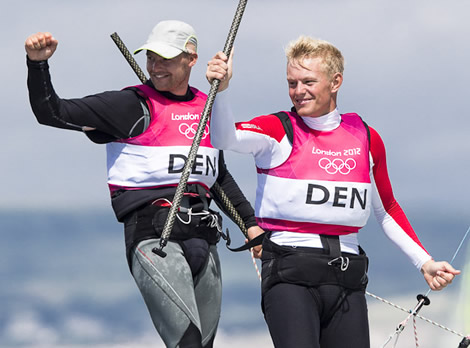 "It was a good one!" said Norregaard of his bronze medal-winning third beat. "We managed to get a little bit of separation down at the bottom and we saw pressure filling in from the left and went for it and it turned out to be a really good one and that put us back in the game there. History was for the right side today, so people went for it there and we were a bit under pressure so we had to do it a little bit different and as soon as we went for the left side - that was it, that was our chance."
The Nothe course, so close to the land, has traditionally proved itself as a tricky race course, but intoday's light winds it was even harder. "It is very very difficult," conceded Norregarrd. "But that is just modern racing, it is very close to shore and that is why we do many races there and even though it comes down to the last race here that is just the way racing is these days. We knew it was going to be really shifty, so it wasn't over until we crossed the finish line."
Aussie winners and their boat
The Australian gold medallists, Nathan Outteridge and Iain Jensen, have been the stand-out team not only at London 2012, but throughout this Olympic cycle, winning all but one of the four World Championships, save one (in the Bahamas) when they were second.
As Outteridge puts it: "The last four years, with Iain and working with Emmett [their coach] we have put together really good campaign. It was a four year campaign to make sure there was no stone left unturned. We can stand here and say we have done everything we can to win and the results have proven it."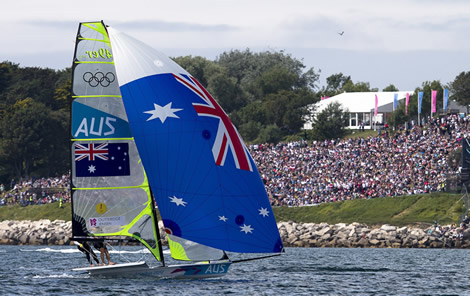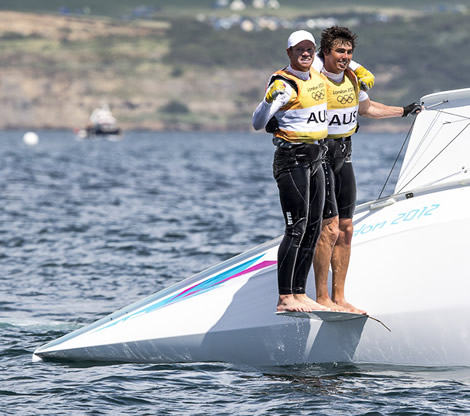 However there have been some murmurings this week about the Australian boat. Outteridge was ready to address this: "The only difference between our boat to anyone else's is that Julian Bethwaite built it and the other guys have got Ovingtons or McKays. A lot of people have said that they never had a chance to buy one of those,but he [Bethwaite] built 10 of them and anyone could have bought them and no one decided to and all of a sudden people start complaining about it. It is a bit frustrating that people are making it like that and at the end of the day I don't think it matters what boat we sail. We have sailed an Ovington, a McKay and a Bethwaite and won a World Championship in all three. So it makes no difference."
Outteridge says they raced this year's Worlds in Croatia in their Bethwaite, the previous year in an Ovi and the ones before those were in McKays. "The 49ers are just like Laser and RS:Xs – they are one design, but there are small differences. You can get any boat from any supplier and I'm sure you'll find differences and it is a matter of spending the time over a four year period to work out what is the right equipment to use for the weather.
"The hull basically is most important when it is windy and our best day here was in the lightest weather and our worst day was in the windiest weather. So I don't think it is the equipment that is doing it for us."
Outteridge says that comments about their equipment have been going on for a year, but no one has done anything about it and they haven't done anything illegal – Bethwaite is a builder permitted by the class, their boat a one design, just like the rest.
"If someone had an issue they needed to come and talk to us about it and not go behind our back. It has been quite frustrating. We have four boats here, because we thought there was going to be problems with people and our boats and we were going to tell them: 'You tell us which one of ours we can use and we'll use it, provided we can tell you which one of yours you can use'.
"We have a few Bethwaites here and some McKays as well. I don't care which boat we sail because it is not going to make a difference. We have had the Bethwaite since 2009. The boat we are using here is two years ago."
While their boat may be a niggle, no one would question that the Aussies have been the class act this week, a head above the rest and they deserve their gold, particularly after a costly capsize in the final race in Beijing cost them their medal.
As one competitor put it: "It should be a one design, because it has to be about the sailors and not the equipment. If it is not, it is a problem for the class, but they [Outteridge and Jensen] have been sailing so well here, they deserve that gold medal and I am happy for them. I think they are brilliant sailors and they have done really well."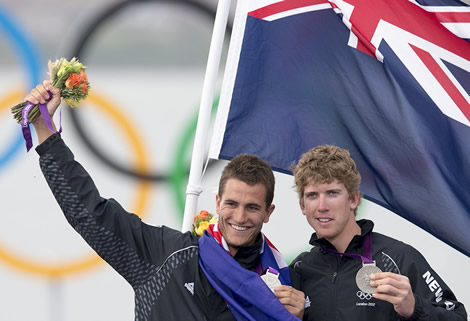 Their Kiwi training partners Peter Burling and Blair Tuke, now Olympic silver medallists, gave their take on the Aussies' success: "Emmett their coach is great and they are two amazing sailors. They had more experience than us when we started – we only started sailing the 49er four years ago. They had the jump on us and they have sped up our learning process, which has been awesome, but we have also helped them out as well to have a bit of competition to train against. They are really good sailors and they know the 49er really well, the settings and making the boat go fast and they were the favourites going into this week and they sailed well."
Britain's Stevie Morrison and Ben Rhodes finished fifth overall, an improvement on their 9th place in Beijing.
Morrison summarised: "We haven't won a medal because we're not good enough. We haven't won a medal, because we made a couple of mistakes. You can point at our two capsizes and that's 24 points, which if you look at the result sheet now is quite a big difference. I still believe we were good enough/are good enough. But Nathan and Goobs [Jensen] have done a fantastic job of it. Ben and I have had a really hard four years where we feel we have been trying to catch them the whole time, and a lot of the things we have seen this week in terms of boat speed [have shown that] we have really caught up to them. Their decision making has been fantastic and that is what we need to go away and look at and make some improvements."
Ben Rhodes paid tribute to the rest of the British 49er squad and their coach Paul Brotherton in helped them train for London 2012. The work that they did with the squad helped them get up to speed this time and wasn't there four years ago when they got selected early and everyone else previously in the running disappeared to do other things.
But there is more than that. "I think in China we weren't good enough," says Morrsion. "We hadn't done a good enough campaign whereas I think this boat we have put together and the bits and the tuning we've done and the work Ben and I have done as a team were good enough to have won a medal, but not Gold because Nathan and Goobs are definitely a step up from us at the moment. We made a couple of mistakes, so that is pretty hard to live with when you have worked for 12 years but it is sailing. Dad [dinghy/yacht designer Phil Morrison] always said it is a stupid game and you shouldn't too worried about it. He doesn't generally watch but he was persuaded that he should be there were it to be a big day. So he'll be really hacked off now and he definitely won't come to Rio!"
More photos from Carlo Borlenghi/www.borlenghi.com/FIV
Back to top
Back to top