Ben Ainslie: The greatest Olympic sailor of all time
Ben Ainslie became the greatest Olympic sailor of all time today, winning the Finn medal race at London 2012 on Weymouth's Nothe course in front of 4,600 ticketed spectators and at least as many again, packed around the shoreline either side of the 'official' ticketed area.
The Finn medal race was a complicated edge-of-seat affair with the Nothe in unpredictable form, the wind the lightest we have seen all week and blowing across Portland Harbour.
In addition to some pre-start match racing between Ainslie and his Danish arch-rival, Jonas Høgh-Christensen, a crucial part of the medal race was the part played by Dutch sailor Pieter-Jan Postma, who started the day in third place, 14 points astern of second placed Ainslie, in turn two points behind the Dane.
On the last run, as Ainslie and Høgh-Christensen were languishing at the back of the 10 boat fleet, in ninth and tenth places respectively, Postma had to finish second or better to secure gold (which would have been an interesting scenario, leaving all three boats on 46 points...)
Coming into the very last mark of the course before the reach in to the finish, the Dutchman was third, immediately behind, and attempting desperately to get around, the Finn of Kiwi Dan Slater, as both boats were approaching the mark on port. In trying to get around, a wave caught Postma's boat and his boom touched the Kiwi's and he was forced to carry out a penalty turn. With this Postma's lost the bronze medal that was in his grasp at the time, transferring it to winner of the medal race, France's Jonathan Lobert.
As Dan Slater recounted: "It was one of those things. PJ is a great friend and I didn't know the exact points and we were coming down the run and all I wanted to do was to protect the inside. He had a go and before we did it, I said to him 'don't do it, I'm going to protect the inside, just don't do it, you've got a medal'. But he did. And then he mucked it up, he dropped his main sheet, the boom hit the back of my boat and the jury and everyone was there to see it, and probably 100 chopper shots, and he had to do his penalty.
"I am sorry for him, but that is yacht racing and it was a really big risk he took for not a lot of gain. He had a bronze medal sewn up at that point. I didn't want to get involved because they are all good friends, but unfortunately I have still got to sail my race and I wasn't going to wave him through."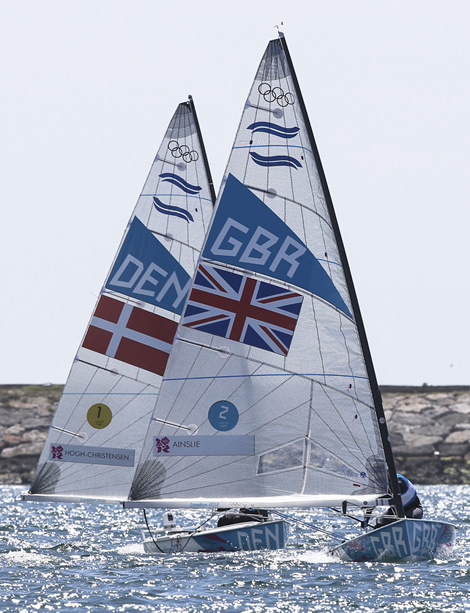 Ainslie, who in the fickle conditions today on the Nothe, was unable to make headway up the fleet, could be nothing about this but watch. "Coming down to the final mark, PJ, in a little bit of desperation, tried to get around the New Zealand sailor and he wasn't in a very good tactical position to do that and once that failed then I knew I was in good shape," said a relieved Ainslie.
"It was close, but that was the nature of the conditions. All I could do was try to stay ahead of Jonas and it was up to PJ if he could get through to gold, because the conditions were too variable. It was impossible to keep a tab on two guys at once.
"I can't really believe it to be honest. This event has been really hard and then you look back over the years at what's happened...it is unbelievable. I am just relieved to have got through today. I have never sailed in such a nerve racking race in my life on that course in those winds that there were today. To be honest my heart was in my mouth the whole way around that race track. It was a very difficult race and in that wind direction it was very hard to predict what was going to work. But in terms of the opportunity to race in front of a home crowd like that for an Olympic Gold medal, that will never get any better, so I am very grateful for that opportunity and to pull it off."
Despite the possible threat from Postma in third, at the start of the race, Ainslie had been hounding Høgh-Christensen, which has become something of a trademark for the Brit. As he explained: "I just had a feeling that I wanted to try and put some pressure on Jonas before the start. In the end it didn't really work out like that. But when you look at the races before you start and the outcomes and you think, 'if I do nothing and he gets the right side...', you spend the rest of your life thinking 'I should have tried something'. That was my philosophy: to try and put a little bit of pressure on him. I wasn't necessarily trying to get both of us to the back of the fleet as it turned out, I was just hoping to get ahead.
"So at the start I tried to get into Jonas, but he did a good job of defending, sailing round and round the committee boat, so that was a bit boring! But a good tactic. And I got out to the right hand side and it worked...just. It is a fine line in any sport and sailing in those conditions it could have gone either way but it went my way and it worked."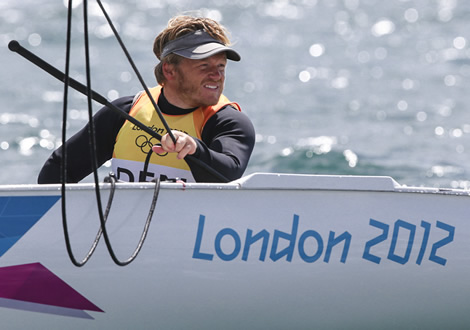 Høgh-Christensen gave his take on the medal race: "Tough race. I did what I wanted to do. I knew Ben was going to come for me in the start. He did. I got him around the committee boat and got myself into a pretty good spot. I got to bail when I wanted to bail and got into a good position on the start line and got a great start, squeezed them off and pushed to the left. The left has been paying out here pretty much all week and during all the training we have done here for the last two months. So I wanted to send him right and keep going to the left. Unfortunately the right came in but that's sailing. It wasn't great.
"Once I was behind it was very hard to catch back up. I took some chances trying to get by him and I almost succeeded on the last beat but it wasn't to be and both of us got quite lucky. PJ had the gold, 50m before the bottom mark. Looking back, Ben might have gone too far in the match racing because we didn't get to race our race but that is the way it is and luckily for Ben, PJ got a flag and he [Ben] ended up winning the gold."
And so gold went to Ainslie and silver to Høgh-Christensen. Despite claiming the big prize in this unorthodox way, in fact everything panned out the right way, the deserved getting the right coloured medals, even though from Høgh-Christensen's performance for the first three days of the series, Danish fans would question this.
At the end of day three, after six races, Høgh-Christensen was holding a 10 point lead over Ainslie and was clearly proving the dominant force. Ainslie attributed this to the Dane sailing better than he was, but many felt that Høgh-Christensen was also getting a speed edge out of his new mast/sail combination. Typically the Dane was faster upwind, Ainslie downwind.
As Ainslie put it: "I was seriously worried after six races because Jonas was sailing so well. He was fast, he was getting the shifts right, good starts, and downwind too, so I knew something had to change and get my act together and start getting some points back."
Fortunately after Wednesday's layday the Ainslie of old returned, pulling back to within two points of the Dane, with a 1-3-6-1 scoreline in the last four full fleet races as the Dane lost his stride marginally.
Ainslie continues: "It was hard because the expectations going in where so high and no matter I said, that it wasn't necessarily the case, people kept pushing it and when I started off on the back foot people were upset that I wasn't winning and that was hard. But that was the nature of the position I was in and it took everything to get back on equal terms going into that medal race."
Coming ashore Ainslie paid tribute to his coach David 'Sid' Howlett. "He has been through a lot over the last 18 months and he has always the one who has been behind me when things have been tough and certainly I owe a huge amount to him. He has been involved with at least four gold medals as a coach and he has never had any real recognition and he deserves it." Here here.
This coming week Ainslie will remain in the Weymouth with the rest of Skandia Team GBR to see what happens in the remaining classes that are still racing. "The rest of the team are still fighting their hearts out to do the best job they can. It has been a great honour to be part of this team. Of the Olympic teams over the years, this one in particular I think has been our best. So we are not going to disappear off. We are going stick around and support those guys and hopefully they can bring home a few more medals."
After that Ainslie heads for San Francisco where he takes up the helm for the first time of the BAR AC45 in the America's Cup World Series before moving on to be one of Oracle Racing's tune-up helmsmen.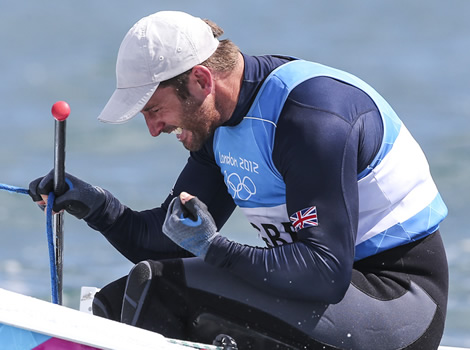 And his future Olympic prospects? "You never say never, but it would be impossible for me to experience anything better than this. So it would need to be a very good reason to come back." He discounts returning in the Finn. A new generation of Finn sailing giants is coming through like bronze medallist Jonathan Lobert or Team GBR's own Giles Scott as Finn sailing gets all the more physical to be competitive. And Ainslie is not getting any younger.
"It has been really hard the last 18 months," he admitted of the shape he's in. "I had issues over the winter with my back and had some surgery on that. Slowly things start falling apart physically as you get older and it is really tough. Especially downwind you are pushing yourself to the limit and the body doesn't always like it, but thankfully I got through this week and we have some fantastic physio support within our team and they really did a great job to keep me patched up to get through the week."
Ainslie has previously said that if he were to do another campaign it would be in the Star, but at present this is off the Olympic roster for Rio 2016. If the Star was instated as an additional medal, then the Team GBR squad for Rio could be most competitive with possibly Iain Percy/Andrew Simpson and also possibly Paul Goodison, who has mentioned in the past that he would like to graduate up to the Olympic keelboat.
Kiwi Dan Slater paid the best tribute to Ben Ainslie, who he has known since they raced against each other at the Youth Worlds 20 years ago: "What an amazing effort – four gold medals and a silver, you have to say he is the greatest sailor in the world. This is the toughest sailing you can do and he has just turned it on every time. He is an amazing athlete and it has taken him until now to beat Paul Elvström's record. And Robert Scheidt could have done it today who is also another fantastic athlete. What Ben has done today has gone down in the history books as the best all time in sailing.
Why is he so good? "He is just cool. He just keeps a cool head under pressure. You didn't see him blow up today. He didn't get a great start. He was suck in the middle of the class, he just bided his time, made sure he stayed with Jonas and didn't let him get out of his sights. It is the minimal risk for maximum gain and he does it every time. He is just really good at it."
With his silver and gold medals in the Laser and his three Finn golds, Ben Ainslie has now overtaken Paul Elvström in the league table of Olympic sailing medallists (see below for the current list as of 5 August 2012) while after his silver today Iain Percy has drawn level with Rodney Pattisson as the second greatest British Olympic sailor of all time, alongside the likes of Star veteran Mark Reynolds and Poul Hog Jensen.

More photos from Carlo Borlenghi/www.borlenghi.com/FIV
Back to top
Medallist ranking (as of 5 August 2012)
Pos
Sailor
Nat
Gold
Score
Silver
Score2
Bronze
Score3
Medals
Tot
1
Ben Ainslie
GBR
4: Finn 2012, 2008, 2004, Laser/Sydney 2000
12
1: Laser/Atlanta 1996
2
0
5
14
2
Paul Elvstrom

DAN
4: Firefly/London 1948, Finn/Helsinki 1952, Melbourne-Stockholm 1956, Rome 1960
12
0
0
0
4
12
3
Jochen Schuemann
GER
3: Finn/Montreal 1976, Soling/Seoul 1988 - Atlanta 1996
9
1: Soling/Sydney 2000
2
0
4
11
Robert Scheidt
BRA
2: Laser, 1996 and 2004
6
2 Star/Beijing, Laser/Sydney 2000
4
1: Star, London 2012
1
3
11
Valentyn Mankin
USSR
3: Finn/Mexico 1976, Tempest/Munich 1972, Star/Moscow 1980
9
1: Tempest/Montreal 1976
2
0
4
11
7
Torben Grael
BRA
2: Star/Atlanta 1996, Star Athens 2004
6
1: Soling//Los Angeles 1984
2
2: Star/Seoul 1988, Sydney 2000
2
5
10
8
Iain Percy
GBR
2: Star Beijing 2008, Finn 2000
6
1: Star, London 2012
2
0
1
8
Magnus Konow
NOR
2: 12m/Stockholm 1912, 8m/Antwerp 1920
6
1: 6m Berlin 1936
2
0
3
8
Mark Reynolds
USA
2: Star/Barcelona 1992, Sydney 2000
6
1: Star/Seoul 1988
2
0
3
8
Poul Hog Jensen
DAN
2: Soling/Montreal 1976, Moscow 1980
6
1: Dragon/Mexico 1968
2
0
3
8
Rodney Pattisson
GBR
2: Flying Dutchman/Mexico 1968, Munich 1972
6
1: Flying Dutchman/Montreal 1976
2
0
3
8
13
Alessandra Sensini
ITA
1: Mistral/Sydney 2000
3
2: RS:X W Beijing 2008
2
2: Mistral 1996, 2004
2
4
7
Jesper Bank
DAN
2: Soling/Barcelona 1992, Sydney 2000,

6
0
1: Soling/Seoul 1988
1
3
7
Léon Huybrechts
BEL
1: Olympic Class One Design/Paris 1924
3
2: 6m/London 1908, Antwerp 1920
4
0
3
7
Marcela Ferreira
BRA
2: Star/Atlanta 1996, Athens 2004
6
0
1: Star/Sydney 2000
1
3
7
Paul Foerster
USA
1: 470 Athens
3
2: Flying Dutchman/Barcelona 1992, 470 Sydney 2000
4
0
3
7
18
Barbara Kendall
NZ
1: Lechner board/Barcelona 1992
3
1: Mistral/Atlanta 1996
2
1: Mistral/Sydney 2000
1
3
6
Ole Berntsen
DAN
1: Dragon/Tokyo 1964
3
1: Dragon/Melbourne/Stockholm 1956
2
1: Dragon/London 1948
1
3
6
Andreas Brecke
NOR
2: 8m/Stockholm 1912, 6m/Antwerp 1920
6
0
0
2
6
Bernd Jakel
GER
2: Soling/Seoul 1988, Atlantic 1996
6
0
0
2
6
Erik Hansen
DAN
2: Soling/Montreal 1976, Moscow 1980
6
0
0
2
6
Haakon Barfod
NOR
2: Dragon/London 1948, Helsinki 1952
6
0
0
2
6
Hans Peter Steinacher
AUT
2: Tornado 2004/2000
6
0
0
2
6
Herman Whiton
USA
2: 6m/London 1948, Helsinki 1952
6
0
0
2
6
Ingar Nielsen
NOR
2: 10m/Antwerp 1920, 8m/Paris 1924
6
0
0
2
6
Johan Anker
NOR
2: 12m Stockholm 1912, 6m Amsterdam 1928
6
0
0
2
6
Linton Hope
FRA
2: 0.5-1 tonner and Open class/Paris 1900
6
0
0
2
6
Lord Currie
FRA
2: 0.5-1 tonner and Open class/Paris 1900
6
0
0
2
6
Luis Doreste
SPA
2: 470 men/Los Angeles 1984, Flying Dutchman Barcelona 1992
6
0
0
2
6
Nicolas Henard
FRA
2: Tornado/Seoul 1988, Barcelona 1992
6
0
0
2
6
Roman Hagara
AUT
2: Tornado 2004/2000
6
0
0
2
6
Shirley Robertson
GBR
2: Yngling 2004, Europe 2000
6
0
0
2
6
Sigve Lie
NOR
2: Dragon/London 1948, Helsinki 1952
6
0
0
2
6
Theresa Zabell
SPA
2: 470/Barcelona 1992, Atlanta 1996
6
0
0
2
6
Thomas Flach
GER
2: Soling/Seoul 1988, Atlantic 1996
6
0
0
2
6
Thor Thorvaldsen
NOR
2: Dragon/London 1948, Helsinki 1952
6
0
0
2
6
Valdemar Bandolowski
DAN
2: Soling/Montreal 1976, Moscow 1980
6
0
0
2
6
39
Agostino Straulino
ITA
1: Star/Helsinki 1952
3
1: Star/Melbourne-Stockholm 1956
2
0
2
5
Andrew Simpson
GBR
1: Star Beijing 2008
3
1: Star, London 2012
2
0
2
5
Carl Hellstrom
SWE
1: 10m/Stockholm 1912
3
1: 8m/London 1908
2
0
2
5
Carlos Espinola
ARG
0
2: Mistral/Atlantic 1996, Sydney 2000
4
1: Tornado 2004
1
3
5
Christian von Bulow
DAN
1: Dragon/Tokyo 1964
3
1: Dragon/Melbourne/Stockholm 1956
2
0
2
5
Christopher Timms
NZL
1: Tornado/Los Angeles 1984
3
1: Tornado/Seoul 1988
2
0
2
5
Eric Wallerius
SWE
1: 10m/Stockholm 1912
3
1: 8m/London 1908
2
0
2
5
Folke Bohlin
SWE
1: Dragon/Melbourne-Stockholm 1956
3
1: Dragon/London 1948
2
0
2
5
Fredrik Loof
SWE
1: Star London 2012
3
0
2: Finn 2000, Star Beijing 2008
2
1
5
Hal Hanel
USA
1: Star 1992
3
1: Star 1988
2
0
2
5
Harold Haenel
USA
1: Star/Barcelona 1992
3
1: Star/Seoul 1988
2
0
2
5
Iker Martinez
ESP
1: 49er 2004
3
1: 49er Beijing
2
0
1
5
Kevin Burnham
USA
1: 470 Athens 2004
3
1: 470 1992
2
0
3
5
Lars Thorn
SWE
1: 5.5m/Melbourne-Stockhom 1956
3
1: 5.5m/Tokyo 1964
2
0
2
5
Nicolo Rode
ITA
1: Star/Helsinki 1952
3
1: Star/Melbourne-Stockholm 1956
2
0
2
5
Nikolaos Kaklamanakis
GRE
1: Mistral 1996
3
1: Mistral 2004
2
0
2
5
Peder Lunde Jr
NOR
1: Flying Dutchman/Rome 1960
3
1: Star/Mexico 1968
2
0
2
5
Peter Barrett
USA
1: Star/Mexico 1968
3
1: Finn/Tokyo 1964
2
0
2
5
Rex Sellers
NZL
1: Tornado/Los Angeles 1984
3
1: Tornado/Seoul 1988
2
0
2
5
Rod Davis
NZL
1: Soling/Los Angeles 1984
3
1: Star/Barcelona 1992
2
0
2
5
Sture Stork
SWE
1: 5.5m/Melbourne-Stockhom 1956
3
1: 5.5m/Tokyo 1964
2
0
2
5
Xavier Fernandez
ESP
1: 49er 2004
3
1: 49er Beijing
2
0
2
5
Adriaan Maas
NED
0
1: Olympic class OC/Los Angeles 1932
2
2: Star/Berlin 1936, London 1948
2
3
4
55
Martin Hindorff
SWE
1: 6m/Los Angeles 1932
3
0
2: 6m/Berlin 1936, London 1948
1
3
4
Ruslana Taran
UKR
0
1: Yngling 2004
2
2: 470 1996, 2000
2
3
4
Anthony Kendall
NZL
1: Div 2 board/Seoul 1988
3
0
1: Windglider board/Los Angeles 1984
1
2
4
Bruce Kendall
NZL
1: Lechner 1988
3
0
1: Windglider 1984
1
2
4
Christian Dick
NOR
0
2: 7m and 8m/Antwerp 1920
4
0
2
4
Durward Knowles
BAH
1: Star/Tokyo 1964
3
0
1: Star/Melbourne-Stockholm 1956
1
2
4
Harry Melges
USA
1: Soling/Munich 1972
3
0
1: Flying Dutchman/Tokyo 1964
1
2
4
Henrik Robert
DEN
0
2: Olympic OD/Paris 1924, 12ft dinghy/Amsterdam 1928
4
0
2
4
Hubert Raudaschl
AUS
0
2: Finn/Mexico 1968, Star/Moscow 1980
4
0
2
4
Ian Walker
GBR
0
0
2: 470/Atlanta 1996, Star/Sydney 2000
4
0
2
4
Joe Glanfield
GBR
0
2: Beijing, Athens 470M
4
0
2
4
Johann Faye
NOR
0
2: 7m and 8m/Antwerp 1920
4
0
2
4
John Anderson
AUS
1: Star/Munich 1972
3
0
1: Tornado/Los Angeles 1984
1
2
4
Jonathan McKee
USA
1: Flying Dutchman/Los Angeles 1984
3
0
1: 49er/Sydney
1
2
4
Lauritz Schmidt
NOR
0
2: 8m/Antwerp 1920, Berlin 1936
4
0
2
4
Lowell North
USA
1: Star/Mexico 1968
3
0
1: Dragon/Tokyo 1964
1
2
4
Luc Pillot
FRA
1: 470/Seoul 1988
3
0
1: 470/Los Angeles 1984
1
2
4
Margriet Matthijsse
NED
0
2: Europe/Atlanta 1996, Sydney 2000
4
0
2
4
Mateusz Kusznierewicz
POL
1: Finn 1996
3
0
1: Finn 2004
1
2
4
Nick Rogers
GBR
0
2: Athens, Beijing 470
4
0
2
4
Niels Nielsen
NOR
0
2: 7m and 8m/Antwerp 1920
4
0
2
4
Randy Smyth
USA
0
0
2: Tornado/Los Angeles 1984, Barcelona 1992
4
0
2
4
Steen Secher
DEN
1: Soling 1992
3
0
1: Soling 1988
1
2
4
Sten Abel
NOR
0
2: 7m and 8m/Antwerp 1920
4
0
2
4
Thierry Peponnet
FRA
1: 470/Seoul 1988
3
0
1: 470/Los Angeles 1984
1
2
4
Vilhelm Vett
DEN
0
0
2: 6m/Paris 1924/Amsterdam 1928
4
0
2
4
Wilhelm Kuhweide
GER
1: Finn/Tokyo 1964
3
0
1: Star/Munich 1972
1
2
4
William Bentsen
USA
1: Soling/Munich 1972
3
0
1: Flying Dutchman/Tokyo 1964
1
2
4
Jorgen Bojsen Moller
DEN
1: Flying Dutchman 1988
3
0
1: Flying Dutchman 1992
1
2
4
Gal Fridman
ISR
1: Mistral 2004
3
0
1: Mistral 1996
1
2
4
Natalia Via Dufresne
ESP
0
2: Europe 1992, 470 2004
4
0
2
4
Andre Nelis
BEL
0
1: Finn/Melbourne-Sweden 1956
2
1: Finn/Rome 1960
1
2
3
84
Andrei Balashov
USR
0
1: Finn/Montreal 1976
2
1: Finn/Moscow 1980
1
2
3
Anna Tunnicliffe
USA
1: Laser Radial, Beijing
3
0
0
1
3
Bruno Prada
BRA
0
1: Star Beijing 2008
2
1: Star London 2008
1
2
3
Erik Sandberg
SWE
0
1: 8m/London 1908
2
1: 6m/Stockholm /1912
1
2
3
Hans Marius Fogh
DEN
0
1: Flying Dutchman/Rome 1960
2
1: Soling/Los Angeles 1984
1
2
3
Henri Weewauters
BEL
0
1: 6m/London 1908
2
1: 8m/Antwerp 1920
1
2
3
JJ Isler
USA
0
1: 470/Sydney 2000
2
1: 470/Barcelona 1992
1
2
3
John Forbes
AUS
0
1: Tornado/Sydney 2000
2
1: Tornado/Barcelona 1992
1
2
3
Karl-Heinz Thun
GER
0
1: Dragon/Munich 1972
2
1: Dragon/Mexico 1968
1
2
3
Konrad Weichert
GER
0
1: Dragon/Munich 1972
2
1: Dragon/Mexico 1968
1
2
3
Michael Gebhardt
USA
0
1: Lechner/Barcelona 1992
2
1: Div2 board/Seoul 1988
1
2
3
Mitch Booth
AUS
0
1: Tornado/Atlantic 1996
2
1: Tornado/Barcelona 1992
1
2
3
Paul Borowski
GER
0
1: Dragon/Munich 1972
2
1: Dragon/Mexico 1968
1
2
3
Pelle Petterson
SWE
0
1: Star/Munich 1972
2
1: Star/Tokyo 1953
1
2
3
Peter Naumann
GER
0
1: Flying Dutchman/Mexico 1968
2
1: Flying Dutchman/Munich 1972
1
2
3
Simon Hiscocks
GBR
0
1: 49er 2000
2
1: 49er 2004
1
2
3
Ullrich Libor
GER
0
1: Flying Dutchman/Mexico 1968
2
1: Flying Dutchman/Munich 1972
1
2
3
William Berntsen
DEN
0
1: 5.5m/Rome 1960
2
1: Dragon/London 1948
1
2
3
Ross MacDonald
CAN
0
1: Star 2004
2
1: Star 1992
1
2
3
Tonu Toniste
EST
0
1: 470 1988
2
1: 470 1992
1
2
3
Toomas Toniste
EST
0
1: 470 1988
2
1: 470 1992
1
2
3
Aimilia Tsoulfa
GRE
1: 470 2004
3
0
0
1
3
Alejandro Abascal
ESP
1: Flying Dutchman 1980
3
0
0
1
3
Aleksandrs Muzicenko
URS
1: Star 1980
3
0
0
1
3
Alexandre Welter
BRA
1: Tornado 1980
3
0
0
1
3
Allison Jolly
USA
1: 470 1988
3
0
0
1
3
Andrew Libano
USA
1: Star 1932
3
0
0
1
3
Barton Jahncke
USA
1: Dragon1968
3
0
0
1
3
Begona Via Dufresne
ESP
1: 470 1996
3
0
0
1
3
Belinda Stowell
AUS
1: 470 2000
3
0
0
1
3
Bengt Palmquist
SWE
1: Dragon 1956
3
0
0
1
3
Bill Buchan
USA
1: Star 1984
3
0
0
1
3
Bill Northam
AUS
1: 5.5m 1964
3
0
0
1
3
Bjorn Bergvall
NOR
1: Flying Dutchman 1960
3
0
0
1
3
Britton Chance
USA
1: 5.5m 1952
3
0
0
1
3
Bryn Vaile
GBR
1: Star 1988
3
0
0
1
3
Carl Buchan
USA
1: Flying Dutchman 1984
3
0
0
1
3
Cecile Cooke
BAH
1: Star 1964
3
0
0
1
3
Christian Gronborg
DEN
1: Flying Dutchman 1988
3
0
0
1
3
Christophe Sieber
AUT
1: Mistral 2000
3
0
0
1
3
Christopher Davies
GBR
1: Flying Dutchman 1972
3
0
0
1
3
Crown Prince Constantin
GRE
1: Dragon 1960
3
0
0
1
3
Daan Kagchelland
NED
1: International Olympia 1936
3
0
0
1
3
David Bond
GBR
1: Swallow 1948
3
0
0
1
3
David Forbes
AUS
1: Star 1972
3
0
0
1
3
David Smith
USA
1: 5.5m 1960
3
0
0
1
3
Domingo Manrique
ESP
1: Flying Dutchman 1992
3
0
0
1
3
Earle Wells
NZL
1: Flying Dutchman 1964
3
0
0
1
3
Eckart Diesch
FRG
1: Flying Dutchman 1976
3
0
0
1
3
Edgar White
USA
1: 5.5m 1952
3
0
0
1
3
Eduardo Penido
BRA
1: 470 1980
3
0
0
1
3
Edward Trevelyan
USA
1: Soling 1984
3
0
0
1
3
Elise Rechichi
AUS
1: Beijing 470W
3
0
0
1
3
Esko Rechardt
FIN
1: Finn 1980
3
0
0
1
3
Faustine Merret
FRA
1: Mistral 2004
3
0
0
1
3
Fernando Leon
ESP
1: Tornado 1996
3
0
0
1
3
Francis Richards
GBR
1: 2 handed centerboarder 18ft 1920
3
0
0
1
3
Francisco Sanchez
ESP
1: 470 1992
3
0
0
1
3
Franciscus Hin
NED
1: 2 handed centrboarder 12ft 1920
3
0
0
1
3
Franck David
FRA
1: Lechner 1992
3
0
0
1
3
Frank Hubner
FRG
1: 470 1976
3
0
0
1
3
Fyodor Shutkov
URS
1: Star 1960
3
0
0
1
3
George O'Day
USA
1: 5.5m 1960
3
0
0
1
3
George Shelby Friedrichs
USA
1: Dragon1968
3
0
0
1
3
Georgios Zaimis
GRE
1: Dragon 1960
3
0
0
1
3
Gerald Schreck
USA
1: Dragon1968
3
0
0
1
3
Gilbert Gray
USA
1: Star 1932
3
0
0
1
3
Hakon Barfod
NOR
1: Dragon 1948
3
0
0
1
3
Hans-Joachim Weise
GER
1: Star 1936
3
0
0
1
3
Harro Bode
FRG
1: 470 1976
3
0
0
1
3
Helmer Pedersen
NZL
1: Flying Dutchman 1964
3
0
0
1
3
Henrik Blakskjaer
DEN
1: Soling 2000
3
0
0
1
3
Herbert Williams
USA
1: Star 1960
3
0
0
1
3
Hillary Smart
USA
1: Star 1948
3
0
0
1
3
Hjalmar Karlsson
SWE
1 5.5m 1956
3
0
0
1
3
Iain MacDonald-Smith
GBR
1: Flying Dutchman 1968
3
0
0
1
3
Igor Matviyenko
UKR
1: 470 1996
3
0
0
1
3
Ingvar Hansson
SWE
1: Tempest 1976
3
0
0
1
3
Jacques Lebrun
FRA
1: Snowbird, 1932
3
0
0
1
3
James Hunt
USA
1: 5.5m 1960
3
0
0
1
3
James Sargeant
AUS
1: 5.5m 1964
3
0
0
1
3
Jean-Yvs le Deroff
FRA
1: Tornado 1988
3
0
0
1
3
Jenny Armstrong
AUS
1: 470 2000
3
0
0
1
3
Jesper Seier
DEN
1: Soling 1992
3
0
0
1
3
John Albrechtson
SWE
1: Tempest 1976
3
0
0
1
3
John Cropp
NZL
1: 12 Sq Metre 1956
3
0
0
1
3
John Cuneo
AUS
1: Dragon 1972
3
0
0
1
3
John Osborn
GBR
1: Tornado/Montreal 1976
3
0
0
1
3
John Shaw
AUS
1: Dragon 1972
3
0
0
1
3
Johnannes Hin
NED
1: 2 handed centrboarder 12ft 1920
3
0
0
1
3
Jonas Warrer
DEN
1: 49er Beijing
3
0
0
1
3
Jordi Calafat
ESP
1: 470 1992
3
0
0
1
3
Jorg Diesch
FRG
1: Flying Dutchman 1976
3
0
0
1
3
Jorgen Sundelin
SWE
1: 5.5 1968
3
0
0
1
3
Jose Luis Ballester
ESP
1: Tornado 1996
3
0
0
1
3
Jose Luis Doreste
ESP
1: Finn 1988
3
0
0
1
3
Jose Maria van der Ploeg
ESP
1: Finn 1992
3
0
0
1
3
Jryki Jarvi
FIN
1: 49er 2000
3
0
0
1
3
Kristine Roug
DEN
1: Europe 1996
3
0
0
1
3
Lars Siguard Bjorkstrom
BRA
1: Tornado 1980
3
0
0
1
3
Lawrence Low
USA
1: Star 1960
3
0
0
1
3
Lee Lai-Shan
HKG
1: Mistral 1996
3
0
0
1
3
Leif Wikstrom
SWE
1: Dragon 1956
3
0
0
1
3
Linda Anderson
NOR
1: Europe 1992
3
0
0
1
3
Lynne Jewell
USA
1: 470 1988
3
0
0
1
3
Magnus Liljedahl
USA
1: Star 2000
3
0
0
1
3
Malcolm Page
AUS
1: 470 Men, Beijing
3
0
0
1
3
Marcos Soares
BRA
1: 470 1980
3
0
0
1
3
Mark Turnball
AUS
1: 470 2000
3
0
0
1
3
Martin Kirketerp Ibsen
DEN
1: 49er Beijing
3
0
0
1
3
Max Salminen
SWE
1: Star London 2012
3
0
0
1
3
Michael Schoettle
USA
1: 5.5m 1952
3
0
0
1
3
Miguel Noguer
ESP
1: Flying Dutchman 1980
3
0
0
1
3
Mike McIntyre
GBR
1: Star 1988
3
0
0
1
3
Nathan Wilmot
AUS
1: 470M, Beijing
3
0
0
1
3
Odysseus Eskitzoglou
GRE
1: Dragon 1960
3
0
0
1
3
Ole Poulsen
DEN
1: Dragon 1964
3
0
0
1
3
Patricia Guerra
ESP
1: 470 1992
3
0
0
1
3
Paul Goodison
GBR
1: Laser, Beijing
3
0
0
1
3
Paul Smart
USA
1: Star 1948
3
0
0
1
3
Peter Bischoff
GER
1: Star 1936
3
0
0
1
3
Peter Mander
NZL
1: 12 Sq Metre 1956
3
0
0
1
3
Peter O'Donnell
AUS
1: 5.5m 1964
3
0
0
1
3
Peter Sundelin
SWE
1: 5.5 1968
3
0
0
1
3
Reg White
GBR
1: Tornado/Montreal 1976
3
0
0
1
3
Robert Haines
USA
1: Soling 1984
3
0
0
1
3
Roberto Molina
ESP
1: 470 1984
3
0
0
1
3
Russell Coutts
NZL
1: Finn 1984
3
0
0
1
3
Sarah Ayton
GBR
1: Yngling 2004
3
0
0
1
3
Sarah Webb
GBR
1: Yngling 2004
3
0
0
1
3
Serge Maury
FRA
1: Finn 1972
3
0
0
1
3
Siren Sundby
NOR
1: Europe 2004
3
0
0
1
3
Sofia Bekatorou
GRE
1: 470 2004
3
0
0
1
3
Stephan van den Berg
NED
1: Windglider 1984
3
0
0
1
3
Steve Erickson
USA
1: Star 1984
3
0
0
1
3
Stewart Morris
GBR
1: Swallow 1948
3
0
0
1
3
Sumner White
USA
1: 5.5m 1952
3
0
0
1
3
Sven Thorell
SWE
1: International 12 1928
3
0
0
1
3
Tessa Parkinson
AUS
1: Beijing 470W
3
0
0
1
3
Thomas Jacobsen
DEN
1: Soling 2000
3
0
0
1
3
Thomas Johanson
FIN
1: 49er 2000
3
0
0
1
3
Timir Pinegin
URS
1: Star 1960
3
0
0
1
3
Tom Anderson
AUS
1: Dragon 1972
3
0
0
1
3
Tom Ashley
NZL
1: RS:X Beijing 2008
3
0
0
1
3
Tom Hedberg
GBR
1: 2 handed centerboarder 18ft 1920
3
0
0
1
3
Tom King
AUS
1: 470 2000
3
0
0
1
3
Ulf Sundelin
SWE
1: 5.5 1968
3
0
0
1
3
Vasilij Zbogar
SLO
0
1: Laser, Beijing 2008
2
1: Laser 2004
1
2
3
Vitaliy Dyrdyra
URS
1: Tempest 1972
3
0
0
1
3
William Allen
USA
1: Soling 1972
3
0
0
1
3
Yevgeniy Braslavets
UKR
1: 470 1996
3
0
0
1
3
Yin Jian
CHN
1: RS:X W Beijing 2008
3
0
0
1
3
Yves Loday
FRA
1: Tornado 1992
3
0
0
1
3
Alfio Peraboni
ITA
0
0
2: Star 1980, 1984
2
2
2
Giorgio Gorla
ITA
0
0
2: Star 1980, 1984
2
2
2
Yelena Pakholchik
UKR
0
0
2: 470 1996, 2000
2
2
2
Charlie McKee
USA
0
0
2: 470 1988, 49er 2000
2
2
2
Aage Birch
DEN
0
1: Dragon1968
2
0
1
2
Alan Warren
GBR
0
1: Tempest 1972
2
0
1
2
Aleksandr Budnikov
URS
0
1: Soling 1980
2
0
1
2
Alexsander Tsutselov
EST
0
1: Finn 1960
2
0
1
2
Alicia Kinoshita
JPN
0
1: 470 1996
2
0
1
2
Amelie Lux
GER
0
1: Mistal 2000
2
0
1
2
Andreas Geritzer
AUT
0
1: Laser 2004
2
0
1
2
Andrew Landenberger
AUS
0
1: Tornado 1996
2
0
1
2
Antonio Gorostegui
ESP
0
1: 470 1976
2
0
1
2
Arne Ernst Karlsson
SWE
0
1: 5.5m 1964
2
0
1
2
Arnoud van der Biesen
NED
0
1: 2 handed centrboarder 12ft 1920
2
0
1
2
Arthur Morgan
GBR
0
1: Flying Dutchman 1964
2