London 2012: 49er form guide
Monday July 30th 2012, Author:
James Boyd
, Location: none selected
The 49er, the Men's Olympic skiff is back for the fourth time at the Olympics. While the form going into the event would suggest that Australians Nathan Outteridge and Iain Jensen are the run-away favourites (see our interview with Outteridge here), the class has one giant dark horse in the form of Iker Martinez and Xabi Fernandez.
Over the last four years Spain's dynamic 49er duo have been a little bit busy. During this period they have raced around the world not just once, but THREE times - first in the 2008-9 Volvo Ocean Race with on Telefonica Blue, then doublehanded in the Barcelona World Race when they finished second on the IMOCA 60 Mapfre and more recently in the latest Volvo Ocean Race on their ultimately unsuccessful Telefonica campaign. While this might seem like an already pretty heavy schedule, few would contemplate trying to shoehorn an Olympic campaign over and above of all of this. Nonetheless Iker and Xabi have been putting in the hours whenever they could and during the Brazil stopover of the Volvo Ocean Race, with 100 days to go to the Games, it was announced that they had been chosen by the Spanish federation above the Alonso brothers.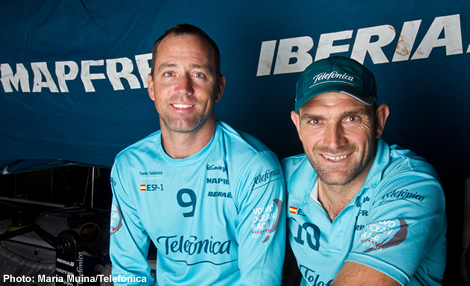 This comes as little surprise. They are the most experienced sailors in the present 49er roster having started out in 1998, winning gold in Athens 2004 having won two World Championships prior to this, claiming silver in Beijing 2008 and then winning the 49er World Championship in the Bahamas in 2010. That they were still on the pace was confirmed when they competed at the Test Event in Weymouth a year ago.
Xabi Fernandez says that they made the decision to go ahead with their campaign after their success in the Bahamas. "We prepared well for that in two and a half months, because that was after the last [2008-9] Volvo. Then we had a rest and prepared for the Worlds. We wanted to see if we were able, in a very short period of time, to be at a good level. If not, then we wouldn't have done it. Then last year we went to the Pre-Olympics [Test Event] and we were second on equal points with Nathan. So that is why the Federation thought it was good, although we were completely involved with the Volvo and had only managed around 14 days of sailing before that."
Fernandez acknowledges that if their competition for the Spanish 49er slot, the Alonso brothers, had been in the top 10 in Perth 2011 then the Spanish federation's decision may have swung a different way, but it didn't and the Alonsos failed to redeem themselves at subsequent regattas, which is why the old safe hands of Martinez and Fernandez got the nod.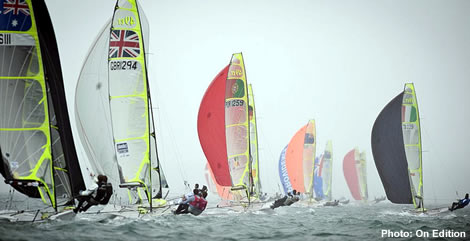 So how much training did they really manage to shoehorn in during the Volvo? "During the race – not much," says Fernandez. "We sailed some days here and there. In the China stopover we did two or three days, two days in New Zealand, three days in Miami... We have friends everywhere, so we've got hold of boats. And Ramon our coach has been coming to all the stopovers, so we got to Miami and the boat was ready, etc. So some people [in the Telefonica crew] would go surfing or bike riding and we would go and sail for an hour. Doing that would take us out of the Volvo world for a little while."
The only trouble is that coming into the Olympics, the Spanish sailors won't have competed in a 49er regatta since the Test Event exactly a year ago. Fernandez acknowledges the situation isn't ideal: "It is not like the other two Olympics we have done where we've gone in with the best possible preparation we thought we could do. But people have to understand that this is the 14th year of sailing together, Iker and me in the 49er. That is a lot of years. We did a huge job before the Bahamas. So we have the equipment ready to go. It is not like we arrive today and do the Olympics – our boat is very very fast and we have got a new one just to try it. Everything is quite well organised and now we have to be fit...which is the worst part."
Fernandez says that the introduction of the carbon rig and the bigger sail has helped them as it has allowed the crew to be heavier. Their combined weight is 152-155kg, compared to the 140kg they sailed at in China. He also says that experience sailing big boats also helped them adapt to the new rig quickly.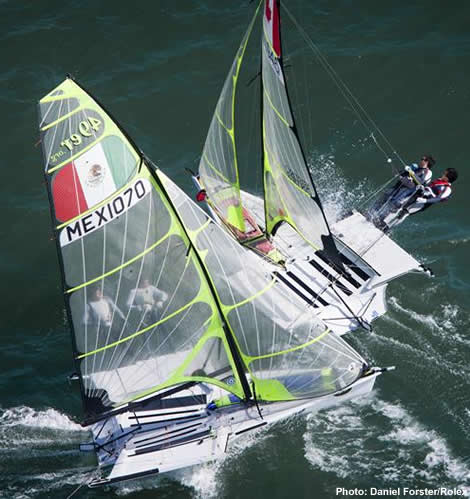 Form

See our form table below or down load the pdf here
Looking at our form table, the Australian top guns Nathan Outteridge and Iain Jensen are understandably on top, but the Spaniards are close behind – even though we've weighted their score due to their doing less regattas in this Olympic cycle.
Then the table shows a gap, back to Britain's Stevie Morrison and Ben Rhodes in third. In reality we have fudged this due to their retirement from Perth 2011 when Rhodes suffered an injury to his ribs (including this they are sixth) and to give a more accurate picture their score is based on if they had come fourth at that regatta.
Morrison and Rhodes were one of the last to be chosen to represent Great Britain, picked over some other strong contenders in the British 49er, which by rights should be as strong as the Finn squad, but has never seemed to gell in the same constructive way as it has among the big lads. Morrison and Rhodes have consistently performed well in Weymouth – a third place at last year's Skandia Sail for Gold was enough to secure them a berth at the Test Event where they finished fourth which is also where they ended up at Sail for Gold this year after an OCS and a capsize in another race. Apart from that their results were all in the top six.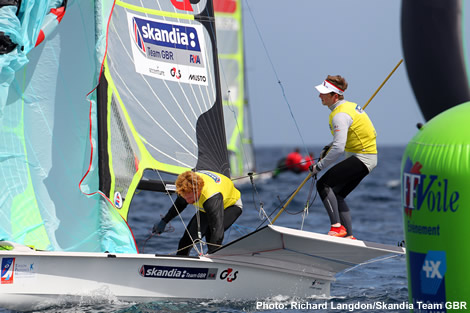 However for the last year Morrison and Rhodes have recruited top British coach and former 49er sailor Paul Brotherton, who helped earn Sarah Ayton's Yngling campaign reach Gold in Beijing and over the last months the team has been working hard on new kit for the Games to ensure they are on the pace.
"The French and the Australians have certainly been on top form this season," says Morrison of the opposition. "It feels like we are sailing very well but big scores hurt you pretty hard and it is about getting the top five results and not getting the clangers."
Morrison feels that Martinez and Fernandez will be a particular threat if it proves windy but generally at regattas this year they haven't experienced much in the way of light winds so there has been no recent indication of who's going well in those conditions. "We had that one day of light wind and the French didn't look as strong as maybe they should," says Morrison, who added that he and Rhodes are "in a good place" across the range of conditions, although they prefer it when its windy. "A range of conditions will make it more interesting and obviously it is much longer event the Olympic regatta in the 49er, nine days , two races a day, and hopefully it will give us a spread of conditions. You can't argue with how Nathan and Iain have done, but equally you can't stand there petrified that they are unbeatable. Everyone is closing up to them and there is a huge weight of expectation on them now."
So why are the Australians so strong? "It is the complete package," says Morrison. "You never look at them and think they are the slickest around the boat in terms of handling, but then you never see them capsize. You see a lot of situations where they seem a bit buried off the start and they seem to poke out, so I don't think they have a shortage of speed!"
Generally of the fleet Morrison observes that the Kiwis Peter Burling and Blair Tuke show good pace downwind and while they have been second at the last two World Championships and third at last year's Test Event, they haven't done well on Weymouth's Olympic waters at the last two Skandia Sail for Golds. "They are quite hard to judge. I guess they are quite young, but they have come second at the last two worlds and are a top, top team."
As to making observations about the performance of the various 49er teams Morrision points out that "downwind is very different in these boats to how it is in a Finn or a 470 - there are hardly any passing lanes so despite the fact that you are charging along at 20 knos there is less room to overtake, it is a little bit funny like that. You don't notice the speed differences downwind so much as you do upwind. The Aussies and the French – everyone seems pretty good, but it is half a turn here an half a turn there on the shrouds and lowers – little details and that need to be pinned down."
We reckon that over the course of the regatta gold will come down to a Star-style showdown between the Aussies and Spanish, while the rest in particular the Brits, French and Kiwis will be gunning for bronze.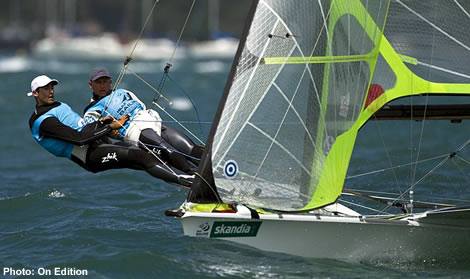 Back to top
49er form guide
| | | | | | | | | | | | | | | | | |
| --- | --- | --- | --- | --- | --- | --- | --- | --- | --- | --- | --- | --- | --- | --- | --- | --- |
| Pos | Helm | Age | Crew | Age2 | Nat | SFG | WC | Hyeres | Palma | Perth WC | Test | SFG | WC | WC | Olympic | Rating |
| | | | | | | 2012 | 2012 | 2012 | 2012 | 2011 | 2011 | 2011 | 2010 | 2009 | exper | factor |
| | Coefficient | | | | | 8 | 8 | 4 | 4 | 6 | 4 | 2 | 1 | 1 | 5 | |
| 1 | Nathan Outteridge | 26 | Iain Jensen | 24 | AUS | 1 | 1 | 3 | | 1 | 1 | 1 | 2 | 1 | 3 | 6.44 |
| 2 | Iker Martinez | 35 | Xabier Fernandez | 35 | ESP | | | | | | 2 | | 1 | 10 | 1 | 6.86 |
| 3 | Stevie Morrison | 33 | Ben Rhodes | 31 | GBR | 4 | | 4 | 7 | x65x | 4 | 3 | 7 | 4 | 3 | 16.44 |
| 4 | Emmanuel Dyen | 33 | Stephane Christidis | 31 | FRA | 2 | 4 | 1 | 2 | 18 | 6 | | 4 | 8 | 1 | 23.22 |
| 5 | Peter Burling | 21 | Blair Tuke | 23 | NZL | 11 | 2 | 13 | | 2 | 3 | 12 | 17 | 26 | 3 | 29.11 |
| 6 | Nico Luca Marc delle Karth | 28 | Nikolaus Leopold Resch | 27 | AUT | 19 | 17 | | | 7 | 9 | 13 | 14 | 5 | 3 | 53.92 |
| 7 | Allan Noerregaard | 31 | Peter Lang | 23 | DEN | 14 | 3 | 8 | 5 | 5 | | 22 | 9 | | 30 | 61.91 |
| 8 | Tobias Schadewaldt | 27 | Hannes Baumann | 29 | GER | 17 | 11 | 5 | 3 | 13 | 7 | 18 | 36 | 27 | 30 | 67.89 |
| 9 | Pavle Kostov | 24 | Peter Cupac | 32 | CRO | 10 | 20 | 26 | 26 | 25 | 11 | 23 | 38 | 14 | 3 | 75.50 |
| 10 | Erik Storck | 27 | Trevor Moore | 27 | USA | 12 | | 40 | 14 | 9 | 22 | 17 | 24 | 39 | 30 | 88.73 |
| 11 | Yukio Makino | 32 | Kenji Takahashi | 29 | JAP | 22 | 23 | 33 | 17 | 30 | 16 | 16 | 35 | 38 | 3 | 92.40 |
| 12 | Lauri Lehtinen | 25 | Kalle Bask | 29 | FIN | 5 | 19 | | 12 | 19 | 8 | | 11 | | 30 | 95.96 |
| 13 | Ryan Seaton | 24 | Matt McGovern | 27 | IRE | 7 | 31 | 19 | 38 | 10 | 15 | 28 | 30 | 49 | 30 | 104.11 |
| 14 | Gordon Cook | 33 | Hunter Lowden | 30 | CAN | 31 | 21 | | 36 | 35 | 12 | 29 | 22 | 31 | 3 | 104.89 |
| 15 | Giuseppe Angilella | 27 | Gianfranco Sibello | 36 | ITA | 15 | | 18 | 32 | | | | 20 | 17 | 30 | 105.63 |
| 16 | Lukasz Przybytek | 23 | Pawel Kolodzinski | 24 | POL | 21 | 15 | 9 | 9 | | | 35 | | 37 | 30 | 108.25 |
| 17 | Bernado Freitas | 22 | Francisco Rebello de Andrade | | POR | 20 | 34 | | 20 | 23 | 13 | 25 | 25 | 33 | 30 | 121.52 |
| 18 | Jesse Kirkland | 24 | Zander Kirland | 29 | BER | 28 | 10 | | 13 | 50 | | 50 | 61 | | 30 | 169.65 |
| 19 | Niclas Düring | 22 | Jonas von Geijer | 31 | SWE | 9 | 28 | 23 | 24 | 29 | | | | 51 | 30 | 186.74 |
| 20 | Dionysios Dimou | 27 | Michail Pateniotis | 28 | GRE | 26 | 22 | | 41 | 47 | | | | | 30 | 280.00 |
Back to top