Ben Ainslie looks forward to London 2012
After winning silver in the Laser in 1996 and Gold in 2000, Ben Ainslie moved into the Finn class and won back to back Gold medals in 2004 and 2008. Now, in 2012 Ben is on the brink of becoming the most successful Olympic sailor of all time. Currently this accolade is held by another Finn sailor, Paul Elvstrøm, who won four Olympic Gold medals from 1948 to 1960, the first in a Firefly and then three in the Finn. If Ainslie wins Gold on Sunday, 5 August, he will beat Elvstrøm's record and enter the history books yet again.
Though he is still the outright favourite to take a third Finn Gold, it will be no easy task. At 35 he is one of the oldest sailors in the Finn fleet, and sailing what could potentially be his last Olympic Games. But in this highly competitive fleet he has almost completely dominated the 2011 and 2012 seasons, notching up impressive victories at the 2011 Olympic Test Event and the 2012 Finn Gold Cup, his sixth Finn World Championship.
First we asked him what is so special about this Olympics."Really because it's a home Olympics which makes it very special. I was in Trafalgar Square when they announced that London had won the bid for 2012, the atmosphere was electric and that's when I decided I wanted to continue my Olympic career and be a part of it."
Ben's profile within sailing and especially within UK sport is at an all time high. His image has been used to publicise the London 2012 Olympic Games in a way that a sailor has never been used before, and he carries the hopes of the whole nation to win the Gold. In light of this does he regard the 2012 Olympics as the most important regatta in his life? "It is the most important regatta in my life right now, but they were all important to get to this point. In my mind I focus on the event and what I have to do to be successful, I can't worry about anything else."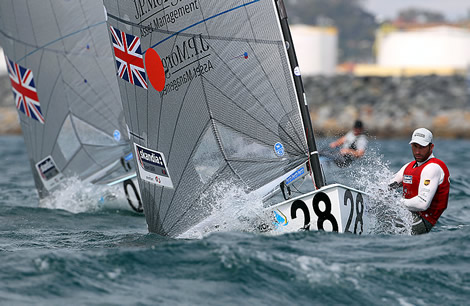 How has his preparation differed from the 2008 campaign? "I guess I have had more time to prepare for it, and I have had to as the home competition has been tougher and the venue is also tough strategically. The international competition is very similar to what it was four years ago, although the expected conditions are very different."
In China Ben's coach was the former British Finn sailor Jez Fanstone, now Olympic manager for the New Zealand team. For Weymouth Ben has teamed up again with David 'Sid' Howlett. "They are both very experienced. I guess Sid is slightly more so when it comes to Olympic experience, but both Sid and Jez are very professional and committed and that is what you want in a coach. I look for someone who I get on well with and who has the experience. It's also important that they share the same determination for the campaign to be successful. I should also say that I have been really fortunate to have so much help and support over the years from many different people."
Some would say that Ben is lucky to race for a country that has such a high level of Finn sailing, with two other sailors who have won the World Championship in recent years and several others always near the top. While this has no doubt raised his game over the years, it is hard on the other sailors such as Edward Wright and Giles Scott, who suffer at the rules of one nation per class in the sailing at the Olympics. Does Ben think this is one rule that should be changed so that all the top sailors have the chance to sail? "As an elitist I would say, yes, we should have all of the top sailors, but we also have to realise sailing's role in the Olympic Family. If we start excluding emerging nations in sailing then we risk our Olympic status. It is really hard on guys like Giles Scott and Ed Wright but that's what you sign up for and you have to live and die by the results.
"In small boats the Olympics is the pinnacle, but having said that there are some fantastic non-Olympic sailors such as Nick Craig. I'm sure if Nick had the time to train full time he could be successful in the Olympic arena, but he has other commitments and I guess that's the choice you have to make. As a professional sailor the Olympics, Americas Cup, Volvo Ocean race, Jules Verne and Vendée Globe really mean something."
After so many years campaigning a singlehanded dinghy for the Olympics, does he find it a problem to keep motivating himself? "I have always been busy trying to mix Americas Cup campaigns with Olympic campaigns. It isn't easy but it keeps you very busy and you have to focus hard on maximising the time that you have. I find that each time I come back I have a fresh approach and seem to learn more that way."
Are the sacrifices worth the effort? "Personally, I set a goal and I want to achieve that goal. It would be the same with anything else in life but in this instance it's the Olympics Games and in sport it doesn't get any higher than that."
"I guess I don't really have a normal life. I live out of a suitcase and it's very hard on family and friends. Sometimes it isn't easy and I wonder what I am doing but at the end of the day it's my ambition and I am very lucky to have the opportunities and support that I have had a long the way."
The path to Weymouth was paved with incidents, some of which Ben would prefer to forget. Aside from the media boat incident in Perth and the operation on his back over the winter, what was been the hardest part about the campaign this time around for him? "It has probably been adapting to the physicality of the free pumping. It requires a lot of fitness and technique. It is also a benefit for the taller guys."
As far as gear selection goes, Ben has been playing around with a Wilke-built Finn for a while in addition to campaigning his 2004/2008 Gold medal winning Devoti hull. Ben claims to have gone through about four hulls, six masts, about 150 sails in his 10 years in the class. Is there a performance advantage with the Devoti he has used?"The [Devoti] boat was very well built by Tim Tavinor and the fact that it is still going strong eight years on is testament to that. It is different to a standard boat and I guess it gives me the confidence that if I sail well then I am competitive.
"But it has been a good project working with Wilke on the hulls and masts. It was good to go through the development process and work out what was reality and what the opportunities are. We are still working on the equipment and probably won't make a final call until just prior to the Games."
Like all British athletes and sailors, there is going to immense domestic interest from the public and the media which can only increase the pressure on the competitors. Can you prepare for that? "I think the crowds will be an inspiration rather than a distraction. The media are always there and you have to deal with that." What about the controversial Nothe course area? "I think in any breeze from the east to south-west it will be fine. Outside of that wind range I hope they will race elsewhere."
Will there be any more Finn sailing for Ben Ainslie after these Olympics? "I honestly don't know. After the Games I will focus on the America's Cup and then see how things develop. I have loved sailing the Finn but it will depend what my objectives are." And his thoughts on the Olympics in general? "ISAF need to consolidate the classes. There are too many classes and there is no room for two sets of men's and women's high performance classes. Ultimately, in time, we need to switch to more exciting classes."
Ben wouldn't be drawn on picking favourites for the medals. "It's such an open class, I would say any of the top 12 guys could win a medal."
And finally, what is he most looking forward over the next few weeks? "After so much preparation I just can't wait to get on with the racing."
The first races are scheduled for this Sunday at 12.00, with the opening race on the much feared Nothe course area with 4,500 people watching, before moving to one of the offshore courses for the second race.
Back to top
Back to top