London 2012 form guide: The Finn
Sailing at London 2012 commences with a bang at midday on Sunday week with the Finns and Stars. In the former of course is the Olympic sailing phenomenon that is Britain's Ben Ainslie. At the age of 35, Ainslie is lining up to add another gold medal to his present tally of three (two Finn and one Laser) and one silver (Laser). This would see him eclipse the four gold medal record of the great Dane, Paul Elvstrøm, making him the most successful Olympic sailor of all-time.
The 'heavyweight men's singlehander' is perhaps the worst example of where the limitation of the Olympic sailing events - only allowing one sailor per nation per class - affects the competition. Including Ainslie, the line-up may feature four past Olympic medallists, six former World or European champions, and another seven championship medallists, but the situation is absurd due to the dominance of the British Finn squad. This has produced three separate World Champions in the last three years – Ben Ainslie at the recent JP Morgan Asset Management Finn Gold Cup (aka World Championship) in Falmouth, when Giles Scott wasn't competing due to his America's Cup World Series commitments to Team Korea; Scott won Perth 2011 (when Ainslie was penalised for his RIB driver contratent) and Ed Wright claimed the 2010 title in San Francisco (when Ainslie wasn't competing and Scott finished third).
So neither Giles Scott nor Ed Wright, nor Mark Andrews and Andrew Mills - all of whom finished in the top 10 at the latest Finn Gold Cup - will be going to the Games. Read our interview with Giles Scott here.
Worse, it could be argued that Scott may now be the best Finn sailor in the world – a punchy call, but there is no denying he beat Ainslie at the Finn UK Nationals and then again at Skandia Sail for Gold. However Scott was free of the burden of Olympic selection and had nothing to lose. At Sail for Gold Ainslie also still appeared tired or slightly ill after his decimation of the fleet in the big conditions at the Gold Cup in Falmouth, where he won all but two of the nine races, finishing the regatta 20 points clear of second-placed Ed Wright.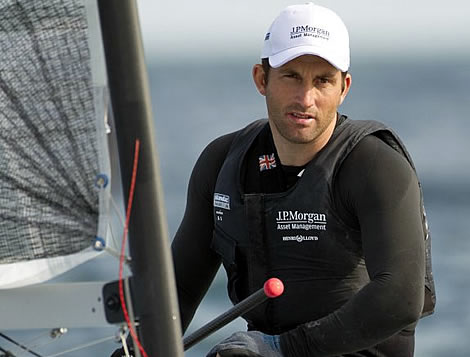 However few would disagree that Ainslie is the best man to be representing Skandia Team GBR in the Finn at London 2012, given his wealth of Olympic experience and the psychological stress involved with competing at the Games. So the upshot is that, barring another RIB-driver type incident or an Act of God, the rest of the Finn fleet will be fighting for the bottom two rungs of the podium and we'll be watching to see if Ben can somehow match his Beijing result where he won by 22 points (up from his Athens performance when he claimed Gold by a mere 13...)
The good news is that Ben winning gold on home waters will certainly drive sailing into the mainstream media spotlight, hopefully to a degree that we have failed to see in the UK since Ellen MacArthur's two laps of the planet.
Finn expert Robert Deaves, who provides his assessment of the sailors below, reckons that any of 14 could win a medal. We reckon maybe 10.
Apart from GBR as host nation, the first 18 nations qualified for a place in Weymouth at the Perth 2011 ISAF Sailing World Championships. These were AUS, BRA, CAN, CRO, DEN, ESP, EST, FIN, FRA, GRE, ITA, NED, NZL, RUS, SLO, SWE, UKR and USA.
Six more places were up for grabs at the Finn Gold Cup in Falmouth earlier this year and five of these places finally went to: AUT, CHN, CZE, POL and TUR. Though Germany qualified, the German Federation decided not to make an entry into the Finn class, and the place was lost to the class.
Ten sailors are sailing their first Olympics, seven their second, three their third, two their fourth Olympics. The only one sailing his fifth is Masters World Champion Michael Maier (CZE), who has probably sailed more miles in a Finn than anyone else in history.
Maier is the oldest by nine years, while the youngest is 19 year old Jorge Zarif (BRA). Three years ago he won the Junior World Championship – the Jorg Bruder Silver Cup – and is hoping that the Weymouth experience this year will stand him in good stead for the 2016 Olympics on home waters.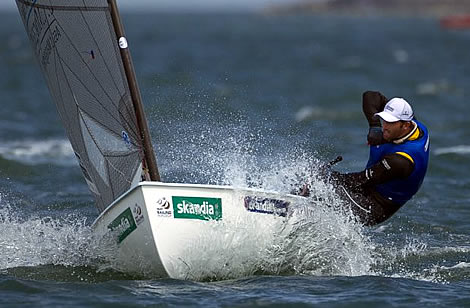 Form
At the bottom of this page you will find our league table of the Finn sailors at London 2012, based on their performance at major events over the present Olympic cycle. We have weighted this in favour of past Olympic experience and results, most recent results and results in Weymouth and Portland. This table is best downloaded and viewed in pdf form here.
1. While Ben Ainslie is clear favourite he will still have his work cut out. He has already stated that anything else but Gold would be a disaster. He reflected, "...a home Olympics makes it very special. I was in Trafalgar Square when they announced that London had won the bid for 2012, the atmosphere was electric and that's when I decided I wanted to continue my Olympic career and be a part of it. It is the most important regatta in my life right now, but they were all important to get to this point. I guess I have had more time to prepare for it, and I have had to as the home competition has been tougher and the venue is also tough strategically."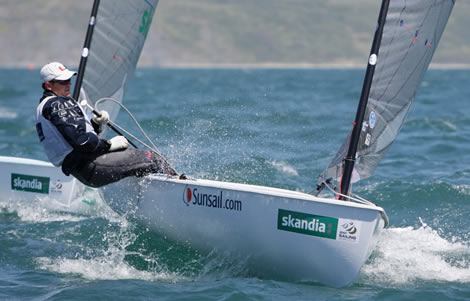 2. Beijing 2008 Silver Medallist Zach Railey (USA) enters the Games as the foremost rival for Ainslie. He was the only man who could beat Ainslie going into the 2008 Medal race but had the door firmly shut in his face by a determined Brit. Ever the optimist, Railey summed up the competition: "These are the best Finn sailors in the world going head to head at their best and that is the exact situation I want to put myself into and see where I come out in the end. It is the ultimate test and I can't wait for it to begin."
Railey believes there are 10-12 podium contenders. "I race every race from a clean slate. I do not worry about the end result until the regatta takes me there. If I am beaten by someone because they were better than I was, I can accept that, but I cannot accept beating myself. The athletes always get better and better and smarter and smarter. It is amazing the progress you see over just a four year period. You have to constantly keep making improvements or you get left behind."
As a sailor Railey has spent this Olympic cycle trying to live up to his Beijing performance. The closest he got was a silver at the 2009 Finn Gold Cup, losing the title on the medal race. He has picked up various medals at ISAF Sailing World Cup Events, and posted a solid fourth place at the Sail for Gold. Though not the biggest sailor in the fleet, he has historically produced some of his best results at windy regattas, as well as at light wind venues such as Qingdao. Railey is a very thoughtful, analytical sailor and it is well within his abilities to pick up another medal this summer.
See our interview with Zach and his Radial sailor sibling Paige here
According to our league table there are then three sailors very closely matched.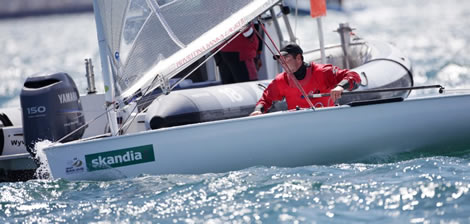 3. Ivan Kljakovic Gaspic (CRO) is a well rounded sailor with a good chance at a medal. He is one of the most consistent sailors on the circuit, and is regularly at the front of international fleets. In China he finished in 8th place despite showing promise by nearly winning the 2007 test event. Since then he has matured as a sailor and put numerous regatta wins under his belt including the European Championship in 2009 and 2010. Over the last year he has strengthened his armoury by improving his strong wind speed, as shown in his fourth place at the 2012 Finn Gold Cup in Falmouth. Earlier in the year he picked up the bronze at the light wind Europeans, though like most of the fleet this year he has only done a few regattas in what has been a very busy start of the season. Read our interview with him here.
4. Vasilij Zbogar (SLO) is a seasoned Olympian having competed in three Games in the Laser already and picked up a bronze and a silver in that class. He moved into the Finn in 2010 where he made an immediate impact. After winning a very aggressive trials again the 2004 and 2008 Olympian Gasper Vincec, he took the silver medal at this year's Europeans. Although Zbogar has had a few distractions, such as helming the GreenComm AC45 last year, he has focussed on training rather than regattas and going into the Olympics he won't have raced in a competitive regatta since Hyeres, so he remains a a bit of an unknown quantity in Weymouth.
5. Then there is double World Champion Jonas Høgh-Christensen (DEN), son of North Sails Europe V-P Jens.
After winning the 2006 Finn Gold Cup and picking up the bronze at the 2008 Finn Gold Cup, Høgh-Christensen went into the 2008 Olympics as one of the medal favourites. However things never really went his way. He did stage a late recovery to finish sixth, but that was a long way from where he wanted to be. He almost gave up, took a year off, got a proper job, came back, unprepared, but fresh, to win the 2009 Finn Gold Cup on home waters. An on-off campaign ended in November 2011 when he started full time again and the results gradually came. He is now right back at the top and will be a serious contender for a medal again. This will be his third Olympics in the Finn.
Although he hasn't won anything since returning to the class in 2011, he is clearly on the pace and gunning for a third chance at a medal. He described the challenge: "I think the whole fleet is fitter, stronger and have improved their technique a lot. I don't have a lot of pressure as I am not one of the favourites to take a medal. Probably more a dark horse, but I think this could end up playing in my favour. I am fresh and really pushing hard all the way. But seeing the last 10 months hard work come together with me performing my personal best, that will be the biggest satisfaction. I am truly blessed to have gotten another chance to do well at the Olympics and I will do my best to make to most of it."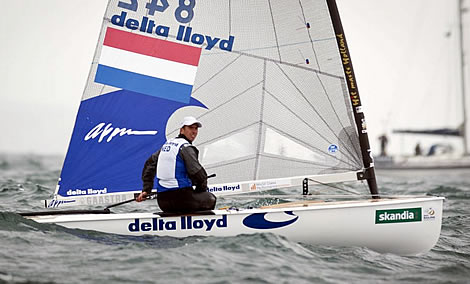 6. Sixth in our league table is Pieter-Jan Postma (NED), who took bronze in the Test Event and silver at the 2011 World Championship.
Postma picked up the silver medal at the Finn Gold Cup and the Pre-Olympics in 2007 and then had a disastrous Olympics in 2008, failing to even make the medal race. After a few years taking it easy and studying he is now right back in contention with a bronze at the 2011 Olympic Test Event and a silver at the 2011 Finn Gold Cup. He placed seventh at the Europeans after being one of the favourites, and the spectre of national qualification perhaps played its part in a scrappy 2012 Finn Gold Cup where he salvaged a ninth. However he pulled a third out of the bag at the 2012 Skandia Sail for Gold Regatta. If he is on form, then he can sail fast and clever and will be a clear medal contender at the Games.
They are followed in our league table by two solid campaigners in Daniel Birgmark (SWE) and Dan Slater (NZL)
7. After missing out in the Laser class in 2004, Birgmark switched to the Finn which was a much better fit for his size and weight and immediately qualified for Athens. After a 14th there, he lost the bronze medal at the Olympics in 2008 on the tie break after the medal race, so will be very keen to put that right in 2012. His best result since 2008 is a bronze medal at the 2010 Europeans. This year he has been struggled for form, although he normally sails well in medal races and almost won the medal race at this year's Skandia Sail for Gold Regatta. A very consistent, steady and calm sailor who is always there or thereabouts. This will probably be his last Olympics in the Finn so will be more determined than ever to make it count.
8. London 2012 will be the third Olympics for Dan Slater after sailing a 49er in 2000 and finishing a very disappointing 12th in 2008 in the Finn, after finishing as runner up in the 2008 Finn Gold Cup. Selected late by New Zealand Yachting, he is perhaps a bit short on training but his experience of the arena and the fleet should easily give him top 10 potential and he could well be in with a shot at the medals if things go his way. A very experienced sailor he also campaigned the Laser for the 1996 and 2004 Olympics but failed to get selected. Finally switched to the Finn in 2005 and immediately made his mark with a silver medal at the 2005 European Championships. Has won several Grade 1 regattas in recent years and surely has the ability and potential to medal.
Robert Deaves also rates Rafael Trujillo (ESP) and Jonathan Lobert (FRA) who our league table have at 9th and 10th respectively.
Trujillo is one of the most experienced sailors in the fleet, this being his fourth Olympics and the third in the Finn. He picked up a silver medal in Athens in 2004, and then just made the medal race in China in 2008. He won the 2007 Finn Gold Cup after twice finishing losing the title on the final day and claimed another runner up place in 2010. Since then he has struggled with form, though finished fifth at the 2011 Finn Gold Cup. However this year his season has been inconsistent - he placed 10th at the Europeans and 18th at the Finn Gold Cup. Big, strong sailor who prefers breezy conditions. He is certainly good enough to win another medal. Goes into the Olympics as the new world number one ranked sailor.
For Lobert, a silver medal at the Olympic Test Event in 2011 was the culmination of steady progress over the previous few years. He won his selection for the Olympics after the 2011 Finn Gold Cup against training partner Thomas Le Breton. He has a very athletic style in the boat, especially downwind and should do well at the Olympics. Hasn't quite repeated his test event form since last August but is always pushing the leaders. He first moved into the Finn in early 2007 after outgrowing the Laser. Should almost certainly be a favourite for a medal at the Olympics based on past performance, and he seems to produce his best in Weymouth.
And the others...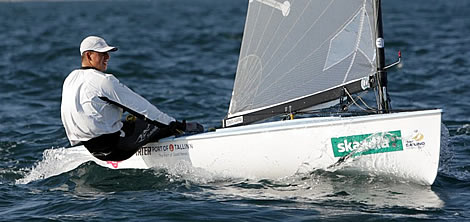 11. Deniss Karpak ( EST) after sailing the 2008 Olympics in the Laser, moved straight into the Finn and has made steady progress ever since. He qualified for the 2012 Olympics after a great performance in Perth, and most recently won Kiel Week. A consistent year attending most of the major events also meant he briefly rose to the number one spot in the world rankings in June. A tall, athletic figure he struggled this year in the really windy conditions, losing Hyeres and finishing out of the medals after the medal race was sailed in 30 knots. Generally he is improving all the time and would definitely be considered as top 10 material and a possible for a surprise medal. Karpak won the Sailor of the Year in Estonia from 2005-11 and the Best Young Athlete of the Year in Estonia in 2007.
12. Tapio Nirkko (FIN) is the only internationally competitive Finn sailor from Finland. This will be Nirkko's second Olympics after a disappointing regatta in China, where he placed 18th. Since then he has had a few moments of brilliance, picking up the silver medal at the 2009 Europeans and winning races here and there, generally in windy conditions. A tall and strong sailor, he is finally starting to add some consistency, and some promise, to his regattas, something that has been lacking in recent years. He sailed his best Finn Gold Cup ever this year to place fifth, so if he keeps it together he should be well inside the top 10 come medal race day.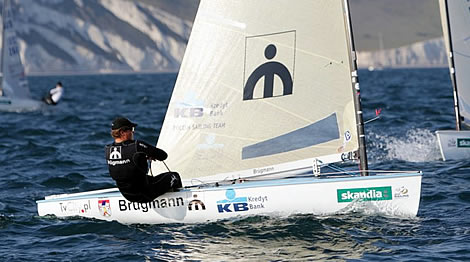 13. Piotr Kula (POL) won a very close Polish trials against the 2008 Olympian Rafal Szukiel and placed a very creditable sixth overall at the 2012 Finn Gold Cup, which clearly showed he has talent to burn. He has struggled with a knee injury over the past year, which kept him out of the 2011 Finn Gold Cup in Perth but proved this year he has the tenacity and the determination to race at the highest level. The Poles failed to qualify for the Olympics in Perth so it came down to Falmouth in addition to being the final selection trials. Kula was clearly on a mission all week and produced the best results of hiscareer to date. He could well be the surprise package of the Games.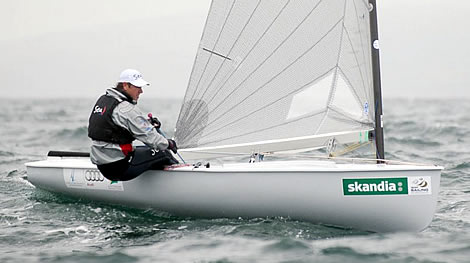 14. Brendan Casey (AUS) is a very experienced sailor who has tried and failed several times to qualify for the Olympics and has finally made it. He won the Laser Radial World Championships in 1995 and 1996. After failing to qualify in 2000 and 2004, he switched to the Finn in 2006 and won the Australian Championship, but again missed out on a spot on the 2008 Olympic team. He took a few years out and returned in 2010 to place 10th at the Finn Gold Cup in San Francisco. Results came but he still had to prove himself to the selectors. His chance came in Hyeres, winning the last two races, including the very windy medal race to win the regatta and his place in London. He just couldn't believe he had finally done it, 17 years after that first title.
15. Filippo Baldassari ( ITA) won the Italian national trials back in April 2011. He has made steady progress since and has gradually moved up the ranks, including an impressive fourth overall at the light wind 2011 Europeans in Italy. One of a few sailors who skipped the Finn Gold Cup this year to take a break from the hectic early season. His 10th place last year in Hyeres was Baldasaari's only top 10 placing at a Sailing World Cup or Grade 1 event since he switched to the Finn from the Laser in 2009.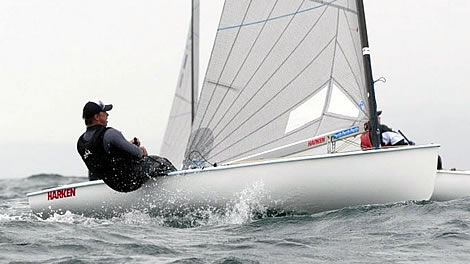 16. Eduard Skornyakov ( RUS) first appeared on the Finn scene in 2007 when he was the surprise winner of the European Championships on Lake Balaton in Hungary, in similar conditions to his home waters on the lakes in Moscow. Since then he hasn't ever got close to repeating that performance but is starting to make headway into the top of the fleet. After a brief spell in the Laser and the 49er he moved into the Finn in early 2007. His European title was only his third major regatta in the class. Since then he has only made the top 10 on a handful of occasions, but a sixth this year in Hyeres proves he is on the right track.
17. Greg Douglas (CAN) sailed the 2008 Olympics in the Laser for Barbados and finished last. Then switched allegiance to Canada where he was trained by 2008 Olympian Chris Cook and started to bring in some encouraging results. Cook, who placed fifth in China, then returned to the Finn in 2011 and went up against his trainee in the Canadian Olympic trials. Douglas thought he had lost the trials in Falmouth after Cook surged ahead, but then in a twist of fate, Cook got sick, retired from the regatta and Douglas got the 2012 ticket. Proved he can handle big conditions in Falmouth and improving all the time so could be another surprise package. Big, strong and very focused.
Despite this being his second Olympics, Douglas at 22 is one of the youngest sailor in the Finn: "It means so much to me to be sailing at the Olympics this year. I have been working very hard for this over the last three years. My goal is just to sail my best and show these guys what I can do. I am very excited for the event because anything can happen and it will be a great all round test of sailing."
18. The grand master of the Finn fleet, having just won his fourth Finn World Masters title, Michael Maier (CZE) will be the oldest sailor in the Finn fleet at 48 and also the most experienced. This will be his fifth Olympics, all of them in the Finn. Maier has been campaigning Finns since the early 1980s and before many of the current fleet were even born. His debut event was the 1982 European Championship at the age of just 16. Thirty-two years later he is still going and just can't seem to let it go. He is still very competitive upwind but struggles downwind in the free pumping conditions.
19. Jorge Zarif (BRA) is the youngest sailor in the Finn fleet at just 19. He is the son of the late Jorge Zarif Zeto who competed in the Finn in both the 1984 and 1988 Olympics, where he finished 8th and 19th. Sure to be a contender in his home Olympics in four years time, he is looking to gain experience and insight into the Olympics this year. However he is a clever and hungry young sailor who has put in a few good results and has set his goal for 2012 as getting into the medal race, with the podium in his sights for 2016 in Rio. Zarif has been competing in the Finn internationally since 2009 and in Brazil since 2008 when he was just 15 years old.
20. After trying for many years, Florian Raudaschl (AUT), 36, has finally made it to the Olympics to follow in the footsteps of his father's illustrious career. (Hubert Raudaschl has competed in more Olympics than any other athlete, so far, winning silver in 1968). Working in the family sailmaking business he has probably had less time in the boat than most of his competitors in recent years, but this year put some hard work in early in the year and the results started coming. Has been campaigning a Finn since 1999 and while he has performed well in the minor regattas, his two 10th places at Kiel Week in 2011 and 2010 are his only top 10 at Grade 1 regattas since 2008.
"I tried it before [in 2004 and 2008] and was not sent because of our tough national criteria. I am very proud of my father, especially when I hear the different stories of him from other sailors. But to be honest when you sail yourself and try to do a good regatta you do not think of this at all. My goal is basically trying to do my best at the Olympic regatta. For the first time I have spent nearly as much time training as the other sailors do. That feels very good and even when the weather and wind situation in Weymouth are not my favourite ones I really start liking the place. The whole Olympic atmosphere seems to come closer and closer and I try to enjoy this great time."
21. After just missing out on qualifying for the 2008 Olympics by just one place, this time around Oleksiy Borysov ( UKR) qualified at the first attempt in Perth to secure a place in Weymouth. Has been sailing the Finn internationally since 2004 and has only won one major ranking event, the 2011 Sail Melbourne, in that time. He also placed second in Kiel Week in 2010. One of only two dinghy sailors representing Ukraine in Weymouth (the other is in the Laser), Borysov unfortunately was forced to miss the 2011 Skandia Sail for Gold and the 2011 Olympic Test Event due to lack of financial support. He can normally can pull out a few good races in each regatta, including race wins, but now needs to put it all together at one event.
22. Ioannis Mitakis (GRE) won the 2012 European Championship out of nowhere in very light and shifty winds. He first appeared in a Finn in 2009 and took the Junior European title in Bulgaria with ease. The following year he won it again in Croatia, this time also finishing 12th overall in the senior fleet. Then in 2010 he finished as runner up in the Silver Cup in San Francisco. A clearly talented sailor, many thought he would be a serious challenger in 2016, but he didn't want to wait that long. Probably still one of the lightest sailors in the fleet and struggles when it is windy, but produces his best when it is light. His biggest enemy may be lack of regatta practice this year.
Mitakis is the current European Champion, but is realistic about his chances. He said, "I only started sailing the Finn in 2009 after realising that I became too big for the Laser, so it was really demanding to qualify both my country and myself in only two years. I would be quite satisfied with a place in top ten."
23. Alican Kaynar (TUR) sailed the 2009 Europeans and the switched full time to the Finn in 2010 after many years in the Laser. He won the Turkish trials after the Finn Gold Cup in Falmouth after sailing well to beat the long time Finn sailor Akif Muslubus. Kaynar has steadily improved over the past two years but has yet to break through very often. One highlight was this year's European Championship in Scarlino, Italy where he won a race and finished 12th overall. He is still relatively small compared to the rest of the fleet but is clearly quick in light winds.
24. Lei Gong (CHN) only sailed a handful of regattas in this cycle after failing to qualify as China's representative in 2008. Finished one off the bottom at the 2011 Olympic Test Event but has clearly improved since then with a 30th at this year's Finn Gold Cup in Falmouth where he qualified China for the Olympics. While China does have a core of Finn sailors, they rarely appear at International events. Gong is no exception having only sailed eight ranking events since 2004 and goes into the Olympics as the lowest ranked sailor. His first international event was the Europeans in 2004 where he picked up the bronze medal in the Junior European championship, behind Oleksiy Borysov from Ukraine and Tapio Nirkko from Finland, both also competing in Weymouth.

Back to top
thedailysail's Finn league table
| | | | | | | | | | | | | | | |
| --- | --- | --- | --- | --- | --- | --- | --- | --- | --- | --- | --- | --- | --- | --- |
| Pos | Sailor | Nat | Age | Rating | SFG | WC | Hyeres | Palma | Perth WC | Test | SFG | WC | WC2 | Beijing |
| | Year | | | | 2012 | 2012 | 2012 | 2012 | 2011 | 2011 | 2011 | 2010 | 2009 | 2008 |
| 1 | Ben Ainslie | GBR | 35 | 10.13 | 2 | 1 | | 1 | 11 | 1 | 1 | | | 1 |
| 2 | Zach Railey | USA | 28 | 22.11 | 4 | 10 | | 2 | 9 | 9 | 10 | 4 | 2 | 2 |
| 3 | Ivan Kljakovic Gaspic | CRO | 28 | 26.33 | 9 | 4 | | | 10 | 5 | 3 | 8 | 3 | 8 |
| 4 | Vasilij Zbogar | SLO | 36 | 26.67 | | | 3 | 7 | 13 | | 16 | 18 | | 2 |
| 5 | Jonas Hoegh-Christensen | DEN | 31 | 26.78 | 12 | 3 | | 8 | 4 | 8 | 5 | 14 | 1 | 6 |
| 6 | Pieter-Jan Postma | NED | 30 | 31.44 | 3 | 9 | | 15 | 2 | 3 | 13 | 20 | 12 | 14 |
| 7 | Daniel Birgmark | SWE | 36 | 33.44 | 8 | 12 | | 6 | 14 | 10 | 9 | 12 | 5 | 4 |
| 8 | Dan Slater | NZL | 36 | 37.22 | | 16 | 5 | 5 | 21 | 7 | 6 | 15 | 7 | 12 |
| 9 | Rafael Trujillo | ESP | 36 | 38.90 | 10 | 18 | 2 | 21 | 5 | 4 | 11 | 2 | 8 | 9 |
| 10 | Jonathan Lobert | FRA | 27 | 39.75 | 7 | 15 | | 23 | 6 | 2 | 7 | 13 | 19 | |
| 11 | Deniss Karpak | EST | 26 | 51.00 | 15 | 11 | 4 | | 8 | 6 | 22 | 26 | 17 | 24 |
| 12 | Tapio Nirkko | FIN | 27 | 52.44 | 16 | 5 | | 14 | 12 | 11 | 17 | 39 | 14 | 18 |
| 13 | Piotr Kula | POL | 25 | 54.56 | 17 | 6 | 12 | 11 | | 17 | 34 | 23 | 25 | |
| 14 | Brendan Casey | AUS | 35 | 56.84 | 14 | 13 | 1 | 19 | 19 | 15 | 24 | 10 | | |
| 15 | Filippo Baldassari | ITA | 24 | 72.21 | 21 | | | 13 | 24 | 14 | 27 | 44 | 35 | |
| 16 | Eduard Skornyakov | RUS | 31 | 84.78 | 27 | 17 | 6 | 22 | 33 | 23 | | 27 | 20 | 17 |
| 17 | Greg Douglas | CAN | 22 | 88.73 | 11 | 14 | | 18 | 27 | 13 | 31 | 33 | | 43 |
| 18 | Michael Maier | CZE | 48 | 89.11 | 24 | 24 | 8 | 20 | 36 | 16 | | 22 | 15 | 25 |
| 19 | Jorge Zarif | BRA | 19 | 96.11 | 20 | 34 | 19 | 25 | 32 | 19 | 30 | 53 | 27 | |
| 20 | Florian Raudaschl | AUT | 34 | 100.33 | 25 | 23 | 17 | 32 | 48 | 22 | 32 | 29 | 18 | |
| 21 | Oleksiy Borysov | UKR | 29 | 101.47 | 34 | 21 | 16 | 16 | 22 | | | 37 | 39 | |
| 22 | Ioannis Mitakis | GRE | 23 | 127.20 | 26 | | | | 20 | | | 30 | | |
| 23 | Alican Kaynar | TUR | 23 | 139.82 | 28 | 29 | 21 | | 52 | 20 | | 47 | | |
| 24 | Lei Gong | CHN | 29 | 159.20 | | 30 | | | 35 | 26 | | | | |
Back to top