Ali Young gets her first gold
With 30 knot winds causing proceedings to be cut short on Thursday and canned altogether on Friday due to the unseasonal gale force winds, so the ten classes only sailed between six and eight races before today's Skandia Sail for Gold medal races. However Weymouth and Portland turned it on, the sun putting an appearance and 15-22 knot winds making for lively sailing.
The medal races were held on a variety of the courses to be used for the Olympic Games – one inside Portland Harbour; the Nothe course (the one for the ticketed spectators come August); and another out in Weymouth Bay.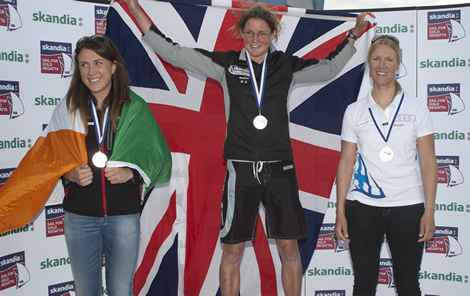 Laser Radial
For British fans, the welcome result of the day came in the Laser Radial. Going into the medal race this was the tightest class with China's Lijia Xu leading, just one point ahead of Britain's Ali Young and Finland's Sari Multala.
The Netherlands Marit Bouwmeester got the best start, but got a penalty after a port-starboard incident prior to her first windward mark rounding. Xu then put herself out of contention, after a tight layline call and a shift saw her to hit the windward mark. Her penalty turn dropped her from fourth to ninth.
The race was won by Ireland's Annalise Murphy, but it was Ali Young coming home second that was enough for the Englishwoman to clinch gold, two points ahead of Multala, who arrived third to take silver.
Ali Young came ashore and seemed impassive, despite her exemplary performance this week and this being the best result in her Laser Radial career at a key time going into the Games. Having only been selected to go to London 2012 four weeks ago, the 24-year-old's Olympic campaign appears to be a textbook case of peaking at the right time for the Games.
"It was quite tight up the first beat, I just took the shifts and rounded the windward mark in second and it was just a case of keeping the main girls behind me," Young described her race. "It's a great confidence boost in terms of my preparation for the Games; I'll just look to build on a few things between now and August.
"I've had a great programme and have been working hard with my coaches, so now I'll just continue to build on my performance. There are certainly a few little things which we need to tweak from this regatta, so we will be working hard ensuring everything is ready to go in August."
In contrast Annalise Murphy was ecstatic to have won the medal race, elevating herself to bronze (the same result she achieved here last year). "I went out today knowing that I had to have a really good race and one of the girls in the top three had to make a mistake for me to win a medal, so I sailed as hard as I could and managed to get ahead on the first beat, then just pulling away from the fleet. It did mean I couldn't really effect what was going to happen in the race, so when I finished I just had to wait and the Chinese girl finished 8th which meant I finished third overall, so I'm delighted!"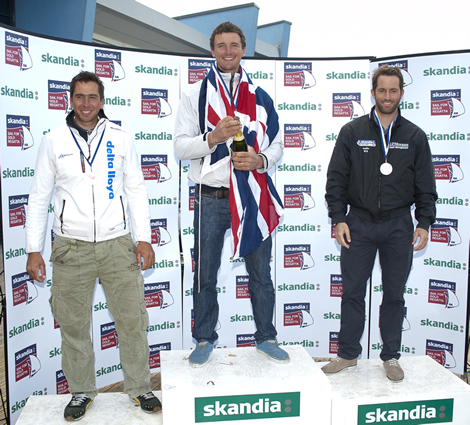 Finn - Ben's swim
The heavyweight bout in the Finn was left until last and held on a course within Portland Harbour. Runaway leader throughout this week has been Giles Scott, who with his towering physique has relished the mostly windy conditions following his 21st finish on day one.
Scott went into the medal race with a 12 point lead over second placed favourite Ben Ainslie. Ainslie got the better of the start, but Scott's clearing tack put him on the right side, and left Ainslie struggling to get back in the pack. With Scott blasting through to second on the run, Ainslie made an uncharacteristic error, capsizing at the leeward gate. Scott continued his great form to win the medal race and take the gold. Now it was all down to Zach Railey and Pieter Jan Postma to get more than five places between themselves and Ainslie to deprive the triple Olympic gold medallist of silver. In the end, Postma only managed fifth, enabling Ainslie to hang on the silver by just one point.
"It feels good – a bit of an interesting medal race to be honest," said Scott. "It was quite nice to be able to pull through and win it. In the end, Ben had a bit of a mishap and capsized which allowed me to focus on winning the race. I can't really complain I counted first and seconds so you can't really ask for much more and to be able to end with a win in the medal race is great!"
Ben Ainslie seemed to be in reasonable spirits despite the capsize. He maintained his silver, leaving him top of the pile of the Finn sailors going to the Games. "It wasn't the greatest race I've ever sailed in my life," he admitted. "It was a little bit embarrassing going for a swim. But sometimes these things happen thankfully it wasn't the Olympic Games."
As to why the capsize happened, Ainslie wasn't entirely sure. "I don't know to be honest. We were all pushing quite hard and I just got the wrong gust at the wrong angle on the wrong wave at the wrong time."
Ainslie praised his team mate and training partner. "Giles sailed fantastically and had a great series and I am really pleased for him to go out and show how good he is. It is fantastic to have Giles and also Mark Andrews and Andrew Mills and Ed Wright - we have got a whole host of guys in the top ten in the Finn world which is fantastic for me. I am very fortunate to have those guys to train with."
Ainslie is known to have been reasonably exhausted going into this regatta, coming so soon after his outstanding victory at the Finn Gold Cup.

Star prang
The results were not so good for Iain Percy and Andrew Simpson in the Star, racing inside the harbour prior to the Finns.
The Brits were one point ahead of Brazilian rivals Robert Scheidt and Bruno Prada going into the medal race.
Off the start line, the leading pair headed left, but it was the right that paid. Up the first beat the Brazilians, on port, attempted to pass ahead of Percy and Simpson on starboard and there was a collision between the two. Scheidt and Prada carried out their penalty turns but this left them at the back of the fleet from where they fought back to fourth, enough to gain them the silver spot overall behind Irish duo Peter O'Leary and David Burrows, with Percy and Simpson taking the bronze after finishing eighth.
When the Stars tied up to the dock there was talk of a protest following the collision and Scheidt was still fuming: "I did the penalty turns and I continued the race and if there is going to be a protest then let's go for it because I exonerated myself and if there is damage on his boat it is because of his [Percy's] own action, because I was across his bow and he didn't do anything to try to avoid me – he went for the hit. If there is damage then it is his fault. I am really disappointed about that because of that the regatta went another way and the Irish guy won..."
Percy gave us his side of the incident. "He [Scheidt] tried to cross us on port and he was never going to cross. So we tried to duck him, but couldn't when you are that blatantly trying to cross on port. He does it all the time. You don't let people go on such a short course – maybe on the bigger courses you let people go but on the tight courses you can't afford to push it like they did today."
Generally Percy was happy with their performance this week. "Things are coming together. We have good speed which has been our issue for a while, or once we sorted it for the last day. That is what matters and we'll keep working on it. We are very confident and a lot of good things came from it but we were still very scrappy today, so there is a lot of work to be done. We didn't know the course today which maybe is irrelevant because it's not an Olympic course for us, so we have an excuse there but we were scrappy around the race course. It wasn't an impressive display of racing in 20 knots so we are taking away a lot of things to work on."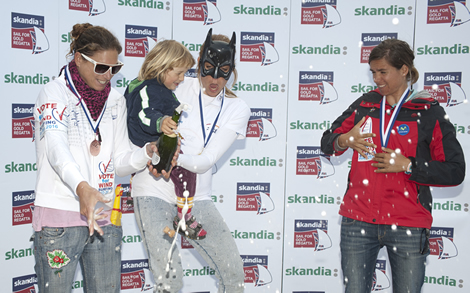 RS:X Women's dominatrix

Aside from Giles Scott in the Finns, the most outstanding (and delightful) success story this week came in the RS:X Women, where Poland's Zofia Noceti-Klepacka completely dominated. With a fourth as a discard and four bullets during the week, Noceti-Klepacka won today's medal race to finish a phenomenal 27 points ahead of second placed Marina Alabau from Spain.
Having just scurried over to the opposite side of the boat park with her sail on her head to water it and then returning, Noceti–Klepacka in her rapid fire English, with gesticulation aplenty, gave her reaction: "I've enjoyed it so much this week, the first day was the lightest, but overall I like it when it's windy conditions. There has been a little bit too much, especially Friday! But it's been a lot of fun, good training and I'm so happy I've won the competition. The top three of us are good friends, but also tight competitors - it's so close to the Olympics Games and everyone is so focused on training hard. I have fantastic training partners in the fleet and we are really good friends off the water.
"I think I know Weymouth well now, I was here last year for three months, and now focussed on increasing my physical strength, but there is more to learn! I know I like sailing here, and I like Portland." And she even likes Portland...
With a DNF, her discard, and a countable OCS, this was wasn't the best regatta for Britain's Bryony Shaw, who ended the regatta eighth after coming home fifth in the medal race.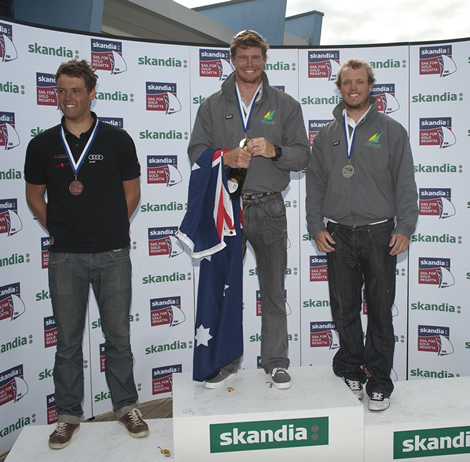 Laser - "Australian team racing"

Generally, as expected, it was a good day for Australia.
In the Laser, favourite Tom Slingsby won the medal race and the regatta overall, 17 points ahead of team mate Tom Burton, tied on points with Germany's Philipp Buhl.
Britain's Paul Goodison got off to a good start in the medal, following Slingsby around the top mark one boat length behind. But then the Australia started to cover him leaving Goodison vulnerable to the pack behind and as the wind pushed the fleet together on the final run, Tom Burton and Andy Maloney slid past on the line. This left Goodison having to settle for fourth, three points shy of the podium.
Slingsby commented: "The medal race couldn't have gone any better for us - Australia 1 and 2 - so we're really happy and it looks like I have the best training partner in the world heading into the Olympics. I am unbeaten here in Weymouth, but it doesn't really mean anything going into the Games, although it's a good confidence boost. I'm still trying to jump to another level in the next month and a half to make it really hard to catch me; if I don't keep on improving then they will catch me. I'm going to go back and work hard and hopefully jump that other level.
"The sailing here definitely suits me - the strong winds and big waves and a bit of everything with the conditions, whereas China was just really light and Goodison was the best in the light air, but hopefully this time I can knock him off!"
Of the medal race Slingsby added: "I thought If I'm going to stay in first place and Goodie was in second, as soon as he dropped back into second, first place can slow you down and then you never know – the pack can catch you. I just wanted to stay ahead of second and it happened to be Goodie, so I just was covering second place. I do think people will probably read a bit into it but it wasn't personal to Goodie! I was in first place, just covering second place."
But Goodison was upset. "A very frustrating race – started off well, built up a good lead with Tom at the front, which was all quite easy, but he then employed some 'team racing' tactics where he was more interested in trying to sort his mate out and slow me down which I was annoyed at. At the end I made a bit of a mess of it on the finish line so I'm quite frustrated now coming back to shore.
"It was windy, quite shifty but great racing conditions today. The real positives looking forward are the fact that I sailed a reasonable regatta but I made quite a few mistakes. The big positive is that there is only going to be the one guy at the Olympics who beat me today and he won't have his mate there in August to help him!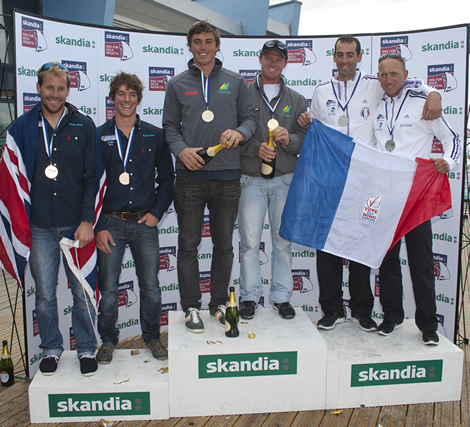 49er
Nathan Outteridge and Iain Jensen also secured Australia gold in the 49er, even though it was France's Emmanuel Dyen and Stephane Christidis who sailed a perfect medal race, leading from the start, with an impressive 300m lead at the line, to take the silver.
Fighting it out for bronze were the British crews with three competing in the medal race. Stevie Morrison and Ben Rhodes, the British Olympic representatives were in sixth place coming into the medal race. They stayed clean and finished second on the water, but it was not enough to beat their training partners, Dylan Fletcher and Alain Sign, who grabbed a sixth place on the water and the bronze medal, two points ahead of Morrison and Rhodes.
"That medal race was a bit closer than we probably would have liked, we did a great job of coming back through the fleet from ninth at the first mark to get back to fourth. We knew we had three laps and we just had to keep chipping away and we got there!" said Outteridge.
Jensen added: "It's been one of those weeks where it's been pretty windy and we didn't get a full series in, so it was a bit disappointing we didn't get to do much racing, and we only get to race against the top boats on one day – today. It was a bit tricky but we managed and that's five in a row for us now in Weymouth, so it's perfect prep for us and the Olympics. You definitely haven't seen everything of us yet, we've still got more training to go, and we still know there's rooms for improvement, but at the moment we're still the team to beat and we're going to make sure we are going to step it up again for the next event."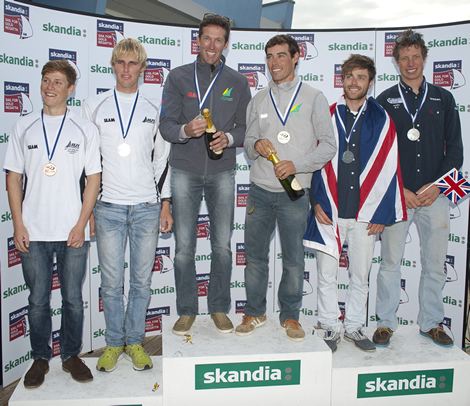 Third Aussie gold in the 470 Men
Australia also came out on top in the 470 Men, where multiple World Champions, Mat Belcher and Malcolm Page have been dominant throughout the week, but with Britain's Luke Patience and Stuart Bithell closing in on them.
Off the start-line it was the Brits that got the initial jump, controlling the Australian pair up the first beat and rounding the windward mark just ahead. However Belcher and Page managed to squeeze low round the mark getting inside. From there the Australians sailed away to win the medal race in convincing fashion. Patience and Bithell held second to give themselves the silver medal, while bronze went to the up-and-coming New Zealanders Paul Snow-Hansen and Jason Saunders, who finished the medal race with a solid fourth.
Page, the Beijing gold medallist, commented: "This is our first win in Weymouth, we've had a few close calls and quite a few silver medals so far, but looking at our whole year it has been phenomenal, the best preparation you could ever ask for and it's great to be in this situation."
Luke Patience said: "It was an exciting race – offshore and shifty at the Nothe with some good breeze. We needed to try and get a boat in between us and the Aussie boat, and the fact that we were first and second at the windward mark by quite a long way meant it was going to be very difficult to do! Overall we're happy and it fills us with confidence with just under 50 days to go until the Games. We are certainly getting closer to the Aussies and have a few secrets up our sleeves which we will be working on between now and the Games. We can certainly take confidence away from this regatta."
Stuart Bithell added: "It was a shifty race out there today, nice breeze and quite flat which we haven't had all week. It feels brilliant, we took a little bit of a gamble earlier in the year to pull out of a few regattas and make this one the focus, so it's nice to come away being successful!"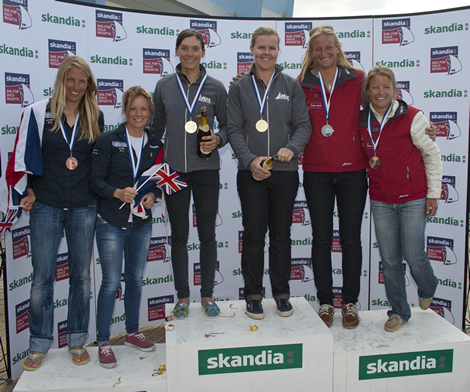 New Zealand's top 470 Women
The Antipodes also came through in the 470 Women where the medal race was won by the USA's Amanda Clark and Sarah Lihan, but New Zealand's Jo Aleh and Polly Powrie came home third which, after they had taken the lead on breezy Thursday with two bullets, was enough to secure them a convincing gold, 20 points ahead of the Americans in silver.
Coming ashore Jo Aleh said: "Today's racing has just proved we are on track for the Olympics, but it was so good to sail here in the conditions again and to have the time here before the Games."
Britain's World Champions, Hannah Mills and Saskia Clark had to put up with bronze, finishing a point behind the US team after their tiller extension broke moments before the start.
"It was some pretty ugly sailing we did out there but we just managed to scrape the bronze at the last windward mark, so just happy to come away with a medal," said Clark. "We had a few little technical issues with the tiller extension falling off just before the start, so we had to tape that back on which put us right at the back of the fleet. We're happy overall but we're very disappointed with that piece of equipment failure which is pretty inexcusable really. I think we got a bit lucky that it didn't cost us coming away with a medal as it probably should have."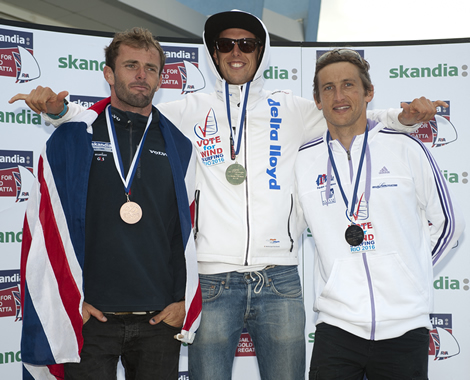 RS:X Men - Dutch comes through
In the RS:X Men, going into the medal race on the Nothe course, Frenchman Julian Bontemps held an eight-point lead over Dutchman Dorian van Rijsselberge.
The RS:X boards flew round the four-lap windward leeward course, reaching speeds of 25 knots, and it was van Rijsselberge who took control, winning the medal race. And with Bontemps only finishing fifth, it left the pair on 31 points a-piece, the tie break going to Dorian van Rijsselberge with his medal race win. It gave the Netherlands the gold medal, France the silver, and Britain's Nick Dempsey took the final podium position with a third in the medal race.
Dorian Van Rijsselberge commented: "It's been an interesting week; a couple of mistakes by myself and couple of little shockers, but in the end we kept it together and today was a beautiful day out there. I knew what I wanted to do today – go the left side of everybody and start racing my race and not caring too much about the other people. I need to step things up big time though, going by the scorecard, I'm showing a lot of inconsistencies still so not quite super good yet but I'll get there.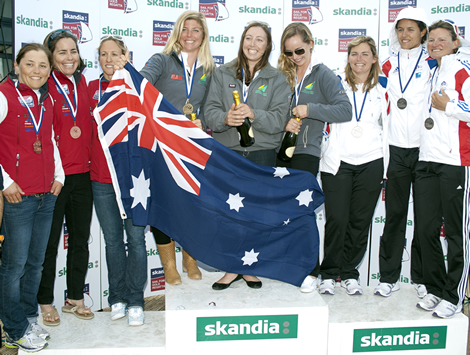 Women's Match Racing: Another gold for Australia

The Women's Match Racing was forced to make an early start with quarter finals, semis and the final all held today.
They began at 08:00 and the action was constant from then on. All of the quarter final bouts were won outright 2-0: the Russians, Ekaterina Skudina, Elena Oblova and Elena Siuzeva beat Spain's Tamara Echegoyen, Angela Pumariega and Sofia Toro; Clare Leroy's French team of Elodie Bertrand and Marie Riou took down the New Zealanders, Stephanie Hazard, Jenna Hansen and Susannah Pyatt, while the USA's Anna Tunnicliffe, Molly Vendemoer and Debbie Capozzi beat Finland's Silja Lehtinen, Silja Kanerva, and Mikaela Wulff and finally and most devastatingly for the Brits, Australia's Olivia Price beating Lucy MacGregor's team.
Onto the semi-finals with barely a pause for breath and this time it was Price's team that beat the Russians – again, the score was two races to nil; while Claire Leroy and the French took down Anna Tunnicliffe's Americans with the same score line. Then in the final it was Price that beat Leroy two races to nil, leaving Tunnicliffe to take the single race Petite Final and the bronze medal from Ekaterina Skudina.
Olivia Price commented: "We're really excited to win here of course. It's always good to get a win, but to have it here at the Olympic venue is really special. We had a really long day, but we really enjoyed it.
Britain came out the top nation this week. Of his team's performance this week RYA Olympic Manager, Stephen Park, surmised: "It's been a successful week to come away with medals in seven Olympic classes and all three of the Paralympic classes, it sets up well to hone in on the performances in the final build up to the Olympic and Paralympic Games and go in confident that we can hit our targets.
"It's really confirmed our thinking that we are certainly medal competitive in all thirteen of the Olympic and Paralympic classes and that if you make any mistakes then you will be punished. Sailors who have made mistakes generally didn't medal this week and those that didn't got on to the podium which is what we expected."
Back to top
Back to top