Could Britain win London 2012 Women's 470 Gold?
Could British Olympic sailing fans dare hope that in Weymouth this August, Skandia Team GBR might score its first ever medal in the 470 Women's event? Following Hannah Mills and Saskia Clark's victory at the 470 World Championship in Barcelona last weekend, such hopes of the British women claiming not just a medal, but the gold itself, is now very much alive.
The duo of Mills, 25, and Clark, 32, who were only united in the 470 14 months ago, didn't make life easy for themselves at the Worlds being OCS in the first race. But they fought back, as Mills explains: "We are very good at dealing with the unexpected or unprecedented things that happen and we really had to pull together for the next day's racing to make sure we were back on our game and not be too stressing about it too much."
Unfortunately there was only one discard at the Worlds, so they had to keep their noses clean from then on. Mills continues: "With another 12 races to go, we had a long week ahead of us, but we know we are good at overtaking boats and we are quite a consistent team, and we knew we had it within us to get the results and keep chipping away at the other boats and wait for them to mess up and they did eventually and it gave us the opportunity to pounce."
Matters were made no easier when on the second day when the Dutch double world champions, Lisa Westerhof and Lobke Berkhout, scored three straight bullets. "It is hard when another team comes out and does something like that but you can't control it if anyone else does it," says Mills. "You just have wait for your conditions."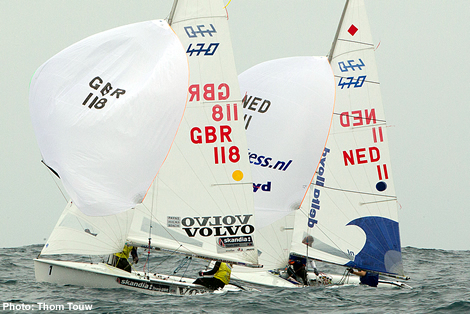 For the rest of the championship Mills and Clark put in a solid series after this, including six podium finishes and three bullets (they also won the first race they were black flagged in) and this enabled them to start last Saturday's medal race tied on points with the Dutch, only to be presented with something of a lottery race course. As Mills put it: "It was pretty light winds, massive waves and quite a bit of tide, so it was a pretty stressful race really. Everyone was pretty close round the windward mark and we were right in the mix."
But they did the business, finishing third with the Dutch in fourth, enough for them to secure Britain's first ever Women's 470 World championship title by two slender points.
"We knew we could win the Worlds," says Mills, "but we also appreciated that our bigger goal was the Olympics. So we wanted to make sure we were still learning as much as we could and not get so wrapped up in it that we would be burned out for the next month and a half."
Saskia Clark in particular was overwhelmed by having won. Her first 470 Worlds was back in 2000 and she and her Beijing helm Christina Bassadone came close in 2005 when they finished on equal points with the Dutch.
Of her confidence going into the event, Clark recalls: "I felt happy with the training we'd done, but it was Weymouth training. We had four days training in Barcelona beforehand and we thought it'd be quite a venue-specific event - you hear lots of stories about waves ricocheting off the wall and a real sloppy chop. We thought we might be down on preparation time for Barcelona. In the end we had a real mix of conditions.
"When Hannah and I were talking over the winter about our calendar I said that I definitely wanted to win a 470 World Championship, before I got out. We definitely wanted to win a regatta before the Games, because we felt we were slowing becoming silver medallists all the time and we wanted to break that."
That Mills and Clark were able to fight back from the OCS and then keep their cool to pull through to claim the title was a sign of the maturity they have gained over the relatively short duration of their partnership.
"In a doublehanded boat it is about teamwork and building each other up again and not blaming someone," says Mills. "The OCS was definitely my fault but Sas is really good at not blaming me. That makes a huge difference."
Mills seems to have matured while sailing with Clark. The fact that they are such different personalities also helps – Mills, the young talented aggressive Welsh girl, a former 420 World Champion; Clark, calmer, older, more experienced and with the Beijing Games under her belt. Or Gwynneth and Portia as we understand they have been nicknamed (Clark is originally from Essex).
"She is such a calming, chilled out influence and it helps me get on with what I know I am good at," says Mills of her crew. "She has made me appreciate how it is best to be in the boat and how to get the best out of each other and definitely the calmer approach is best."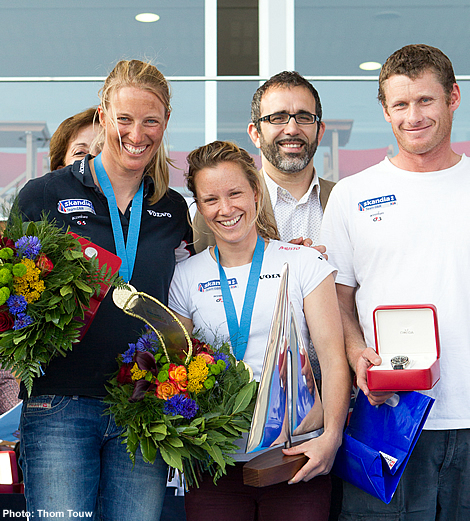 They are also likely to have benefitted from having Joe Glanfield (above right) as their coach, himself a double 470 Olympic silver medallist, who has both intimate first hand knowledge of the boat and of the pressures the Games place on competitors.
Glanfield took over coaching duties of Mills and Clark from Steve Lovegrove after they were selected. However he had worked with both previously, coaching Clark when she sailed with her previous helm Sarah Ayton, while he has worked with Mills since her mid-teens prior to her 420 World Championship win in 2006.
"They are a really great team to work with," says Glanfield. "I think as a threesome we have been getting on really well. We have a good enough relationship so that I can be absolutely blunt with them about what they are doing well and what they are doing badly and they are really receptive to that and they listen and go away and think about it. So it has been a really productive environment and I think it hopefully will carry on up until the Games like that."
He adds that having coached Hannah from her days as a top class youth sailor, it is nice to now be with her at the pinnacle of her sailing career, helping her to achieve her best.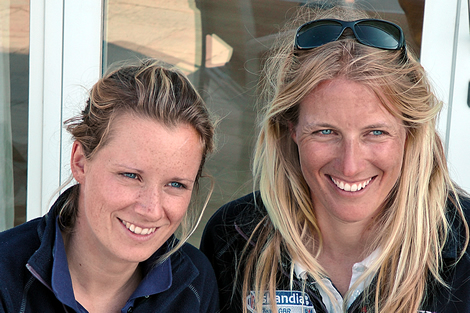 Glanfield says that 470 pairings who are such different characters can often prove a successful formula. "What is key is that they have a good respect for each other and what they bring to the boat. That is fundamental particularly when you have different personalities. It is means you respect each other's way of doing things and the unique things that they each bring to the boat. I think the perfect thing for them is that Saskia has that bit more experience and she brings a real consistency for Hannah and she is also very talented at sailing a 470 with years and years of experience - I think she is the best crew around the boat. Hannah is a fantastically talented sailor as well and she brings a lot in terms of her boat-on-boat decision making which is really good and really accurate and she is a really accurate steerer of the boat."
Glanfield believes that Mills has grown both personally and as a sailor over the last months because she feels happier in her situation. "She feels that she is sailing with someone that is really good and could do well at the Olympics and we all get on very well, so I think Hannah has matured because she feels happy with her surroundings and her campaign and how it's going," says Glanfield.
As to the relevance of winning the World Championship just before the Worlds, in addition to the accolade, Glanfield says that it is also an important indicator that they are on the right track with their training. "At this point in the Olympics that is key. You start to build momentum and it is clear in your mind what you are trying to achieve and where you are trying to go for the Olympics. For those that targeted the World Championship and didn't get good results, that starts to cloud."
As to specifics he's helped them with, Glanfield adds that he helped them with strategy. Before they were a little too inconsistent and took too many risks. He taught them to sail more conservatively and take smaller risks to put together more consistent results.
"They are really talented at their downwind sailing, that hasn't needed much work. The other that I am trying to bring to them is preparing them for the Olympics: that emotional level where they are very objective and very fact-based so that they can sailed under pressure in a very logical way. That is a challenge for every single sailor at the Olympics Games: it is really hard when you have got your dream essentially staring right at you in the face to still sail patiently and logically and it is going to be particularly important at a home Olympics where there is so much expectation. Neither of them are medallists yet and so it is important to get that right going into this Olympics."
Aside from racing on home waters, another strong point to Mills and Clark's campaign is that they appear to be good all-rounders. Mills says that the perception of the Weymouth venue by foreign teams is that it is a windy venue, but it could so easily also be light, so this should benefit teams who are good across the range of conditions.
470 sailors tend to keep details of their weight a closely guarded secret, but despite Mills no longer being the waif she once was, they are still lighter than most of the top Women's 470 teams. Typically they hold their own upwind, but they have proven to be one of the fastest teams downwind. Their lightweight is an advantage when conditions go light, but Mills says they are still in the mix when it gets windy, although these are conditions in which the Dutch have regularly excelled.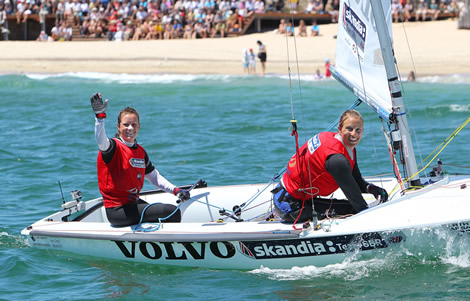 Heading for London 2012, they have now almost finished selecting their equipment. They typically use Mackay hulls (of which they have three, one for sale), while their sails are coming from North Japan. Still to be finalised is their mast selection, a matter made no easier by their currently having 15 of them. "It is ridiculous," says Mills. "We somehow seem to be acquiring masts, but it is good - there is so much you can do with equipment. Because you can have different mast bends and different centreboard bends, that is why there is a range of different sizes of people all racing at the top of the fleet. It adds another element to the racing."
With the World Championship done and dusted, between now and the Games there is just one regatta left – Skandia Sail for Gold in 10 days' time. This will obviously be held in the Olympic venue and will provide the last gauge of form.
They may be selected and the newly crowned World Champions, but Mills says that Sail For Gold will still be of vital importance. "Getting ourselves in the right place mentally, having just won the Worlds, is going to be a big deal. It is very easy to slacken off a bit after winning a major event and get a bit relaxed, which is exactly not where we want to be right now. We need to keep proving that we are still one of the boats to beat and that we are still up there in all of the conditions Weymouth has to offer. So I think it is a big deal. People will be made or broken I think at Sail for Gold in terms of the Olympics. I don't think Sas and I are one of those teams – whatever result we get we'll still find a way to be in the right place for the Olympics. But if some people do badly I think that could be it for them - it is very hard to recover sometimes that close to the Games at the Olympic venue from not doing a good result." Yicks.
Glanfield says he doesn't have great expectations for them going directly into Sail for Gold with only a two week gap since their World Championship victory. "To be the first British girls ever to win that World Championship it is a big emotional thing. It is something they are delighted to have done, so to get themselves mentally back to the right emotional level, back focussed and sailing their best in only two weeks is a huge challenge and it will be interesting to see if they are up to that challenge. I have no expectations of them winning Sail for Gold. It is just whether they can go and sail well and learn from it. I think they could win Sail for Gold, but the main thing is just to get back to sailing well and sailing how they normally sail."
In addition Sail for Gold for the British team will be something of a trial run for how it will be for them during the Games, as the whole team is staying at Portland House.
Apart from Sail for Gold, Mills says that they have their schedule between now and the Games planned out almost to the minute. This includes a week off in early July, although she admits that this will be quite hard "when you are focussed so entirely on one thing, but we recognise how importance it is to be in the right frame of mind and not burned out, so that is a key part of our program." Otherwise the sailing, gym work, boat preparation and talking through 'what if' scenarios, will continue as normal.
However Clark agrees that the week off is vital: "I think it is really important that we have a bit of down time after the Worlds. No matter how much this summer is about the Olympics, it is still a mega big deal becoming World Champions and we have to give it some time to let that sink in and be fresh and ready for Sail for Gold."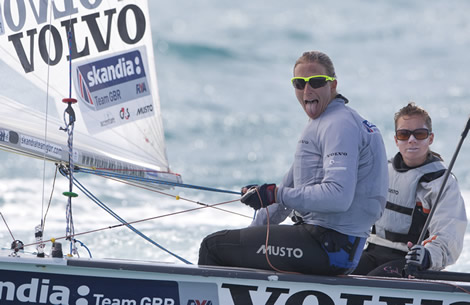 Back to top
Back to top