Gunning for gold in the Laser Radial
With the last crop of Skandia Team GBR selections, so Alison Young has been chosen to represent Britain in the Laser Radial in early August at the London 2012 Olympic Games.
While the British team is strong in most classes and, when Shirley Robertson won her long awaited gold medal in the Europe in 2000, the women's singlehander was once upon a time one of them, following the change to the Laser Radial it has become one of Britain's weaker events with Penny Clark finishing 10th in Beijing and Laura Baldwin coming home 23rd in Athens.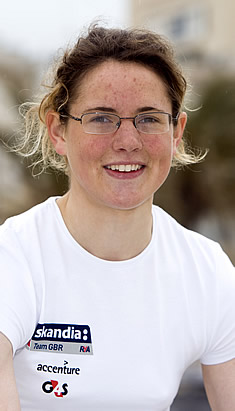 Could this change with the woman who turns 25 later this month and heralds from Bewdley, near Kidderminster in darkest Gloucestershire?
Ali Young got into sailing on nearby Trimpley Reservoir after her father did some sailing lessons there. She began in Optimists. "I did the racing at the club there and then there was a Midland Optimist circuit, I got into that and it snowballed from there," she says.
Young was recruited into the Optimist squad in 2001 and spent a year in that before graduating up to the Topper for 18 months and finally reaching the Radial when she was 15 – first in the Laser Radial Transitional Squad before moving into the youth squad. "I went to the Youth Worlds in 2005 and got a bronze medal there and then got on to the Development Squad," she says.
So her Olympic steed is a boat she has been racing for around a decade.
Her first World Championship was in 2005 when she came home 27th and she has competed at every one since.
Wisely, she chose to complete her degree at Southampton University where she finished up in 2008, achieving a First in Civil Engineering. "It was quite a hard balance while I was at uni to get enough racing in and never really progressed that much, but I went full time after I graduated and its really been over the last 12 months that I have moved forward a lot."
Last year she finished seventh at Skandia Sail for Gold, but teammate Charlotte Dobson was fourth and as a result got the single Laser Radial slot at the Olympic Test event. Since then Young has shown a marked improvement - apart from a 10th place in Palma this year, the rest of her results have been in single figures. But throughout the fight for the GBR slot again her Scottish rival has been a tough one: Young came home second at the Delta Lloyd Regatta in 2011 to Dobson's third, 7th at Perth 2011 to Dobson's 16th, fourth at the Rolex Miami OCR to Dobson's fifth. She was beaten by Dobson in Palma, but dominated in Hyeres, leading in the breezy conditions during the first few days to end up fourth overall to Dobson's 9th.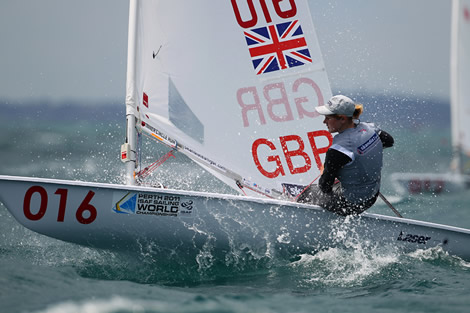 As to why she's improved Young says: "A bit more time on the water and a real clear program about what we are trying to address on the technical side."
A significant shot in the arm for the British Laser Radial squad was getting the eminent Hugh Styles in as coach a year ago. "Hugh is a really good coach and pushes us hard which helps us progress forward and it is just a good squad to train with," says Young.
However the GBR team selectors leaving their decision over the Laser Radial until now has been a smart one, and has certainly encouraged Young and Dobson to raise their respective games as they compete for the slot. "It is really good that we have trained together all this winter," says Young. "It helps to push each other forward and hopefully we can still train together for the Games and just keep pushing forward."
In the Laser Radial we are seeing fairly extreme examples of some sailors peaking for one regatta while other have been able to maintain their top stop consistently. In the latter camp are Marit Bouwmeester and Evi van Acker who have dominated the Laser Radial class for the last two years, giving the perception that the only fight left is for bronze. But the Laser Radial seems to be a class where a number of sailors will peak specifically in time for the Games - could it be that they will outclass Bouwmeester and van Acker?
Hugh Styles provides his take: "People come to form at different times, and some can't maintain a consistency and others have to build towards a peak regatta. While Marit and Evi were basically selected all along, the trials has a massive influence and working towards a trial selection means that you build up to a crescendo which you have to try and maintain from there."
As to Young's improvement over these last months Styles says: "I think she has always trained pretty hard and been very very focused. Fortunately we have been able to get some consistency with the support for them over the last 12 months - they had a variety of different coaches up to that point - which has made a difference. She is a really hard worker and she is a very intelligent person as well. The last 12 months have helped her focus in on exactly what she wants to do and put all of that effort in the one direction. She has just been improving all the time."
Transforming a top class Laser Radial sailors into one capable of winning an Olympic medal is not an easy one but is something Styles understands having previously competed at the Games at Sydney, where he finished 6th in the Tornado with Adam May. He is also an accomplished Laser sailor (5th in the Worlds in 1997).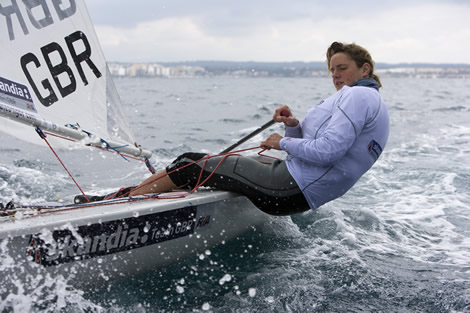 "As with most Laser sailors, they are very good at sailing the boat and the technique side," he says. "Where they need a hand is in seeing the bigger picture and having some more worldly wide experiences of the tactics and racing strategy, how you are actually racing the boat around the course, fleet management, different wind characteristics and different scenarios on the race track. So we have gone from more technique to more tactical and strategic discussions, while still pushing forward on a lot of the speed-orientated technique work."
Her performance in Hyeres demonstrated that Young is most capable when the breeze us up. "Breeze is one of my strengths," she admits. "And fitness is one of my strengths and I have done quite a lot of work on technique, so I am pretty quick around the race track. The light stuff has never been my strength, but we are moving forward with that and we keep working on the decision-making and keep progressing."
Styles points out that every sailor has their preferred conditions, so it is about raising every dimension to their racing. "For Hyeres we made some little tweaks and changes in the last three weeks prior to that which helped to make for more consistency in the breezy stuff, so it was nice that Palma had been a range of conditions, so we could work on the light, tactics and strategy. I feel like the whole ball game is coming together."
Today is the start of the Laser Radial World Championship in Boltenhagen on Germany's Baltic coast. Charlotte Dobson is competing there too, as are others in the GBR Laser Radial squad, Chloe Martin and Andrea Brewster (Hannah Snellgrove is at uni still), so it will be interesting to see if the selectors made the right decision.
Styles concludes: "She has got every opportunity to do as well as the best as the world..."
"I think the gap is closing. We keep making improvements and I don't see any reason why we can't be contending," says Young.
After the Worlds Young and the rest of the squad will decamp back to Weymouth and home (she lives in Portland) to prepare for Skandia Sail for Gold and the Games themselves.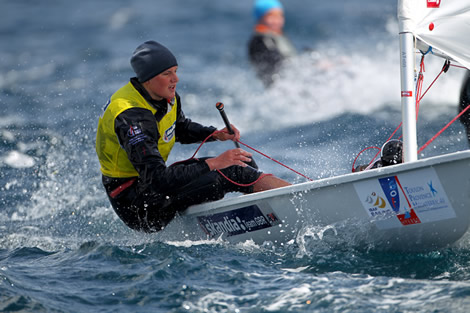 Back to top
Back to top