Straight bullets in both classes
Perfect sailing conditions ensured Barcelona lived up to its reputation as a spectacular sailing venue on day two of the 470 World Championships.
Racing got underway in 12 knots building to around 15-17 knots as the fleets completed race 4, with fairly wavy conditions.
It doesn't get better than three wins from three races, which is exactly what Lisa Westerhof/Lobke Berkhout (NED) delivered in the 470 Women blue fleet, matched by Mat Belcher/Malcolm Page (AUS) racing in the 470 Men yellow fleet.
After today's racing all fleets have been re-seeded, so tomorrow the 149 teams competing will be up against a different set of opponents. Just two more races tomorrow are scheduled to complete the qualification series and determine the split for the Gold and Silver fleets in the 470 Women and Gold, Silver and Bronze fleets in the 470 Men. The race throw out will come into play after five races, so expect some leaderboard shuffling.
Tuesday will also be a crucial day in determining some of the next nations qualifying to the 2012 Olympic Games.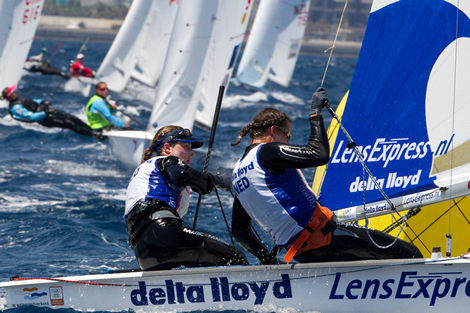 470 Women

Two time World Champions (2009 and 2010), Lisa Westerhof/Lobke Berkhout (NED) have no errors on their scorecard and very simply were in control of each of today's three races in the 470 women blue fleet. They went to the right of the course in every race and won convincingly.
"It was a lot of fun, nice waves, nice breeze and the wind was picking up a little bit," said Westerhof. "Race 4 we were leading from the outset, but the other two races were a battle."
Scoring a near equivalent result in the yellow fleet were Gil Cohen/Vered Bouskila (ISR) with a 2, 1, 1., ending day 2 second overall, two points behind the Dutch.
Rounding out the top three are the world no1 ranked pair Ai Kondo/Wakako Tabata (JPN) with a 1,5,2 scoreline.
There was an error filled race 4 for defending World Champions, Tara Pacheco/Berta Betanzos (ESP). After a port/starboard infringement, they set off on starboard to the leeward of the fleet, then tacked onto port go to the right hand side of the course, but a collision with the Malaysian team resulted in a near capsize and two penalty turns for the Spanish, who ended the day in 11th place.
China's Xu Xiaomei/Yu Chunyai are intent on qualifying their nation for London 2012 in the 470 Women and had a solid 10,10, 3. They are currently the top placed unqualified nation in 13th overall. Other unqualified nations currently tantalisingly close to nation qualification include Russia, Denmark, Poland, Croatia, Austria and Estonia.
One of the youngest helms competing is Lara Vadlau of Austria, who has only recently made the transition from the 420 to the 470, but is a 2011 ISAF Youth Sailing World Championship gold medallist. Racing with crew Eva-Maria Schimak, she is hoping to qualify Austria and is poised in 25th overall with a 15, 16, 14, 6 race series.
"The plan is to sail like normal, have fun and qualify," she explained. Dressed in colourful sailing attire, Vadlau is counting on her shorts. "They are supposed to be my lucky shorts, because they look nice and I like them. It is a thing in my mind that maybe when I wear my lucky shorts it is helping us," she said with a big smile.
Hannah Mills/Saskia Clark have a reputation for making things hard for themselves, or as they would put it, "we relish a challenge". OCS in race 1 yesterday, was exchanged for a solid, 2,7,7 scoreline today. Clark seemed happy, explaining: "We had an alright day – three top tens. Trying to keep it a bit tidy after the disaster yesterday." Before Mills chipped in: "We are good at having disasters on the first day!"
With Olympic qualification on the minds of many, for Rike Belcher, who will be representing Germany at the Olympics with helm Kathrin Kadelbach, the 2012 470 Worlds and 2012 Olympics are bitter-sweet. "For me it is a bit sad as in 90 days my Olympic career will be over," explained Belcher, who plans to focus on her career and a family. Solid racing so far positions the pair in 7th overall.
Results - top 10 after four races
| | | | | | | | |
| --- | --- | --- | --- | --- | --- | --- | --- |
| Pos | Sail no | Crew | R1 | R2 | R3 | R4 | Tot |
| 1 | NED 11 | LISA WESTERHOF/LOBKE BERKHOUT | 6 | 1 | 1 | 1 | 9 |
| 2 | ISR 311 | GIL COHEN/VERED BOUSKILA | 7 | 2 | 1 | 1 | 11 |
| 3 | JPN 1 | AI KONDO/WAKAKO TABATA | 4 | 1 | 5 | 2 | 12 |
| 4 | NZL 75 | JO ALEH/POLLY POWRIE | 3 | 3 | 4 | 2 | 12 |
| 5 | FRA 4 | INGRID PETITJEAN/NADEGE DOUROUX | 1 | 5 | 4 | 5 | 15 |
| 6 | FRA 9 | CAMILE LECOINTRE/MATILDE GERON | 1 | 8 | 3 | 5 | 17 |
| 7 | GER 21 | KATHRIN KADELBACH/FRIEDERIKE BURNET | 2 | 7 | 6 | 4 | 19 |
| 8 | ITA 23 | GIULIA CONTI/GIOVANA MICOL | 15 | 3 | 2 | 4 | 24 |
| 9 | GBR 862 | SOPHIE WEGUELIN/SOPHIE AINSWORTH | 2 | 4 | 11 | 9 | 26 |
| 10 | ARG 8 | FERNANDA SESTO/CONSUELO MONSEGUR | 5 | 7 | 9 | 7 | 28 |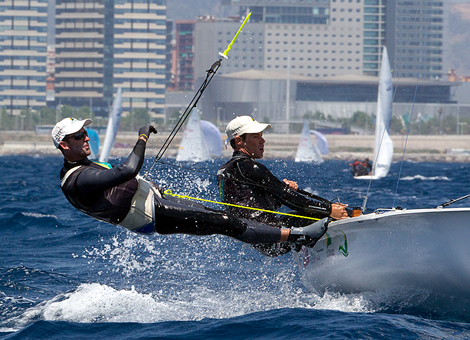 470 Men
Mat Belcher/Malcolm Page (AUS) demonstrated why they are two-time World Champions today, storming to victory in all three races, and sent out a clear message they are the team to beat here at the 2012 470 World Championships.
Belcher commented: "To get those kind of results at a World Championship, you couldn't ask for anything more. We are happy we had a bit of wind today and the way we were sailing felt quite stable and we were into a groove. We worked out that at the last two Worlds we have done the triple as well. It is something you don't expect as you sail race by race and we were lucky today to get the three wins."
In the 470 Men red fleet, Alavaro Marinho/Miguel Nunes (POR) had the most consistent form, with a 2,2,1 and are now positioned 6 points behind the Aussies in second overall.
Croatia's Sime Fantela/Igor Marenic, the defending bronze medallists, dominated in the blue fleet and are in third overall just one point behind the Portuguese.
Behind these leading boats, the battle is again on for Olympic qualification. Currently the highest placed unqualified nation is Russia, with the Sheremetyev brothers Mikhail and Maxim 13th. Two more good results in the bag tomorrow and they should have done enough to qualify their nation.
Not far behind are the teams from Canada, Ireland, Korea, South Africa, Turkey and Slovenia who are currently leading the charge of the nations gunning for Olympic selection, but there are still two more races to the final series, which itself consists of a further six races.
An impressive race day for Canada's Luke Ramsay/Mike Leigh with a 2,1,4 scorecard. "They were challenging conditions and we were pretty fast uphill and really working on our speed. Once we got out in front, it was much easier to control the fleet downwind. It was really good and we are really happy," explained Ramsay.
South Africa's Team Race Ahead also had great form with a 13,4,7 and led the red fleet to the windward mark in race 3, before dropping back to finish fourth overall. Jim Asenathi/Roger Hudson were particularly delighted with race 3, as Jim explained, "We had a great start, we thought we were over, but other boats went back and the flag went down, so we knew we were clear. We then just put our heads down and hammered the boat and made some good calls upwind. At a 470 World Championships to round the top mark first was a good moment for us and a first."
If the South African team keep the same pace on tomorrow, they should find themselves safely through to the gold fleet.
Results - top 10 after four races
| | | | | | | | |
| --- | --- | --- | --- | --- | --- | --- | --- |
| Pos | Sailno | Crew | R1 | R2 | R3 | R4 | Tot |
| 1 | AUS 11 | MATHEW BELCHER/MALCOLM PAGE | 1 | 1 | 1 | 1 | 4 |
| 2 | POR 1 | ALVARO MARINHO/MIGUEL NUNES | 5 | 2 | 2 | 1 | 10 |
| 3 | CRO 83 | SIME FANTELA/IGOR MARENIC | 5 | 1 | 4 | 1 | 11 |
| 4 | FIN 7 | JOONAS LINDGREN/NIKLAS LINDGREN | 3 | 3 | 1 | 4 | 11 |
| 5 | GRE 1 | PANAGIOTIS MANTIS/PAVLOS KAGIALIS | 2 | 2 | 6 | 4 | 14 |
| 6 | FRA 44 | PIERRE LEBOUCHER/VICENT GAROS | 1 | 3 | 9 | 3 | 16 |
| 7 | ESP 9 | ONAN BARREIROS/AARON SARMIENTO | 8 | 3 | 5 | 2 | 18 |
| 8 | AUS 13 | SAM KIVELL/WILL RYAN | 2 | 7 | 5 | 6 | 20 |
| 9 | JPN 4 | RYUNOSUKE HARADA/YUGO YOSHIDA | 7 | 4 | 4 | 6 | 21 |
| 10 | GRE 165 | PANAGIOTIS KAMPOURIDIS/ESFSTATHIOS PAPADOPOULOS | 8 | 4 | 9 | 2 | 23 |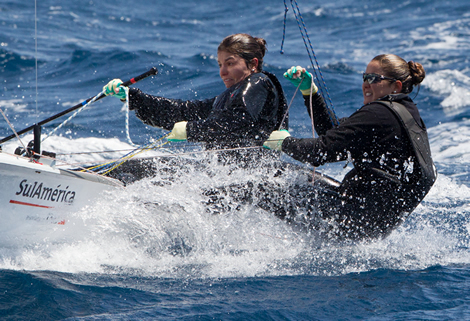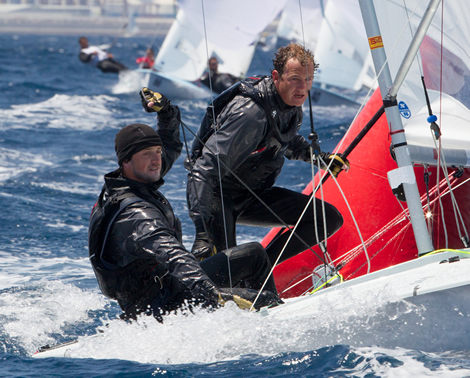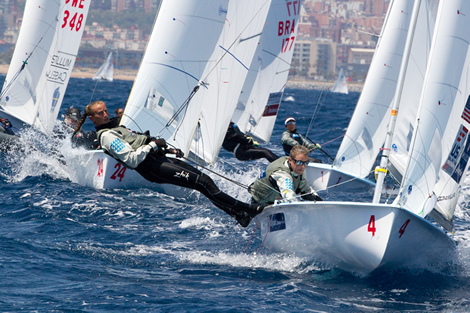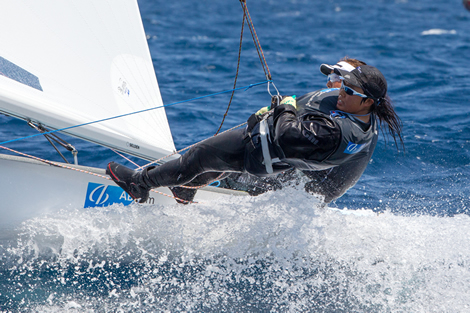 Back to top
Back to top