Aussie onslaught
Surprise, surprise... Australian sailors Nathan Outteridge and Iain Jensen have taken the lead on day three of the Seiko 49er World Championship in Zadar, Croatia.

Outteridge and Jensen went into the final three qualifying races today third overall, just three points off the lead, with the pair having their best day of the regatta so far. The defending World Champions won the opening two races of the day before finishing second in race three to jump into the lead and open up a four point gap on German sailors Tobias Schardewaldt and Hannes Baumann.

"Today was great for us," said Outteridge. "We were able to execute our plan in every race and had good speed in the light air. The results today clearly show we had the speed when we needed it.

Outteridge said that part of the reason for their improved results on Wednesday was due to getting off the line better in all three races. "We just had better starts today," he said. "We were able to get out of the middle of the line in good shape and go on from there. I think the racing will step up a gear tomorrow. The wind is forecast to be light again so it's going to be very close racing."
Second placed Hannes Baumann commented that they had had "light conditions, not that breezy with around 5-9 knots. We scored an 8th in first race and managed to win the next race; had a short lunch and went back out. We went out to Course B and we thought we'd have much more wind and would pick up like yesterday, but it didn't. But we had lovely sailing, just beautiful."
When asked about the competition on the race course, he continued saying, "The nations that are qualified (for the Olympics) I think they are racing quite similar to normal racing. Those countries that are aiming for one of the open spots are pretty tense and fighting pretty hard."
The final five teams have now qualified their countries for London 2012 in the 49er. At the end of the qualifying series the following countries have punched their ticket to Weymouth; Bermuda with Jesse and Zander Kirkland in 8th; Japan's Yuko Makino and Kenji Takahasi
in 22nd; Canada's Gordon Cook and Hunter Lowden in 23rd; Dionisis Dimou and Mihalis Pateniotis of Greece in 24th and rounding out the Gold fleet, Pietro and Gianfranco Sibello of Italy in 25th.
The forecast for tomorrow is for 8-12 knots and once again, clear skies.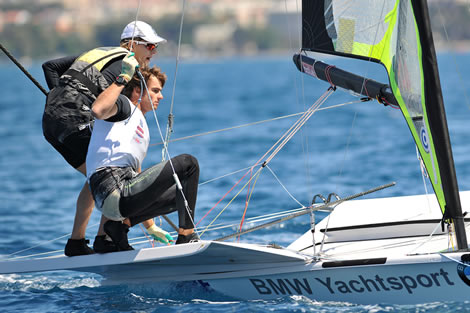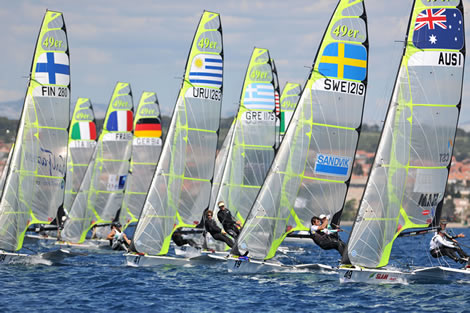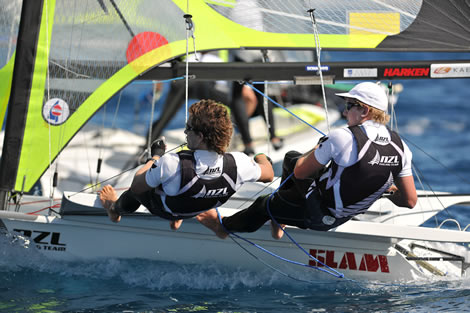 Top 50 results:
| | | | | | | | | | | | | | | |
| --- | --- | --- | --- | --- | --- | --- | --- | --- | --- | --- | --- | --- | --- | --- |
| Pos | Helm | Crew | Nat | R1 | R2 | R3 | R4 | R5 | R6 | R7 | R8 | R9 | Tot | Net |
| | | | | | | | | | | | | | | |
| 1 | Nathan Outteridge | Iain Jensen | AUS | 3 | -11 | 4 | 3 | 5 | 2 | 1 | 1 | 2 | 32 | 21 |
| 2 | Tobias Schadewaldt | Hannes Baumann | GER | 2 | 3 | 5 | 1 | 3 | -8 | 7 | 1 | 3 | 33 | 25 |
| 3 | Federico Alonso Tellechea | Arturo Alonso | ESP | 6 | -8 | 1 | 4 | 6 | 4 | 1 | 4 | 2 | 36 | 28 |
| 4 | Lukasz Przybytek | Pawel Kolodzinski | POL | 1 | 4 | 5 | 4 | -12 | 3 | 1 | 11 | 2 | 43 | 31 |
| 5 | Peter Burling | Blair Tuke | NZL | 2 | 7 | 2 | -8 | 7 | 6 | 3 | 3 | 4 | 42 | 34 |
| 6 | Peter Kruger-Andersen | Nicolai Thorsell | DEN | 2 | 4 | 12 | 4 | 8 | 1 | 7 | 2 | -18 | 58 | 40 |
| 7 | Manu DYEN | Stephane CHRISTIDIS | FRA | -12 | 6 | 3 | 2 | 1 | 10 | 6 | 3 | 10 | 53 | 41 |
| 8 | Jesse Kirkland | Alexander Kirkland | BER | 6 | 1 | 4 | (BFD) | 5 | 16 | 2 | 3 | 7 | 70 | 44 |
| 9 | Jorge Lima | Josa Luis Costa | POR | 1 | 6 | 6 | -14 | 8 | 1 | 14 | 1 | 8 | 59 | 45 |
| 10 | Julien d'Ortoli | Noe Delpech | FRA | -15 | 1 | 7 | 8 | 3 | 3 | 9 | 13 | 1 | 60 | 45 |
| 11 | Lauri Lehtinen | Kalle Bask | FIN | 4 | 2 | 17 | 5 | 2 | 5 | 5 | -18 | 9 | 67 | 49 |
| 12 | Marcin Czajkowski | Jacek Piasecki | POL | 9 | 2 | 1 | 5 | 7 | 7 | -20 | 19 | 1 | 71 | 51 |
| 13 | Ribeaud Thomas | Scotto di Fasano Sabastien | FRA | 8 | 15 | 1 | 1 | 2 | -19 | 10 | 9 | 6 | 71 | 52 |
| 14 | Allan Norregaard | Peter Lang | DEN | 5 | 7 | -11 | 7 | 9 | 8 | 2 | 10 | 4 | 63 | 52 |
| 15 | Nico Delle - Karth | Nikolaus Leopold Resch | AUT | 12 | 13 | -15 | 2 | 1 | 13 | 5 | 6 | 1 | 68 | 53 |
| 16 | Erik Heil | Thomas Ploessel | GER | -18 | 5 | 17 | 3 | 4 | 2 | 10 | 2 | 11 | 72 | 54 |
| 17 | Justus Schmidt | Max Boehme | GER | 7 | 2 | 2 | 3 | 9 | -17 | 11 | 15 | 5 | 71 | 54 |
| 18 | Marcus Hansen | Josh Porebski | NZL | 5 | 5 | 8 | 8 | 10 | 6 | 2 | -19 | 10 | 73 | 54 |
| 19 | Pavle Kostov | Petar Cupac | CRO | 1 | 14 | -23 | 6 | 5 | 13 | 7 | 6 | 3 | 78 | 55 |
| 20 | Axel Silvy | Ulysse Hoffmann | FRA | -17 | 10 | 8 | 2 | 1 | 11 | 14 | 5 | 6 | 74 | 57 |
| 21 | Tomasz Januszewski | Jacek Nowak | POL | 3 | 3 | -20 | 11 | 2 | 2 | 9 | 12 | 18 | 80 | 60 |
| 22 | Yukio Makino | Kenji Takahashi | JPN | 11 | 1 | 6 | 1 | (OCS) | 14 | 16 | 9 | 8 | 92 | 66 |
| 23 | Dionisis Dimou | Mihalis Pateniotis | GRE | 4 | 9 | 11 | -15 | 10 | 10 | 10 | 2 | 12 | 83 | 68 |
| 24 | Gordon Cook | Hunter Lowden | CAN | 9 | 10 | 3 | 7 | 13 | 10 | 4 | 12 | -19 | 87 | 68 |
| 25 | Pietro Sibello | Ganfranco Sibello | ITA | 7 | -14 | 4 | 9 | 10 | 6 | 12 | 7 | 14 | 83 | 69 |
| 26 | Ryan Seaton | Matt McGovern | IRL | 15 | 12 | -18 | 14 | 18 | 1 | 5 | 4 | 3 | 90 | 72 |
| 27 | Mathieu Frei | Yann Rocherieux | FRA | 16 | 11 | 2 | 13 | 11 | -17 | 3 | 11 | 5 | 89 | 72 |
| 28 | Jonas von Geijer | Niclas Dalring | SWE | 12 | 6 | 3 | 13 | -20 | 15 | 4 | 10 | 9 | 92 | 72 |
| 29 | Jon Ladha | Daniel Inkpen | CAN | 7 | 13 | 13 | -18 | 11 | 9 | 3 | 6 | 12 | 92 | 74 |
| 30 | Jacopo Plazzi | Umberto molineris | ITA | 18 | 4 | 18 | (RAF) | 4 | 3 | 18 | 5 | 9 | 105 | 79 |
| 31 | Bernardo Freitas | Francisco Andrade | POR | 9 | 11 | -22 | 16 | 6 | 7 | 8 | 18 | 4 | 101 | 79 |
| 32 | Philipp Müller | Moritz Janich | GER | 4 | 13 | 10 | 17 | 16 | -20 | 8 | 5 | 7 | 100 | 80 |
| 33 | Stylianos Soliriou | Alfonso Panagiotidis | GRE | 14 | 14 | (BFD) | 6 | 12 | 7 | 4 | 12 | 16 | 111 | 85 |
| 34 | benji borg | Sebastian ripard | MLT | 3 | -17 | 10 | 17 | 6 | 11 | 15 | 14 | 13 | 106 | 89 |
| 35 | Luke Parkinson | Jasper Warren | AUS | -23 | 19 | 6 | 13 | 7 | 4 | 13 | 17 | 11 | 113 | 90 |
| 36 | Charlie Ekberg | Kalle Torlan | SWE | 6 | 12 | (BFD) | 12 | 13 | 14 | 11 | 16 | 10 | 120 | 94 |
| 37 | Carl P Sylvan | Otto Hamel | SWE | 10 | -22 | 12 | 7 | 14 | 16 | 13 | 4 | 19 | 117 | 95 |
| 38 | Jorge Murrieta | Alejandro Murrieta | MEX | 16 | 16 | 9 | 15 | 12 | 9 | 6 | -17 | 13 | 113 | 96 |
| 39 | Thomas Zajac | Thomas Czajka | AUT | 23 | 8 | (BFD) | 10 | 9 | 12 | 11 | 16 | 8 | 123 | 97 |
| 40 | Pavel Kalynchev | Pavel Karachov | RUS | 13 | 5 | -20 | 9 | 3 | 18 | 20 | 19 | 11 | 118 | 98 |
| 41 | Tonis Haavel | Lenart Kivistik | EST | 14 | 18 | 11 | 11 | 13 | 14 | -19 | 11 | 6 | 117 | 98 |
| 42 | Pablo Herman | Luis Felip Herman | CHI | 10 | 20 | 16 | (BFD) | 4 | 5 | 17 | 14 | 13 | 125 | 99 |
| 43 | Carlos Paz | Anton Paz | ESP | 20 | 3 | 16 | 6 | (OCS) | 18 | 13 | 8 | 16 | 126 | 100 |
| 44 | Yannick Lefbvre | Matthieu Janssens | BEL | 11 | 9 | 14 | 12 | 14 | -21 | 6 | 20 | 14 | 121 | 100 |
| 45 | Niels Joachim Gormsen | Anders Thomsen | DEN | 11 | 15 | 9 | 9 | -19 | 18 | 18 | 7 | 17 | 123 | 104 |
| 46 | Luca Dubini | Stefano Petissi | ITA | 19 | 8 | 13 | 20 | 21 | -22 | 9 | 9 | 7 | 128 | 106 |
| 47 | Jonathan Bay | Christopher Thorsell | DEN | 8 | 9 | -21 | 11 | 8 | 11 | 21 | 20 | 18 | 127 | 106 |
| 48 | Artem Basalkin | Alexander Gaydaenko | RUS | 15 | (OCS) | 10 | 5 | 16 | 8 | DSQ | 7 | 21 | 134 | 108 |
| 49 | Santiago Silveira | Philipp Umpierre | URU | 13 | 16 | 24 | 10 | 14 | 5 | (DNF) | 15 | 14 | 137 | 111 |
| 50 | Frederick Strammer | Zachary Brown | USA | -20 | 16 | 8 | 10 | 17 | 19 | 16 | 13 | 12 | 131 | 111 |
Back to top
Back to top