Poland and Germany tied
Evening showers broke to a cloudy day with light and unstable conditions keeping anxious sailors onshore for the first day of racing for the Seiko 49er World Championship in Zadar, Croatia.
After a few hours the race committee released the sailors for three races each in the three qualifying flights. With varying and shifting winds that eventually settled into a nice afternoon sea breeze of 8-11, knots the 74 boats took turns and completed a full day's racing.
After three races, early regatta leaders Lukasz Przybytek and Pawel Kolodzinski (POL) are tied with Tobias Schadewaldt and Hannes Baumann (GER) with 10 points. One point behind is a 3-way tie with Bermudan brothers Jesse and Zander Kirkland, Justus Schmidt and Max Boehme (GER) and Peter Burling and Blair Tuke (NZL).
With Bermuda hoping to take one of the five qualification spots for London 2012, skipper Jesse Kirkland explained their strategy: "We went into the day with a simple plan of top 10 finishes." He explained further that "we've been here for a week training and the conditions have been similar with a soft northwesterly, so the conditions were perfect to our training."
Defending World Champions and favourites, Nathan Outteridge and Iain Jensen (AUS), are currently 11th after three races, eight points off the lead.

"Day one was a tricky one for us, with quite an unstable breeze and mostly light winds in the four to seven knots range," said Outteridge. "We had a good first race placing third and the breeze was very light, less than five knots, we were then sent to shore so that the other group could race. We were only held ashore for just over an hour before being sent out to a different course area to do our final races. The conditions had changed a little and it was more difficult as the wind was flicking all over the place.

"We couldn't get the first work correct in either of the races in the afternoon and had to fight our way back in both times. We did a great job in the final race to come back from mid teens to finish up fourth.
"With the light winds here it is giving the newer light teams a good chance to be at the front. I think conditions are meant to become a little more stable and you'll probably see the usual suspects at the front. Looking back it was a pretty good day, it was disappointing to get an 11th when we were in the top two near the top mark and to have to then fight our way back but overall a good day."
The forecast for tomorrow's racing looks rewarding with more consistent wind of 10-15 knots and clear skies.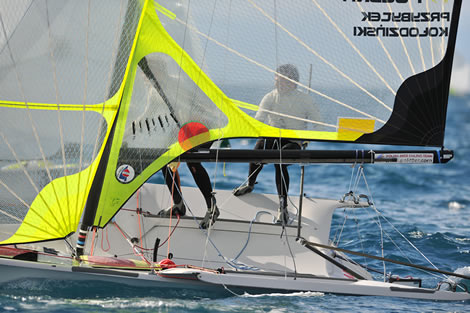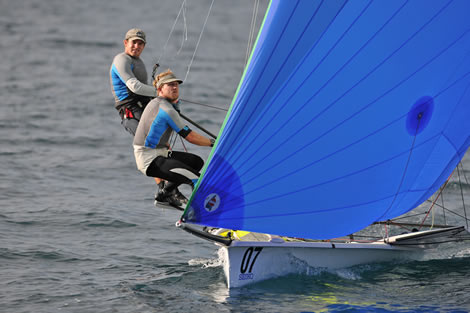 Back to top
Back to top