Giles Scott still leads
Sunday May 6th 2012, Author:
Robert Deaves
, Location: none selected
Despite race wins for Pieter-Jan Postma (NED) and Jonathan Lobert (FRA) on day two of the JP Morgan Asset Management Open UK Finn Nationals, Giles Scott (GBR) still leads the fleet into the final day by four points from Postma. Ben Ainslie (GBR) sits in third place, on equal points with Postma.
What a difference a day makes. Today the 92 strong UK Finn National fleet was treated to three fantastic races in 12-14 knots, with nice waves and even some sunshine. You could almost call it a champagne sailing day, apart from the fact that the cold water and wind-chill made it more like an ice-cold shower day.
Jonas Hogh-Christensen (DEN) led round the top mark in the first race but it was the man of the day Pieter-Jan Postma (NED) who led across the finish line in the great conditions. Giles Scott (GBR) rounded the top mark deep in the fleet, but had a great first downwind to catch up, and nearly caught Postma in a very close finish. Rafael Trujillo (ESP) crossed in third.
After moving course area to take local shipping into account, the next race started in similar conditions, though a change in tide added a bit of interest. This time Postma led at the top mark, but couldn't hold onto the lead. Jonathan Lobert (FRA) eventually took the gun followed by Ben Ainslie (GBR). Scott got his revenge on Postma, just pipping him for third on the line.
With a number of boats calling it a day, numbers were down for the final race. Postma again led at the top mark and this time he held on for his second race win of the day from Scott and Ainslie.
The fleet returned to shore cold, tired and in need of sustenance, which was adequately supplied at the Royal Cornwall Yacht Club's pasta evening.
Scott said of the championship so far: "Falmouth is such a great place to have this event. It's been really good. The sailing is quite a long way out but it was worth it today for sure. The wind was a bit kinder but it's been a very cold so far, though the hospitality has been great – the Cornish folk are very nice."
Scott is now in a great position to take his third UK National title. With a four point gap and a discard of a third, he needs just one good race to wrap it up. However Ainslie is renowned for last day comebacks, so he could very easily take his second UK title. It's certainly going to be an exciting final day in Falmouth.
The championship concludes Monday with two more races scheduled, though the forecast is for a low pressure system to move over the area bringing strong winds. The situation will be assessed in the morning with the possibility of moving the course further inshore.

Top 10 results after five races (1 drop)
1 GBR 41 Giles Scott 7
2 NED 842 Pieter-Jan Postma 11
3 GBR 3 Ben Ainslie 11
4 FRA 112 Jonathan Lobert 18
5 CRO 524 Ivan Kljakovic Gaspic 18
6 DEN 2 Jonas Høgh-Christensen 28
7 ESP 100 Rafael Trujillo 29
8 UKR 1 Oleksiy Borysov 39
9 CZE 1 Michael Maier 42
10 BRA 109 Jorge Zarif 51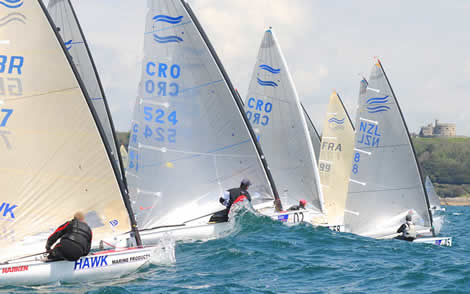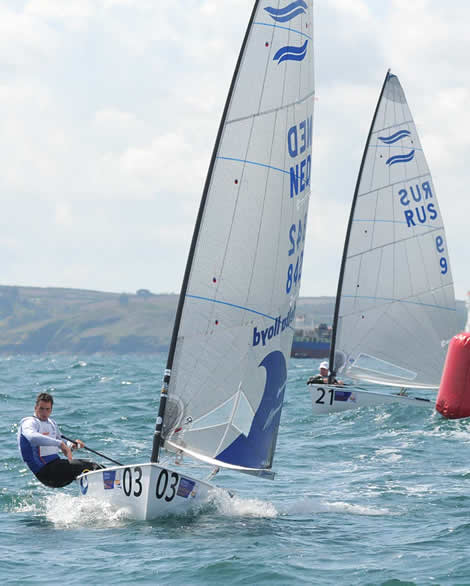 Back to top
Back to top