World champion not going to the Games
The Olympic Games is coming up at the end of July and while we hold this up as one of the competitive pinnacles within sailing, there is an argument that it isn't the ultimate decider of who is the best in each class thanks to the restriction placed on nation teams only allowing them enter one entry per class.
Part of the reason for this is due to the number of competitors the International Olympic Committee allow into the sailing 'event'. For London 2012 this will be a maximum of 380 sailors and as a result competitor numbers will only be around one third the size of, for example, last autumn's multiple World Championship in Perth.
So one has to think of sailing at the Olympic Games not as one does a World Championship or indeed any other regular regatta – it is a competition between the best crew from each country in each class. Subtly different. This of course makes the Olympics more inclusive internationally ('universality' as it is termed within the IOC/ISAF) with the opportunity for nations such as Barbados, Guatemala, the UAE, Singapore or the Seychelles to get their five minutes of fame on the world sailing stage and of course this is very much part of the Olympic spirit.
But not all sports in the Games have sailing's one team per country per event entry criteria. In athletics for example, the lower ranked nations are allowed into the Games in the same way as they are in sailing, but stronger nations are allowed to field up to three athletes in each event. The end result is a much more accurate pecking order as one might get at a World Championship. It also means that most of the top athletes do get to compete at the Games and there isn't an almighty crash for those who aren't selected, as there is in sailing.
There are many examples of individual nations being historically good in certain classes, whether it is the USA or Brazil in the Star, Spain, France or the USA in the 470, Israel in the sailboards, etc. But nowhere at present is there a better example than Britain in the Finn. For the last 12 years, since Iain Percy's gold medal in Sydney, Britain has ruled the waves in the men's heavyweight singlehander subsequently helped on of course by having living Olympic legend Ben Ainslie, bringing Finn gold home from both Athens and Beijing.
With Ainslie rightly selected to go to London 2012 back in September last year and the fan club expecting a fifth Olympic medal from him, Team GBR is in the unusual position of having two Finn World Champions from this present Olympic cycle not going to the Games in Ed Wright and Giles Scott, who currently lie first and third in ISAF's Finn rankings.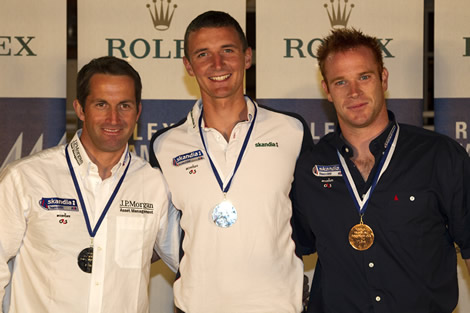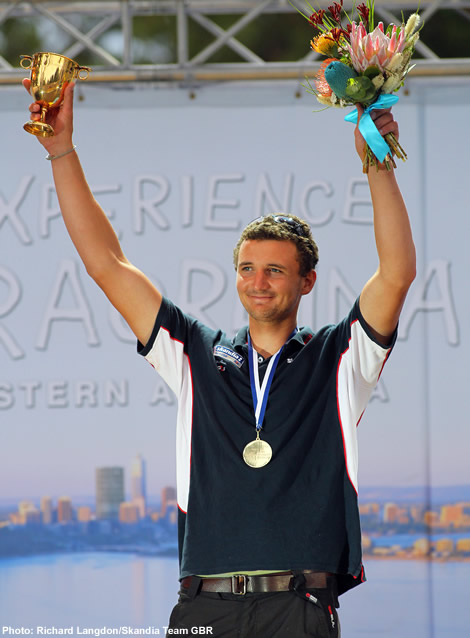 "It is a bit weird," says Scott, who won in Perth after Ainslie, who had been leading, lost out as a result of his now famous contra tent with a media RIB driver. "It is a bit odd and a potentially quite a difficult year for people that are in my situation, because now it is all about the Olympics and when that disappeared it takes the sting out of things."
In term of his Finn sailing at present, Scott says it has effected it massively and in fact he has put it on the backburner. As a positive though this has enabled the 24-year-old to shift his attention to other areas of the sport and he has recently signed with Team Korea, taking part on board their AC45 in Naples as tactician/float for fellow Olympic class World Champion (in the 49er), Nathan Outteridge.
"I am still Finn sailing and I have been sailing with all the Finn boys today," says Scott, "and I'll do as much of the Finn sailing as I can fit in around all the America's Cup stuff. But if there are clashes at the moment, I'll go for the Cup sailing and not the Finn."
One monumental clash is occurring next month, when by all rights Scott should be looking to defend his World title at the Finn Gold Cup when it is held in Falmouth, however this event is on at the same time as the America's Cup World Series in Venice. "I will be doing the Nationals down there, but I will be disappearing before the Gold Cup starts," says Scott. "It's very sad really, but it is definitely the right thing for me to go and get into the America's Cup world as much as I can. Any opportunity to sail in it I have got to take."
The British Finn squad decamp from Weymouth and head for Falmouth to begin training for the Gold Cup next week.
For Scott and all the other Olympic hopefuls who haven't been selected (and who should be remembered...), like Ed Wright in Finn, Nick Thompson in the Laser, Penny Clark and Katrina Hughes in the 470 Women, Nick Rogers/Chris Grube or Nic Asher/Elliot Willis in the 470 Men and whoever doesn't make it in the 49er and the Laser Radial once selections are made in those classes, their Olympic dream will now have to refocus on Rio 2016. Scott is resigned to this: "That is why I am still sailing the Finn this year, and doing as much stuff as I can to keep my hand in there."

America's Cup World Series
With Team Korea, Scott says that the approach was originally made to him last year by Chris Draper when he was skipper. "He slowly went off to Luna Rossa but I got a phone call in the New Year saying that the Koreans were still interesting in having me and would l like to come and do Naples? Obviously I jumped at the chance."
This occurred before Nathan Outteridge was appointed skipper for the Korean team. Presumably Scott could have helmed? "I think that with the little time that the team had, it was probably a wise thing for them to go for the high performance-type sailor, because it would have taken me a little bit longer to get to used to sailing an AC45 as a dug out sailor."
So Scott's official title is 'tactician/float', although on the powerful shorthanded AC45 catamarans there is a lot of grunty work to be done, where Scott's giant frame comes into its own. Weighing 95kg and 6ft 5in high, Scott is second tallest in the British Finn squad (Mark Andrews has an extra inch or two on him). "People just don't seem to remember me as a tall guy," Scott admits. "I am 6ft 5in and I have been for the last five years! I stopped growing a long time ago!"
Scott's non-tactician jobs include deploying the kite, furl the kite during gybes, grinding the wing on the first reach if it is windy. "Then in the lighter stuff, the boats are quite transom heavy, so I get as far forward as I can, so there is quite a lot to get done, but it is good fun."
The hefty work loads limits the amount of available time he can spend calling tactics. "A lot of the time I have got my head down and I'm working hard, but when I'm not I relay all the tactical information to Nathan. Basically through manoeuvres I am flat out, but as soon as we settle down a little bit and I can get my head out, I 'voice my opinion' as it were, and suggest what I think it is best."
The overall experience of course is vastly different to sailing a Finn... "It is exciting. It is good fun. It was a bit of a shock to begin with as to how much you have to get sorted and done, but during the races all the excitement of the boat having a wing and not a sail and being so fast goes away, and you just want the thing to go faster and to beat the people around you, like any kind of racing. But it is different and great fun as well."
Coming from an exclusively dinghy background there has been the significant step-up into not just a big boat, but one of the fastest racing sailboats on the ocean wave. And he has to sail with other people on board... "The big thing I thought before I started was the communication side of things, but in fact that came quite quickly and quite easily. So that is different to what I have done. But we took to it quite well."
Part of this was down having some familiar faces in the crew. Scott knew Nathan Outteridge from Olympic sailing and Mark Bulkeley when he was with the British Olympic squad going to Qingdao in the Tornado. However he had never met Matt Cornwell or Troy Tindell before. "We all got on really well but we felt we could have done a bit better."
With Scott and Outteridge joining the team this spring, the three others on board had sailed with Chris Draper last year and both Bulkeley and Cornwell are very experienced multihull hands both having several seasons in the Extreme Sailing Series behind them. "Nathan and I joined the three of them and that was quite fortunate, because they could take us through things and we could jump a lot of learning steps. I think that was quite key to enabling us to be on the pace quite quickly, having those guys all over it," says Scott.
But not only is the boat markedly different, also the nature of the courses with reaching starts, course boundaries and different rights at mark roundings. "The boundaries make things especially difficult and because the boat tacks so slowly, your default is almost to do the minimum tacks. So often you see pressure out to one side which you want to get to, but the boundary doesn't allow you to get there. That changes a lot of things, but also in a lot of ways it is very similar."
On an AC45 or indeed any performance boat the tactician is also looking for pressure more than shifts. As Scott says: "The boats really do live or die on 0.5 of a knot difference, especially downwind with the apparent changes, you can find yourself going faster and 30° lower. And obviously it is very different, because downwind the wind doesn't come from behind you, it comes from in front of you, and that takes a bit of getting used to. But once you have got your head around that, all the decisions you make are very similar."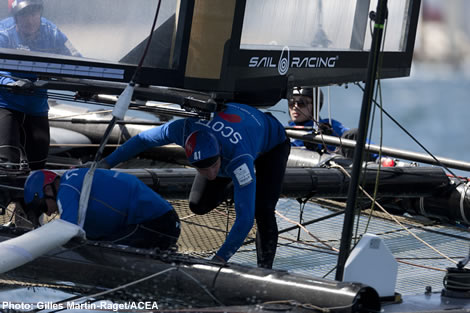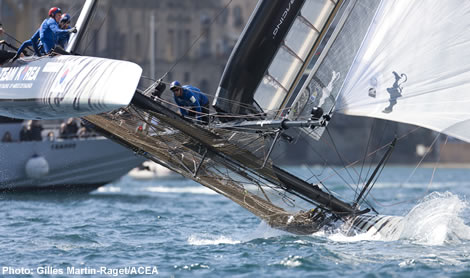 Team Korea will be in Venice for training around four or five days before racing starts and by rights it 'should' be a light wind venue. However Scott points out that Naples was also supposed to be light, which it certainly wasn't on the opening day, when the AC45 were being pushed to the max and occasionally beyond in 20+ knots and a lumpy sea. "Wednesday was a big day. The boats were making some horrible noises, but they have clearly been built pretty well. We damaged our wing after the last race, because we got our runner caught in between the bottom and the middle rear element of the wing and we ripped a few of the support structure underneath out, but it was nothing compared to what Artemis did."
As part of his conversion to twin hulled sailing, Scott has started a trend within the Team GBR camp of acquiring an A-Class catamaran. His new acquisition is a 2008-built Bimare. "It was just to have some fun around Weymouth, to get to go sailing in some multihulls," he says of why he bought the boat. "It is good fun, although I did break a centreboard last week, which wasn't ideal. I might have to upgrade to better ones soon."
Paul Goodison has also spanked some cash on a state of the art DNA A-Cat and Scott has been eyeing up its curved foils. "Curved foils are a lot better because Goodie has got them and he is a lot lot quicker downwind with those lifting foils."
Scott acknowledges that his size doesn't make him the ideal A-Cat sailor. "That's the thing...it is a bit of fun for me, I am too big to sail them competitively. 80kg is about right for them, so it's perhaps not surprising that I snapped a board. I will race it if I get the chance, but nothing serious, because I am not the right weight and it might be a bit frustrating. It is good to learn some new skills, and help with other areas of sailing that you are doing."
Scott and Goodison are soon to be joined by 470 sailor Stuart Bithell who had ordered a new Bimare of the type shown at the RYA Dinghy Show earlier this spring.
Back to top
Back to top