Gotta Love It 7 the favourite
The 63rd JJ Giltinan Championship gets under way later today when Race 1 of the world's premier 18ft Skiff Regatta is sailed on Sydney Harbour.
Defending champions Seve Jarvin, Sam Newton and Scott Babbage are favourites to retain the title in Gotta Love It 7, the boat that has won three of the past four Giltinan Championships since it was built in 2006.
Gotta Love It 7 will also be attempting to extend the Giltinan Championship-winning run to ten for their Seven Television Network sponsors
'7' won six consecutive Giltinan Championships with Iain Murray's Color 7 from 1977-1982 and has won three with Seve Jarvin aboard Gotta Love It 7 in 2008, 2010 and 2011.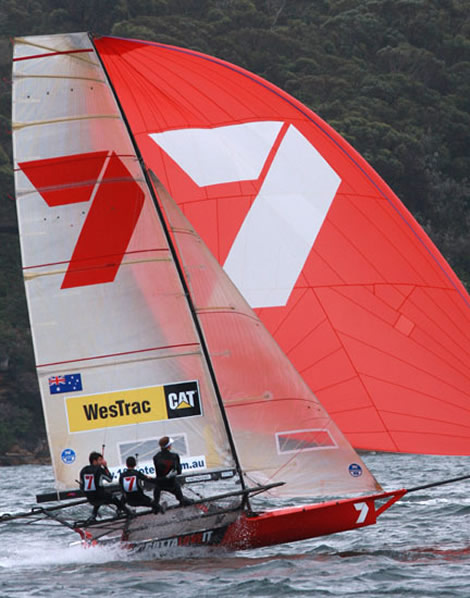 Most favoured among 7's challengers is the Australian Championship-winning Thurlow Fisher Lawyers team of Michael Coxon, Aaron Links and Trent Barnabas. Coxon and Links combined together to win consecutive Giltinan Championships in 2006 (Casio Seapathfinder) and in 2007 (Fiat). Barnabas has also won four – three with his father Trevor and one with Euan McNicol in 2009. This team is having their third season as a unit and have won two Australian titles as well as the 2010 San Francisco International Regatta.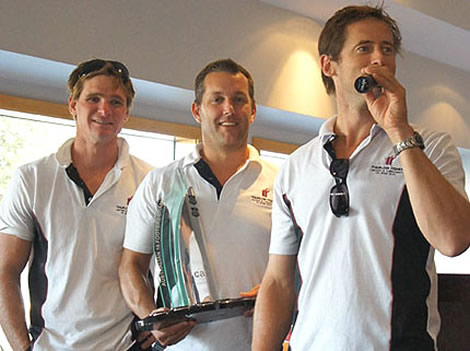 Another local Australian team to look out for in the regatta is the very experienced Smeg crew, with current Interdominion 12ft Skiff champion Nick Press at the helm.
Along with Dan Phillips (2000 Olympian) and Dave Ewings, who has sailed with many top teams over the past decade, the Smeg skiff has been pushing for victory in most major championships for the past two seasons.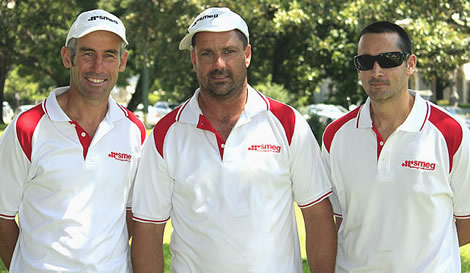 Jack Macartney, Peter Harris and Mark Kennedy are having their first season together as a team but their form in Rag & Famish Hotel this season has been outstanding and resulted in four wins so far in the strong Sydney fleet.
Past Giltinan champions John Winning (Yandoo) and US champion Howie Hamlin (CST Composites), 2007 Australian champion Micah Lane (appliancesonline.com.au) and 2012 Mark Foy champion Alex Vallings of New Zealand (C-Tech) are also strong contenders in what should be an exciting spectacle with close competition.
With a storm looming above the harbour as the teams rigged before yesterday afternoon's Invitation Race, most elected to go with their smaller #2 rigs rather than risk damage to their big rigs before Race 1 of the championship. One team which elected to go big and reap the rewards was Pure Blonde (Tom Clout, Paul Atkins and Matt Wark) which took out the race by 2m5s when the northeast breeze stayed below 12 knots.
Gotta Love it 7 finished second over the line, 35s ahead of Yandoo, followed by appliancesonline.com.au, CST Composites, C-Tech, Mojo Wine (Archie Massey), Maersk Line (Graham Catley, NZ) and Rag & Famish Hotel.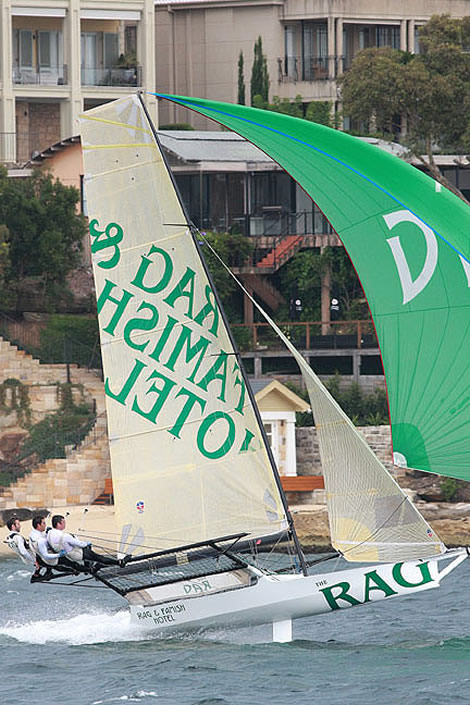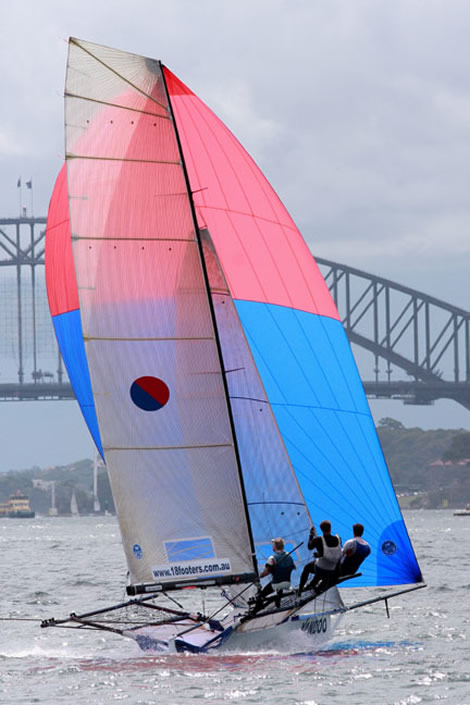 Back to top
Back to top