Gough and Babbage tied
After two days and four races at the KA Sails Australian Moth Nationals out of Mornington Yacht Club on Port Phillip Bay, Rob Gough and 18ft skiff sailor Scott Babbage are tied in first place, two points ahead of recently crowned 49er World Champion and less recent Moth World Champion, Nathan Outteridge. Outteridge is putting in a fine performance considering that over Saturday night he flew to Melbourne directly from the A-Class Nationals and yesterday got out on the water after only two hours of sleep.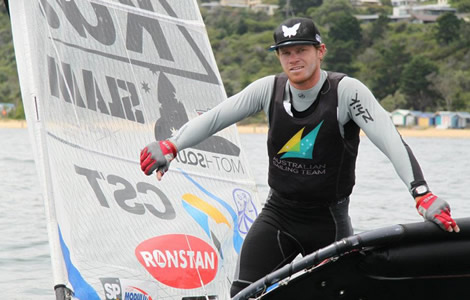 Unfortunately Port Phillip Bay, while it is normally a flattish-water venue with various fronts rolling across Bass Strait over the last few days, so the southwesterlies have been kicking up a chop.
"It has been strong winds and very big waves, up to 2.5m at some point, but they have tried to keep it sheltered," said race organiser and competitor Richard Jackson. "So, not ideal Moth conditions at all. We were seeing over 25 knots on the course at times and it is a cold breeze. It is quite a solid 25 knots, it is not a hot breeze. Last week it was perfect conditions here – flat water and offshore." Of course...
Matters were made worse as with the front passing through so the wind was up to 60 degrees from the waves.
Alongside the UK, Australia has one of the biggest Moth fleets in the world and at the Nationals 41 boats are competing. Overseas sailors competing include Kiwi 49er Olympic sailor Peter Burling (currently fifth), Britain's Andy Budgen (currently 9th) and competitors from Sweden and Ireland.
The competitors had a slightly more successful day out on the water today after benefitting form a pep talk from Mach 2 designer Andrew McDougall about how to adjust your boat for sailing in big waves. According to Richard Jackson: "Lots of angle grinders came out to adjust the flap movement we could achieve, so we could get full flap up and change the range in which our flaps work to make sure they work over the full range." Among those to adjust their foils today was Peter Burling who scored a win in today's first race.
In addition there appears to be more prolific use of adjustable wand systems among competitors.
The organisers are hoping to get four races in tomorrow, prior to a layday on Wednesday. In theory up to 15 races are scheduled but this will depend on the weather which is supposed to be backing off towards the end of the week.
Results:

| | | | | | | | |
| --- | --- | --- | --- | --- | --- | --- | --- |
| Pos | Sail no | Sailor | R1 | R2 | R3 | R4 | Tot |
| 1 | AUS8 | Rob Gough | 5 | 1 | 3 | 1 | 10 |
| 2 | AUS3 | Scott Babbage | 1 | 3 | 4 | 2 | 10 |
| 3 | AUS1 | Nathan Outteridge | 3 | 4 | 2 | 3 | 12 |
| 4 | AUS3900 | Andrew McDougall | 8 | 2 | 6 | 5 | 21 |
| 5 | NZL4 | Peter Burling | 9 | 5 | 1 | 7 | 22 |
| 6 | AUS2 | Joe Turner | 6 | 10 | 5 | 4 | 25 |
| 7 | AUS3719 | Phillip Kurts | 4 | 8 | 8 | 6 | 26 |
| 8 | AUS3776 | Joshusa McKnight | 2 | 7 | 9 | 9 | 27 |
| 9 | GBR3769 | Andrew Budgen | 11 | 9 | 7 | 11 | 38 |
| 10 | AUS3685 | Leigh Dunstan | 7 | 11 | 12 | 19 | 49 |
| 11 | AUS3903 | James Owen-Smith | 12 | 14 | 15 | 8 | 49 |
| 12 | AUS3636 | Steven Sherring | 18 | 13 | 10 | 12 | 53 |
| 13 | AUS3832 | Les Thorpe | 21 | 16 | 11 | 10 | 58 |
| 14 | AUS3631 | Julian Salter | 14 | 6 | 13 | 27 | 60 |
| 15 | AUS3775 | Samatha England | 13 | 12 | 22 | 13 | 60 |
| 16 | AUS3717 | Jack Sherring | 10 | 15 | 18 | 20 | 63 |
| 17 | AUS3783 | Warren Sare | 20 | 18 | 17 | 15 | 70 |
| 18 | 37 | Matt Crockett | 22 | 21 | 14 | 17 | 74 |
| 19 | AUS3641 | Peter Valpiani | 24 | 17 | 19 | 16 | 76 |
| 20 | SWE3786 | Nils Akervall | 15 | 24 | 24 | 23 | 86 |
| 21 | AUS3878 | Andrew Cuddihy | 30 | 22 | 21 | 21 | 94 |
| 22 | 33 | James Dorron | 23 | 20 | 43.0C | 14 | 100 |
| 23 | AUS3823 | Richard Jackson | 16 | 43.0C | 27 | 18 | 104 |
| 24 | AUS3781 | Will Logan | 43.0C | 19 | 25 | 28 | 115 |
| 25 | 9336 | Mark Hughes | 33 | 25 | 30 | 32 | 120 |
| 26 | IRL3771 | Micheal O'Sea | 28 | 43.0C | 26 | 25 | 122 |
| 27 | AUS3655 | Alan Goddard | 32 | 43.0C | 23 | 26 | 124 |
| 28 | AUS3865 | Kyle Ross | 25 | 43.0C | 28 | 29 | 125 |
| 29 | AUS3676 | Eelco Boers | 43.0C | 43.0C | 20 | 22 | 128 |
| 30 | AUS3574 | Phil Stevenson | 27 | 23 | 43.0C | 43.0C | 136 |
| 31 | AUS3807 | Ryan Kelly | 43.0C | 43.0C | 29 | 24 | 139 |
| 32 | AUS3359 | Stuart Ormond | 31 | 26 | 43.0C | 43.0C | 143 |
| 33 | AUS3780 | Kohei Kajimoto | 43.0C | 43.0C | 16 | 43.0C | 145 |
| 34 | AUS3731 | Lochlin Byrne | 17 | 43.0C | 43.0C | 43.0C | 146 |
| 35 | AUS3770 | Emma Spiers | 29 | 43.0C | 43.0C | 31 | 146 |
| 36 | AUS3904 | Scott Beeby | 19 | 43.0C | 43.0C | 43.0C | 148 |
| 37 | AUS3767 | Simon Liddington | 26 | 43.0C | 43.0C | 43.0C | 155 |
| 38 | 9364 | Nick Billett | 43.0C | 43.0C | 43.0C | 30 | 159 |
| 39 | 9256 | Ian Sim | 43.0C | 43.0C | 43.0C | 43.0C | 172 |
| 39 | AUS3638 | David Martin | 43.0C | 43.0C | 43.0C | 43.0C | 172 |
| 39 | AUS3634 | David Robinson | 43.0C | 43.0C | 43.0C | 43.0C | 172 |
| 39 | NONUM3 | Jame Mackenzie | 43.0C | 43.0C | 43.0C | 43.0C | 172 |
Back to top
Back to top