First victory for Fisher & Paykel
It was a day to remember for the Fisher & Paykel crew of Andrew Chapman, Ewan Duckworth and Tim Baraclough when they came from behind to take out Race 2 of the Beko 3-Buoys Challenge series on Sydney Harbour today. The win was Andrew's first as a skipper in the 18s, and he did it with sails he made himself. To add to the win was the fact that the Fisher & Paykel team now leads the series on six points and collects $1,000 for being the leader after two rounds.

TBA (sponsor yet to be named), skippered by Matt Searle, finished 32s behind Fisher & Paykel, with Thurlow Fisher Lawyers (Michael Coxon) a further 1m32s back in third place.

Thurlow Fisher Lawyers is now in second place in the series with a score of seven points, followed by Pure Blonde (Tom Clout) on 11, TBA and Asko Appliances (Marcus Ashley-Jones) on 12 and Race 1 winner Gotta Love It 7 (Seve Jarvin) on 14.

With a light, uncertain breeze prevailing at the time, the starter sent the fleet over a three laps windward-return course.

A majority of the fleet chose the RHS of the course with Gotta Love It 7, Thurlow Fisher Lawyers and Fisher & Paykel heading that group, while Appliancesonline.com.au (Micah Lane), Smeg (Nick Press) and Asko Appliances best of those more in the centre of the course.

The Gotta Love It 7 crew sailed brilliantly up the first windward beat, but the 3-Buoys handicap system took its toll when they had to sail to the furthest (white) buoy and were relegated back to seventh or eighth place as spinnakers were set for the run back to the bottom mark.

Taking advantage of the shortest (red) marker, Thurlow Fisher Lawyers grabbed the lead from TBA, The Kitchen Maker (Cameron McDonald), Fisher & Paykel and Lumix (Jonathan Whitty), and along with Fisher & Paykel, chose to go back on the northern side of the harbor. It was a great move as that side proved far superior and the race was immediately split.

Thurlow Fisher Lawyers led by 45s at the bottom mark but once again the 3-buoys system came into play as TBA gained an advantage to become the leader (15s) for the second spinnaker run. TBA increased this to 30s at the bottom mark on the second lap, with Fisher & Paykel in third place and Pure Blonde fourth.

While those behind the top four skiffs were little chance of winning the race the action was great as the teams crossed while gybing downwind then jammed into the twin bottom marks as they raced to get the big spinnakers back into the boats.

When the breeze freshened for the final lap, Fisher & Paykel worked the northern shore and came out on top to lead by 15s as she headed for home.

A steady NE breeze allowed the Fisher & Paykel team to gradually edge away from TBA for their victory.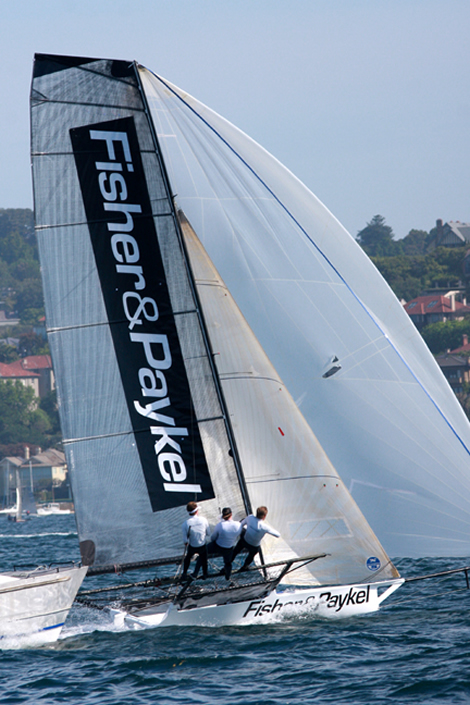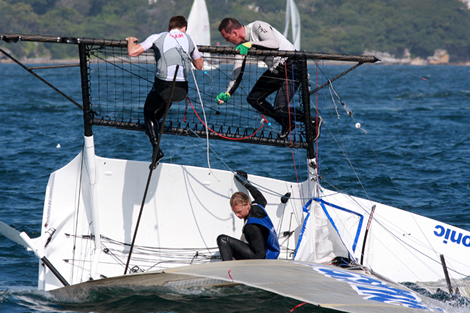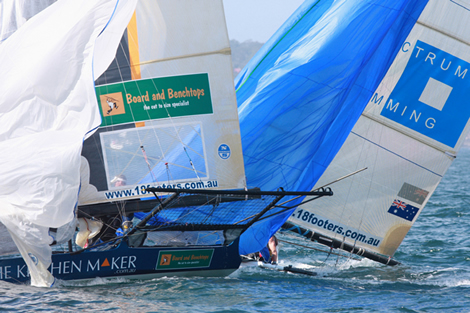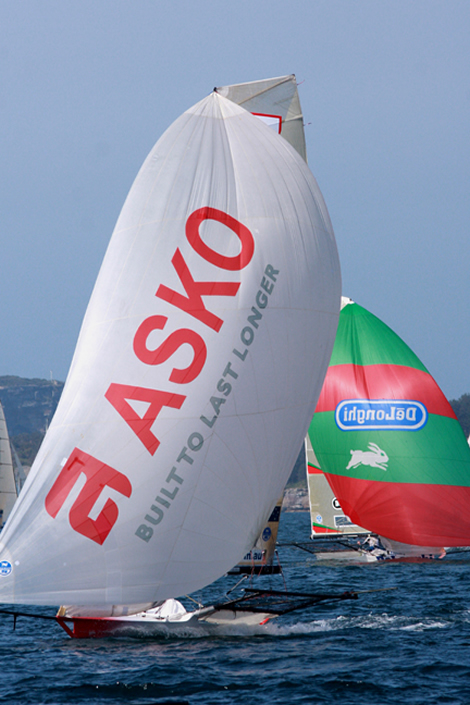 Back to top
Back to top