Sailing for the masses
Triple Olympic gold medalist Ben Ainslie and Olympic Laser gold medallist Paul Goodison were in London's Covent Garden yesterday for the launch of the new Volvo Sailing App, which is designed to help the non-sailing public understand more about sailing in the build-up to London 2012.
Driven by Volvo Car UK and the Team Volvo sailors – all of whom have recently been selected to compete in the London 2012 Games – the Volvo Sailing app is available to download from today on iPhone and iPad.
Features on the App, developed by our colleagues at Slipstream, include the 'Walk the Course' area with Goodison, who takes you step by step around an Olympic sailing course from start to finish. Instructional videos include starting, the points of sail, mark rounding and right of way rules. Meanwhile, 'My Class' pages give detailed information on the sailors' boats of choice and you also have the option to connect with them by asking a question.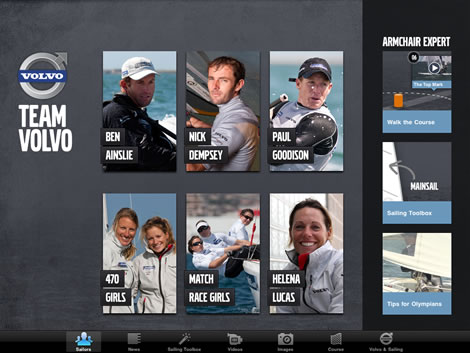 The 'Sailing Toolbox' contains top tips and expert advice from the sailors who know best - Team Volvo. The toolbox is packed with exclusive beginner and advanced coaching videos from Ainslie, Goodison and RS: X Windsurfing World Champion Nick Dempsey, that every sailor or windsurfer can use to improve their skills. Videos and diagrams break down the anatomy of sailing into essential skills and competitive racing techniques.
In addition, the App profiles some of Britain's top sailing medal hopes for next year's event in Weymouth including Ainslie, Goodison, the 470 Girls; experienced Olympian Saskia Clark and Welsh sailing talent Hannah Mills; and the Women's Match Racers, Annie Lush and Macgregor sisters Lucy and Kate.
Ainslie, who is aiming for his fourth consecutive gold medal at London 2012, said: "Being a home Olympics, we really want everyone to get behind us and follow the British Sailing team. Sailing is a difficult sport to understand; it's not like cycling or swimming where you can see the competitors racing in front of you. We have nine Olympic and three Paralympic classes to follow - that's a lot of competitors and a lot of boats to know about. The Volvo Sailing App is an essential tool to educate and help spectators gain an understanding into what to expect in Weymouth and Portland next year."
App users can also get the inside scoop on the top sailors by exploring their personal facts pages or sporting timelines. You can even follow your favourite sailor's progression from childhood boat trips and their first attempts at competitive sailing, to professional training and podium finishes through a photographic journey.

"Volvo Car UK is proud to launch the Volvo Sailing App, which enables people to follow our sailing athletes, Team Volvo, in their 2012 campaigns. It is not only a manual for active sailors, but an essential user guide for novices and anyone keen to get a basic understanding of this fantastic sport," said Duncan Forrester, Head of Public Affairs, Events and Sponsorship for Volvo Car UK.
For cool attractive people with Android phones, a compatible app is soon to be available we understand.
Back to top
Back to top