Gold for Ainslie, silver for Percy and Simpson
Ben Ainslie sealed his Olympic sailing test event victory in style today, winning his final medal race to end the Weymouth and Portland International Regatta with a 31 point winning margin in the Finn class.
The triple Olympic medallist had all but secured gold even before the day's racing had begun, needing only to sail a clean race regardless of finishing position, to claim the win. But for Ainslie, who's now won back to back events at the 2012 venue, after Skandia Sail for Gold Regatta two months ago, there was no question of a modest finish. After rounding the first windward mark in third place, he picked his way back through the 10-boat fleet to beat New Zealander Dan Slater into second place in the race, with Frenchman Jonathan Lobert's third enough to elevate him to the silver medal position while Dutchman Pieter Jan Postma took bronze.
"I'm delighted to come away with the gold," said Ainslie. "It's been a great week for me personally but from a team standpoint it has as well. We've got six medals, which is fantastic and if we can keep that going for next year that will be great for us as a team. The new Nothe course is quite tricky tactically, very shifty, puffy, and for me it was a good race in the end. I started off I think second or third at the top mark and managed to pull through to win which was a nice way to end the week off after it's been a solid week. I am happy with the way things have gone but it is in 12 month's time that counts as that is where you want to be winning so I've got to keep thinking about ways to improve and keep pushing."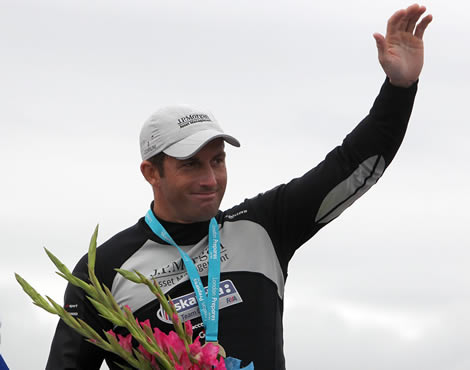 Ainslie's was the only gold of the British team's six-medal haul, but Iain Percy and Andrew Simpson made it three silvers for the home nation thanks to their Star class medal race victory. Brazil's Robert Scheidt and Bruno Prada had wrapped up the Star gold medal ahead of the Medal Race with an unassailable 24 point lead.
Going into the Star medal race competition for the silver and bronze medal was closer with just two points separating Peter O'Leary and David Burrows (IRL), Mateusz Kusznierewicz and Dominik Zycki (POL) and Iain Percy and Andrew Simpson (GBR). The British team's win pushed the Poles into bronze, while the Irish pair finished tenth to end up fourth overall.
Percy and Simpson sailed a great race, but were also helped along the way when their rivals crossed the start line too early and found themselves back in ninth and tenth place.
This result came as consolation for their performance earlier in the week - Percy and Simpson had a poor start to the regatta going 7-13 on the opening day before snapping their mast in Race 4 meaning they were unable to finish the race.
"We had a great race today and it all went to plan," said Percy. "We have a lot of breakages this week. We've got a new boat. This one, she wants to retire. We worked hard this last two weeks. It was probably the best race we have had all week. We needed to beat the Polish and the Irish to get second. It was a really great race. It went to plan.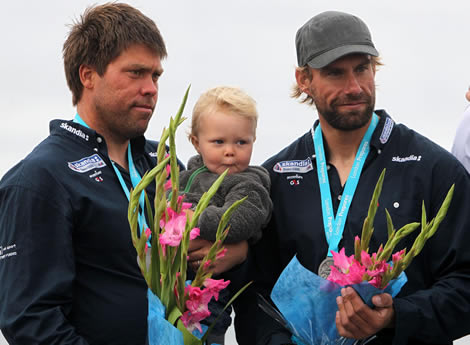 "The important thing to us, more than anything else, was to get a good result on the Olympic waters," Percy explained. "We never like getting beaten, but given where we were after six races we were happy to claw back and get the silver."
This event is the last time they will race the boat which they won Olympic gold in. "The boat has done us proud – she's won us the Worlds and the Olympics but she's a bit on her last legs with the mast breakage and the boat falling to bits, but she got through in the end," said Percy. "She's creaking and groaning a bit at the moment and she wants to retire!"
Australia's Nathan Outteridge and Iain Jensen clinched the 49er gold medal on the final day of the Weymouth and Portland International Regatta following a fantastic medal race on the Nothe course.
Despite precious little practice in the Olympic skiff due to their commitments to the Telefonica Volvo Ocean Race campaign, Spain's Iker Martinez and Xabier Hernandez led the Australians by four points before the Medal Race meaning that for the Australians to win they had to finish ahead of the Spaniards by two places. And in winds of 9-11 knots Outteridge and Jensen did exactly that as they finished in fourth with the Spaniards coming in sixth. Both teams ended on 63 points but the Australians took the gold after they finished ahead in the final race.
"It's a bit of a relief as it's been tight all week," said Outteridge. "We couldn't have had a closer Medal Race with the positions changing all the way around. I think it is quite fitting that we ended up on equal points but I'm pretty happy we won on the countback."
Sailors, coaches and the general public gathered at the Nothe Fort and Gardens to watch the final days Medal Races and the sailors have felt the crowds presence, "We've got a big team over here considering there's only a small number of athletes," said Jensen. "It's good getting all the support we can and they're all really positive and happy to help and it's a big boost."
The next big event for the Australians is the Perth 2011 ISAF Sailing World Championships and the pair will want to continue their form, "We will go home after this and do a little bit more training and head across at the end of November," said Outteridge. "Our main goal is to go there and get selection spot for the games and it would be great to get a victory there and continue our form heading into the Olympics."
New Zealand's Peter Burling and Blair Tuke won the Medal Race by seven seconds ahead of Emmanuel Dyen and Stephane Christidis (FRA) to take the bronze medal.
Brits Stevie Morrison and Ben Rhodes had a chance of a bronze medal, going into the day in fourth place, but were unable to get in front of the New Zealand crew who they needed to beat by two places if they were to reach the podium. The duo were disappointed with their overall fourth, but insist that they will learn more from a tough week that they might otherwise have.

"It's been a pretty good learning experience," said Rhodes. "Last cycle we won the test event but we felt we like we didn't come away from that with as much as we probably have learned from this event. I think there will be a lot more lessons from this that we can use to progress and move on a lot more. Our coach has seen a lot of things that he thinks we can work on. In the long run it will be a good thing, we're not worried."
Ainslie gold and a silver in Star Silver added to the silver medals already in the bag via Nick Dempsey in the RS:X Men's windsurfing, and Hannah Mills and Saskia Clark in the 470 women's event, with bronze going to women's windsurfer Bryony Shaw and Paul Goodison in the Laser.
"I'm really quite pleased with the team's performance," said RYA Olympic Manager Stephen Park. "We had a goal to try and win four medals at this event so to come away with six is fantastic – it could quite easily have been seven. We haven't won as many gold medals as we might have liked, but in terms of setting ourselves up for 2012 to know that we're medal competitive in this venue, in this environment in six out of the ten events is a fantastic place to be with 11 months to go."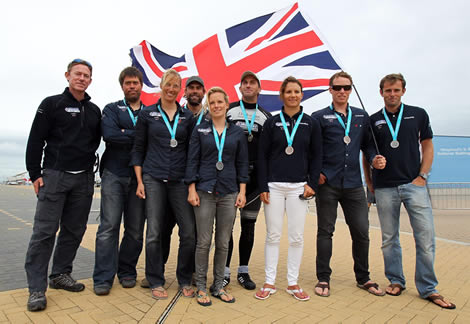 Back to top
Back to top