Silver and bronze for Skandia Team GBR
Japan's Ai Kondo and Wakako Tabata sealed a fantastic gold medal in the Women's 470 after they overhauled Great Britain's Hannah Mills and Saskia Clark on a day that decided the medals in the Laser, Laser Radial and Men's and Women's 470.
Mills and Clark set an early marker in the Women's 470 at the Weymouth and Portland International Regatta after double bullets on the opening day and they held the lead throughout the week. But the Japanese pair slowly chipped away at their lead and brought it down to just one point before the Medal Race.
The Japanese girls finished second in the Medal Race with the Brits coming down in fourth, Kondo and Tabata 14 seconds behind race winners Jo Aleh and Olivia Powrie (NZL), but that was irrelative as they finished ahead of the Brits during the Medal Race to end on 42 points compared to Mills and Clark's 45 points.
Kondo said, "Starting the regatta was not easy but every day we brought the margin down little by little. We chased our target and we got it. The feeling is very good."
A large contingent of Japanese fans made their way to the Nothe to show their support for Kondo and Tabata. "All our team mates told us that they were going to the Nothe to watch," said Kondo. "On the water we couldn't see very well but we knew there was some big support so it was encouraging for us."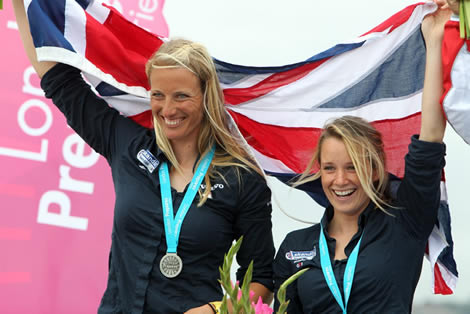 Saskia Clark gave the British team's viewpoint: "It was really close. We did some circling with the Japanese girls pre-start and we went in on equal points so whoever beat who was going to win. We didn't do the last circle with them because we didn't think we had enough time to get back into the start so we left them to do the last circle. The Japanese went off to the right in that first beat and we couldn't cross the boat inside us to follow them out there and that was it there and then really. We kept getting back right to them but just needed another boat length to actually call starboard on them or get them. We put them under pressure all the time, but we just didn't have enough that last little boat length to really nail them."

But the duo, who have won four medals out of the five regattas they've contested since teaming up in February, couldn't hide their disappointment at letting gold slip from their grasp. "It's a bit of a strange emotion at the moment because it is a silver medal, it's in the Olympic venue," Clark explained. "I'm sure if you said to us coming into this we were going to get a silver medal we'd have taken it and not bothered sailing! But now we both feel pretty gutted. We want to make sure we do everything we can this winter to make sure we're not in this position next year."

The days race win went to Jo Aleh and Olivia Powrie (NZL) who finished fourth overall and the bronze medal went to Lisa Westerhof and Lobke Berkhout (NED) who came tenth in the Medal Race and finished on 67 points.
Pierre Leboucher and Vincent Garos (FRA) brought a 17 point lead into the Men's 470 Medal Race and they made no mistakes to bring home the gold medal. The French duo won the Medal Race by 25 seconds ahead of Sven Coster and Kalle Coster (NED) to round off a dominant display throughout the week.
Leboucher and Garos led the Men's 470 from start to finish with a consistent display of sailing and with six top three finishes in 11 races the French pair walk away deserved winners. ISAF Sailing World Cup Men's 470 title holders Mathew Belcher and Malcolm Page (AUS) finished second and Israel's Gideon Kliger and Eran Sela took bronze. Britain's Nick Rogers and Chris Grube finished eighth to finish their regatta in fifth overall.
Just two points separated Andrew Murdoch (NZL), ISAF Rolex World Sailor of the Year Tom Slingsby (AUS) and Rutger van Schaardenburg (NED) before the Laser Medal Race with Paul Goodison (GBR) an outside bet for winning the gold as he started eight points behind.
But it was the Australian who did enough during the Medal Race to take the gold medal. The Dutchman took silver and Goodison picked up bronze. Slingsby and Van Schaardenburg were neck and neck towards the last mark but Slingsby rounded the mark ahead of the Dutchman. And the ISAF Sailing World Cup Laser title holder held on to finish second to seize the gold medal.
"Rutger and Paul Goodison got off to a good start," said Slingsby. "It was a really close one. I had to chip away but I knew I had to be patient. Something inside me was screaming take a risk, but I kept chipping away. I played the shifts and got second over the line, which was the gold medal."
Goodison won the Medal Race and with Murdoch finishing seventh he slipped from overnight leader to fourth overall.
"Today the worse I could have done fourth overall and the best I could have done was gold," Paul Goodison explained. "Without being too complicated and trying to make three boats finish in certain positions I figured the only thing I could realistically be in control of was my result, so the only thing was to go out for the win and I managed to do that. Unfortunately, Tom and Rutger did a little bit too well to keep me off the top spot, but that's just sailing. I need to start a little bit better. At both this regatta and Sail for Gold Regatta I had a slow start which just left me with too many points to catch up. Both regattas I've finished really well and been strong at the end but I need to get the beginning bit sorted otherwise it might not be gold next year."


The gold medal in the Laser Radial was decided before the Medal Race after Marit Bouwmeester (NED) blew the rest of the fleet away to finish 32 points ahead of Evi Van Acker (BEL) before the Medal Race. Evi Van Acker (BEL) took the silver medal and Paige Railey (USA) finished in the final podium position. A fifth in the medal race couldn't improve the standing for Britain's Charlotte Dobson and she ended her regatta in ninth place.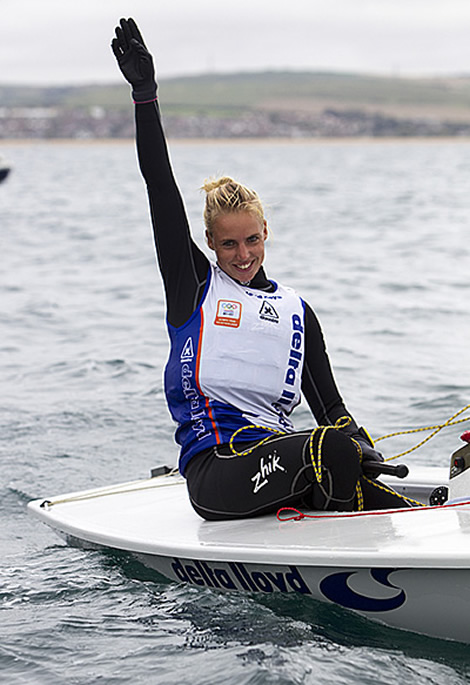 The 49ers, Stars and Finns caught up on their remaining races before their Medal Races tomorrow.
Robert Scheidt and Bruno Prada (BRA) wrapped up the gold medal in the Star with a day to spare after they went 4-1 in Races 9 and 10. The Brazilians have dominated the Star fleet from start to finish and take an unassailable 24 point lead into the Medal Race. The battle for second place is heating up with two points separating Peter O'Leary and David Burrows (IRL), Mateusz Kusznierewicz and David Burrows (POL) and Iain Percy and Andrew Simpson (GBR).
Iker Martinez and Xabier Hernandez (ESP) take a four point lead into the 49er Medal Race following a bullet in Race 14 and an eighth in Race 15. Australia's Nathan Outteridge and Malcolm Page trail the Spaniards in second followed by Peter Burling and Blair Tuke (NZL) in third. Britain's Stevie Morrison and Ben Rhodes narrowed the margin between them and the New Zealander with just five points now standing between them and podium.

In the Finn Ben Ainslie (GBR) has a 19 point lead over Pieter-Jan Postma (NED) following double bullets on the penultimate day. It would take a disastrous medal race for Ben Ainslie to claim anything other than gold.
"Tomorrow is another good opportunity to learn a bit more about the venue on the medal course which is now under the headland, and is by all accounts a pretty tricky place to sail. It'll be nice to finish off with a good show and try and learn more about the venue," the triple Olympic gold medallist explained.
The Medal Races are scheduled to take place tomorrow on the Nothe course, kicking off at 1200 for the 49er class, 1300 for the Stars and 1400 for the Finns.
Back to top
Back to top