Ainslie - the comeback kid
Ben Ainslie started his Olympic test event in style on today to top the Finn class leaderboard after two races at the Weymouth and Portland International Regatta.

The triple Olympic gold medallist had to stage a comeback in his opening race after a taking penalty turns on the startline, but pulled through the fleet, rounding the first mark in 15th before coming back to take second, and picking up a subsequent race win in the second of the day's two races.

"We've been training a lot since the Sail for Gold Regatta a couple of months ago so it was good to get racing again," said Ainslie. "I had a slight issue in the first race – I had a two-turns penalty at the start which put me right at the back of the fleet so I had a bit of work to do after that. It was really just a start line incident which was a little bit 50/50 but I decided to play it safe and take the penalty. The wind was a little bit lighter and shiftier so I felt there was a chance to come back in the race so I felt it was worth taking a penalty rather than risking a disqualification. In the end it paid off and I got back to second so it was a good start."

#16 Deniss Karpak won Race 1 and is third overall after coming seventh in Race 2 and France's Jonathan Lobert is second on five points after going 3-2.

German duo Tobias Schadewaldt and Hannes Baumann lead the 49er fleet after the first three races despite Nathan Outteridge and Iain Jensen notching up two race wins as the 49ers commenced sailing at the Weymouth and Portland International Regatta.

The Germans end day one on ten points and have a one point lead after the Australians finished ninth in Race 3 as the Finn and Star fleets also began racing at the Olympic Test Event. The fifth day of sailing also saw the continuation of the RS:X, 470, Laser, Laser Radial and the Quarter Finals of the Women's Match Racing Competition.

On their day, Schadewaldt, who won gold at Kieler-Woche said: "We had a very consistent day today. We got excellent speed on the upwind and we hope to keep that up over the next couple of days."

The Australians won Race 1 by 20 seconds and Race 2 by six seconds, but they were behind Race 3 winners Iker Martinez and Xabier Fernandez (ESP) by 57 seconds, eventually finishing ninth. On the performance Iain Jensen said, "We had a really good first two races but it was a little bit lighter in the third and we had to work our way through."

And Spain's 2004 Athens Olympic Games 49er gold medallists finished the day in third on 17 points.
Stevie Morrison and Ben Rhodes were happy with their 'conservative' 6,4,7 from the day which sees them in fourth place overall: "We sailed pretty conservatively as those results would perhaps suggest, but we were very pleased," the 32-year Morrison explained. "We've made a lot of changes since the Skandia Sail for Gold Regatta in the way that we do things and how we use the equipment we've got. It was always a bit of risk but was something we felt we needed to do in looking ahead to try and win a gold medal summer, we should try and make changes now. It felt pretty good, it felt like we were racing well and feel that we're going to be on an upslope as the week goes on."
Robert Scheidt and Bruno Prada (BRA) are the pair to beat in the Star after the Brazilians won both of their races. The Brazilians claimed the ISAF Sailing World Cup Star title by 26 points winning gold at Rolex Miami OCR, Semainé Olympique Française, Delta Lloyd Regatta and Skandia Sail for Gold and once again showed they are the pair to beat. After two races Hamish Pepper and Craig Monk (NZL) are second on seven points and Fredrik Loof and Max Salminen (SWE) are third on ten points.
Claire Leroy (FRA) and Silja Lehtinen (FIN) advanced to the Semi Finals of the Women's Match Racing competition in fine fashion. World #1 Leroy defeated Lucy Macgregor (GBR) 3-0.
"It definitely wasn't the day we came out for," said a disappointed Annie Lush. "With the match racing, unlike the fleet racing, the couple of good days we had beforehand really don't do anything for us. It's a new stage, and the quarters is probably the biggest stage of the regatta because it cuts the fleet down to half, so it's the biggest cut and unfortunately we've fallen on the wrong side of that today. I think you'd say Claire was definitely sailing well today and we definitely didn't get the shifts right today. We had two really good, strong pre-starts against her and winning the starts, one even with a penalty against her and we were ahead as well and we just really sailed the shifts badly and let her get around us like that, so we're very disappointed. In the final race it the first start we've actually lost for the entire regatta and it was the one start where we really needed to be ahead and it was a must-win race. It was a disappointing day, but other things we did really well – we were starting strong, we were sailing I think fast and sailing well. We just really need to work on one area of our sailing there in shifty conditions."
Silja Lehtinen also won her Quarter Final against Anna Kjellberg (SWE) 3-0. Ekaterina Skudina (RUS) defeated Olivia Price 3-1 but in the second race just centimetres separated the pair. Price protested but the redress was denied and Skudina went on to win.

Sally Barkow (USA) progressed to the Semi Finals after a tough Quarter Final against Mandy Mulder (NED). The American took an early 2-0 lead but Mulder fought back to take the Quarter Final into a deciding race. The lead in the final race changed hands throughout but as Mulder led towards the finish a penalty that went her way handed Barkow the race win and a spot in the Semi Finals.

In the Semi Finals Skudina will face Leroy and Barkow takes on Lehtinen.
Once again there is no separating Nick Dempsey (GBR) and Dorian Van Rijsselberge (NED) in the Men's RS:X. Dempsey discarded his tenth in Race 5 but notched up his third bullet in Race 6 and the Dutchman won Race 5 before discarding his fourth in Race 6. Both sailors are tied on seven points as they head into the reserve day. Meanwhile Byron Kokalanis (GRE) is third on 20 points.

Marina Alabau (ESP) continues to lead the Women's RS:X after she had another successful day on the water. The Spaniard came third in Race 5 before winning her fourth race of the regatta in Race 6. She leads on seven points followed by Zofia Klepacka (POL) on 12 points and Charline Picon (FRA) on 15 points. Bryony Shaw (GBR) won Race 5 and is fourth overall.

Pierre Leboucher and Vincent Garos (FRA) maintained top spot in the Men's 470 after recording a 1-3 card on the second day of 470 sailing. The French pair, who finished third in the ISAF Sailing World Cup Men's 470 Standings, rounded every mark in first place in Race 3 for a convincing win but finished 40 seconds behind winners Anton Dahlberg and Sebastien Ostling (SWE) in Race 4. Japan's Tetsuya Matsunaga and Kimihiko Imamura are second on 24 points and Spain's Onan Rodriguz and Aaron Sarmiento are third. Race 4 winners Dahlberg and Ostling are down in 16th place on 56 points.

Hannah Mills and Saskia Clark (GBR) continue to lead the Women's 470 after a 3-7. Their 12 points give them a nine point lead over Fernanda Oliveira and Ana Luisa Barbachan (ESP). But the days race wins went to Ai Kondo and Wakako Tabata (JPN) in Race 3 and Israel's Gil Cohen and Vered Bouskila in Race 4.

The Lasers were the last off the water and despite a bullet in Race 3, overnight leader Tom Slingsby (AUS) has slipped to second place after finishing 13th in Race 4. Andrew Murdoch (NZL) had a consistent day posting a second and third place to lead Slingsby on 14 points. The Race 4 bullet went to Brazil's Bruno Fontes who is third on 32 points.

Marit Bouwmeester (NED) had a great day in the Laser Radial posting two race wins to lead the fleet on 14 points. Overnight leader Evi Van Acker (BEL) slips to second on 24 points and Paige Railey (USA) is third on 33 points.

The RS:X and Women's Match Racers enjoy a day off tomorrow but racing continues in the 49er, 470, Laser, Laser Radial, Finn and Star.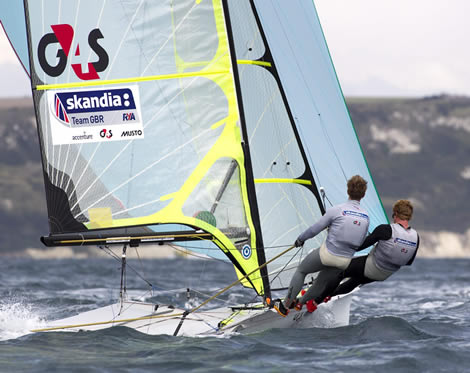 Back to top
Back to top