Weaving across the Bay
Day 1 of the Laser Slalom 2011 threw contenders a relatively easy time, starting in a breeze in the high teens, a flood tide and flat water - conditions that prevailed for the first part of racing. But by late afternoon the usual San Francisco breeze was back hitting the low to mid-20s.
While over half the fleet crashed at least once, a handful made the trek around the course look like a walk in the park, including two-time Laser World Masters Champion Scott Ferguson (USA) who ripped through in just five minutes, executing smooth manoeuvres that earned him two wins, easily putting him in the winners bracket where he'll go up against Anna Tunnicliffe, Olympic gold medalist, tomorrow, who also won the one race she sailed today (she also had a bye). Tunnicliffe is the hot contender to win this event.
"It was good, I got around the course smoothly, it wasn't as difficult as I thought out there. I got the lighter air, it was fun, I could have done with more breeze though," Ferguson said.
Tunnicliffe, Laser Performance Ambassador and Team Maclaren skipper, blew spectators away with her flawless action and boat handling skills as she really demonstrated just what a work out these boats are. "I had to, I was behind," she laughed.
No-one agrees more that the big breeze is what the event's all about than the event's founding fathers, Don Trask and Bill Kreysler (who also hold the distinction of being responsible for the successful construction of 11,000 Lasers in ten years, 30 Star boats and 300 J24s during their career in the business)
Trask cites the perfect conditions for the event as an ebb tide where the waves are really big and the wind is blowing hard. "The old guys are saying they hope it blows like hell because they know there's no way these guys are going to get down the course! We were fairly good sailors back then but I'm sure these guys are way better than we were. You can't reef these boats but you can sail them in any condition so I hope we give them a real ride for their money this event," Trask said.
Trask's inspiration for the event was a no-brainer. "I was watching some ski slalom races and thought, "that could be fun", particularly in a breeze and particularly if we kept it really short."
The rest is history. Even Warren Miller of skiing fame filmed the windiest event Trask recalls. "It was blowing a good solid 25, maybe 30. We were reefing then - we were using the beach up here west of the club and we'd come in and wrap the sail around - there was no way you could get downwind with the big sails! It was good times and the best of the best were here that time - Bertrand, Silvestri, Keefe, Van Dyne to name a few."
Trask noted that while the Laser hasn't changed in design or weight, a few mechanical changes such as the outhaul and boom vang have been improved greatly providing more options.
"Techniques have changed a bit and being in shape is a really important factor with a Laser," Trask said. "Technique going downwind is the really critical part of sailing Lasers and they've perfected a new technique of getting downwind which has made it a whole new game. These sailors blow the old school right out of the water downwind. We would pull everything down as tight as we possibly could and that's how we'd sail. Now they adjust all that downwind."
The Laser Slalom 2011 event is an invitation-only fleet of 32 competitors raced on a short course close to the beach configured to force hurry-up maneouvres.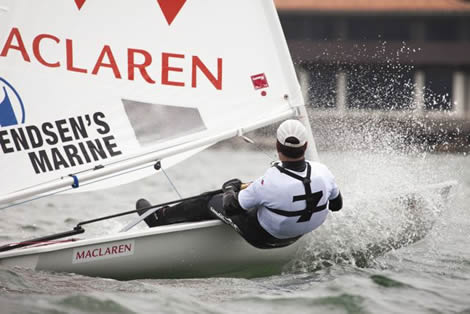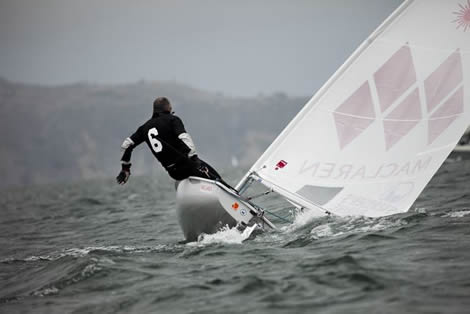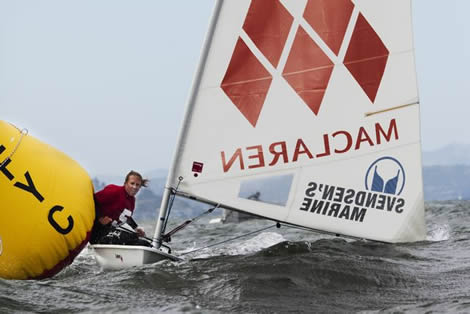 Back to top
Back to top