Slingsby edges ahead
Tom Slingsby lived up to his fame and won both of today's races on the third day of the D-One Gold Cup on Lake Garda.
The first one was a walk in the park for the Australian Laser World Champion as he led from start to finish. In the second race he managed to stage a great recovery after an average start, showing amazing speed upwind. It was another beautiful day on Lake Garda, with the local Ora blowing 16 knots in the first race and 13-14 in the second.
The 36 D-Ones sailing upwind close to the west bank of the lake and downwind under their colourful spinnakers at speeds reaching 16 knots was exciting, while Tom Slingsby screamed ahead upwind with amazing speed bursts in the first beat of the second race when he passed a couple of competitors sailing at least 1 knots faster. The 27-year old Australian decided to take part in this Gold Cup after having heard about the potential of the D-One.
Today's first race saw absolute domination by Slingsby from the onset. Slingsby crossed the finish line more than 200m ahead of second-placed Nick Thompson. Andrea Casale had a fantastic race again and was third, ahead of Ivan Kljakovic Gaspic and Giles Scott. Among the Italians, Uberto Crivelli Visconti was eighth and Fabio Toccoli ninth.
The second race was marked by an exceptional recovery by Slingsby after an average start. At the first weather mark Slingsby was already leading, followed by, who else, Nick Thompson. Croatia's Ivan Gaspic (current European Finn champion) was third, Andrea Casale fourth and Giorgio Poggi eighth. Nathalie Testa, the only woman racing in the regatta, put in a remarkable performance and finished first among the fleet with the smaller 9.5 rig.
After six races with one discard, Tom Slingsby (3-1-1-2-1-1) is leading the Gold Cup, now two points clear of Nick Thompson (1-2-2-1-2-2). while Andrea Casale is now third (4-3-3-4-3-4), two points ahead of Giles Scott (2-4-4-3-5-5). Another British skipper, Charlie Cumbley is fifth. Among the Italians, Fabio Toccoli is eighth (10-8-12-8-9-14), Giorgio Poggi ninth (DNF-7-19-7-10-8). Riccardo Pontremoli from Genoa is eleventh (8-11-22-14-18-13). Reigning champion, Agustín Zabalua from Argentina, and light-wind specialist is currently 16th, penalised by his weight of just 72kg.
"It is a great regatta," stated Luca Devoti, freshly arrived from Cascais, where he's been busy as sailing manager of America's Cup challenger Green Comm Racing. "Watching Tom Slingsby sailing is an exceptional opportunity. The fine-tuning of the D-One dinghy is continuous and now even heavyweight Finn sailors can be competitive. Riva del Garda is a notoriously windy place and maybe that scared the lighter skippers a little bit but being able to witness such a high level of racing with those guys makes it a unique spot for the sport of sailing. Next year's Gold Cup will be in Tuscany and everybody will have their chance as well."
The event's last race is scheduled for tomorrow morning at 0845 and will take place with a northerly breeze (Pelèr). The medal race carries double points and cannot be discarded, leaving the final result wide open. Two battles are expected, the first one between Slingsby and Thompson for the title and the other one between Casale and Scott for third place. Among the skippers racing with the smaller 9.5 rig, Spaniard Alvaro Maestro Garcia is holding the lead but Nathalie Testa still has some chances.
The Volvo Cup D-One, after the events in Alassio, Bracciano, Cattolica and Riva del Garda, will proceed to Marina di Scarlino in conjunction with the National Championship (16-18 September) and the Barcolina of Trieste (1-2 October).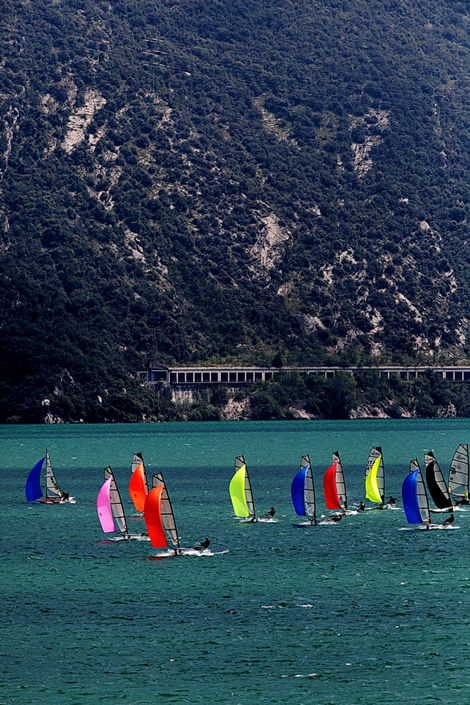 Back to top
Back to top