Laser sailors on top
In a show of pure technical and sports prowess, Laser aces, Australian World Champion Tom Slingsby and Great Britain's Nick Thompson were dominant on the D-Ones on the opening day of the Gold Cup, the fourth stage of the 2011 Volvo Cup. The Laser duo were incredibly fast upwind, dynamic downwind, athletic and fit, perfectly at ease on the Luca Devoti-designed D-One.
A total of 36 skippers from 10 countries were on the start line at Fraglia Vela Riva. Among them were Great Britain's Giles Scott, current European Finn champion, and Italian Andrea Casale, former Italian Laser and J/24 World Champion that chose to make his comeback "for sheer pleasure" but was already feeling comfortable with an excellent 4-3 score in today's two races.
Racing took place with the Ora, the typical afternoon southerly on Lake Garda, blowing 16 knots in the first race and then dropping to 12 in the second one. Nick Thompson won the first race, followed by Giles Scott and Tom Slingsby who capsized on the second run. Andrea Casale was fourth while Riccardo Pontremoli eighth and Fabio Toccoli tenth.
The second race of the day went to Tom Slingsby who finished ahead of Nick Thompson and Andrea Casale after a thrilling tacking duel up the second beat. Fabio Toccoli finished eighth while further down the score table was the reigning champion Agustín Zabalua (14-15). The best performance among the smaller 9.5 rigged boats came from Andrea Magni, 21st(21-21), while Nathalie Testa claimed the top spot among the women skippers.
Two more races are scheduled on Friday and Saturday, and Sunday will see he closing race of the event.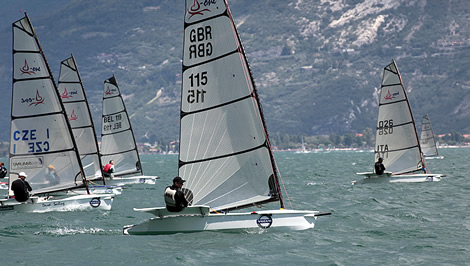 "It's really fun", stated a jubilant Tom Slingsby. "I dueled with Nick during one entire beat, having fun like crazy and laughing at each cross. The D-One is the best way to have fun sailing but also race at a high level."
"I haven't raced in a boat like this for 15 years now," said Andrea Casale, "and I have to admit I had tremendous fun. Initially I thought of this regatta as a game, but now that I'm racing against these extremely well prepared guys I'm giving my best because there is always a lot to learn when one goes back to sailing basics and the sheer pleasure of sailing on a yacht."
The Volvo Cup D-One, after the events in Alassio, Bracciano, Cattolica and Riva del Garda, will proceed to Marina di Scarlino in conjunction with the National Championship (16-18 September) and the Barcolina of Trieste (1-2 October).
Back to top
Back to top