Moths on Mar Menor
Moth Fest is based at Pro-Vela, a unique sailing centre based upon the principles of providing the best coaching in the best location using the best equipment available, whilst the sailing will be taking place on the Mar Menor – A lagoon of over 700 square kilometres of warm water that's is blessed with 315 days of annual sunshine, helping produce flat water conditions with reliable thermal winds.
Moth Fest differs from normal regattas as the focus is firmly on having fun. With pursuit racing, downwind slalom and long distance racing (as well as a more conventional two day regatta at the end) being just the pretext for spending a great week socializing and learning in a location that can only be described as one of sailings best kept secrets.
Alan Hillman, Event founder and host: "Having an international fleet of 40 Moth sailors at our base in CAR Infanta Cristina on the Mar Menor will be a fantastic experience for sailors and spectators alike. Warm, flat water, reliable thermal breezes and top level coaching and expert advice on all aspects of Moth sailing will create a unique and memorable sailing regatta that has seen the event double in size this year."
And Moth Fest kicked off in some style today. A perfect sea breeze arrived exactly on time for afternoon windward-leeward racing in 10 knots.
With 40 boats representing all corners of the European foiling mothosphere everyone is here to win the coveted Mothballs of steel... and avoid the pink handbag which will be awarded daily to the highest and lowest recorded speeds on the factory supplied velocitek units.
Clothing supplier Magic Marine have fortunately supplied long sleeve rash vests to counteract the sun and with Crew Fuel providing the rehydration and energy supplies the first day of Moth Fest seemed to hit the right buttons immediately. As the happy sailors hit the beach after a day of Spain at its finest it was left to class stalwart Graham Simmonds to sum it all up: "Just awesome and exactly what I came here for. I can't wait for tomorrow to try and get my hands on those balls."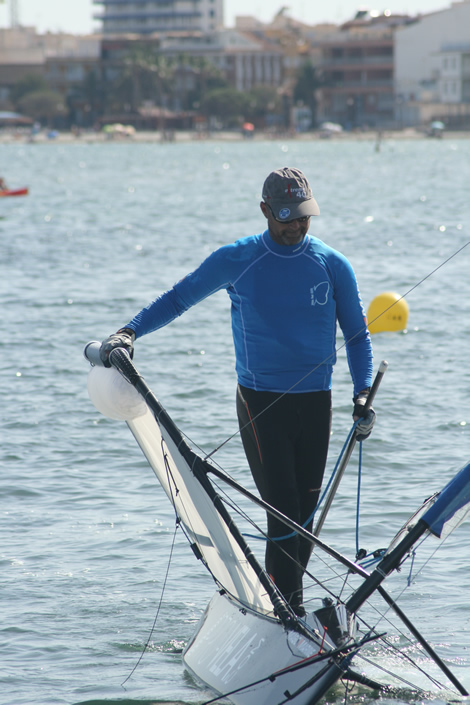 Back to top
Back to top