Heemskerk and Tentij retain their title
More challenging conditions faced competitors on the final day of Eurocat with the wind gusting to 17 knots and a choppy sea that caused much breakage and some abandonments, while others showed impressive skill mastering the conditions.
The F18 class proved most indecisive. Following a black flag start, the leaders from day one, Backès/Jarlégan, the reigning world champions were forced to throw in the towel. Also the all new Phantom F18 was forced to retire but looks set to be a serious contender at Eurocat next year. Winner of the long distance race around Houat yesterday in F18, Moana Vaireaux and Romain Petit had a bad race and dropped to fifth place overall but with the satisfaction of having shown impressive pace. Finally, Tornado legend Darren Bundock, sailing with Jeroen van Leeuwen, was unable to notch up another Eurocat victory after scoring his second black flag penalty. In the end, like last year, it was Mischa Heemskerk and Bastiaan Tentij who have won the F18 class aboard their all-new Cirrus R and just like last year's podium here, in the F18 it is once again fully Dutch.
Among those in C1 despite the breezy conditions, it was the Viper sailors who ruled, claiming nine of the top ten places, with crews of six different nationalities. In the end victory
The victory belongs to Emmanuel le Chapelier and Guillaume Eliot followed by the Belgian crew of Patrick Demesmaeker and Gregory Moerman with Britain's own Chris Sproat and Georgina Burke. There was a notable performance by Tornado legend and cat designer Yves Loday who finished 12th, sailing his Shadow design...singlehanded.
In the C3 class victory was decisive for the Yacht Club de Carnac crew of Pierre Renaud and Pablo Mathevet, the French Hobie 16 champions, sailing on this occasion an SL 16 with five bullets and one BFD, which they discarded. Despite the varied conditions, they demolished all the young crews including those shortlisted to go to the ISAF Youth Worlds. Top Brits were White grandson Rupert, sailing with Nicola Boniface, who finished fifth.
Full results here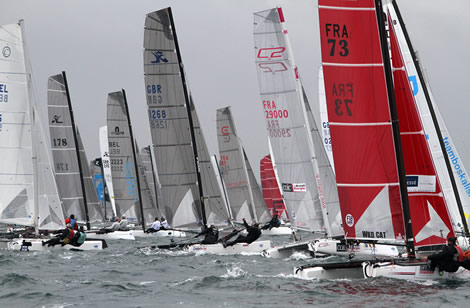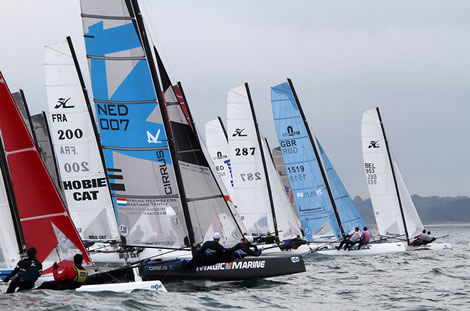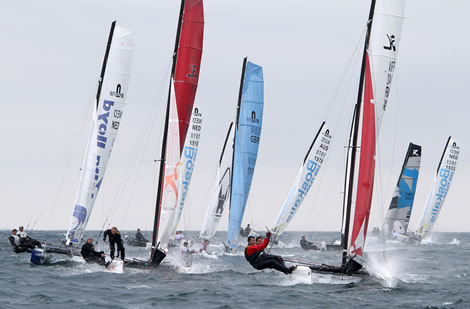 Back to top
Back to top