On the road to Weymouth
Pace is hotting up for Skandia Team GBR with the Olympic Games now 16 months away.
Between now and the sailing events in Weymouth getting underway on 29 July next year, each nation first must 'country qualify' itself in each class before they then select the athlete or athletes they will send in each class.
Being the host nation, Skandia Team GBR automatically gets a berth in each of the sailing 'events' and so doesn't have to go through the country qualification. For other nations, according to 'the process', 75% of these country qualifications will be determined by the top ranked sailors at the Perth 2011 ISAF Sailing World Championships this December, the remaining 25% from each event's World Championship in 2012, provided it is before 1 June 2012. Given the limited number of entries/boats in each class (see table below) this is obviously of particular relevance to the smaller Olympic nations.
RS:X Men - 38
Laser - 48
Finn - 25
470 Men - 27
49er - 20
Star - 16
RS:X Women - 28
Laser Radial - 39
470 Women - 20
Women's Match Racing - 12
But for sailors in the stronger Olympic nations most pressing is getting selected to represent their country and across the classes these monumental contests will play out this year. In the UK, the toughest looks at present like it will be in the Finn, where Ben Ainslie, Giles Scott and present World Champion Ed Wright are all Gold medal contenders and sadly only one will get the berth. With Ainslie no longer distracted by any America's Cup commitments we know where our money lies.
Skandia Team GBR is in the fortunate situation of having several medal winning prospects in most classes. Pretty much assured of selection are Beijing Gold medallist and World Champions Iain Percy and Andrew Simpson in the Star, Nick Dempsey in the RS:X Men, Bryony Shaw in the RS:X Women and Lucy MacGregor's Women Match Racing team.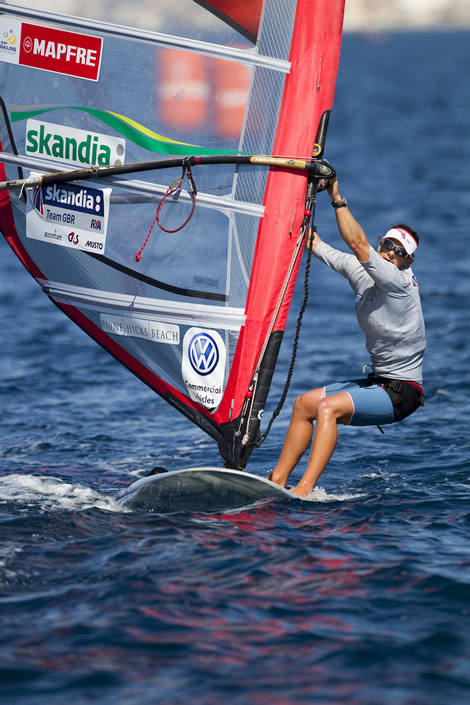 In the Laser, Beijing Gold medallist Paul Goodison is the obvious choice but he is being pressed hard by Nick Thompson, who is currently in third place in the ISAF rankings nipping at second placed Goodie's heels.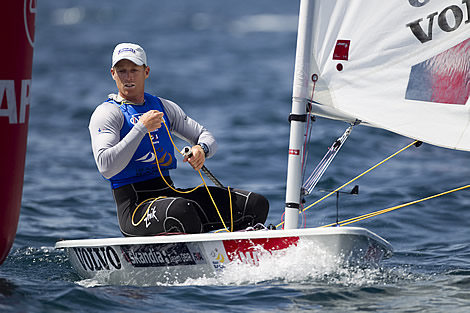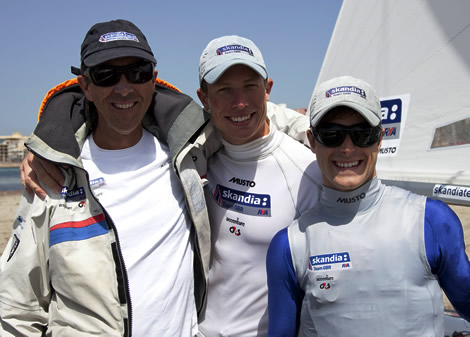 In the 470 Men, Luke Patience and Stuart Bithell have come to the fore since their surprise silver at the 2009 470 World Championships shortly after they teamed up (perhaps the sweetest tale from this Olympic cycle) but they equally have past World Champions Nic Asher and Elliot Willis gunning for them, not to mention the recent return of past double Olympic silver medallist Nick Rogers.
In the 470 Women, Penny Clark and Katrina Hughes have been quietly been putting away consistent results including a second place at Rolex Miami OCR earlier this spring but they will now face strong competition from the new pairing of terrier-like Hannah Mills and the experienced Saskia Clark, who as we write are two points ahead of them in Hyeres.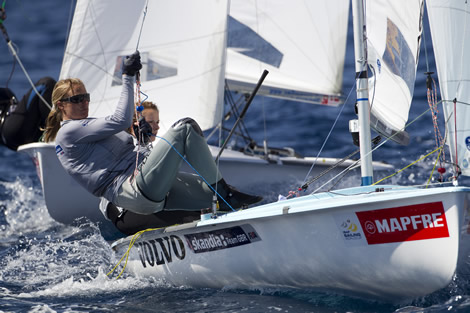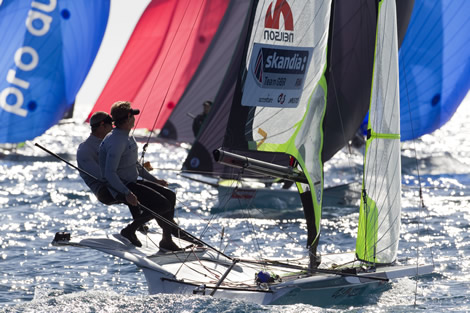 The British 49er squad has an impressive number of boats capable of finishing in the top 10 (at present five are in the ISAF 49er top 10 ranking), but none are consistently finishing on the podium and we suspect it will be this class that provides the biggest headache for the selectors unless one team edges ahead over the course of this season. At present this looks to be John Pink and Rick Peacock who won Rolex Miami OCR and Kiel Week last year and were second at the 2009 Worlds. However they have also been regularly posting results outside of the top 10.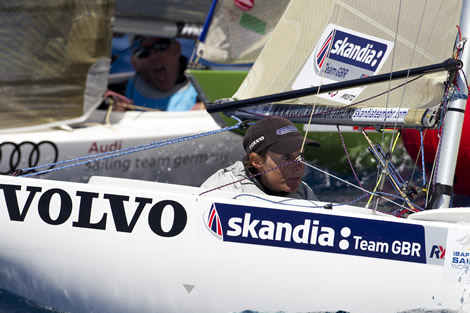 In the Paralympic classes, there are strong medal prospects for both Megan Pascoe and Helena Lucas in the 2.4mR, for John Robertson's team in the Sonar and for Alexandra Rickham and Niki Birrell in the Skud.
Skandia Team GBR's weakest class is the Laser Radial, but even here there are three sailors knocking on the door of the top 10 in the ISAF rankings – Charlotte Dobson (11th), Andrea Brewster (14th) and Alison Young (16th). Dobson was second at the Europeans and at Hyeres last year, while Brewster was third at the Worlds in 2008 and Young was third at Rolex Miami OCR last year.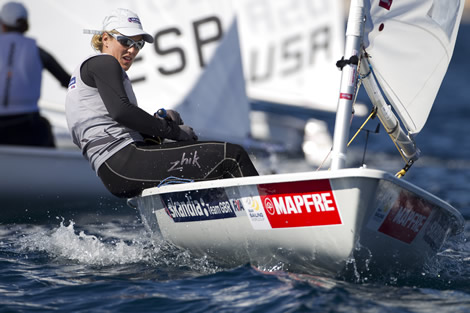 Olympic Manager Stephan Park is satisfied with Skandia Team GBR's progress to date. "One of our goals was to try to be competitive in all 10 Olympic and Paralympic classes and we are not far away from that."
Over recent Olympic cycles the women's classes seem to have been hardest to develop in the British squad, albeit with Shirley Robertson bucking the trend. Since then progress has been made with Sarah Ayton's team winning Yngling Gold in Beijing and Bryony Shaw the bronze in the RS:X Women. This time Shaw is returning while Lucy MacGregor is looking strong in the Women's Match Racing and there are better prospects in the 470 Women and Laser Radial. As Park says: "Penny and Katrina are certainly possible medallists and pushing towards probable. In the Laser Radial we have managed to move on and we had four singlehanded women's medals in 2010 - a mixture Ali Young and Charlotte Dobson. They are both not far away. Hopefully in 2011 we'll be able to see one or both be more consistent and make that jump."
Not just a UK issue

Looking outside of the UK there are equal clashes of the titans – for example will Robert Scheidt or Torben Grael, two of the greatest racing sailors in the world, get the Brazilian Star berth? Will Spain send Marina Alabou or Blancha Manchon in the RS:X Women, while the Italian selectors must decide between Laura Linares, Flavia Tartaglini or Beijing Gold medallist Alessandra Sensini, all three potential medallists. Israel and Poland have a similar problem in the RS:X Men. In the 470 Men will France send Beijing bronze medallist Nicolas Charbonnier and his new young crew Jeremie Mion, who are on the ascent at present, or the more highly ranked Pierre LeBoucher and Vincent Garos?
Australia and the USA must decide on their Women's Match Racing teams, the latter in particular will be a tough one between the highly experienced Sally Barkow and highly talented Anna Tunnicliffe, who already has medal winning experience having returned from Beijing with gold in the Laser Radial.
Selection

At present several countries have their selection series under way with their teams likely to be announced around the time of the ISAF Perth 2011 World Championships this December. So while generally there are obvious candidates, how do the stronger Olympic sailing nations decide who's going to go? Results at the top events or the ISAF rankings would be the most obvious way of deciding. Notably US Sailing Team Alphagraphics previously ran a winner-takes-all sudden death selection series but this time around has changed to a more conventional system based on an aggregate of events throughout 2011 – Dean Brenner, Chairman of the US team's Olympic Sailing Committee, describes this here. In some countries the central Olympic Association for all sports stipulates that if an 'athlete' comes within the top x places at a world championship then that automatically gets them a place at the Games.
Skandia Team GBR's selection process is similar to the USA's in that it is based on results, no doubt with a weighting on the Perth World Championships and Skandia Sail for Gold held at the Olympic venue, but differs in that the ultimate decision of the selectors is subjective.
For example in the Finn, if Giles Scott narrowly beats Ben Ainslie both at Skandia Sail for Gold and then at Perth 2011 this year, then the selectors might still choose Ainslie over his younger rival based on his prior experience and results in the heat of Olympic competition.
Outside of the UK this subjective decision-making has led to difficulties in the past, the most memorable being when the Australian selectors chose Chris Nicholson and Daniel Phillips over their 49er selection trial winners Adam Beashel and Teague Czislowski prior to the 2000 Games, causing Beashel and Czislowski to appeal to the Court of Arbitration for Sport. It is to avoid potential legal action in the USA that Dean Brenner says their system this time is purely results based and not subjective.
Back to Skandia Team GBR and the management within the team are not keen on revealing their selection criteria – one of the arguments Olympic Manager Stephen Park makes for this is that if it were public then competing nations might be able to influence it. However the system is one that has been refined greatly over the years with input not just from the selectors (which this time comprises Park, John Derbyshire, Tim Hancock, Jarrod Simpson and Chris Atkins) but also the sailors themselves and the sailors themselves know which events will be the counters.
One of the oddities is that while selection for London 2012 is paramount, nations must make a preliminary selection for which of their sailors will attend this year's Olympic test event in Weymouth over 31 July-31 August, for unlike Skandia Sail For Gold before it this event will be one nation per class just as it will for the Games themselves.
Aside from not having to country qualify, hosting the Olympic Games does hold other advantages. For example Skandia Team GBR's selection process can be pushed later than, for example, China prior to 2008. Stephen Park points out logistically it took a long time getting things to China – a boat for example used to take as long as four months to reach Qingdao. As a result while other nations are likely to be making their selection this year, Park says that for Skandia Team GBR their selection process won't start until October this year and in some cases could extend on until the early summer 2012.
Next week in the build-up to the ISAF Mid-Year meeting in St Petersburg we will look at the possible outcomes over the choice of equipment for Rio 2016.
Back to top
Back to top