High scoring day
After a day of light and shifty winds, the favourites in many classes have collected high scores. The competition was tight today with all classes racing in Gold group except in the Star and 470 Women.
Spain is in command in three classes. Tara Pacheco and Berta Betanzos are sailing away in the Women 470, 26 points ahead of Italians Giulia Conti and Giovanna Micol. France's Emmanuelle Rol and Hélène Defrance mastered the day with two victories in their favoured conditions, hauling themselves back up in fifth place.
"We were comfortable in today's conditions," said Rol. "We had good starts. This gave us confidence, especially after our difficult start in the event. We couldn't afford any more mistakes."
After a tough start to their regatta, Skandia Team GBR's newest 470 women's team of Hannah Mills and Saskia Clark broke through into the top three spots, with the help of a consistent 12,10 on the water today. The duo, who are competing in their second World Cup event together following the retirement of Clark's previous helm Sarah Ayton, were left with a hole in their boat and some big scores on the scoresheet on Sunday's opening day of the regatta following a pre-race collision with a coach boat. However, a successful redress claim for average points up until the end of racing today allowed the damage to their scoreline to be negated, barring any further disasters – a scenario which Clark is relieved they managed to avoid.
"It was a difficult start to the week, with the collision setting us back before we'd even done the first race, but we're happy to have an end to the average points nightmare after today!" Clark explained. "We don't have to worry so much about keeping ourselves out of trouble or getting a black flag. We've been having to reign ourselves in at the start and be quite strict with ourselves to avoid getting any big scores, but generally it's been quite a high scoring regatta so being able to be conservative has worked quite well for us."
Blanca Manchon is also increasing her lead in the RS:X Women with perfect results today, adding two more bullets to her scoreline, now 14 points ahead of France's Charline Picon. Italian Alessandra Sensini is steadily making her way up the fleet and is now into third overall. Sensini, who has won this event three times previous is back in Hyères after a nine year break on a mission to win Olympic selection. On her racing here so far the Beijing Gold medallist commented: "I didn't make the most of the windy day. I am usually fast in the breeze but I made a mistake and fell in the water. Then I had to deal with the light conditions. I am happy with the way I am going. This is my 6th Olympic campaign! They are all different, the problems to overcome are not the same, you have to adapt. People think it is easier for me but actually it is harder because there are more expectations."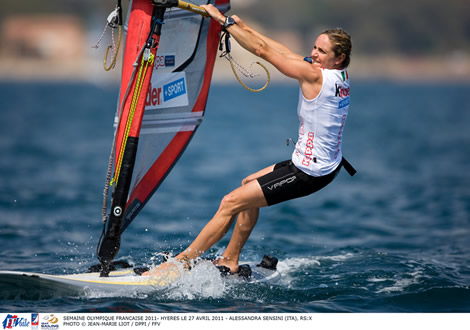 The third Spanish leader is Javier Hernandez who has overtaken Australian Tom Slingsby in the strong Laser fleet. Today's light conditions made changes in the results, distributing high scores to all the top sailors. Slingsby collected three of his worse races in the event dropping him to third. After a mixed day, Germany's Simon Grotelueschen gains one place moving up to second: "It was another hard day with not much wind. I am tall and had to try and make myself small in the boat! Everybody got bad races, I got mine as well but managed to gain one place so I am happy with the day."
Slingsby commented: "It was a really tough day today. We had three finals races in 2-5 knots. It wasn't really the best conditions for racing let alone three races today but that happens. Things didn't go my way today and I'm back to third overall but with one race tomorrow, I'll hopefully have a good race and pull back some points."
Austrian Andreas Geritzer, who started the day in 19th, has climbed to sixth overall after a fourth and a bullet in the last race. He said: "Today were perfect conditions for me. When it is light and tricky, the other guys always say "These are Andy's conditions!" That was true again today!" However, the Athens Silver medallist was not the day's best improver. Jesper Stalheim (SWE) has jumped from 35th to 10th and Olympic gold medallist Paul Goodison from 24th to 8th, thanks to an 11th and two third places from the three races held. At one stage looking vulnerable for the top ten medal race spots, he's now 11 points away from the podium positions with one gold fleet race to run tomorrow ahead of the double-points scoring finale on Friday.
Despite scoring their worse score so far in the regatta, Robert Scheidt and Bruno Prada remain in the top spot in the Stars. "We are leading the regatta since day 1 - we started well and can finish well," said Scheidt. "We are really happy with our results, because we had difficult conditions and we raced consistently. There are still four races to go, tomorrow will be a big day so we will see how we go." Winner of today's only race were Croatians Marin Lovrovic and Sinisa Mikulicic.
With two race victories in the RS:X Men, Poland's Piotr Myszka has climbed to second overall, only two points off the lead held by Shahar Zubari (ISR). "Today we had the worst wind of the regatta. I had two good starts and led the race from the first mark," explained Myszka. " I had pure wind advantage and controlled all. I was very lucky in the second race and took the second bullet." Julien Bontemps (FRA) is third.
The tricky conditions distributed high scores to the 470 Men. France's Nicolas Charbonnier and Jeremie Mion discarded a 27th and a second. There were mixed results as well for team mates Pierre Leboucher and Vincent Garos who scored a 44th and a 4th. They remain in second position five points ahead of Australians Mat Belcher and Malcolm Page. Britain's top 470 Men's team of Luke Patience and Stuart Bithell are currently outside of the medal race positions in 13th.
"We race in a very light sea breeze today that never really established itself," said Malcolm Page. "It was very flukey with wind shifts of up to 50 degrees making for a tough day. All of the crews around us had at least one bad race, if you made one small error or your strategy didn't go quite to plan you paid big today. It's expected to be very light again tomorrow and if we do race it's about being extreme if you want to get ahead. You have to push a little more in these conditions to do well, back yourself and go headfirst with your decisions. That being said we're not focused on the other boats, we're still looking to improve ourselves and get more time racing in a large, strong, fleet in conditions that we hardly ever get to race in at home. You can't simulate that pressure and it's a great opportunity to learn."
Ben Ainslie won his fifth race out the seven sailed in the Finn, the multiple Olympic champion proving once again his versatility in all conditions. Pieter-Jan Postma (NED) remains in second 13 points behind Ainslie while Giles Scott is back in third.
In the Laser Radial, France's Sarah Steyaert has taken the lead from New Zealand's Sara Winther despite scoring a 25th in one race. The French sailor for whom Hyères is her first Olympic selection regatta in knows where she stands: "I think I took it too cool this morning, I was too relaxed. All the best were present and the level much higher." About her top place she adds "I have never looked behind and will not start tomorrow. I will do my job and will have a good day. I want to win the regatta and will not stop here
Sophie de Turckheim holds on to her third place.
The Italian Sibello brothers Pietro and Gianfranco have taken the lead in the 49er after three races sailed in the Gold group for the top 25 teams. But the day's best results were collected by Beijing Gold medallist Jonas Warrer and Soren Hansen (DEN) who have gained second place after two fourth places and a win today. Overnight leaders Dylan Fletcher and Alain Sign slipped to third overall with 13,3,29 for their three races today. Paul Brotherton and Mark Asquith are sixth.
In the Women's Match Racing, the seeding in the Gold group after five races saw a three way tie for the top three and last three.
The Top three: Lucy MacGregor (GBR), Sally Barkow (USA) and Lotte Groeneveld (NED) have scored 4-1. Claire Leroy (FRA), Ekaterin Skudina (RUS) and Echegoyen (ESP) are placing fourth to sixth with a 1-4 scores. Le Berre (FRA) and Tulloch (USA) are completing the Gold group after winning the repechage on equal score 4-1.
Lucy MacGregor commented: "We're really happy with how it's all been going this week. We've had some really good races – we just made a couple of silly errors in the two races that we've lost, but other than that we're pleased with our speed and our communication on the boat. It's clicking together pretty well so far."
The quarter finals will start on thursday with the following pairings: MacGregor/Tulloch, Le Berre/Barkow, Groeneveld/Echegoyen, Skudina/Leroy.
On her match against Jennie Tulloch, MacGregor said: "We haven't raced against Jenny for ages really – at many of the events the groups tend to end up a bit the same and we race against people we've already raced against, so Jenny is one we haven't come across recently. The American boats though are generally quite aggressive on the race course though so we'll have to try and make sure we don't get dragged into that."
The Paralympic classes have the same leaders from day one. Damien Seguin (FRA) has increased his lead in the 2.4mR to 21 points over Britain's Megan Pascoe who is on equal points with Heiko Kroeger (GER). Bruno Jourdren, Eric Flageul and Nicolas Vimont Vicary (FRA) are in top place in the Sonar. In the Skud, Alexandra Rickham and Niki Birrell (GBR) were beaten for the first time today by Alex Hovden and Kate Mannerings (GBR).
Results: RS:X Men, RS:X Women, Laser, Laser Radial, Finn, 49er, 470 Men, 470 Women, Star, Women's Match Racing, 2.4mR, Sonar, Skud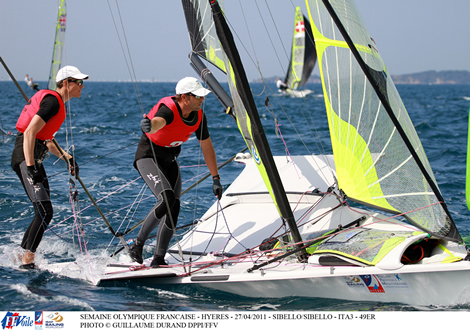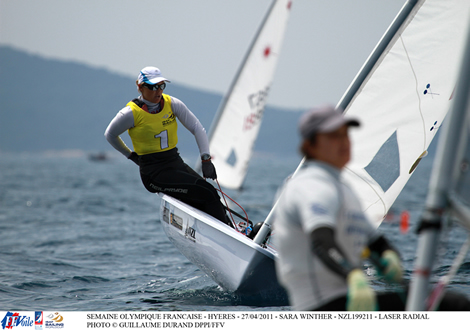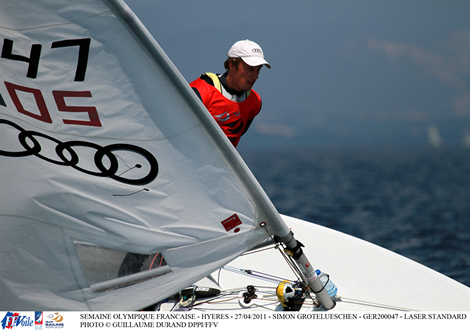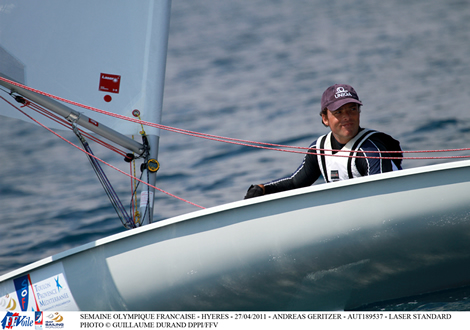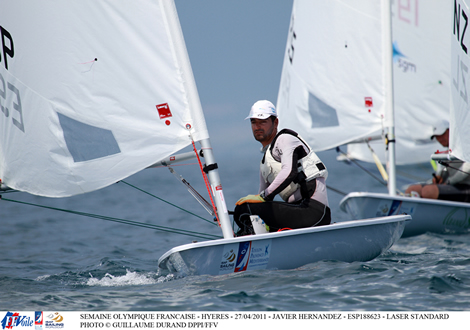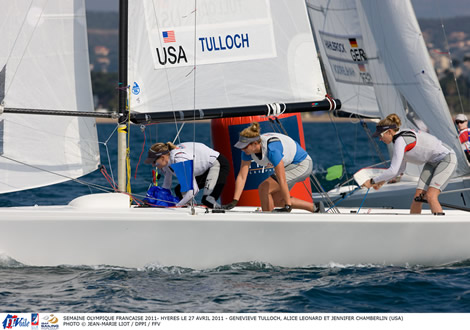 Back to top
Back to top