Hanson excels in the Radial
Competition was fierce on the third day of the 2011 RYA Volvo Youth Nationals as the Laser Radials commenced battle out on Hayling Bay in gold and silver fleets. With the Radial sailors unable to race yesterday due to shifting wind conditions, not only were tensions running high but to add to the importance of the day, the event played host to a royal audience, HRH The Princess Royal.
After extremely variable winds scuppered the racing of the Laser Radials yesterday, there was no holding back Elliot Hanson (Redesmere SC) who thrived in the moderate wind conditions as some thrilling racing ensued in all classes on Wednesday. After posting two bullets and a third on Monday, the Macclesfield sailor increased his lead at the top of the 55 strong gold fleet with a 1-1-5-2.

"Overall today was a good day's racing, yesterday was hard both mentally and physically so I'm very happy that didn't affect my racing today. The right decision was made yesterday for us not to race," said Hanson. "My main aim coming into the Championships was to win and be selected for the ISAF Worlds, however the fleet is very strong and Cameron Douglas is also sailing well. If I don't get selected for the ISAF's it's not the be all and end all and there is always the Radial Youth Worlds in the summer."
Anna Carpenter (Elton SC) is currently leading the way for the British girls in the Radial class with Rheanna Pavey (Alton Water SC/Stour SC) following closely behind.

It was a test of nerves in the 420 class with points extremely close at the top of the fleet, but it was Craig Dibb (Warsash SC) and Charlie Cox (Royal Lymington Yacht Club) who stole the headlines as they finished their first three races in the top three including two bullets, leaving them fourth overall.

"Good boat speed, good starts and good up wind racing was key to finishing two races in first place," explained Dibb.

Tarra Gill Taylor (Spinnaker SC) and Christian Townrow (Restronguet SC) finished the day on top after posting 5-5-2-3. Tim Gratton (Hayling Island SC) and Ed Riley (Warsash SC) continue to produce consistent results as they lay one point off the top spot after posting 1-3-3-5. Third place is currently occupied by Jess Lavery (Emsworth SC) and Georgie Mothersele (Emsworth SC) who are leading the way for the girls in the 420 fleet.

Lavery said: "We are extremely pleased with our current position and feel we are racing very well. Our main priorities were the shifts, clear lanes and pressure which enabled us to race well."

Mothersele continued: "We didn't have any expectations coming into the event, but we are now aiming for a top three finish, maybe even ISAF selection. The pressure is now on and we know that Annabel and Megan are excellent sailors, so who knows what will happen. Finishing first in the last race of the day was excellent and it could well be our best race yet! We need to continue what we are doing and ideally finish in the top ten in every race to be in with a chance of a medal."

The RS:X class is proving to be most exciting with Connor Bainbridge (WPNSA) delivering a world class performance with three race wins. However, after finishing today with three bullets, Bainbridge sits in second place overall hot on the tail of Sam Sills (Roadford Lake) who has been consistent all week scoring a 2-2-2 today.

Sills commented: "Today was a fantastic day of racing and I was able to pull together a run of consistent results. Posting firsts and seconds all week is very pleasing and I just hope to carry on doing what I'm doing. It's great having a seven point lead at the top but there's still a long way to go and anything can happen. Connor is a good windsurfer and I'm sure it will be very close come Friday. I wish Connor and all the other windsurfers all the best. HRH coming here is great and it's nice to know that the Royal family support British sailing and windsurfing."

This week has been the first year international sailors have raced in the RYA Volvo Youth Nationals Championships and are so far providing stiff competition for the British sailors.

Georgia Schofield, NZL representative in the RS:X class, commented: "These championships are great apart from the lousy weather! The UK windsurfers are all really good and it is great for us to race against bigger fleets in a variety of conditions."

She went on to say: "Sam and Connor are amazing and they are heaps better than the guys back home. The standard of the British girls is also really good."

Rupert White (Brightlingsea SC) and Nicola Boniface (Brightlingsea SC) remain in control of the Spitfire class, having sailed 10 races in total and posting an incredible 7 bullets overall. The highly experienced duo won all four of today's races while second-placed Andrew Sinclair (Royal Southern) and Gilbert Sutcliff (Royal Southern) posted 2-2-8-2 to sit nine points off the top spot.

There was no movement in the results table in the 29er class. James Bolingbroke (West Mersea SC) and Tim Walton (Draycote Water SC) retain their place at the top of the table after posting 1-1-5-6. Vikki Payne (Emsworth SC) and Stephanie Orton (Emsworth SC) are currently leading the pack for the second day running for the British 29er female crews.

Laser Standards enjoyed their second day of racing with yesterday's leader Alex Mills Barton (Newhaven & Seaford SC) remaining at the top of the fleet with Martin Evans (Dabchicks SC) in second and Rob Holmes (WPNSA) lying in third.
Duncan Truswell, RYA Youth Racing Manager, commented: "We were delighted to have had the support today of HRH The Princess Royal, who has been a regular visitor at the RYA Volvo Youth National Championships over a number of years. She not only took the time to go out on the water and watch the racing, but she also chatted to a number of the young sailors around the boat park and I'm sure she enjoyed her time with us at Hayling Island."

Racing is set to resume at 10.55am on Thursday. The sailing club will also be receiving another special visitor, Team Volvo for life and Skandia Team GBR sailor Annie Lush, the current Women's Match Race World Champion. She will be following all the action on the race course and on hand for any racing tips and advice for the young competitors.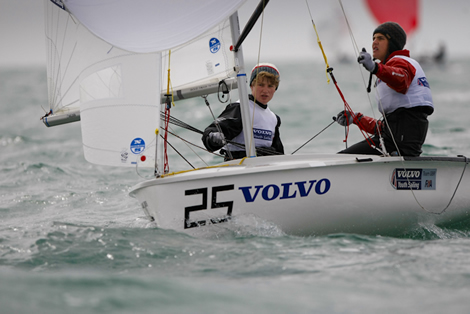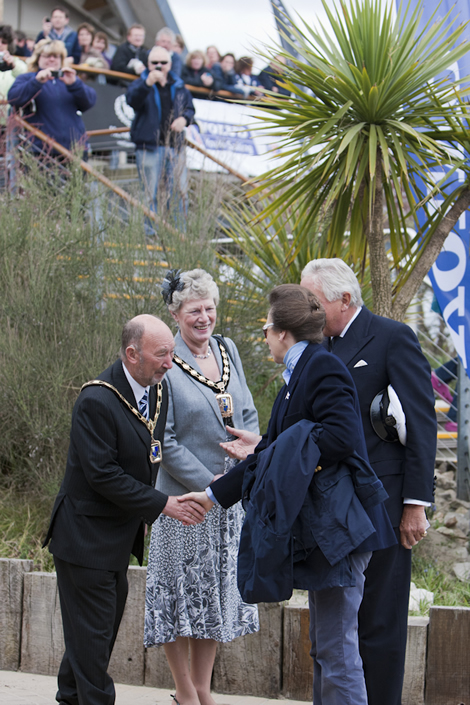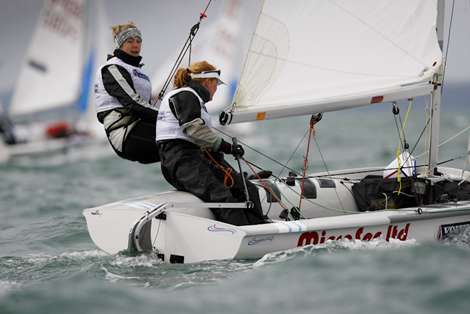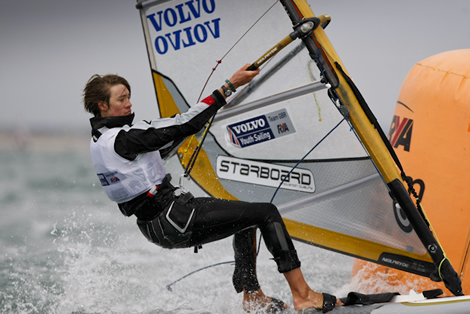 Back to top
Back to top